Salt Lake City-based photographer Adam Clark started taking photos when he was 16. Now his top clients are The North Face, Atomic, Patagonia, and Powder Magazine, and Adam travels around the world photographing skiers and snowboarders who are making their dreams a reality in breathtaking places. It's hard to believe that's really a job. But being a photographer isn't easy, it's not necessarily secure, and it involves total commitment. His number one piece of advice to aspiring photographers out there? Learn how to sell yourself.
Read his interview below to find out more about what its like to travel around photographing the best skiers and snowboarders in the world.
How It All Started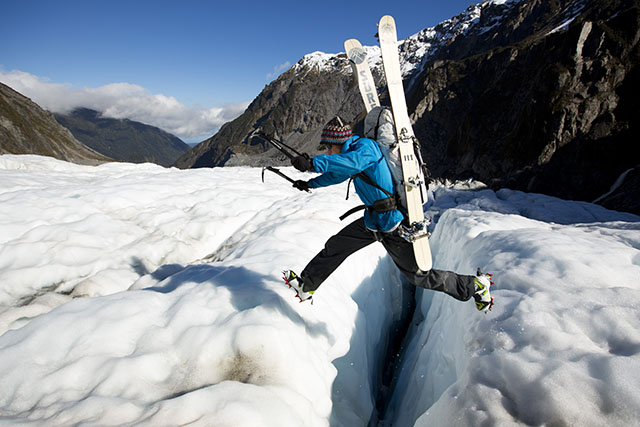 I got my first photo published in Powder Magazine before I graduated high school, and that made me realize that I could make money taking ski photos. So that's what I tried to do from there on out. It took me awhile to actually be able to make a living, because it wasn't just about taking a great photo, it was about selling yourself. The key to making it work was to try and sell every single good photo I took, whether it was just going to be a quarter page in a small publication or the cover of Powder Magazine. That seemed to work. And now that I have connections and have been doing this for a while, selling my photos is fun.
My advice to anyone trying to get into this industry is to never stop showing people your photos. And you can never shoot too much.
The Turning Point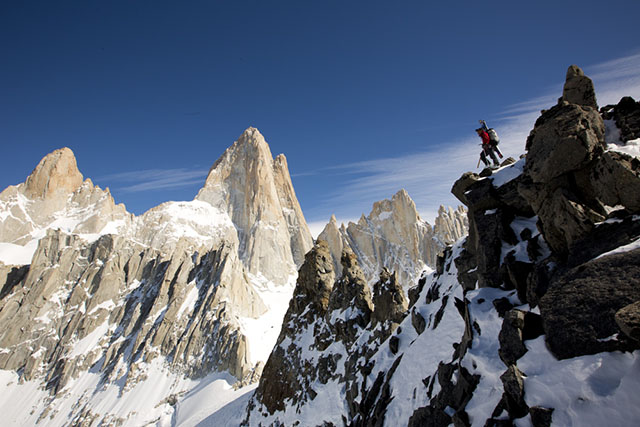 Starting to work for TGR was huge for me. I got along with the athletes, the filmmakers, and just had a good time, so it made it easy for me to commit to trips with them. I've had a lot of success by creating good relationships with athletes, and that turns into good relationships with sponsors.
My first real trip with TGR was to Haines, Alaska. Todd Jones called me and asked me to shoot. I almost didn't go because it was so much money. What people don't know about trips like that is that everyone pays their own way. But in the end, I couldn't pass the opportunity up. Especially when he told me I would get to go to Island Lake Lodge for ten days afterwards. It was a tough trip, with windy conditions the whole time, but I ended up getting some good shots and making all my money back. It was a dream trip for sure.
Setting yourself apart from other photographers
Part of it is that I've been at it for a long time. The other part is I've been 100% committed to just shooting ski photography. It's my number one thing, my creative outlet, my hobby, and my job. It's all I do and who I am.
The Most Memorable Shoots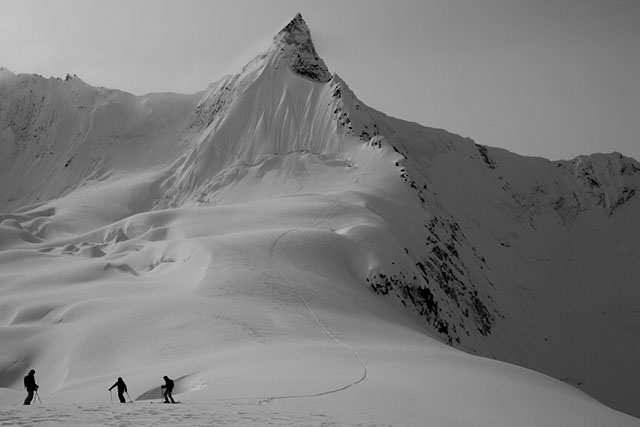 Awhile ago, I went on a two and a half week trip on the border of British Columbia and Alaska with Sage Cattabriga-Alosa, Jeremy Jones, Jeremy Nobis, and Victoria Jealouse. The stars just aligned on that trip. I was the only photographer, we had perfect weather and the athletes were on fire. By the end, I had so many photos I didn't know what to do with them all!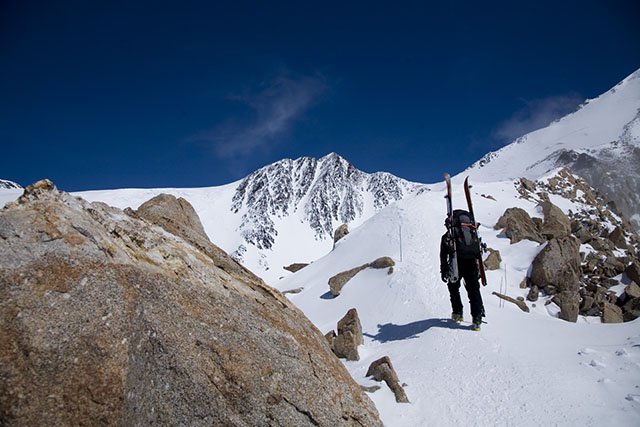 The other memorable one was the trip I took to Denali. A friend invited me and he wanted to get to these couloirs off the north summit of Denali that had never been skied before. We did 30 days of camping and climbing, and that switched me from inbounds to backcountry mode. And that's what I love the most now. I really learned a lot on that trip, I learned the importance of being team player, and that I can't just be a photographer. The thing that stuck with me is that you have to always plan for the worst-case scenario so you are always ready if things go south.
On Living in SLC
There are so many other amazing photographers that I have met here and they've helped me a lot over the years. So I've had these role models. They paved the way and showed me that I could do what I wanted to. There are also so many good athletes here. New, up-and-coming, as well as some of the legends.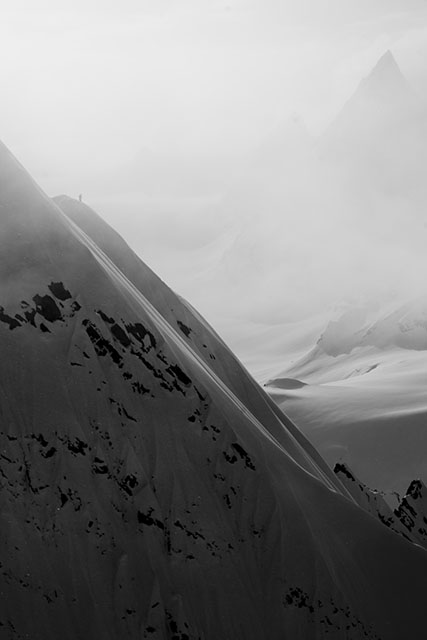 Alta was one of the first companies to ever help me out career-wise. I showed them my portfolio of images, and they saw my enthusiasm and a couple good photos. They gave me a season pass to shoot for them. That's all I needed: a season pass, a small place to live, and a camera.
Goals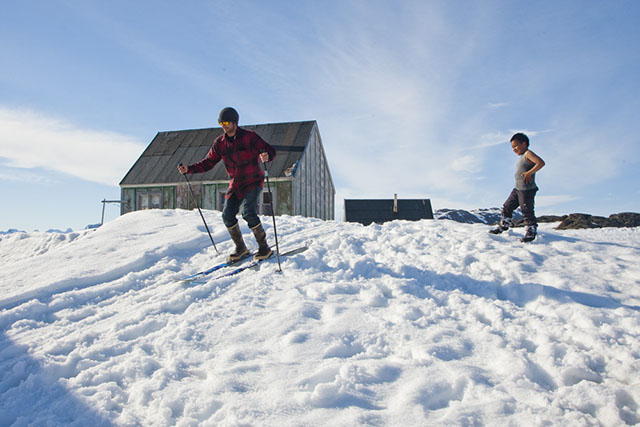 I just want to keep shooting. I love it. Any time I'm behind a camera, I get to be a kid again. It's so fun.
One of my favorite types of photography is editorial—shooting stories. Two years ago, I went to Spain for Powder, and that was really cool because the people and the culture were so great. I would love to do more stuff like that. Everyone wants to make a difference, and I do, too.
Inspirations
Chris Noble really helped me in the very beginning. He let me come to his house and ask a million questions when I was first getting started.
Galen Rowell was a Nat Geo/ climbing photographer. I really look up to and aspire to his style of shooting.
Lee Cohen and Scott Markowitz have just been all around really awesome to me.
From The Column: Through the Lens
READ THE STORY
"Concerningly stairlike" sastrugi makes for great climbing. The skiing? That's for you to decide. | Max Ritter photo. "I think this bootpack might be the best part of our whole day," I half-joked to my ski partner Max, who was working hard not to roll his eyes as we booted up a narrow couloir in the Tetons that from afar we had deemed "chalky." Wind howled up the leg vents in my ski pants as I kicked steps up concerningly stairlike sastrugi, which was proving to be an excellent surface
READ THE STORY
Expand your quiver, expand your mind. No really, it's true. Snow, much like life, is variable. It's helpful to have a tool for the deep days, the park days, groomer days, and the all around days. If you want a ski that can handle just about anything, has an uncanny ability to be a charger through crud, slice through ice and is a stallion on steep groomers, Atomic's 2023 Maven 93c is what you need. Let's break it down, from tip to tail and everything in between. Ski: Atomic Maven 93c When I
READ THE STORY
Rachel Karker, X Games 2023. Photographer Joshua Duplechian. The energy at the Winter X Games is electric. Year after year, history is made at every event that progresses the sport even further than the pioneers of freeskiing could ever have imagined. The women at the Winter X Games this year pushed the sport into a new era, with tricks like triple cork 14's and double cork 16's. This current wave of progression is one to be proud of, but where would we be if we did not honor the