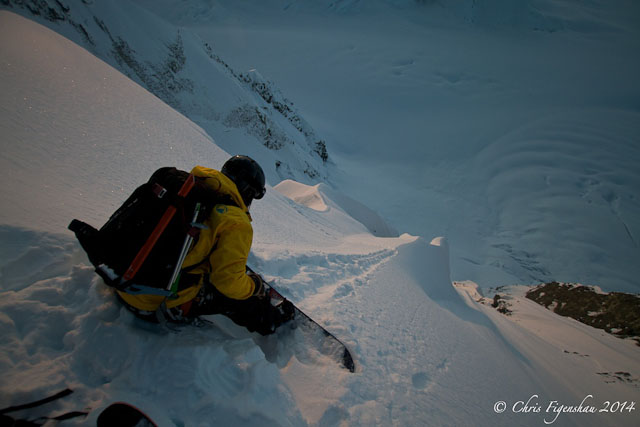 Chris captures Jeremy Jones as he prepares to drop a huge line in Alaska during the making of Higher.
Chris Figenshau has been shooting ever since he studied journalism at The University of Oregon about 20 years ago. He's been an established photographer since before you needed a website, a digital camera, or a Instagram account to be successful. In the beginning he gave himself permission to pursue a career in acton sports photography until he was 30, and just as he neared the end of that time frame, his high-caliber mountaineering skills got him a job with Warren Miller, and he went on his first full-scale expedition.
Since then, it's safe to say he's making it in a field in which it's nearly impossible to do so. He's worked with just about every ski magazine and company out there, and more recently helped film and shoot Teton Gravity Research's Higher with Jeremy Jones in Nepal and around the world–an effort that has helped the film become a finalist at the annual Banff Mountain Film Festival.
Everyday moments are a lot harder to get–but sometimes they are the more powerful images because they are a little bit more relatable to the everyday skier or rider. That relatable shot–that what I'm looking for.
When he's not on an expedition, he's at Jackson Hole Mountain Resort, shooting everyday moments that happen at the renowned mountain that legions of amazing athletes call home. Figenshau is refreshingly humble—I couldn't even get him to name a photo he's taken that he likes. He's notoriously unhappy with his work, but maybe that's a good thing–it keeps him shooting and pushing the bar of what makes an extraordinary photograph.
I caught up with Chris about his trip to the Himalaya with Jeremy Jones and the work he around Jackson in between his expeditions.
Going to the Himalaya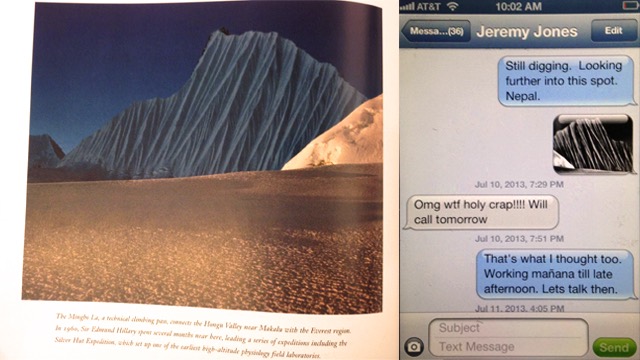 The book with the original photo evidence of the Shangri-La spine wall and the first text to Jeremy jones about the spot. Chris found it at the library in Jackson Hole.
It all started in the public library in Jackson Hole. Chris Figenshau was flipping through mountaineering books, studying photos of faraway places like Kazakhstan and Bhutan, when a photo of a spiny peak caught Figenshau's eye. The peak was called Shangri La, an impressive looking mountain not far from Everest. It sported a wall of spines that looked steep, raw, and intimidating. Before he knew it, Jeremy Jones and Figenshau turned this dream into a reality and found themselves standing face to face with what they dubbed the Shangri-La Wall.
Getting there
"When we first got there, we didn't think we were going to be able to ski it. The mountain didn't look in great condition–there looked like there might be a lot of ice, and it was steep. Maybe too steep. It was crazy getting all the way there, to finally be looking at the face, and immediately feeling like all that work was for nothing. But we ended up skiing an adjacent slope that was the same aspect and grade and it went really well. That's the moment when we knew we could go for it. It felt so good."
The Climb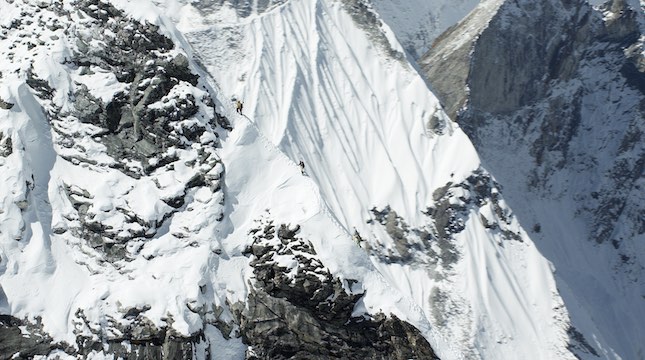 'Figs' hikes the ridge of the Shangri-La wall with Jeremy Jones in front and Luca Pandolfi behind him.
"The initial climb was really steep and difficult, but we all worked together breaking trail, and once we hit the ridgeline it was actually quite enjoyable. The altitude is always hard, though. Everything feels a little bit harder–almost as if you're in slow motion.
This trip was different than a lot of others I've done, because it was a really small team on the climb. It was just me shooting Jeremy and Luca on the ground and then a heli in the air and two other guys shooting long from the opposing glacier. I really liked having the small group and realize that's how I prefer it to be. It becomes less about the production and more about the climb, keeping everyone safe, and making good decisions. And that raw and natural rhythm of things made for some great stuff on camera."
On Shooting While Hiking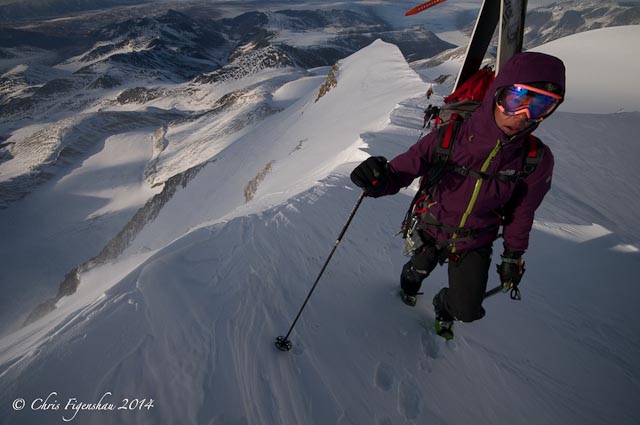 "You need to integrate yourself into the natural flow of the climb and get what you can." Chris recommends letting go of trying to get every single shot on the way up.
"The whole way up, my job is to get the interaction between the athletes in the moment, but the harder the climb, the harder it is to get the shots.
There is a lot of stuff that I shot where I didn't see the problems at the time and when I went home to edit, there'd be a lens flare or dust in the shot. At some point you just have to start reacting and creating a flow and just doing what you can to keep shooting. In the end that's why there is a team of people shooting–I knew I'd have other people covering stuff as well, so there is always a back-up. You have to accept that you can't get all the shots. I couldn't tell Jeremy that he has to wait half an hour for better light on a line like that. That's part of it. You need to integrate yourself into the natural flow of the climb and get what you can.
Make simple requests like, 'Hey, can I get in front of you for a tight shot?', but you have to make those really count. Any time you can get in front of the athletes, those are important moments.
Pacing yourself is huge. When you run up in front of the athletes, it wears you out. So you have to make those moments count. You're running, stopping, shooting, putting stuff away, running to catch up, and then you stop again ,and get your stuff out, and shoot. That is difficult and unsustainable because there's no rhythm.
The key is finding your rhythm, making the shots count, and accepting that you can't get everything."
The Gear
"The cinematographer kit is much heavier than what I would carry as a still photographer. You really have to keep your glass clean, and there are a lot of small things you have to deal with, and when it's cold and you're at altitude, it's a lot more difficult.
I always at least have a monopod and try and bring a tripod. There is always time where I wish I had bigger and heavier gear, but you can only carry so much.
I shoot with a Cannon 1D C 4K DSLR. It's just big enough that it's not something that fits into a chest or shoulder pack but it's not as heavy as the RED, and it's a good run-and-gun camera. It's pretty minimal."
On Staying creative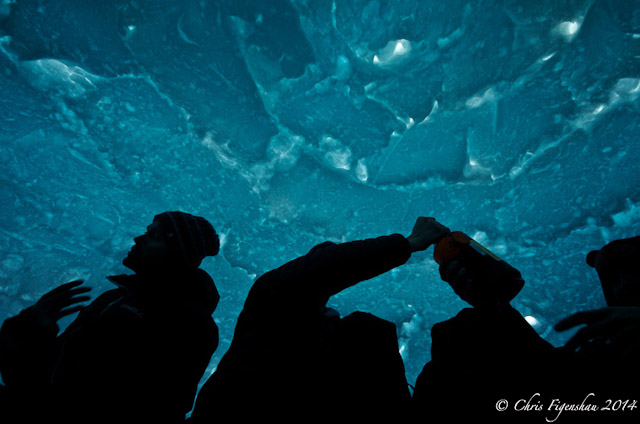 "It's hard to be creative when you are just trying to get your next breathe of air. But luckily, it was so beautiful during that climb [in Nepal] that I always wanted to have my camera out.
The quintessential ski shot is always part of the journey, but it's capturing those moments where there is a real human element that's the real challenge."
Working in Jackson Hole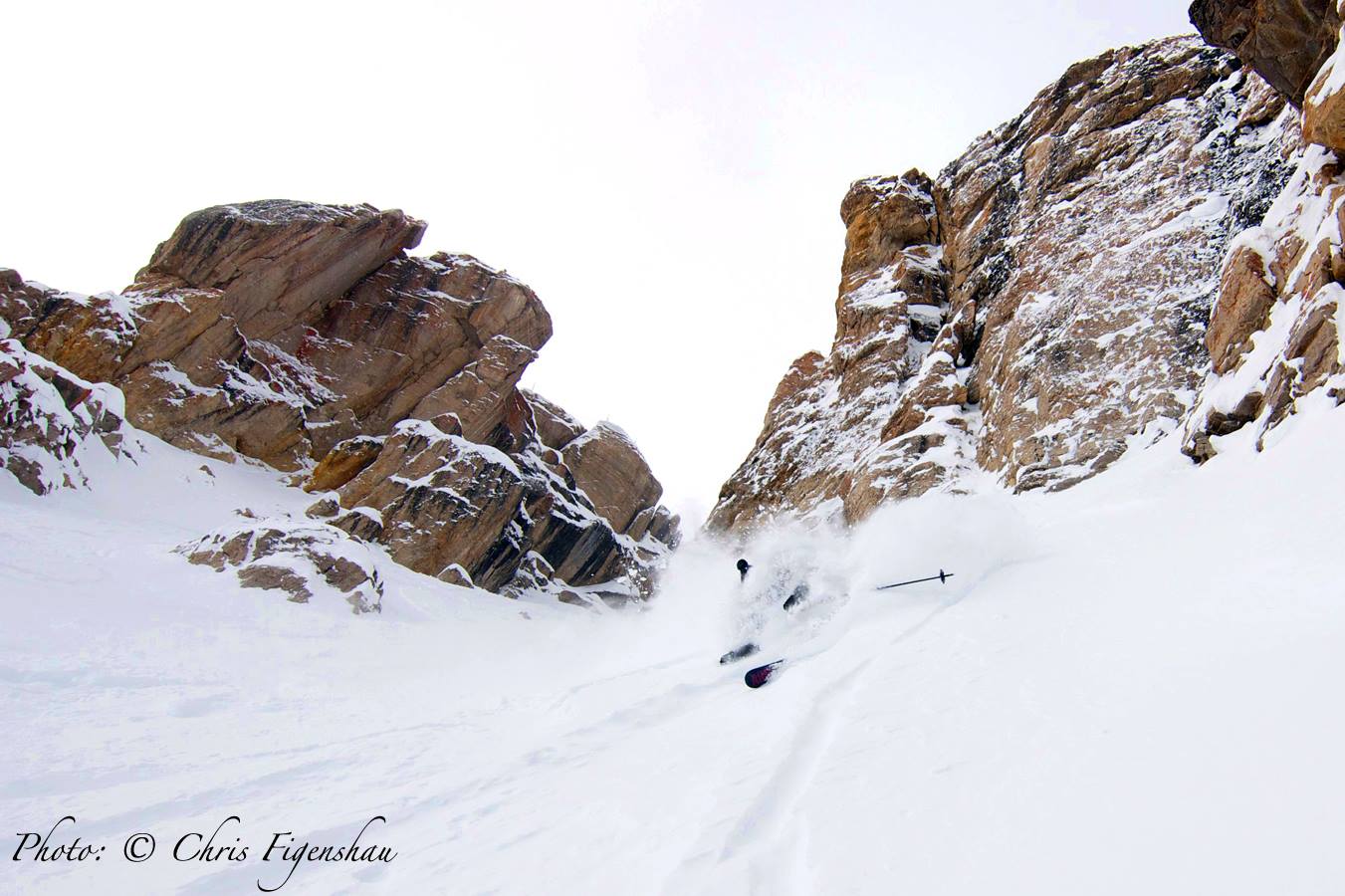 Jimmy Chin breaks in Corbet's Couloir for the 2015 season.
"I work with Jackson Hole Mountain Resort as a contract photographer, and I've been doing that since they started doing a photo of the day. The photo represents the conditions and weather, as far as the skiing goes.
Each day of the ski season, I post a picture to their website. It's funny; the standard of what's considered an acceptable photograph is getting higher. Now we have social media, so I'm judged based on likes. Buts it's super interesting to get feedback and see what people react to.
Shots of people falling in Corbet's Couloir always get a lot of likes. Landscapes of the Tetons and the resort get more attention than an action shot of skiing. Any picture of the Tetons is going to score more attention than someone skiing powder."
Tetons & The Terrain
"The access to the mountains and the quality of the terrain is what makes the Tetons so cool. Getting into them isn't that crazy and it's all relatively straightforward, as in, you can see what you want to ski from the parking lot. Versus places in the Northwest, where you're under the canopy of a giant forest and you can't see your objective until you're right on top of it. The continuous fall line also makes these mountains unique, you can ski straight down this stuff, it doesn't bench out or roll—it's steep and continuous. The variety is great too: you have Teton Pass, Jackson Hole Mountain Resort, and Grand Teton National Park all right next to each other. There's a ton of variety. From 45-minute boot packs to big peaks in the Tetons, or the tram which spits you out on top of a 4,000-foot run. And then there is the Gros Ventres and the Snake River Range–all these mountains–combined with a decent and manageable snow pack."
The Moments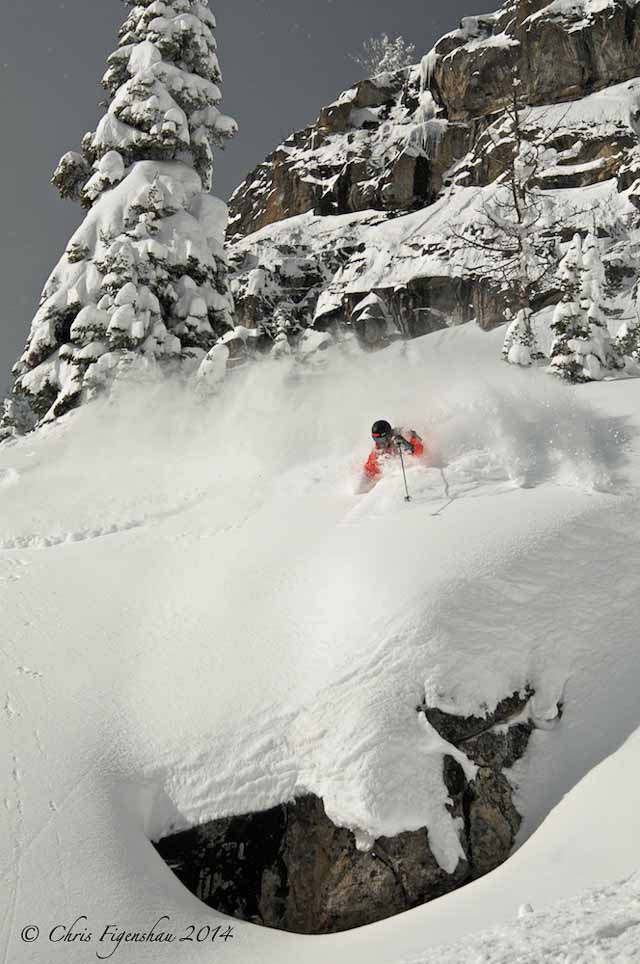 "Being at the mountain every day, I get to be there for a lot of pivotal moments.
The most memorable shoots are the firsts. Micah Black dropping Break Neck the first time I've seen that line skied that way. Mike Tierney skiing the Igneous Rocks, Eric Roehner base jumping from the tram or double backflipping out of Rock Springs. Outrageous. Still is. Jamie Pierre's world record cliff jump of 250 feet off the back of Grand Targhee.
We see so many accidents with the way the sports are progressing, and it's harder to support the most daring of lines. That's why it's nice to shoot at JHMR and shoot more medium-level stuff. I like making great images without having all the anxiety of someone's safety. Like enjoying a sunset on Teton Pass, as opposed to always watching people sending it in high risk situations. Then again, it's easier to shoot that stuff because it's clearly exciting, and those medium, everyday moments are a lot harder to get–but sometimes they are the more powerful images because they are a little bit more relatable to the everyday skier or rider. That relatable shot–that what I'm looking for."
His Inspirations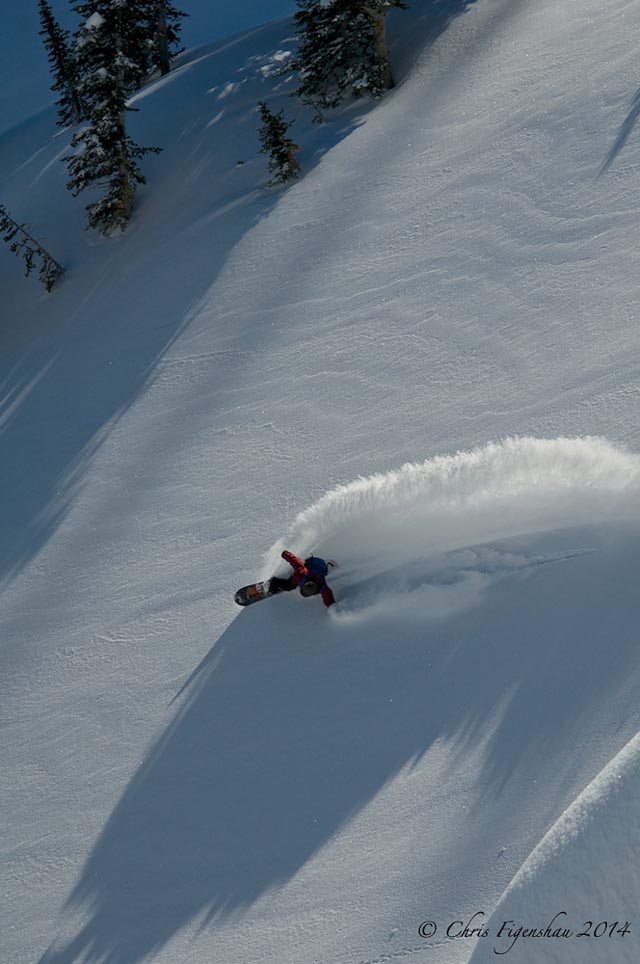 "Christian Pondella because he's been doing it forever. As far as ski mountaineering and the stuff that I do. He's a great climber and shooter, and he's in the mix.
Matt Herriger for finding the soul side of things. He is so good at creating a human connection with his subject.
Jimmy Chin because he works so hard. I could never work that hard, but I admire it. He is so successful. He is a working machine. He holds his stuff up to a high standard, and he continually works, all the time. I admire that drive in him."
Want to see more profiles of professional mountain photographers? Check out the rest of TGR's Through The Lens columns here, and be sure to check out Chris' work in Higher, which is a finalist at the Banff Mountain Film Festival.
From The Column: Through the Lens
READ THE STORY
"Concerningly stairlike" sastrugi makes for great climbing. The skiing? That's for you to decide. | Max Ritter photo. "I think this bootpack might be the best part of our whole day," I half-joked to my ski partner Max, who was working hard not to roll his eyes as we booted up a narrow couloir in the Tetons that from afar we had deemed "chalky." Wind howled up the leg vents in my ski pants as I kicked steps up concerningly stairlike sastrugi, which was proving to be an excellent surface
READ THE STORY
Expand your quiver, expand your mind. No really, it's true. Snow, much like life, is variable. It's helpful to have a tool for the deep days, the park days, groomer days, and the all around days. If you want a ski that can handle just about anything, has an uncanny ability to be a charger through crud, slice through ice and is a stallion on steep groomers, Atomic's 2023 Maven 93c is what you need. Let's break it down, from tip to tail and everything in between. Ski: Atomic Maven 93c When I
READ THE STORY
Rachel Karker, X Games 2023. Photographer Joshua Duplechian. The energy at the Winter X Games is electric. Year after year, history is made at every event that progresses the sport even further than the pioneers of freeskiing could ever have imagined. The women at the Winter X Games this year pushed the sport into a new era, with tricks like triple cork 14's and double cork 16's. This current wave of progression is one to be proud of, but where would we be if we did not honor the