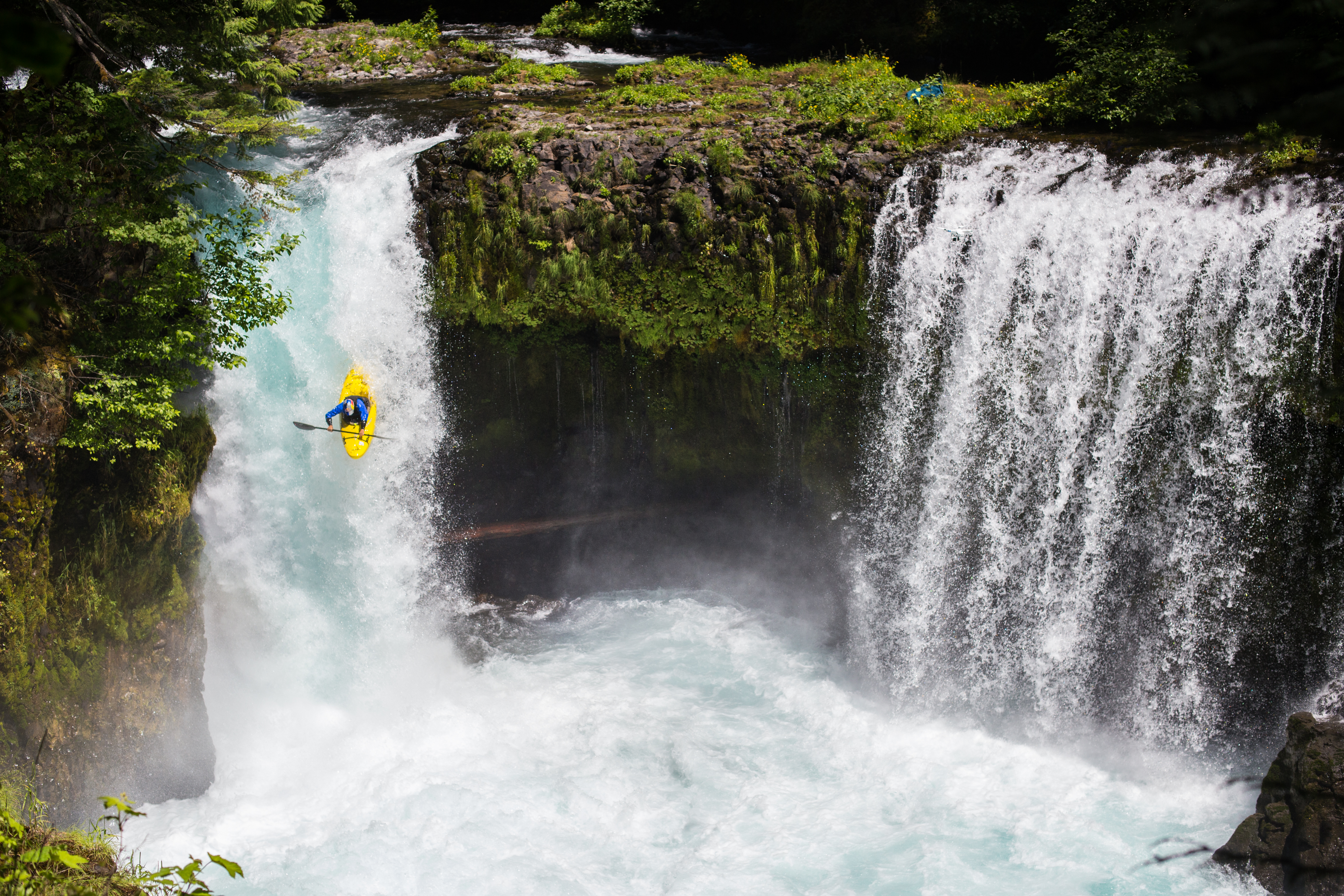 Aniol Serrasolsas laying down a sick line of Spirit Falls on the White Salmon River in Washington. Jasper Gibson Photo
Jasper Gibson is a name to watch in the world of outdoor photography. At a young age he has already photographed some of the world's best whitewater kayakers, including Evan Garcia and Red Bull athlete Dane Jackson. This summer he was the official photographer for the largest whitewater competition in the world; the Whitewater Grand Prix held annually in Quebec. I was able to talk with Jasper about his budding career and his philosophy behind shooting these unique athletes.
How did you get interested in photography?
I have always been interested in photography. Growing up my mom always took photos, and we have a closet filled with old film at my house. I always had cameras since I was pretty small. I picked up my first DSLR in middle school when I was on the yearbook staff. This is really when it took off. My dad got me a Nikon D-40 for Christmas my freshmen year in high school. That first year it didn't leave my hands, I was always taking photos with it.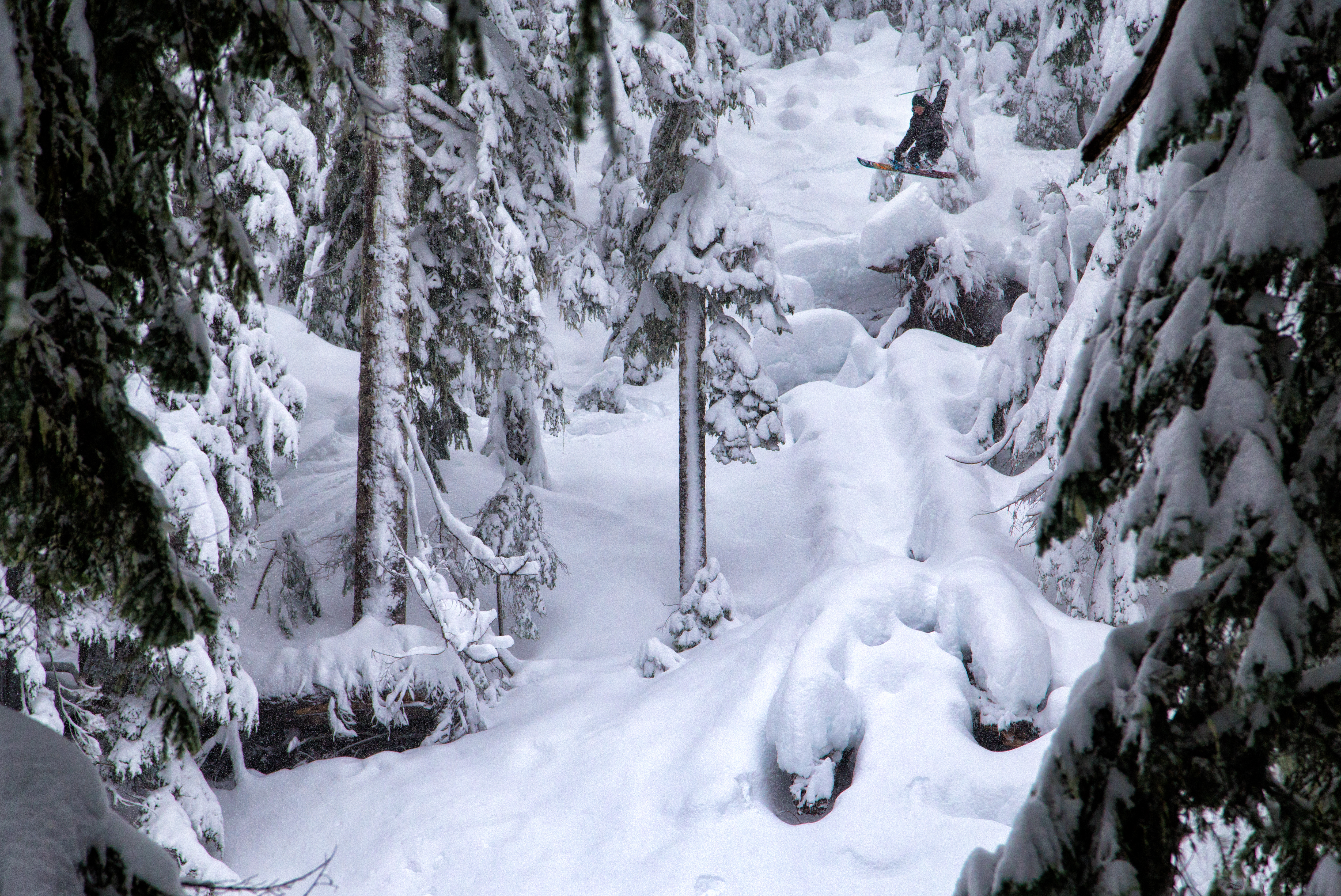 Kevin Curran launching a huge indy in the Mt. Baker Backcountry. Jasper Gibson Photo
When I was fourteen I got a mentor in Patrick Orton. He saw that I was taking a liking to photography and took me under his wing. At the time he was at school at Colorado Mountain College majoring in photography. What was important with Patrick is he showed me you could make. It was an inspiration to see him breaking through as a professional photographer. I committed to photography my junior year of college. I started taking it more seriously with the goal of making it a career. So I started building my portfolio so I would have something to stand on. It is what I love to do. I love capturing moments.
What are your favorite things to capture?
People doing what they love, which has usually pertained to outdoor adventure. Skiing is one of my life passions and I love taking photos of people skiing. It's challenging, rewarding, hard, but really fun. I get to meet so many cool people. I also shoot a lot of whitewater kayaking. The talent, skill, and commitment of those athletes is pretty amazing. Recently, I shot highlining for the first time. This is easily one of the coolest things I have ever shot. It is such a mental sport in every sense of the word. In the end I will shoot people doing what they love, pushing themselves, and pushing the sport.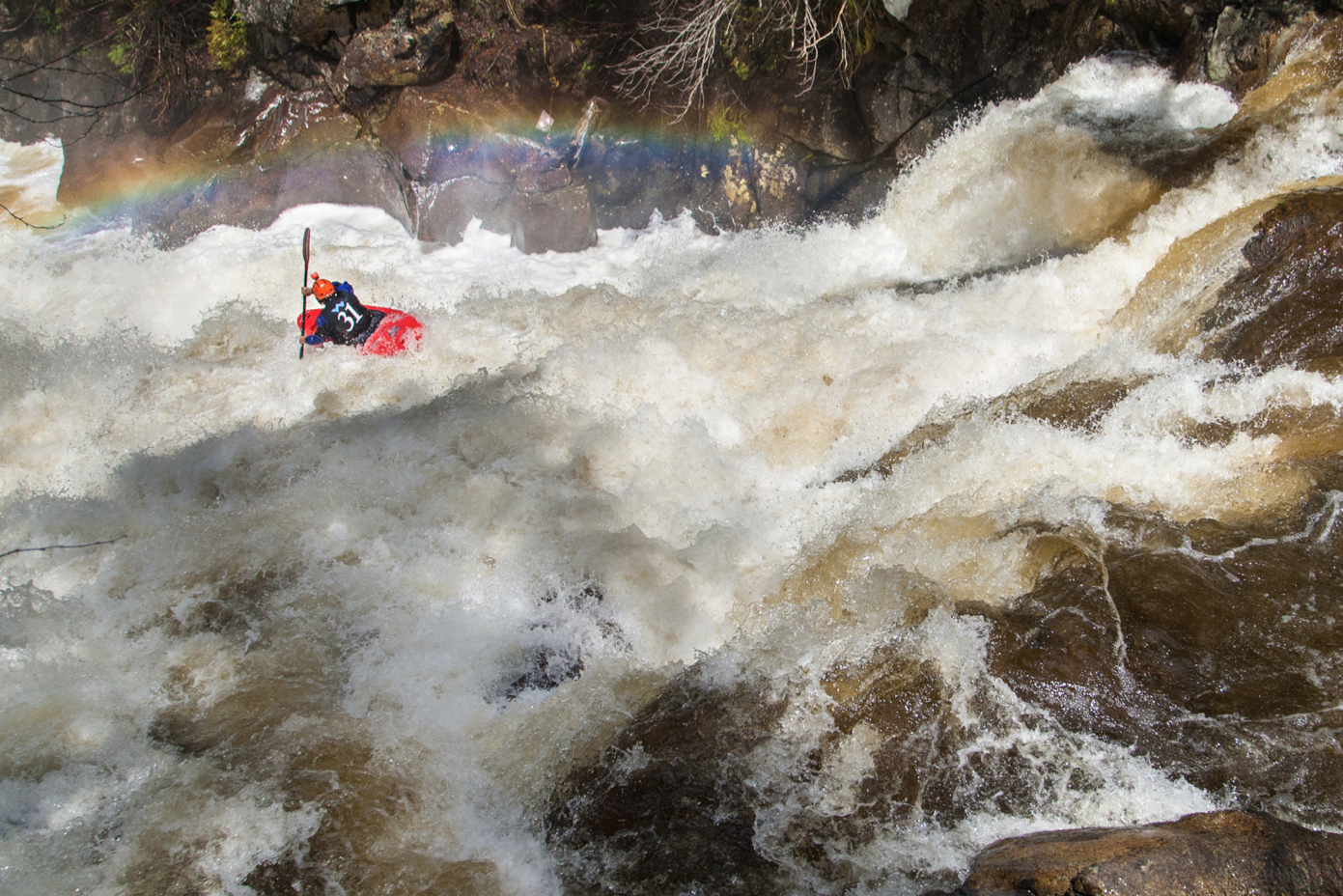 The late Juanito De Urgarte finds a stylish line during the Downriver Slalom Event at the WWGP. Jasper Gibson Photo
What is you philosophy when shooting?
One thing with my photography is I really want to know the sport before I shoot it. It gives me a better understanding of what is going on. I remember shooting whitewater for the first time. It looks ascetic any way you go about it, but once you know the little details of the sport you start to see a lot of more as a photographer. Those details really make the photo.
What are some of those details?
Paddle strokes for sure, especially at the top of a falls. When I shoot tight I try to get the details of their of eyes and make sure they are in focus. Also, knowing where they are going to be in the river and what the line is. A photographer that doesn't know kayaking would not know the amount of prep that goes into a line. Same thing with skiing. If you are not a skier, it would be hard to capture or direct someone.
What is the difference between shooting whitewater and skiing?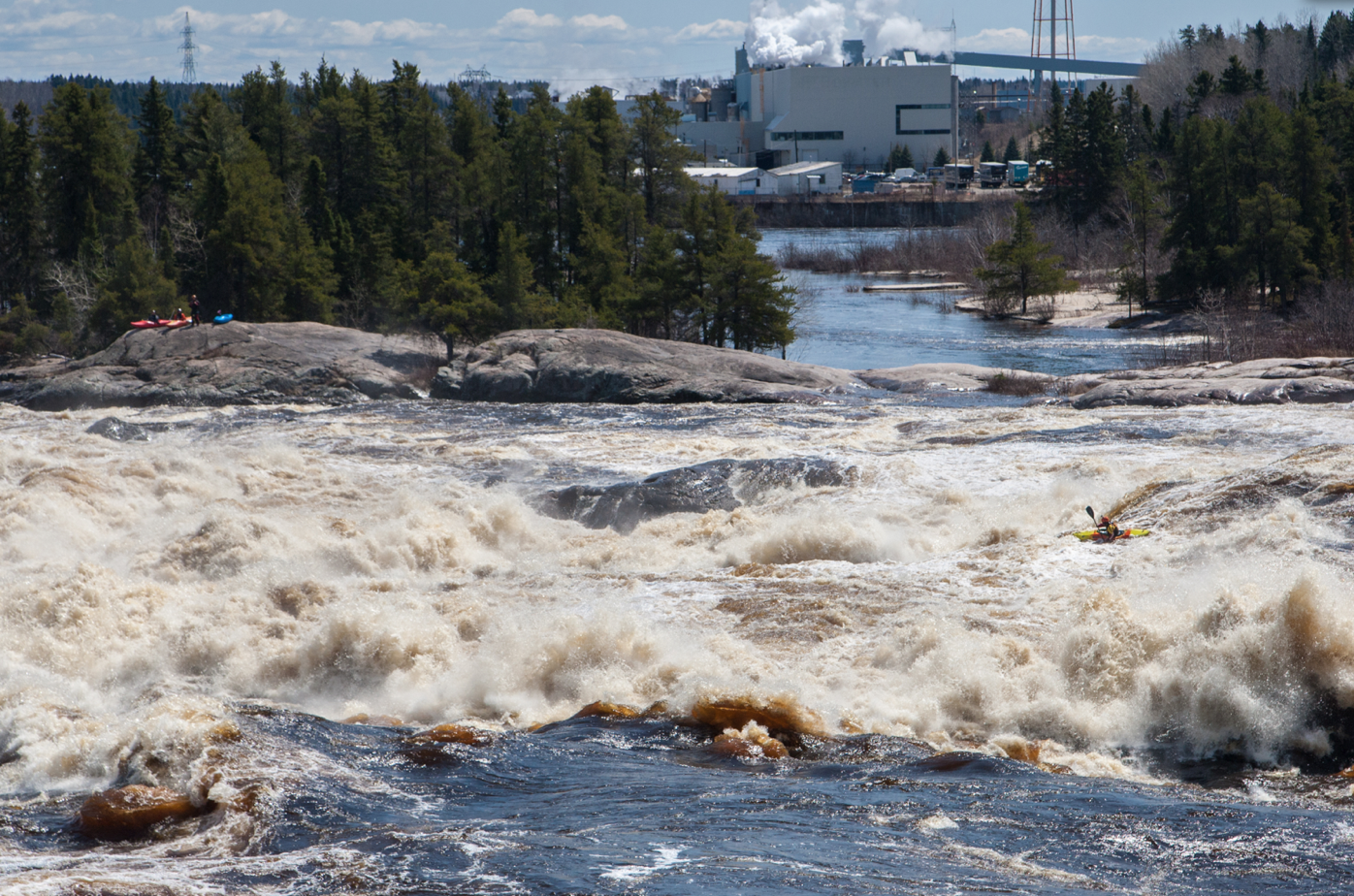 Gerd Serrasolsas on the massive and intimidating Bridge Rapid in Dalbo-mistissini, QC. Jasper Gibson Photo
With skiing it is totally a collaborative effort to get the shot. Usually we both have a zone that we want to go to and look at a line. I might suggest something or the skier might see something that peaks their curiosity. From there I will get into position. It is really a collaborative effort. With kayaking not as much, it is more that they are going to go shred and do their thing. It is my job to know where they are going to be. Skiing you have a whole mountain that you can explore, kayaking is just a river and in a more confined space.
Who are your favorite people to shoot?
I have a buddy named Tim Black, who is a Baker based skier. He gets after it and is just a really hard worker, who loves to get good photos. For kayaking one of my favorite people to shoot is Evan Garcia. He has real style and is so steezy in a boat. At the Grand Prix, it was crazy to watch Dane Jackson boat, especially in the freestyle events. I worked with the Serrasolses brothers Gerd and Aniol this summer. They have such a passion for whitewater and are up to some crazy stuff.
What are the highlights of your career so far?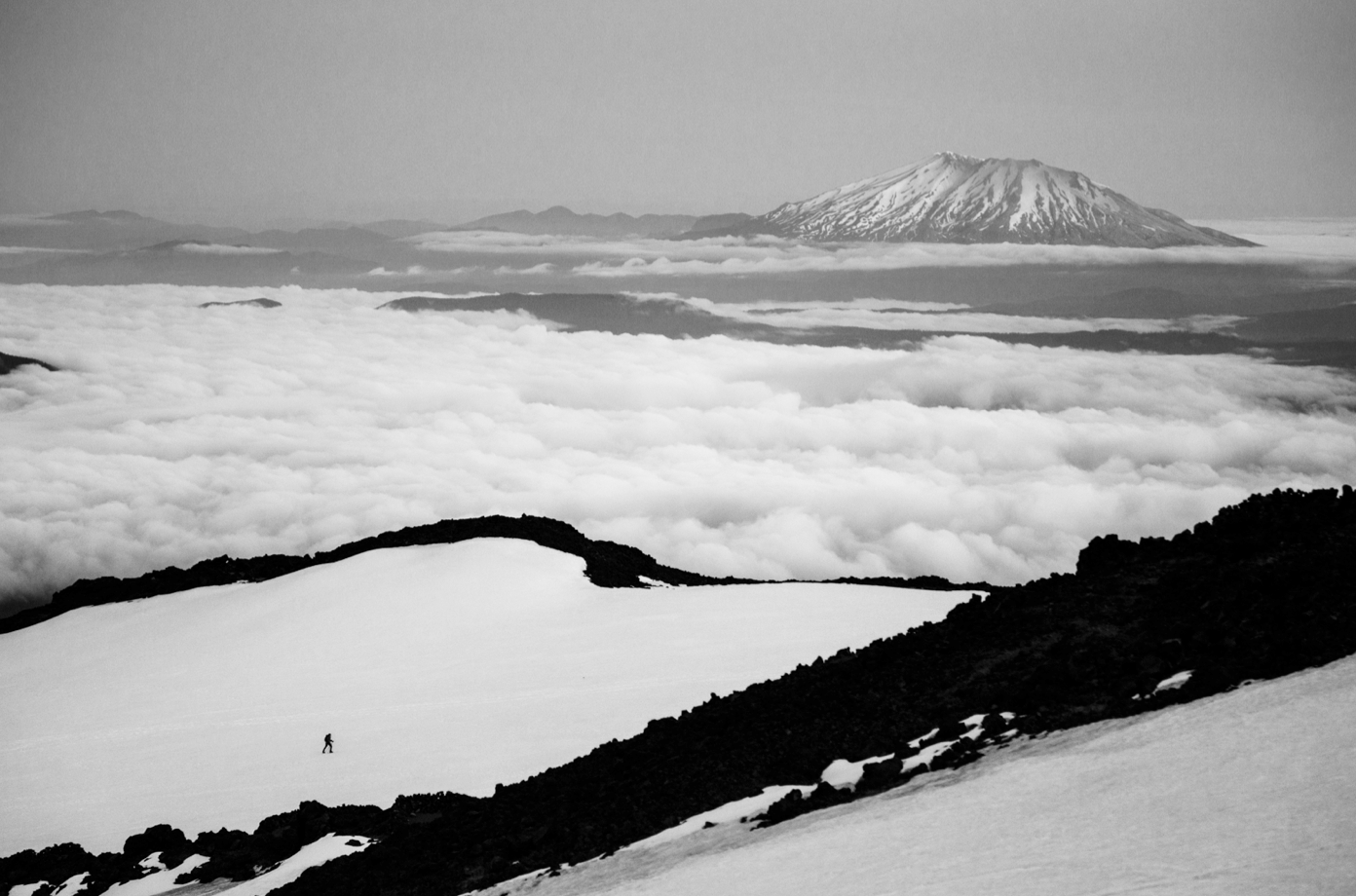 An unknown man skins his way up Mt. Adams in the early morning. Jasper Gibson Photo
Shooting the Whitewater Grand Prix in Quebec was an amazing experience. To travel with those athletes for two weeks, learn about them, and why they love kayaking was so rewarding. The culture around the sport is one of the most unique I have ever witnessed. I was part of the Keyhole Project with Aniol Serrasolses. He ran a 120 waterfall in British Columbia. In order to kayak it he repelled down a 200 ft canyon into a pool above the lip. Then set up a climbing portaledge in order to properly rig up. I had to rappel 180 ft to get into position. Just a huge logistically mission that we did for Red Bull.
Future plans?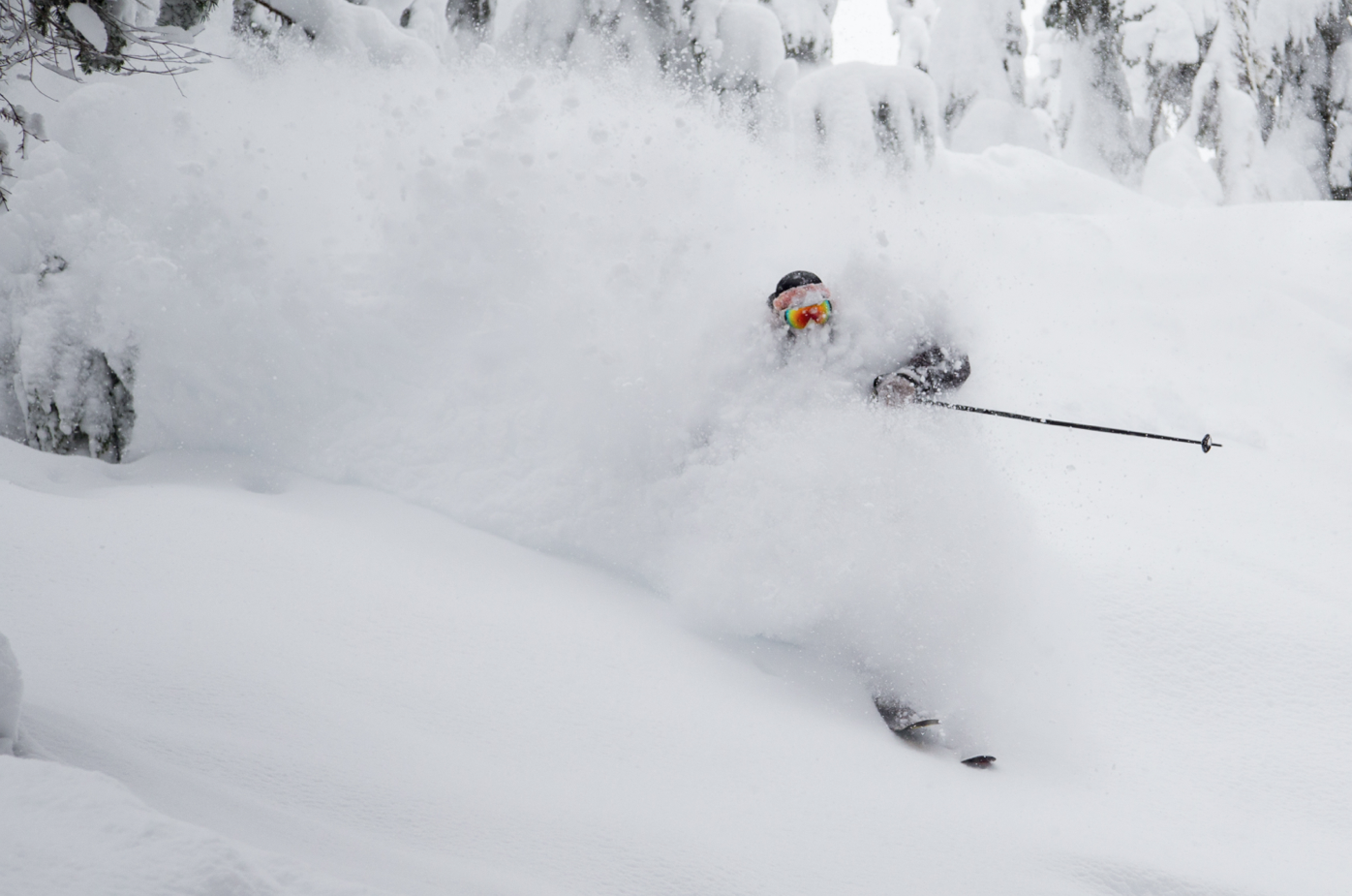 Drew Swisher getting buried in fluffy goodness in the Mt. Baker Backcountry. Jasper Gibson Photo
I going to spend the winter traveling around the west and try to shoot as much as possible. I am looking to build my ski and lifestyle portfolio. Hopefully go to SIA and just meet a bunch a people on the road. I'm headed to Hawaii this summer. I am going to live on sailboat and hopefully start shooting surf.
From The Column: Through the Lens
READ THE STORY
"Concerningly stairlike" sastrugi makes for great climbing. The skiing? That's for you to decide. | Max Ritter photo. "I think this bootpack might be the best part of our whole day," I half-joked to my ski partner Max, who was working hard not to roll his eyes as we booted up a narrow couloir in the Tetons that from afar we had deemed "chalky." Wind howled up the leg vents in my ski pants as I kicked steps up concerningly stairlike sastrugi, which was proving to be an excellent surface
READ THE STORY
Expand your quiver, expand your mind. No really, it's true. Snow, much like life, is variable. It's helpful to have a tool for the deep days, the park days, groomer days, and the all around days. If you want a ski that can handle just about anything, has an uncanny ability to be a charger through crud, slice through ice and is a stallion on steep groomers, Atomic's 2023 Maven 93c is what you need. Let's break it down, from tip to tail and everything in between. Ski: Atomic Maven 93c When I
READ THE STORY
Rachel Karker, X Games 2023. Photographer Joshua Duplechian. The energy at the Winter X Games is electric. Year after year, history is made at every event that progresses the sport even further than the pioneers of freeskiing could ever have imagined. The women at the Winter X Games this year pushed the sport into a new era, with tricks like triple cork 14's and double cork 16's. This current wave of progression is one to be proud of, but where would we be if we did not honor the