Editor's Note: It's that time of year. The clothes are coming off and people are out getting after it! In this Spring/Summer installment of Ski Town Caricatures, we turn the TGR lens on the intrepid boating culture that we all know and love. Whether or not you've lived the life of a bohemian River Rat, there is no dispute that these are some of the most dedicated, fun, and colorful people in our mountain towns.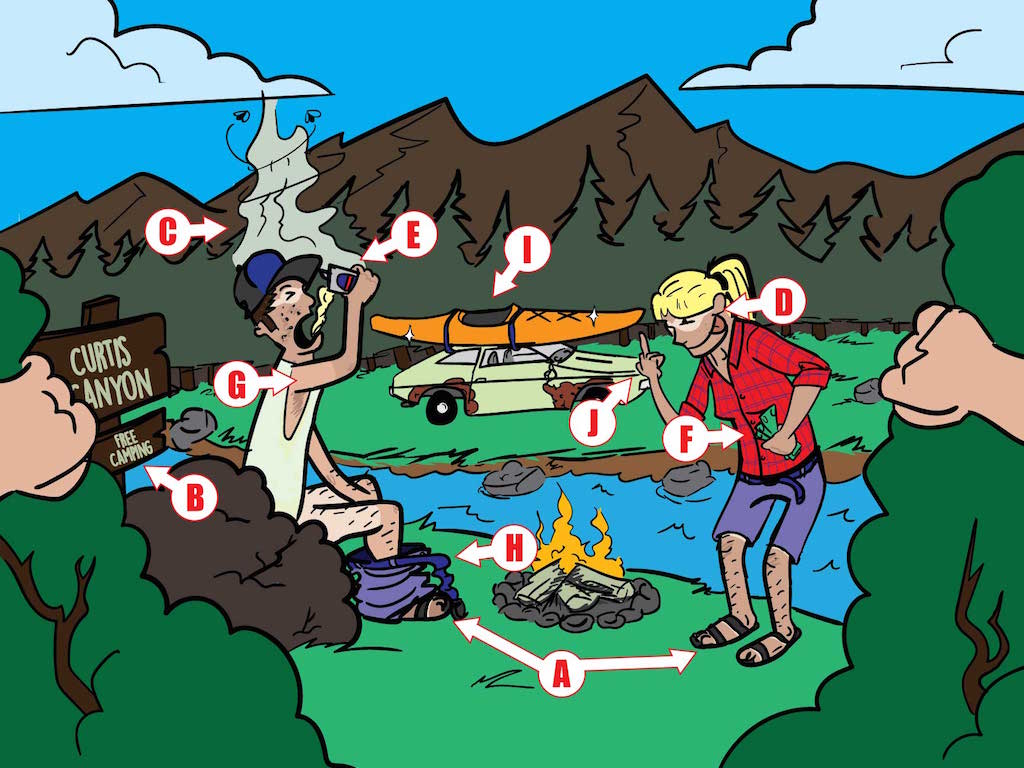 A glimpse of the elusive creatures in their natural habitat. The River Rat is a largely misunderstood species. Ryan Dee Illustration.
As the snow melts and the rivers rise, a different kind of animal yawns out of hibernation. Long bereft of social companionship during the cold, harsh winter, these animals rouse with the change of seasons, looking for fresh pastures and new mating opportunities. It doesn't matter where they wintered; now that the snow is melting, they're heading for where the snowpack is deepest, sitting pregnant with the winter's bounty.
This invasive species is known by many names: dirtbag, bum, squatter—but most commonly, these animals are referred to by their given moniker: the River Rat.
You might see a River Rat this summer prowling the streets and mountains, seeking free campsites and places to park their trucks.
If you have a River Rat sighting—don't panic! While ornery in the mornings, River Rats are reasonably well tempered by mid-day, and become downright friendly as the evening turns to night.
If you're in the mountains this summer and you happen upon a River Rat, go out of your way to be friendly and understanding, especially of their raucous body odor honed from day after day on the river without a shower. This species is constantly migrating and knows little of the comforts of an everyday life: be compassionate—they're the ones tossing you a throw bag!
If for whatever reason one of these animals makes you feel good—don't hesitate to buy them a beer or slap a wet twenty into their hand, but for god's sake, under no circumstance should you introduce any of these invasives to your loved ones!
After an intense biological study, we've laid out some of the marquee features of the River Rat and how you can recognize them in the wild this summer during your mountain travels.
A) Chaco Hooves
If in doubt and unsure whether you've had a River Rat sighting, an obvious tell is their unique Chaco hooves.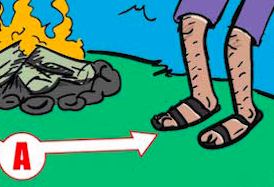 River Rats have a disdain for toe protection, and due to their amphibious nature, spending months hovering between wet and dry, the River Rat goes skin to the wind for most of his or her non-hibernating months. When, and if, a River Rat sheds their Chaco hooves, a vivid 'Z' pattern often becomes visible across their feet. The quality and color of the 'Z' markings yield clues as to how successful the River Rat has been during his/her mating season.
Look For: Ugly tan lines, Jesus feet, deformed toenails.
B) Homeless Migratory Patterns
Unlike most wild animals, the River Rat keeps no permanent den, burrow, or shelter. Instead, once the cold grip of winter has lifted, the River Rat loads up the Subaru or '89 Tacoma and turns the entire world into their playground and parking space.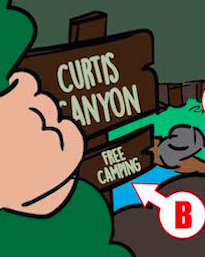 Similar to how a shellfish lives out of its shell, the River Rat treats the automobile as a means of transportation, a defense against the elements (and large mammals), and as a potential way to attract a mate with a warm bedding.
The River Rat's migratory patterns are heavily unpredictable, but if you're on a wildlife tour, and you're hell-bent on seeing one of these elusive creatures, you might try unattended campsites, anywhere in a National Forest, shady parking garages, and people's vacated driveways. Sometimes, under certain conditions, the River Rat will temporarily vacate its vehicle to squat and/or pass out in an employer's boat house, or on an unassuming human's floor. If you find a River Rat sleeping peacefully, be careful waking them, as they are unpredictable and ornery in the morning.
Look For: Paco Pads, inflatable mattresses, soiled bedding.
C) Mysterious Odors
The life of a River Rat can be an unsavory one. Constantly on the move, this species is in the habit of tabling personal hygiene for the sake of outdoor pursuits. It might be body odor, or the semi-sweet stink of moldy neoprene—and probably both. Due to the River Rat's continual movement, showers are an afterthought and bathing usually occurs with hand soap in front of a public bathroom sink (hippy shower) or in a public waterway.
Look For: Dr. Bronner's all-in-one soap, travel toiletry kits, hard liquor mouthwash.
D) Raccoon Eyes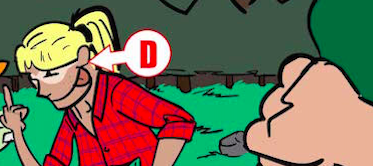 The River Rat has evolved to have excessive eye sensitivity due to terrible hangovers usually caused by late nights at bars, bonfires, and sweaty dance parties. During the day, the River Rat covers up with sunglasses, but once the sun goes down, this species sheds its ocular protection to reveal their violently contrasting facial tan lines. This mating display is similar to a peacock's sensual dance. The uglier the tan line, the more attractive the mate.
Look For: Smeared gobs of Zinc oxide, red and white skin discolorations, sunburn.
E) Steady Diet of Cheap Beer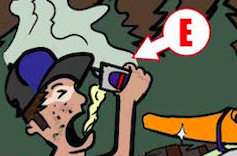 Sipped, slugged, or shotgunned, the River Rat crushes beers at morning, noon and night. Emerging from their snow caves and Subaru dens each spring, these river mammals hit the sauce hard strait out of hibernation. Both the cause and cure of that horrible feeling, River Rats regain their winter weight by excessively drinking during the spring, summer, fall—in fact, they never really stop.
Look For: Empty cardboard 30 racks, depleted handles of booze, road "sodas."
F) River Guide Rich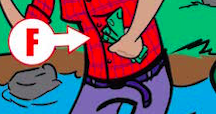 Bling-bling, bitch! The life of a River Rat is feast or famine; there is no in-between. Still below the monetary baseline of most normal working humans, the summer river season yields a windfall of tip-cash in the thousands of dollars. The River Rat's rump grows during the warmer seasons due to thick wallets full of Andrews and Benjamins. Most of the year, the River Rat languishes in nomadic poverty, but for a brief time they emerge as big spenders, buying rounds of drinks, expensive toys, and paying the gratuity karma forward. When flush, River Rats are phenomenal tippers!
Look For: "Baller" behavior, brand new shit, thick wallet. Still no shower, though.
G) Tan or Dirt?
River Rats live and thrive in the sunshine, but they also get dirty… really dirty. Usually, this combination conspires to generate a unique sort of scaly hide that is both tan and smeared with dirt. A simple bath will pull off some of the gunk, but it's not unheard of for this epidermal layer to persist the majority of a year. The only way to tell the difference is to have a River Rat sighting right before they go on a date, as they've probably resorted to industrial level soaps and a power washer to peel off the layers of earth, sweat, and funk.
Look For: Dirt shedding, an orange-brown epidermis.
H) Solve Most Problems With Cam Straps
The River Rat overcomes most, if not all obstacles by means of harnessing the properties of the cam strap. Pants are too big…belt 'em up with a cam. Need to cinch something down to your car that doesn't have a roof rack? Try a cam. The trailer detached from the truck? Time to bust out the cams. Need a scrappy bohemian man-purse? Cam straps.
On a river trip, there are very few things keeping booze and drugs locked in. This puts the cam strap amongst a River Rat's most prized possessions.
Look For: Blue rigging, janky setup, an adapt-to-overcome mentality.
I) $2000 Boat On Top of a $200 Car
The classic! Who's got money to lease or buy a car when so many toys hit the market every year? Not the River Rat. These aquatic land-going mammals value the transportation and shelter their cars provide, but the life of a River Rat is a poor one, and full of sacrifice. As long as it's big enough to sleep in, the River Rat puts a priority on gear purchases over the flashiness of their vehicle.
True bohemians, you can tell if you've had a River Rat sighting by the excessive shabbiness of their vehicle, especially when juxtaposed against the shiny new inflatable raft or hardshell kayak mounted to their almost crumbling pyroplastic roof rack. Wallace!
Look For: Bumper stickers, rust, duct tape, shattered glass and multi-colored gear popping out of windows.
J) Delineation of Species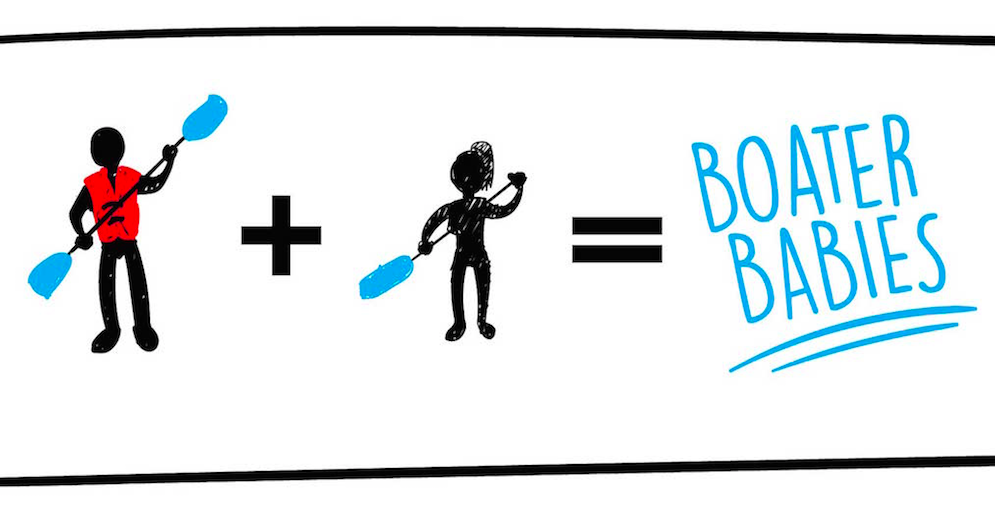 The cycle of life continues. Ryan Dee illustration.
Throughout the evolution of the River Rat, the species has witnessed several genetic offshoots. In our world today, the dominant genetic branches of the River Rat's family tree have given us the Kayaker and Rafter genus'. Kayaker River Rats tend to be cleaner, a little more organized and often more alpha (anal). Think of your high school math teacher.
But if Kayakers are the Homo Habilis of the River Rat evolutionary tree, then Rafters are almost certainly the Neanderthals. Generally more communal, pack-oriented animals, Rafters excel in social settings and almost always work well with others. Anything pertaining to drunken debauchery is within the realm of the Rafter's expertise.
While there are conditional differences between these genetic offshoots, the two are more similar than different. Rafters and kayakers, still bound to the same dive bars, shanties, rivers and campsites, tend to fraternize quite well, and often interbreed. When a kayaker mates with a rafter, they give birth a new generation of boater babies, keeping River Rat populations healthy in an ever harsher animal kingdom.
Look For: Lil-buddy PFD's, juice boxes (also used as mixers), body-hugging River Rat pouch.
From The Column: Ski Town Caricatures
READ THE STORY
This week in Women in the Mountains, we sat down with artist Rachel Pohl. Pohl shares what led her to become a professional artist and how she balances running a small business with her adventurous lifestyle. Nate Simmions photo. Equipped with a fresh stack of business cards, artist Rachel Pohl arrived at the 2013 Outdoor Retailer trade show with high hopes of connecting and collaborating with all kinds of outdoor brands. At the time, Rachel was 20 years old and eager to make a name for
READ THE STORY
While Chris Benchetler might be best known for making the mountains his canvas, he's equally talented with a paintbrush in hand. On March 27, 2021 our mountain communities awoke to news of devastating loss to our ski tribes. A helicopter crashed in the Northern Chugach Range of Alaska taking the lives of two of our favorite guides, Greg Harms and Sean McManamy. Along with our legendary friends and their pilot Zachary Russell, two of their clients, Petr Kellner and Benjamin Larochaix, also
READ THE STORY
Bringing a good bottle of wine on an adventure has always demanded some absurd extra preparation like duct tapping the bottle so it doesn't shatter in your boat. Revelshine, a new outdoor-minded wine brand, aims to eliminate that nuisance altogether. Instead of packaging their product in typical glass bottles, Revelshine opts for unbreakable, infinitely recyclable aluminum bottles. Their hope is that you don't have to sacrifice a good glass of wine for a day on the river, the crag, or at the