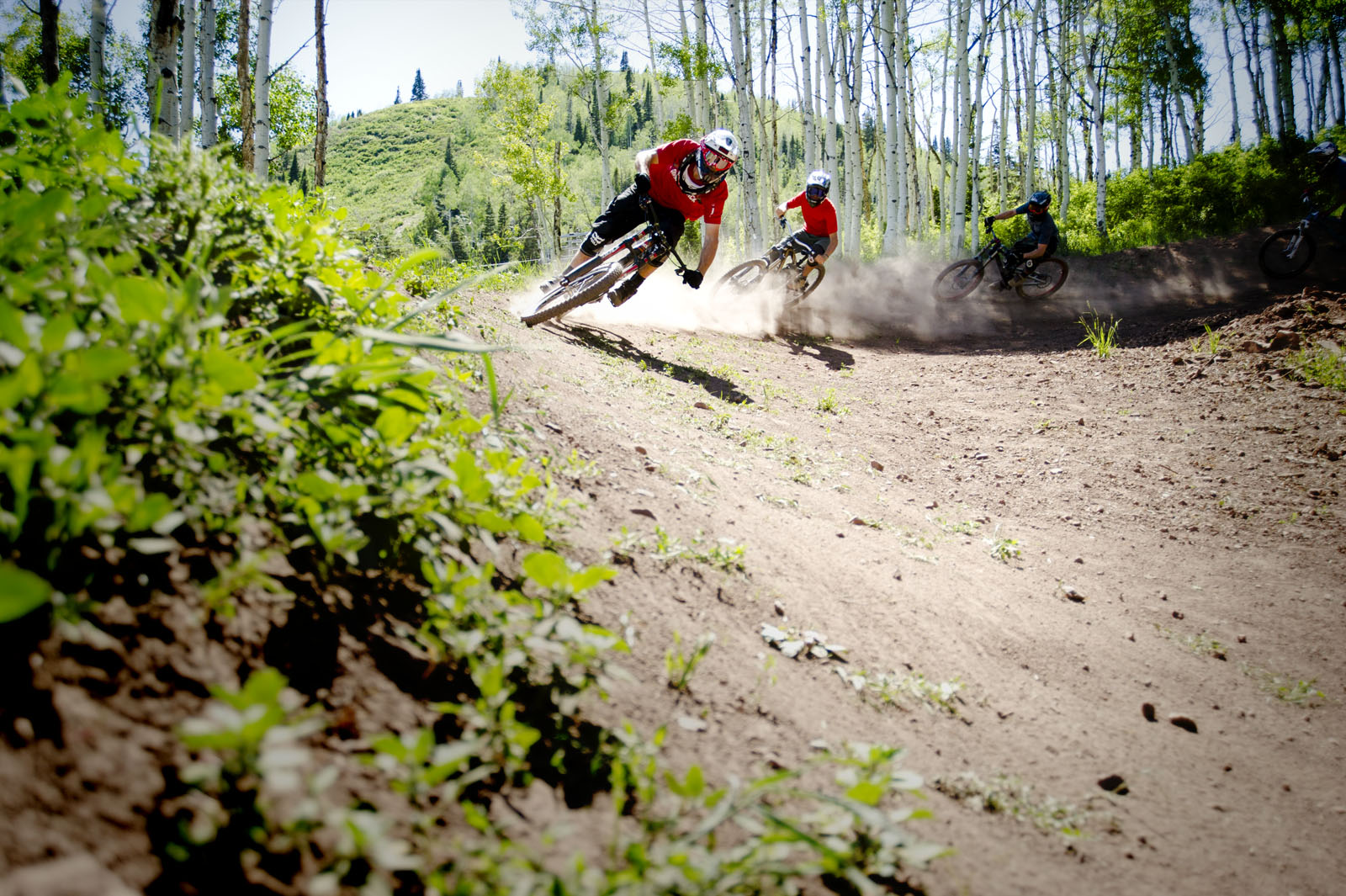 Not all of Utah's biking goods are in Moab—Park City is proof of this. Photo by Ross Downard.
When you think of mountain biking in Utah, no doubt the epic rock formations and legendary terrain of Moab springs to mind. Park City is the lush oasis to that desert landscape. Boasting the only IMBA gold-level Ride Center ranking ever awarded, and over 450 miles of networked singletrack, Park City offers something for riders of all levels and disciplines. And you can access all of it for no charge. This is a town that's completely preoccupied with mountain biking, and it's down to share the goods.
Start your day with an energy-packed breakfast at Squatters, where you can get the eggs-and-bacon works of your choice (including plenty of gluten-free options) or keep it on the lighter side at the Wasatch Bagel Café. Just add coffee and you're set for a full morning of sick singletrack.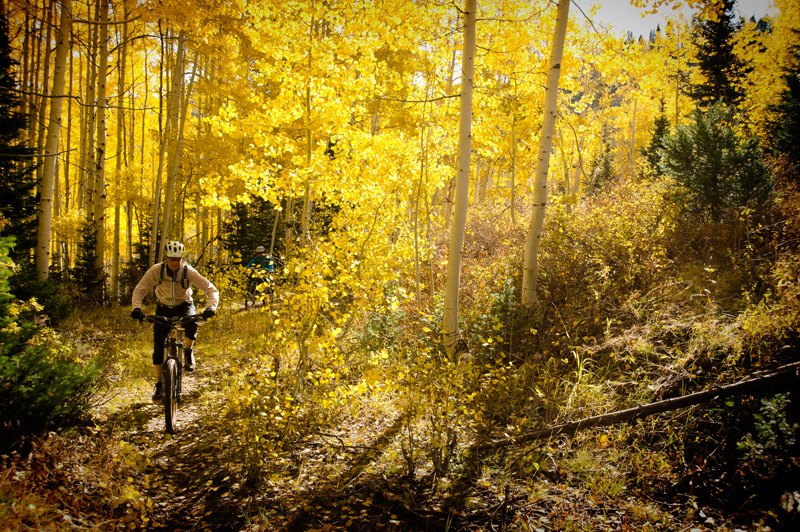 A solid breakfast, a grove of Aspens, and some solid singletrack—what more could you ask for? Photo by Ross Downard.
Getting around Park City is easy, so there's no need to rent a car. Grab one of the many shuttles from Salt Lake City and then plan to use your bike or the town's free public transit system for your stay. Ride to breakfast, fuel up, and then roll straight out to the trails. We recommend taking your pick from something in the Old Town area. For example, try climbing Armstrong to the IMBA Epic Mid Mountain Trail, so that you can get your fill in peace before the afternoon traffic builds up. Spend some time on Park City Resort's hand-cut, old school singletrack and then drop into the Main Street area of town for lunch.
Main Street has got something for everyone across a wide range of options—try some of Park City's old west flavor at the High West Distillery or rub elbows with the Sundance crowd at Robert Redford's restaurant, Zoom. No matter where you go, you'll feel right at home in your bike shorts and there's always somewhere to lock up your rig.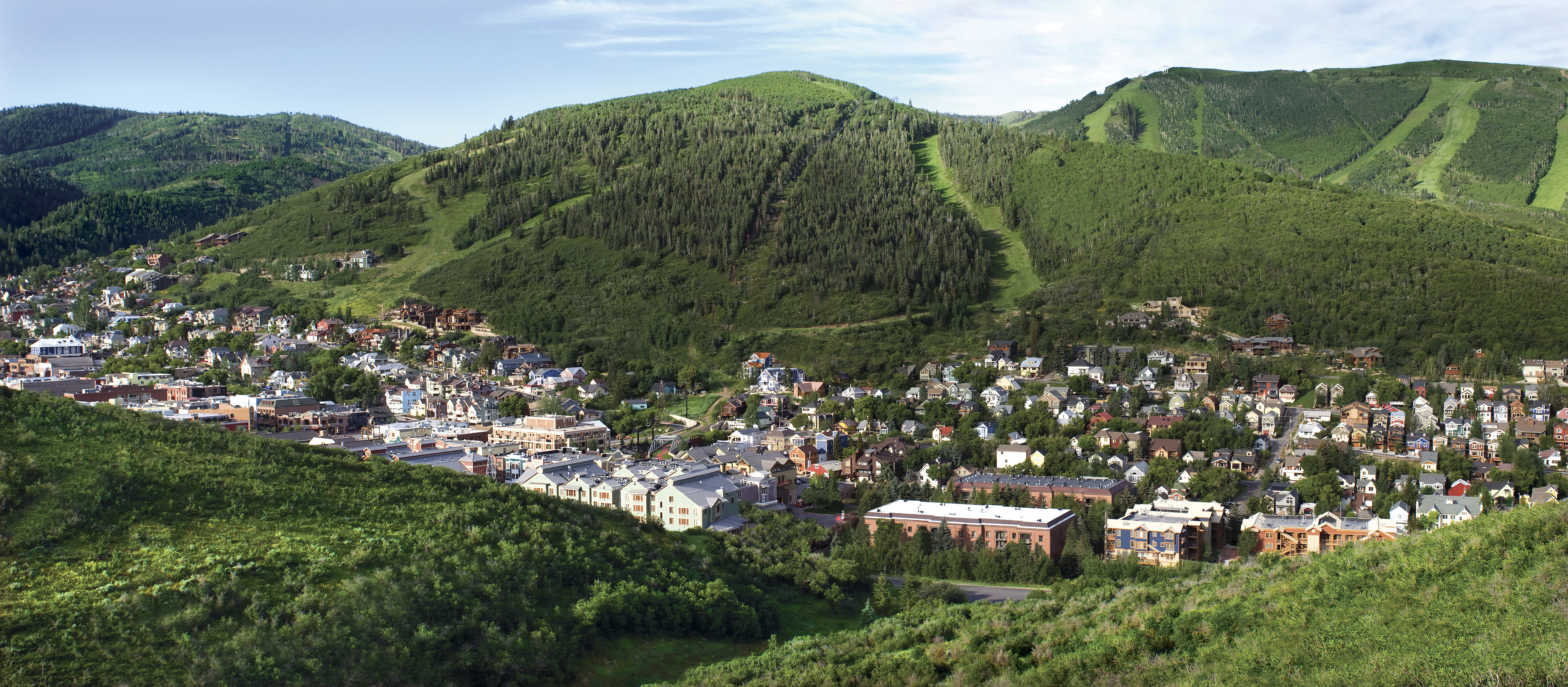 Don't loiter over lunch—there are miles of trails to tackle. Photo courtesy of the Park City Chamber of Commerce.
Once replenished, spend your afternoon checking out the Glenwild Trail System, with the flowy crowd pleaser the Flying Dog topping the list of must-rides. The trail drops you into Bob's Basin, home to some whoop-worthy jump lines and bermed turns, and it's just a few pedal strokes away from the free, public Trailside Bike Park, where you can spin away the rest of the afternoon practicing your skills—or learning new ones—on dirt jumps, table tops, skinnies and wall rides. New this year, the Trailside Bike Park now features an advanced all-mountain line as well as a slopestyle trail.
This 2011 video gives you a rough idea of some of the downhill offerings on tap in the area, which have only been stepped up in years past.
If you've got a rowdier afternoon in mind, Canyons Resort has been on a steady growth spurt for the last three years, adding evermore lines, flow and trails to its lift-served bike park. Lift access riding is a great option to maximize your enjoyment of the terrain at all three resorts: Canyons, Park City, and Deer Valley, but it's not the only way. The lifts start running at Canyons Resort in mid-June, and possibly earlier considering how dry this winter was. For the cost of your ticket you'll also get a little discount on lunch at the Red Pine Lodge. But if a lift ticket isn't in the budget, you can just take the bus. Really.
There's a reason these scenic vistas populate promotional literature for the area—they look damn inviting. Photo courtesy of Deer Valley.
Starting Memorial Day Weekend, the Empire Pass Bus runs from Main Street Transit Center up the Guardsman Pass Road to the Montage Hotel, right below Empire Pass. For those counting, that's about 1,200 vertical feet for free on public transit. Every bus comes equipped with two bike racks on the front, but it is not uncommon to share your "shuttle" with ten or more other riders and bikes on board—the drivers are cool about leaving space at the front for the surplus. From Empire Pass, take your pick of some of Park City's oldest, most stunning, soulful singletrack and wind up on the Mid Mountain Trail. Go left to Deer Valley resort, or head right to Park City Mountain Resort. Door number three? Climb the rest of the way to access some of the upper trails. For zero dollars, you're welcome to use the bus all day long and just keep choosing your own adventure.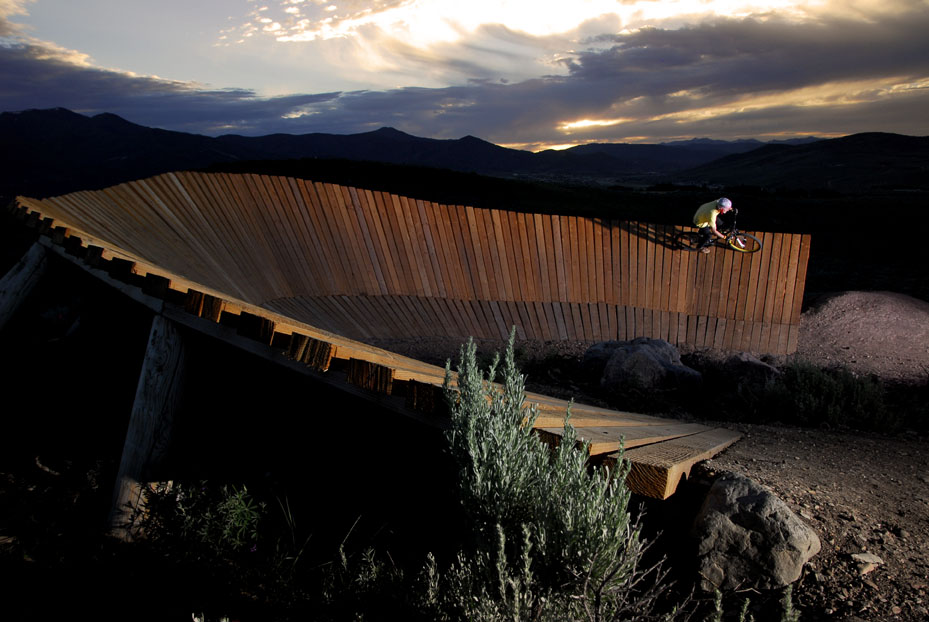 This Park City wall ride has more wood than your local lumberyard. Photo by Ross Downard.
New for 2014, the local trail gnomes have been working hard on a brand new challenge, the W-O-W Connector, which stands for Wasatch Over Wasatch. It will link Park City with Heber City by a 22-mile singletrack loop allowing riders to rip from the top of Deer Valley to the Heber Midway Valley, through the Dutch Hollow State Park trail system and then climb all the way back into Park City. Expected completion is in the fall of 2014.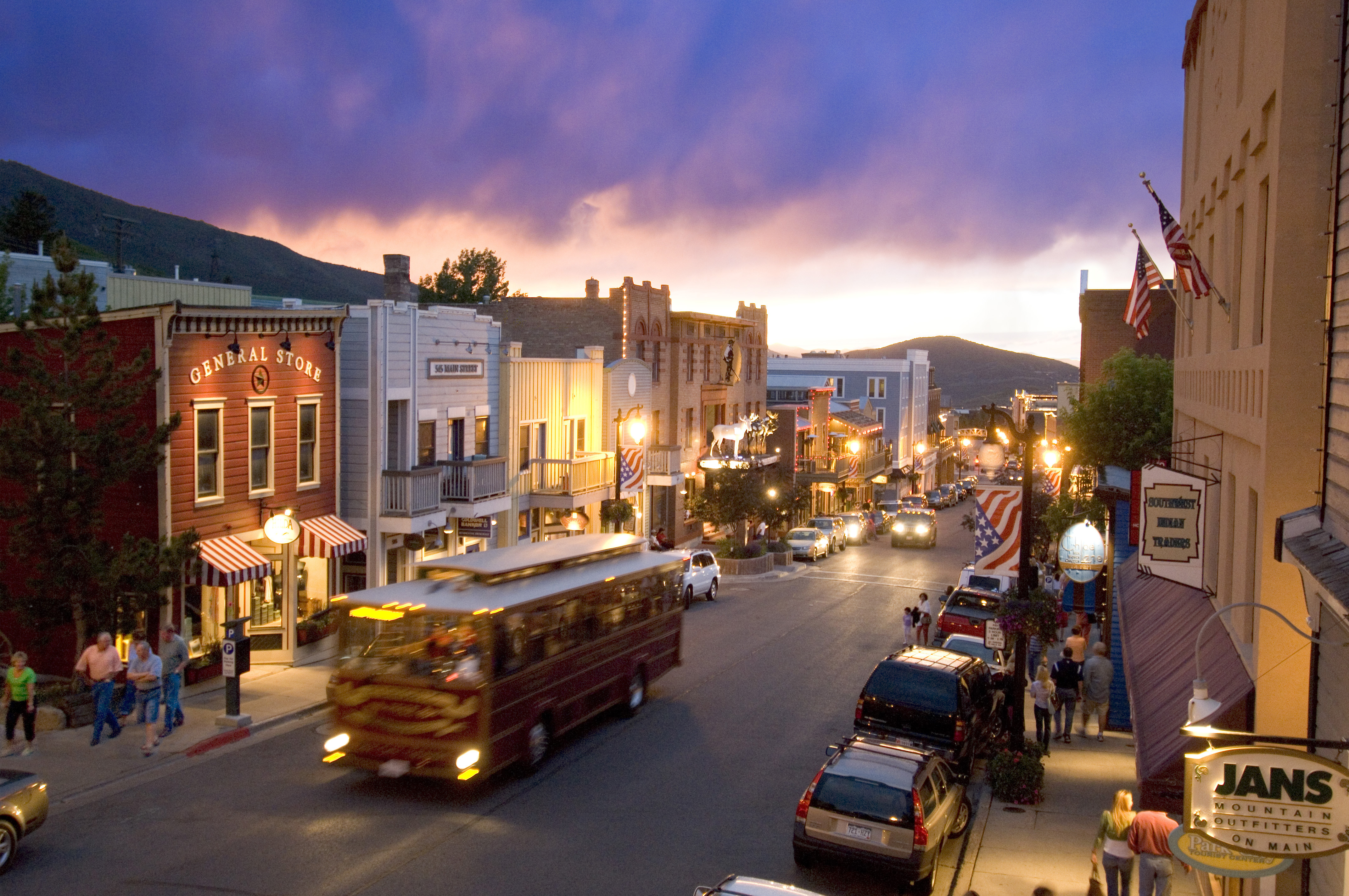 From dusk til dawn, Park City's Main Street offers plenty of options for eating, drinking, and buying souvenir t-shirts for everyone back home. Photo courtesy of the Park City Chamber of Commerce.
When you've had enough, our favorite spot to carbo load for another day of alpine adventure is Vinto Pizzeria back on Main Street. There you'll find delicious food in hearty portions, reasonable prices, awesome staff, and wine sold by the ounce. They've also got a good beer selection, with European favorites and local craft brews by the bottle. Pro tip: in Utah, "by the bottle" means "full strength"—state law prohibits draft beer to exceed 3.2 percent alcohol content. But many of the local craft breweries' finest bottles come with up to nine percent alcohol content.
Boasting the only IMBA gold-level Ride Center ranking ever awarded, and over 450 miles of networked singletrack, Park City offers something for riders of all levels and disciplines. And you can access all of it for no charge.
After dinner, Park City shows it's an endurance mountain bikers' town; stuffed with beer and pizza plus a full day on the legs (at elevation, no less), you may be tempted to call it a night. But press on and you'll be rewarded with a fun and friendly bar scene featuring a variety of musical acts. Starting in June, Wednesdays in particular are a great night to be in town. Deer Valley hosts live outdoor concerts and everyone heads over to the Snow Park Amphitheatre to sit on the grass, sip on wine or beer they brought, enjoy a picnic, and chill with friends and neighbors.
What's better than free music? Free music in the mountains. Photo courtesy of Deer Valley Resort.
To keep the evening going, check out the scene at Bistro 412 or Park City Live. The bars—where liquor is measured strictly by the ounce—stop serving at one a.m. You can pick up liquor and full-strength beer from state liquor stores, and you can pick up 3.2 percent beers anytime, including Sundays and late at night, from grocery stores. Park City also has the only two retail outlets that offer full strength spirits on Sunday in Utah. You can purchase High West Distillery's whiskey and vodka at the Distillery on Park Avenue and you can purchase full strength beer at the Wasatch Brew Pub on the top of Main Street.
When you're ready to hit the hay, you'll be a happy camper if you choose Park City Lodging to help you find the right accommodations. They have rental properties available from the very large to the teeny tiny so there is sure to be something that works for any sized group or budget. Get some rest, because with hundreds of miles of singletrack woven throughout Park City's many trail systems — Round Valley, Lost Prospector, Glenwild, Deer Valley, Canyons Resort, Park City Mountain Resort and counting — you're going to need more than a couple fully-loaded days. How many days? We're not sure. Most of the locals we met came as visitors and now—years later—still can't get enough.
Rather than staring at a screen, you should be staring at this. Photo courtesy of the Park City Chamber of Commerce.
Park City: 6 Tips to Go Local
#1. Get acclimated by staying hydrated and getting plenty of rest. Remember—drink more water than beer.
#2. Consider tagging a long with some locals or hiring a guide for at least one day —and then milk the poor soul for as much local knowledge as you can. If you've only got limited time, this is the best way to make sure you don't blow it.
#3. For all of your bicycle shop needs—including snagging a guide—head to White Pine Touring . They've got great mechanics, gear, bike rentals and demos, trail snacks, and more.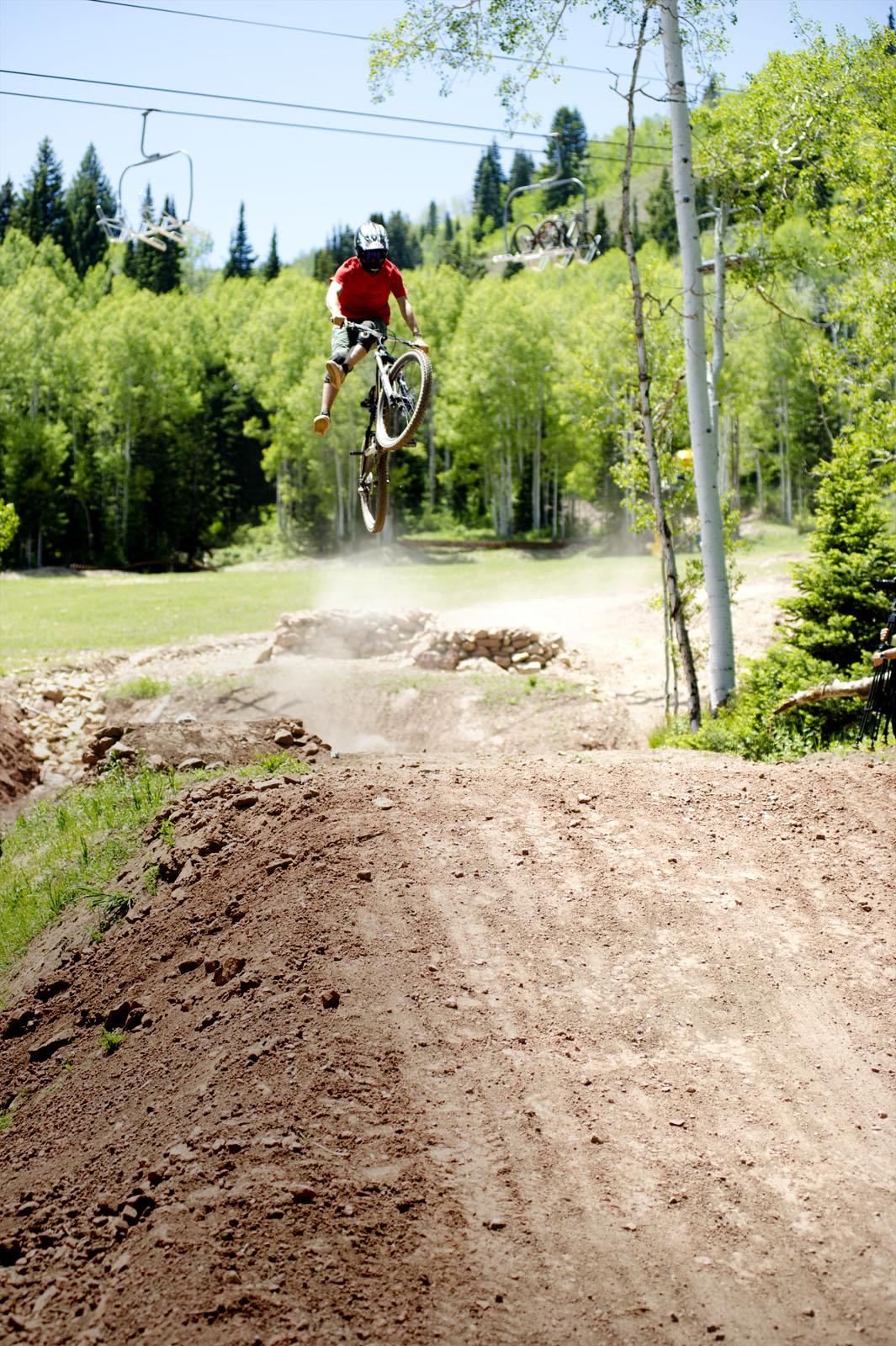 Photo by Ross Downard.
#4. Rumor has it the hospital is a great lunch stop , thanks to the award-winning chef in its cafeteria.
#5. The St. Regis Hotel hosts free sunset champagne sabering demonstrations —you'll get a ride on North America's first resort funicular and a new party trick.
#6. Red Bicycle Breadworks "Stick Bread" is the perfect post-ride snack . Get them at The Market at Park City (if you can beat the locals to them).
Special thanks to Ross Downard for the sick shots and to Scott House for sharing his insights on snagging the goods.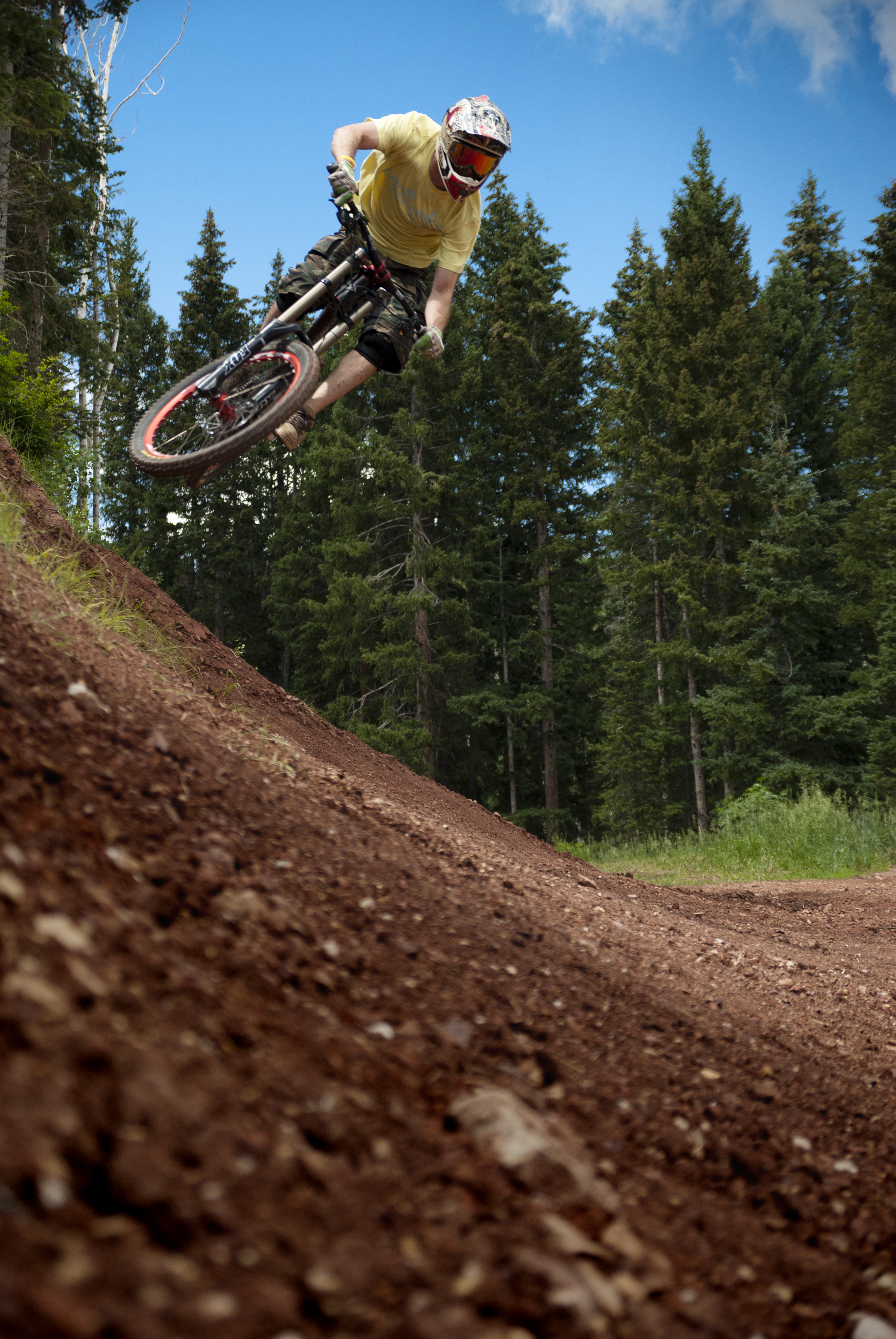 There's no shortage of good times in Park City. Photo by Ross Downard.
From The Column: Local's Guide
READ THE STORY
This bike is not a social animal. Especially not if you're riding with friends on big, burly bikes. Admittedly, I'm a fan of big, burly bikes. The longer the travel, the better, right? Well, with the advent of what some might call "downcountry" riding, we've been seeing a crop of short travel bikes that seem to defy categorization. They're not enduro bikes, but they're also not what we'd traditionally consider XC bikes made for racing. Rocky Mountain's Element C90 falls squarely into that
READ THE STORY
Want to go fast and win races? Yeti's all-new SB160 might just be your ticket to the podium. | Yeti Cycles photo. Under the butts of Richie Rude and Bex Baraona, Yeti has posted some stellar results on the Enduro World Series circuit in the last few years, especially remarkable since their old bikes didn't necessarily follow the trend of "longer, slacker, and beefier is better." Richie won the EWS aboard a 150mm-travel bike with a 64.5-degree head angle, whereas most of his competitors
READ THE STORY
Off season? What off season? Check out our favorite men's wet weather riding kit. | Rapha photo. When it comes to unisex and men's apparel, there certainly hasn't been a shortage of cold and wet weather riding gear for mountain bikers. However, with so many options on the market, we wanted to find the best options for technical apparel to keep you dry and operating at the optimal temperature when temps drop and the dirt finally gets tacky. Let's face it, not a whole lot beats riding a