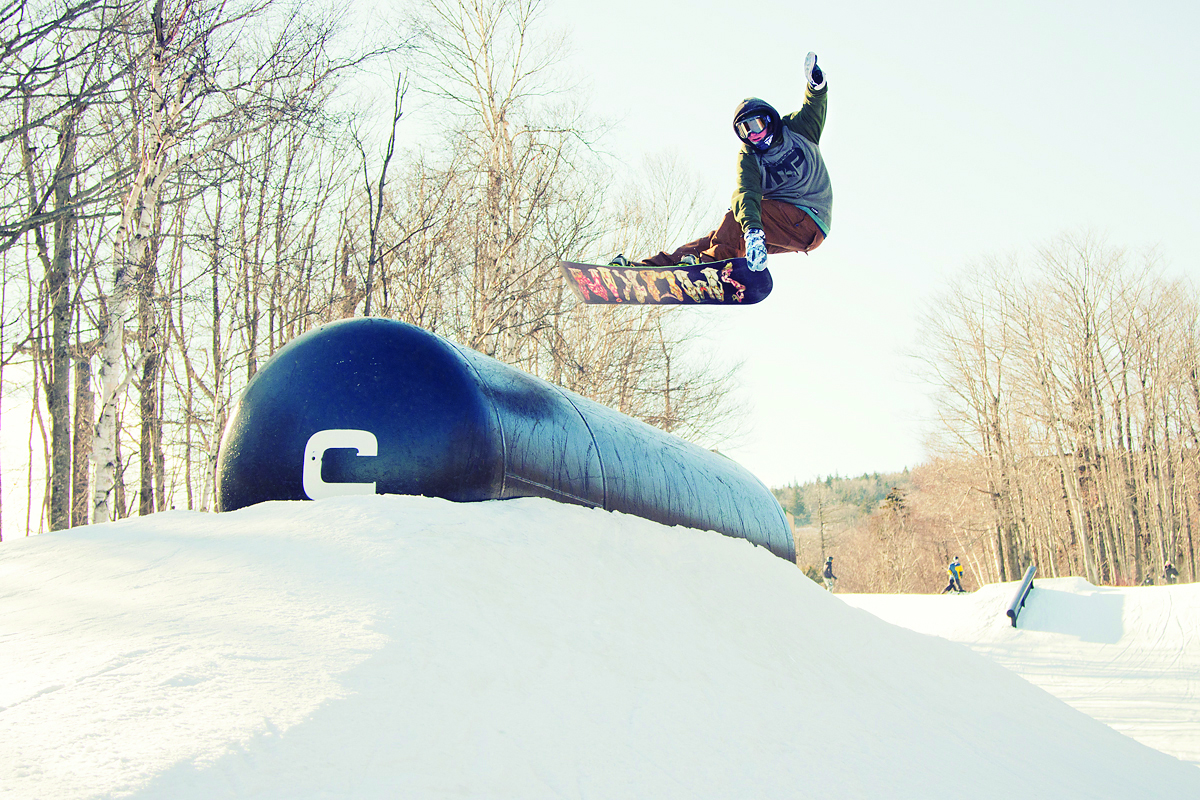 Mount Snow's Carinthia is a peak dedicated to terrain parks. Photo by Pat Ryan.
Southern Vermont is a vast corduroy kingdom of clock towers, loads of lodging and powerful snowmaking ops. Linked by two-lane Route 100—the skier's highway—or by rambling backroads, Mount Snow, Stratton and Okemo see heaps of outta' state plates from Connecticut, New York and New Jersey. On the slopes and in the bars, ayuh and fahgettaboutit cross paths in a land of artisan foods and bucolic byways.
But it's also a hotbed of action sports heros cutting their mettle on legendary ice walled halfpipes, parks, and more. Kelly Clark, Ross Powers, Lindsey Jacobellis, the Mitranis and Hannah Teter all grew up in the shadow of the mountains of Southern Vermont. The U.S. Open, X Games and Dew Tour all once reigned in the land of craft beer and maple syrup.
Mount Snow
Two worlds coexist at Mount Snow. The first is Carinthia; a peak dedicated almost exclusively to terrain parks with its acres of jumps, rails and a 450-plus long superpipe with 18-foot walls. Then there's the swift 6-passenger bubble lift Bluebird Express ferrying the carving set to the summit to make their way down a bevy of buffed blue square boulevards.
Kelly Clark, a Mount Snow Academy grad, is synonymous with Mount Snow. When the X Games were there, a young Clark soared and is now arguably the best lady rider on the planet. Her parents own TC's in West Dover with memorabilia of their daughter's exploits on the wall. Nowadays, high fliers include Devin Logan and Indiana native Nick Goepper. The largest park is Inferno (which has hosted both the X Games and Dew Tour), home to the March Carinthia Freeski Open. While parks go urban, The Farm's got a rural vibe with Vermont icons to jib like a sugar shack, barn, tractor and sap buckets. That's a huge jump from the old school days of buried vans and the first pipe in the East, Un Blanco Gulch, back in 1992.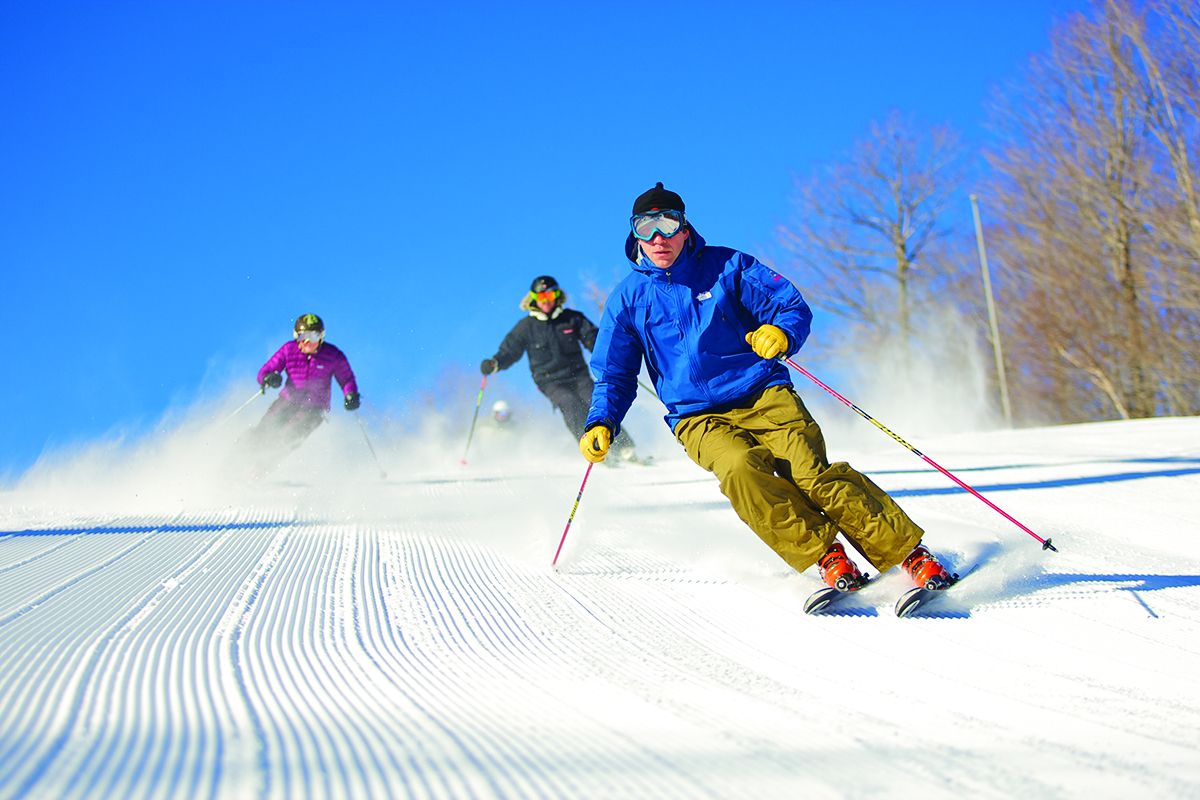 Carving the corduroy groomers at Mount Snow. Photo by Mount Snow.
Mount Snow's boundary to boundary policy ensures tree lovers and pow hounds can play unfettered in forests that get summer love from mountain ops clearing out the blowdowns. The majority of expert terrain is on North Face, including the "wicked" steep double black diamond Ripcord.
Hungry? Cuzzins and then frantic Snow Barn are Mount Snow classics, the former in the main base lodge and the latter is by Snow Lake, both feature live music. It's a bit more subdued at the slopeside Station Tap Room with its micro and craft offerings. Hit the wild Silo (game room) for specials and downstairs at the new Green Door Pub (foosball and pool), owned by the same people running Mulligans and the Green Door at Stratton.
Stratton
Heading into the trees at Stratton. Photo by luxuryskiingtrips.com
When the U.S. Open left Stratton after 27 years for Vail in 2013 it stung. No more watching up-and-comers trying to score underage brews while Shaun White, Kelly Clark, Torah Bright and Terje ripped the pipe. Now there's the Vermont Open on the 13-footer on Suntanner while the 18-footer sees high level athletes being coached by Powers. The two-time Olympic medalist is now the Stratton Mountain School snowboard coach. Boardercross has also seen a recent surge, and both Powers and Jacobellis helped design the course on East Byrneside (lap it off the American Express high-speed six; one of four parks). Big Ben's got a new pump section and the new LTR off Villager comes with a big fall-line for rails, spines and rollers.
Stratton is probably more well known for being exceptionally groomed. Smooth cruisers are found from the gondola off the summit like Black Black to Polar Pear. Fly under the radar on the Snow Bowl lift. There's been an uptick in gladed goods with steep and tight turns found in Squirrel's Nest, Test Pilot and others.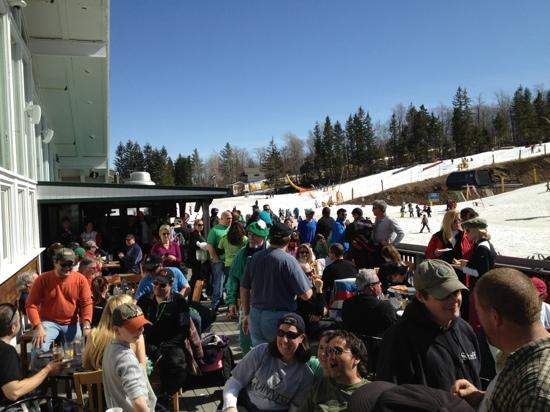 Grizzlies on a Bluebird day. Photo by tripadvisor.com
Grab a Vermont-made Long Trail on the slopeside deck at Grizzly's to wash down crunchy wings and stacked pulled pork sandwich. Then skillfully bug a local about hidden pow in glades like Hidden Powder and Crouching Tiger. Make a new friend at the Green Door Pub in the village with DJs, bands, and specials like free wing Sunday and free nacho Wednesdays (same at Mount Snow). If it goes well, try drinks, and pizza at the new Firetower Restaurant and Tavern.
Okemo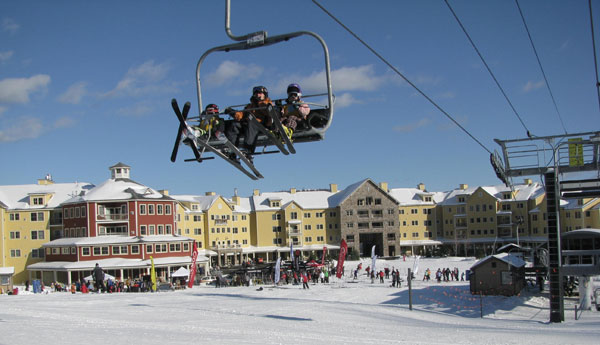 Okemo is known as a great family mountain. Photo by www.familyskitrips.com
Manicured corduroy and copious condos keep vanilla-flavored Okemo a family-centric resort. Cruise control's easy enough. Readily accessible Chief, World Cup, Defiance and Wardance get lots of love from the adrenaline set. To avoid some of the peak time shuffles, be an early bird and branch out to the dreamy South Face with boulevards like gentle Dream Weaver and Off the Rim. Secluded Jackson Gore, home to the Timber Ripper mountain coaster (hands off the brakes!), also offers twists on Tuckered Out and the rip-snorting Big Bang.
Leap in the pipe and parks. Ross Powers was once an ambassador there when he just missed making the U.S. boardercross team for the 2010 Olympics. Benji Farrow grew up next door in Mt. Holly. With a halfpipe born in the early 1990s, the baby's matured into a giant 18-foot-long Amp Energy Superpipe with its own surface lift. The Zone, with a t-bar, parallels the pipe with signature features. Yankee ingenuity lives amongst the wily arranged natural blowdowns for expert jibbers in glided Broken Arrow (off Lower Arrow). The nearly 3,000-foot long Rockstar Superpark on Nor-easter flows unencumbered.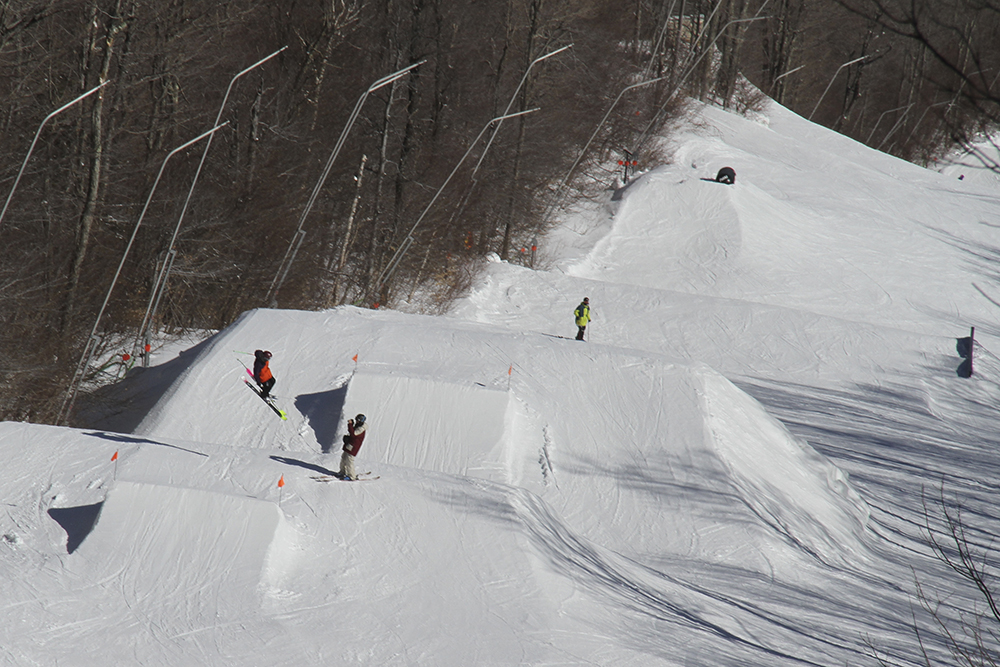 See and be seen in Okemo's parks. Photo by Okemo Mountain Resort.
Okemo's also got a big air bag so after a day of stunts, Tom's Loft near the clock tower is a hopping spot where local stash busters and mountain workers might divulge a pocket or two of tree skiing hubs not found on the trail map over some burgers and wings. If not there, head downhill to Ludlow and the very Celtic Killarney with its Super Dog Challenge (8 oz. dog loaded with chili, cheese and more) for a pint before leaving the corduroy kingdom.
Magic Mountain
Matthew Tabryz shreds the tight, steep, raw woods of Magic. Jacob Kravitz photo via Magic Mountain.
By this point, you know southern Vermont is all about well-manicured intermediate groomers catering to folks from Jersey and Manhattan, boring terrain, and a healthy serving of terrain parks, right? Drive over to Magic Mountain in Londonderry and throw everything you know out the window. This is the Jay Peak of the south–but more 1990's Jay Peak than the newer one with the waterpark.
An independent ski area propped up by a fiercely loyal population of regulars who keep the place afloat through a co-op and by volunteering to thin the glades every summer and fall, Magic is an incredible reprieve from the more corporate skiing that dominates the region. Magic allows boundary-to-boundary skiing on every square inch of its 135 skiable acres, including the various cliff bands that dot the fall line on untamed trails like Red Line and Black Line, where a Ski The East Freeride Tour stop takes place every winter. The top of Master Magician steepens to a ripe pitch of 45 degrees–a pitch you'd never fathom this far south in the Greens. The 1,700 vertical feet of shredding, much of which stays ungroomed, is accessed almost solely by a legendary red double chair that crawls to the top over the prime freeride terrain of Red Line.
The terrain, atmosphere, and skier and rider type stands in total contrast to the mountains around it, many of which are still in plain view. Weekend day tickets for adults are a more reasonable $63, and you're likely to stand in a mellow lift line clacking poles and slapping high-fives with a posse of TGR members who frequent the place. While snowfall can be more fickle this far south, when it's on, it's really worth your time to find the place...
From The Column: Local's Guide
READ THE STORY
Well, it's a magical time of year again. Sticky spring snow is being plastered to the sides of the mountains high above Chamonix, France just in time for the Aiguille Du Midi tram to re-open after a lengthy COVID hiatus. Of course, that means the locals are absolutely frothing to get after it, and that's just what Tof Henry and Seth Morrison did on one of the biggest lines of them all: the Aiguille Du Midi's Mallory Route. More of a climbing route than a ski line, it comes into rare condition
READ THE STORY
Kai Jones' progression in big mountain skiing isn't slowing down, with the young gun spending the better part of the winter stacking clips in Jackson and Montana for the upcoming TGR film. To cap off the season, he just pulled off a descent that he's been dreaming of for his entire life: skiing off the summit of the Grand Teton. Inspired by generations of legendary skiers in Jackson Hole, Kai teamed up with his close friend and mentor Tim Durtschi, as well as Jackson Hole Mountain Guides'
READ THE STORY
Truth be told, we've gotta give ski resorts in North America A TON of credit for the season they managed to pull off this year, despite all kinds of challenges like COVID outbreaks, travel restrictions, crowding, and inconsistent snowfall. Despite the whole world not feeling very normal, skiing at least felt like an escape from it all. Well, even though they had a great run, Snowbird (one of the last resorts open in the country) was forced to cut their season short a few weeks early because