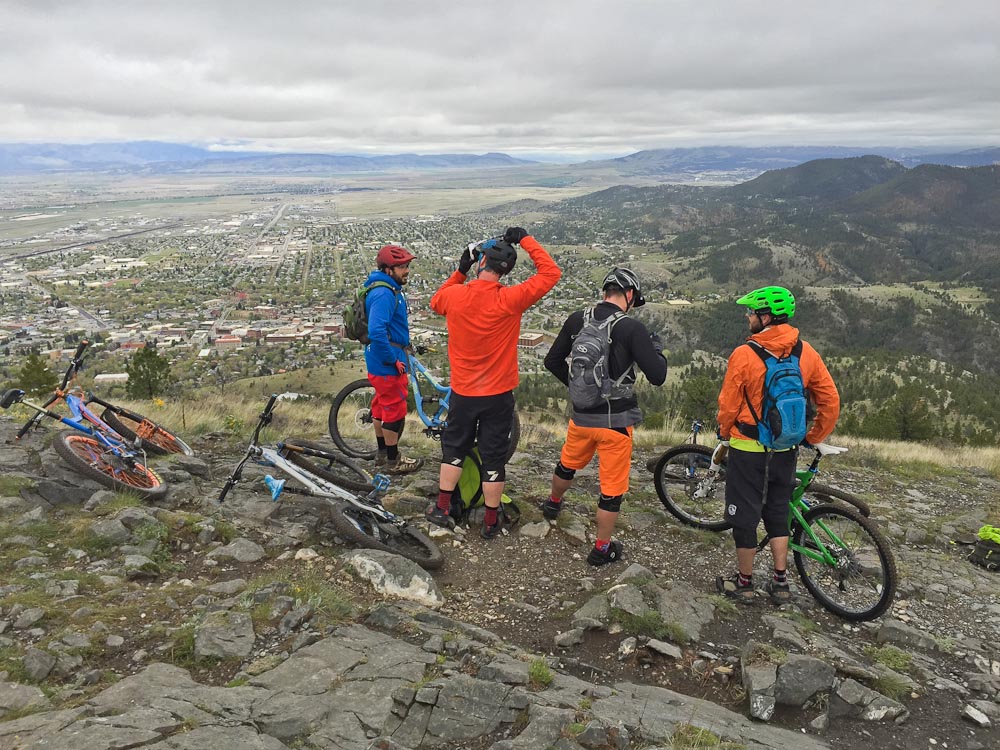 The summit of Mt. Helena overlooks all of town with 70 miles of interconnected singletrack waiting below. Ryan Dunfee photo.
We pause on the crest of Mt. Helena Ridge Trail. Garrick has already motored up to the climax of the ride and has been waiting patiently, but the same metabolism that turns every available calorie into climb-crushing energy has also stripped him of any body fat to protect against the cold, moisture-laden wind ripping across the ridge.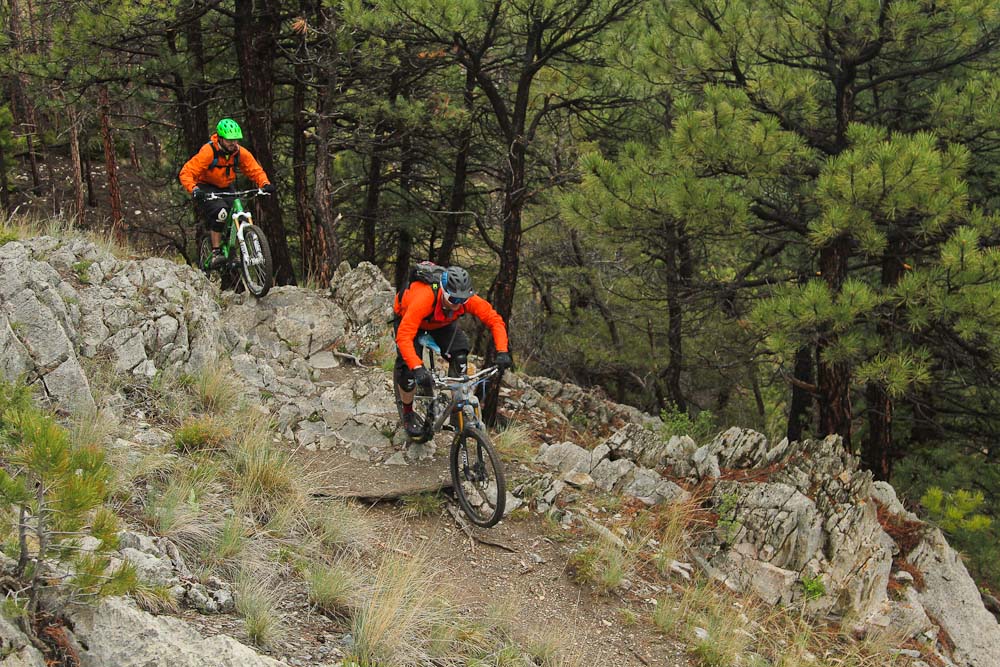 Helena locals Ryan Ford and Eric Sivers roll through a rock garden on the Backside trail. Ryan Dunfee photo.
Positioned on the "wrong" side of the Continental Divide, Helena, Montana is usually hot and dry, but this May, the late onset of moisture in the Rockies meant that ski-season temps combined with persistent rain instead. Yesterday's stop of the Montana Enduro Series was a full-on slog in the mud from start to finish. Vision shifted from one eye to the other as mud, dirt, and rain offered unceasing and unwelcome faceshots.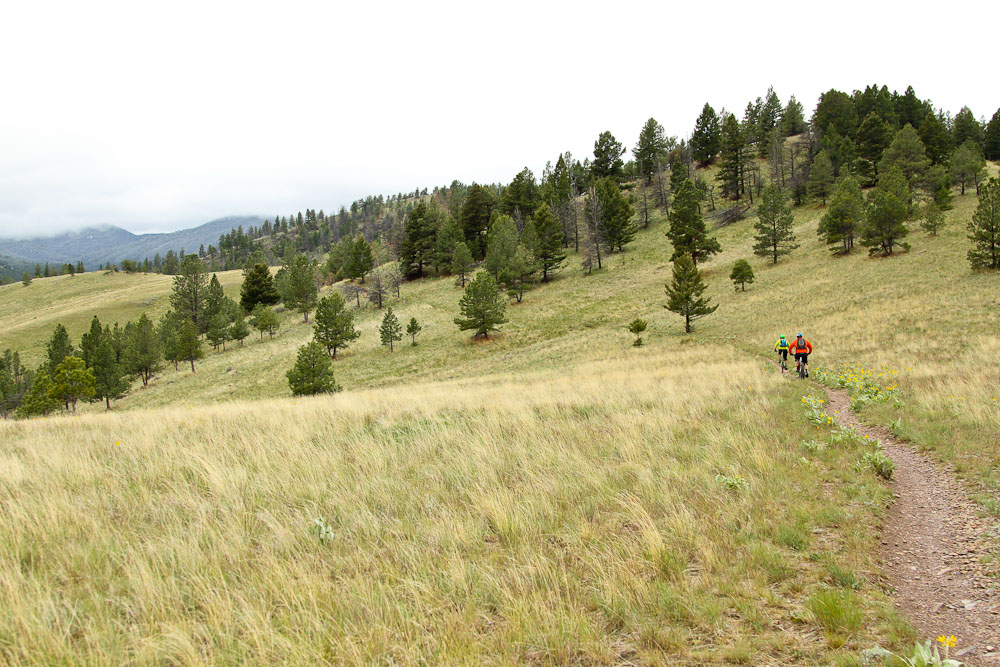 The Mt. Helena Ridge Trail hugs the crest of the South Hills network was rad views off both sides. Ryan Dunfee photo.
The trails dried out remarkably quick despite the all-day rain, and as Garrick cajoles us to start our descent down Show Me The Horse Trail, one of Helena's marquee trail bike downhills, our bikes skip along pebble fields lining the first series of corners, the tires connecting on the high lines of the corners as we drift the first couple fall-line turns.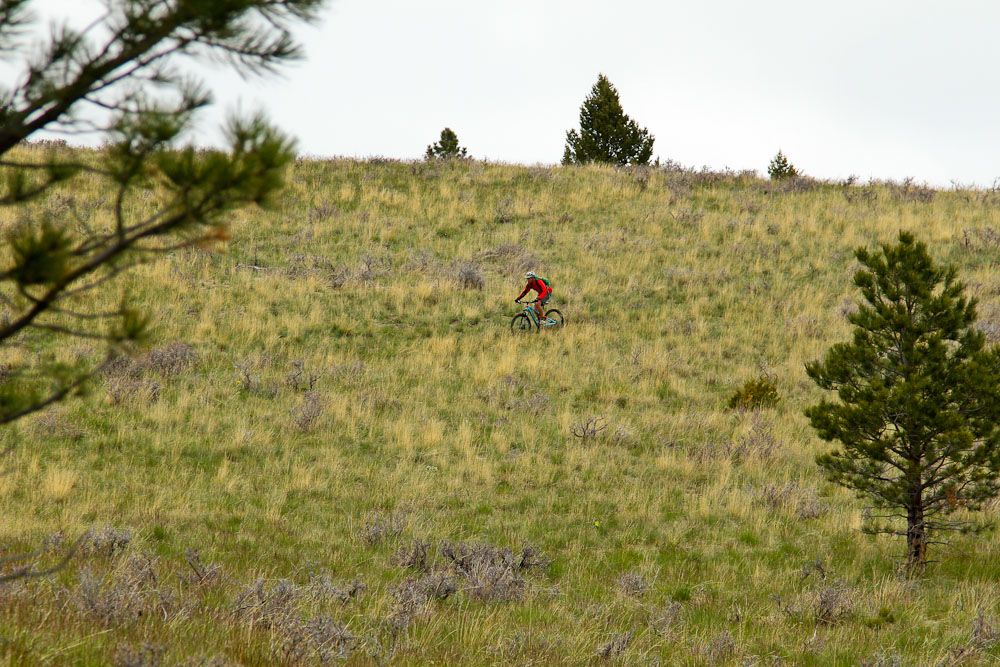 Garrick Tischler enjoying some Helena meadow skipping. Ryan Dunfee photo.
We rip across a clear meadow, pumping the grades as they drift up and down through the yellow grass, before the trail realigns itself with gravity and sends us hurtling through a series of bermed turns that give our cornering knobs some serious TLC.
Ryan Ford blasts down Show Me The Horse Trail, an awesome trail loaded with grin-inducing corners and airs. Ryan Dunfee photo.
The trees thicken as the trail bottoms out in a dark valley, flexing its angles as it carves up and down the walls, the tires alternatively losing contact with the ground and connecting for traction. It's the kind of trail that gets the bike dancing underneath you, drifting and sliding without any input from the brakes, catching naturally as gravity pushes weight back into the tires at the bottom of each turn. The good fun.
RELATED: Why mountain biking Park City should be on your bucket list
A jump off the right side of the trail sets up with a smooth in-run of dark dirt, and I table the bike through the gap between two trees, find the earth again on soft mulch. I run the bike out until we finish on a dirt road, snapping the last few corners .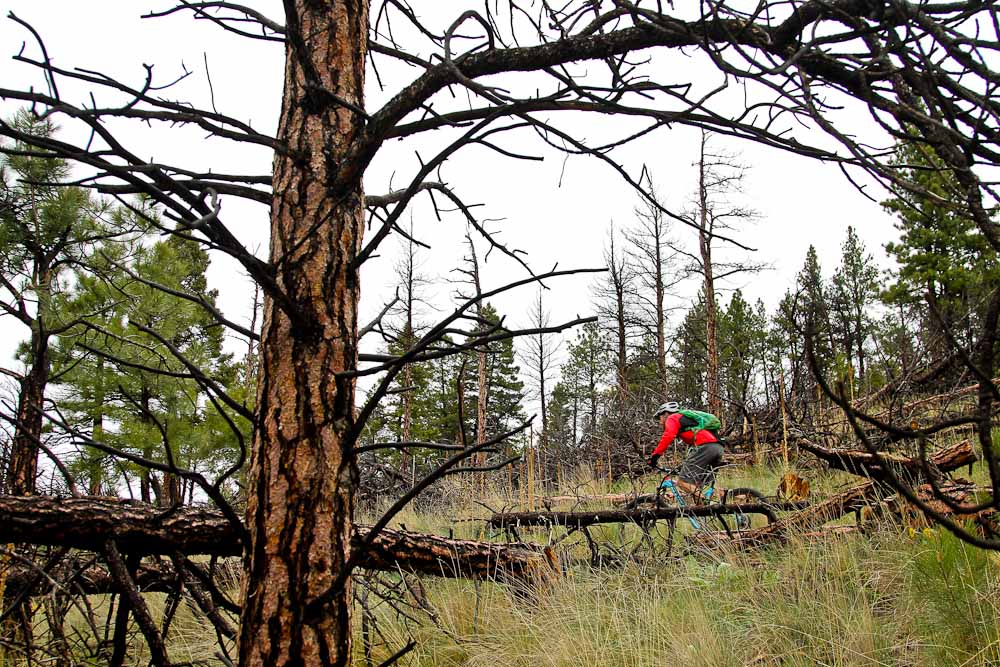 Garrick hammers through the burn on Backside Trail. Ryan Dunfee photo.
Within minutes, we're back in Helena's downtown district, where trailheads spin off the end of dozens of neighborhoods, linking up an impressive, 70-mile network of singletrack that can be accessed from any part of town that backs up to Mt. Helena and the lower peaks around it.
THE DEAL WITH HELENA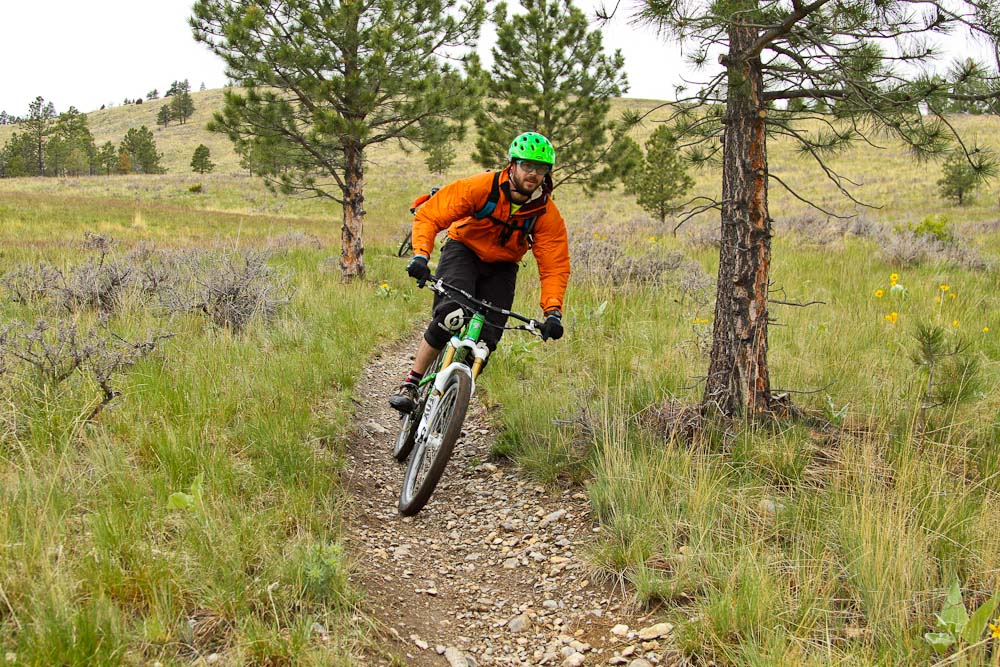 Ryan Ford, living for the corners on Show Me The Horse. Ryan Dunfee photo.
With its relatively dry climate and low, 4,000 foot elevation, the state capital of Montana is about as prime a spot you could hope to find as a mountain biker in a state known for snow and cold. Spring rides typically start in March, while most other mountain towns in the state, like Bozeman or Whitefish, typically aren't getting in many rides before May. The Garage, one of the city's five bike shops, is gaining increasing notoriety nationally for their wild custom bike builds, and the city hosts one of the longest-running enduro races in the country, the annual Helenduro.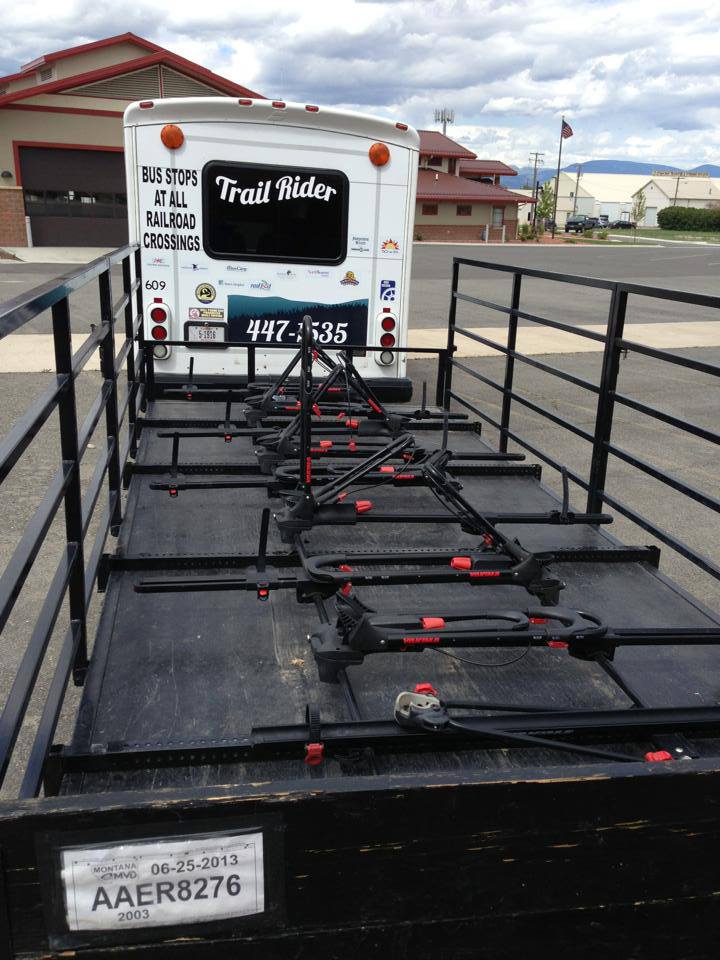 Helena's Trail Rider bike shuttle offers free lifts to various trailheads around town Wednesdays through Sundays all summer long. Bike Helena photo.
Incredibly, the city has a free community bike shuttle, the Trail Rider, which shuttles area riders and visitors up to either the Mount Helena Ridge Trail, Barking Dog Trail, Eddye McClure Trai, or MacDonald Pass accessing the Continental Divide Trail, running every evening after work Wednesday through Friday and in the mornings during the weekends.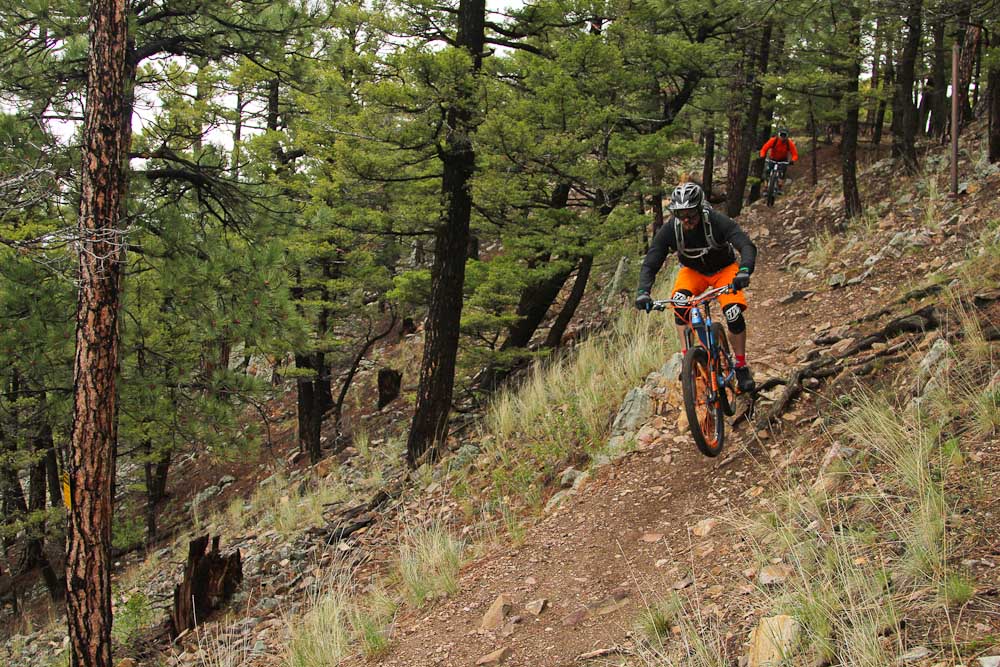 TJ Lehman rolls through West End. Ryan Dunfee photo.
We've mentioned how much we love Park City's bike-friendly free transit network before, and a dedicated shuttle service tailored entirely to mountain biking is certainly something to be jealous of. As well, every August, Bike Helena hosts an annual Shuttlefest, which ties in three days of shuttle-assisted mountain biking with a beer festival put on by the Montana Brewers' Association. If you're looking for a time to visit town to ride, that is it.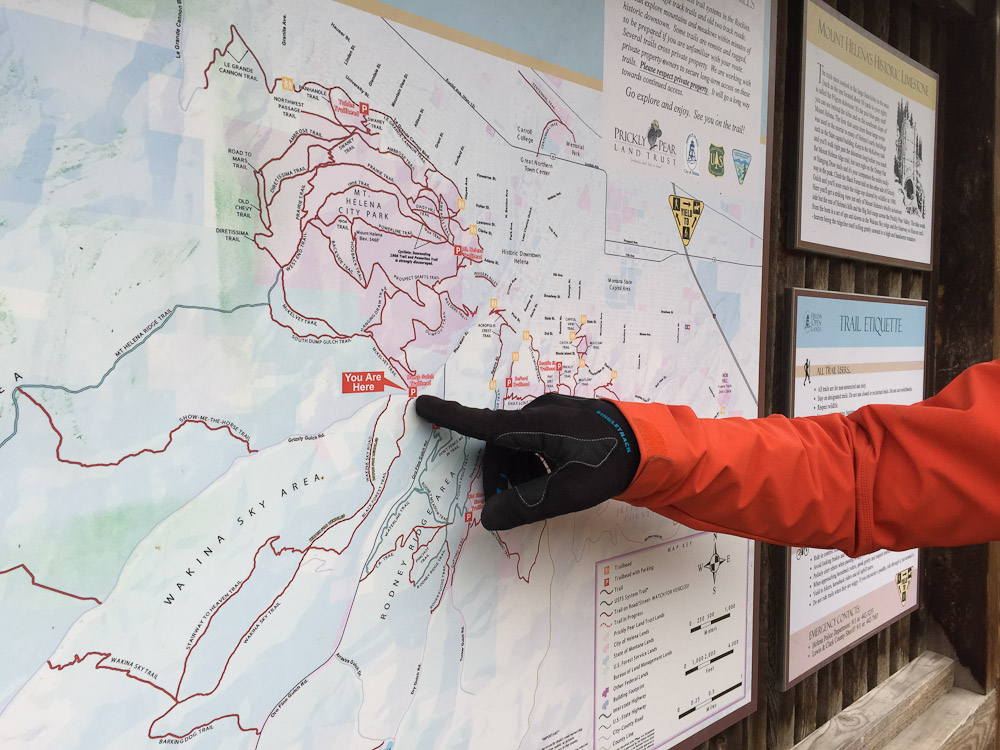 Helena's South Hills trail network is a town trail system anyone will be jealous of. Ryan Dunfee photo.
While Helena's riding might not offer the pure diversity of other destinations­–the terrain is mostly smooth, open flow–the connectivity of the city and local riders' efforts have yielded as seamless an integration between trail and town as you could hope for. Looking on Bike Helena's interactive map, you can see that offshoots of the main South Hills trail network bleed down into town in over a dozen locations. The town's marquee trail system loops around and over six different ridgelines, offering opportunities for short spins of under an hour all the way to bell-to-bell blasts looping in a dizzying amount of trail.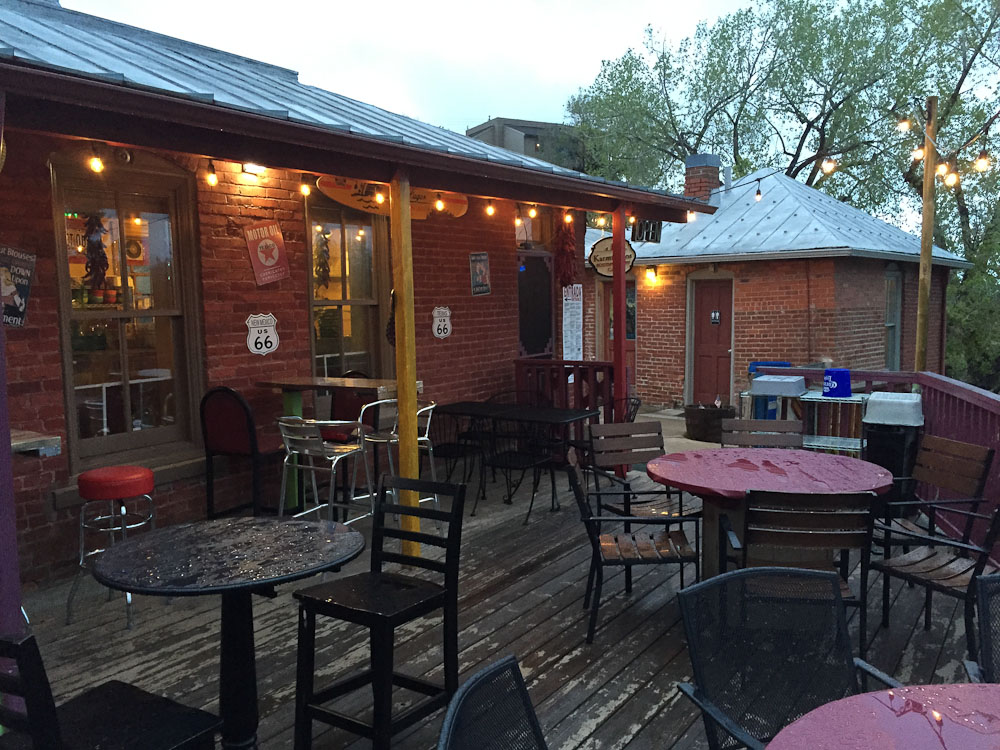 Karmadillo's sits in the town's historic buildings held over from the mining boom days and offers up Mexican food with a view close to riding. Ryan Dunfee photo.
Many of the rides filter down into Helena's historic downtown, whose pedestrian-only mall is a slowly growing part of the city's focus after decades of car-first urban renewal policies turned the valley into a giant, sprawling web of suburbia. The cheap and extremely good beers on tap at Blackfoot River Brewing Company's taproom on South Park Avenue should be the sweet reward for any jaunt into the South Hills, and the Mexican food at Karmadillo's, a tiny joint on the hillside a quick walk up from Blackfoot situated in the shell of one of the tiny brick buildings left over from the city's mining heyday, is a great spot to carbo-load after your ride as you take in the view of downtown and the South Hills around you from their deck. Regardless, you'll want to finish it off with ice cream at Big Dipper down on the pedestrian mall. Trust us.
Helena's downtown has long been ignored, but the walking mall is home to a growing number of good restaurants, bars, and damn good ice cream. Ryan Dunfee photo.
If you're looking to park your car for the entirety of your stay in Helena, numerous options exist within a quick pedal of the South Hills, including the Holiday Inn we stayed at right on the walking mall. The Bunkhouse is a funky new spot on the edge of town super close to the trails as well that's worth checking out. Surrounding the South Hills, the Helena National Forest has a bunch of campgrounds that will keep you close to the riding.
THE TRAILS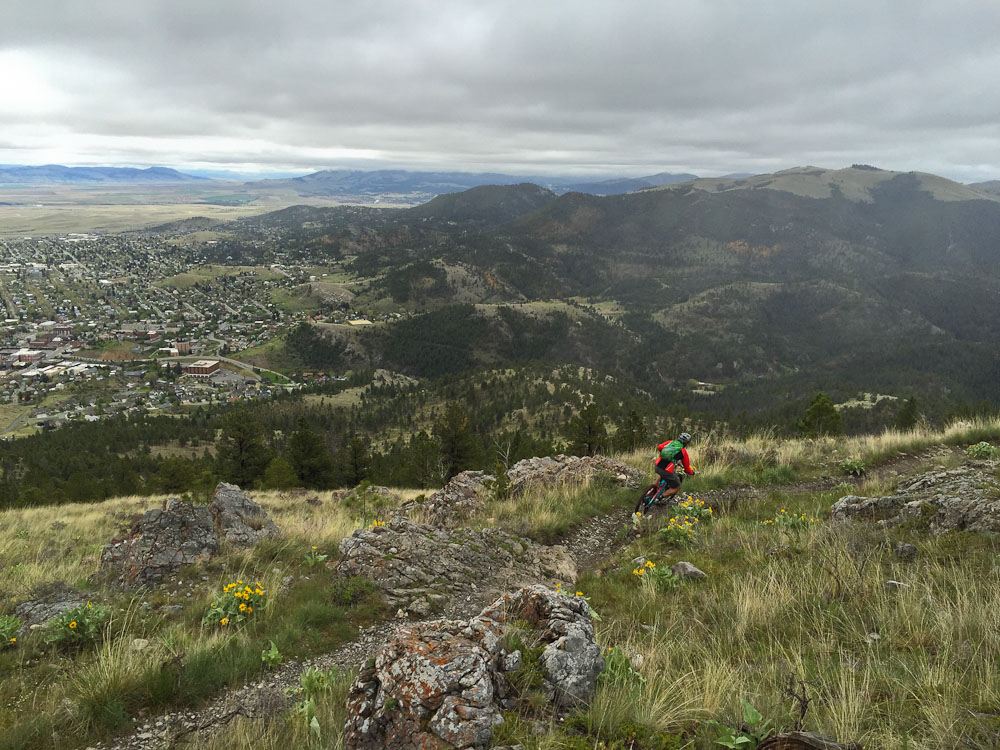 Garrick Tischler drops off Mt. Helena down the Hogback Trail's rock gardens. Ryan Dunfee photo.
Helena is a pedal town; you'll find a downhill bike is pretty much worthless here, as even with the Trail Rider shuttle, there's plenty of pedaling you'll have to do to earn your fun. On the whole, trails here are reminiscent of Colorado's Front Range, with fast, loose and dusty trails in the open, more moist and darker dirt amongst the trees, and here and there humps of knife-edge rock are exposed and offer up rowdy rock gardens that feast on tubes. Most everyone we rode with had packed knee pads and goggles for the ride down.
CJ Lane from TGR enduros his way down Hogback. Ryan Dunfee photo.
After clawing our way to the top of Mt. Helena, the most prominent peak in the South Hills trail system and which offers up incredible and sweeping views of the valley below, we rally down the Hogback Trail, a steep, rocky spit of a hiking trail that offers up some of the best tech in the area, with rock outcroppings offering up step-down rock drops that quickly dumps out into the Backside Trail, which mixes some quick rocky sections in with smooth, fast flow through sections of burnt forest.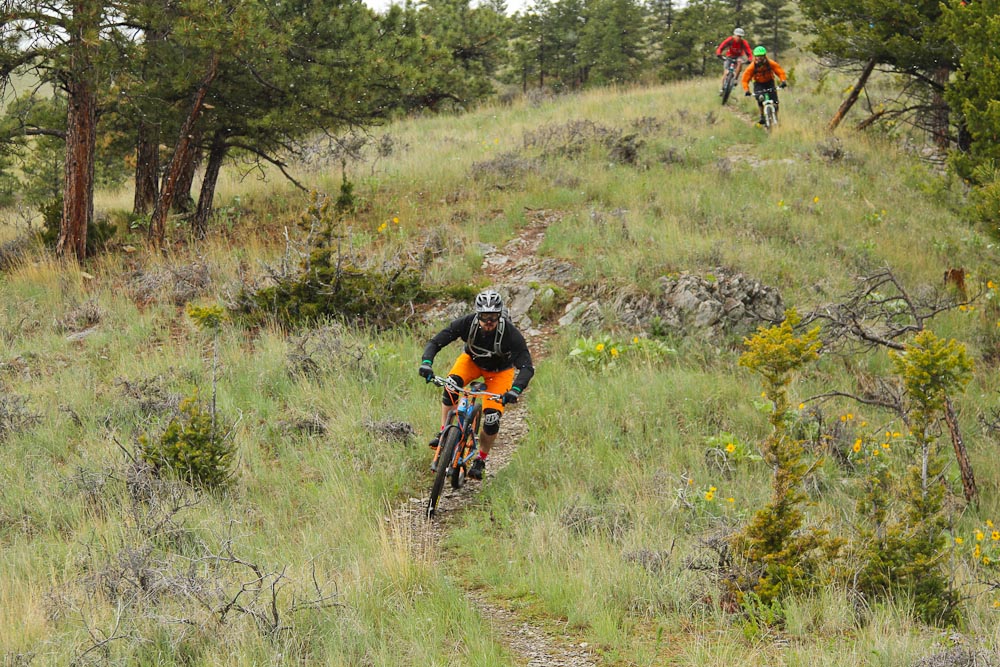 South Dump Gulch puts up fast, rocky ridgeline scrambling. Ryan Dunfee photo.
Eventually, we connect with the South Dump Gulch Trail and cut into Upper Decker, an unofficial old-school trail that rides the sharky rock ridgeline above South Dump Gulch, with natural drops offering up some airtime as your speed constantly increases and your suspension works harder and harder to keep up.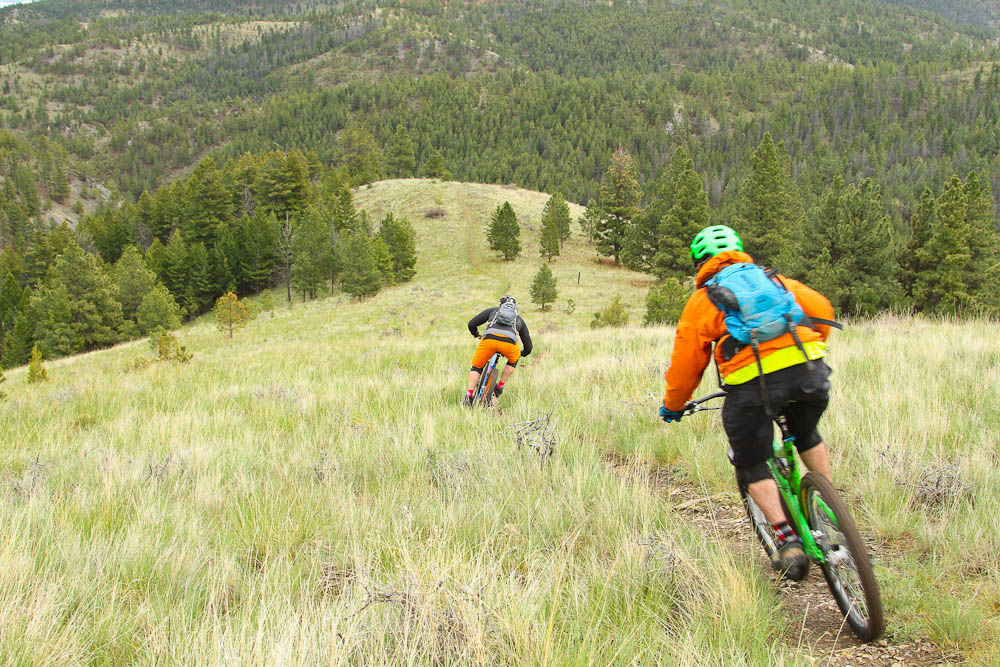 TJ Lehman leads the charge down the loose, fall-line scree of Upper Decker. Ryan Dunfee photo.
Soon enough, we're rallying down an ass-out fall line section struggling to stay on top of our brakies and keep our wheels on the trail as we giddily hunt down traction between two-wheeled slides into the loose, flat corners. After cresting a small hill, we drop through two steep, rock chutes and an impossible final corner before laughing our way into our starting trailhead at the Dump Out parking lot, and we're asking our hosts for another lap. They oblige, and we pedal up to enjoy the pure bliss of Show Me The Horse Trail's corners.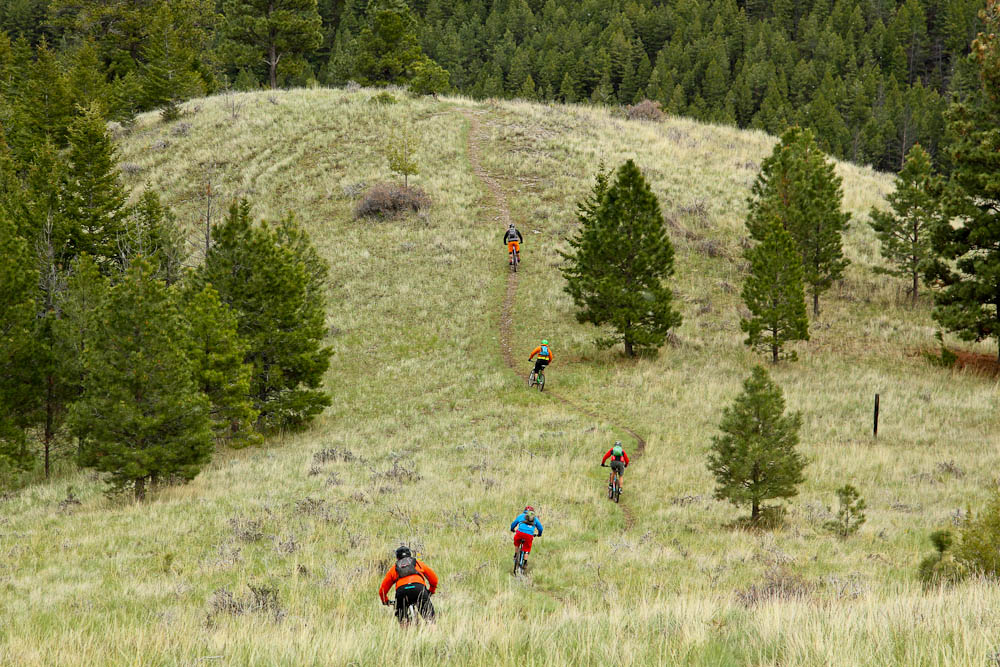 Helena group shred! Upper Decker delivering group smiles for the Skittle crew. Ryan Dunfee photo.
You could spend hours and hours pedaling up and down the South Hills and trying out varying strains of flowing cross-country bits, but those looking for some airtime will want to pedal their way to the Top of the World trail, a blazing fast ridgeline scramble that connects into Rent Money, the town's newer flow trail, which lays out berms, small tables, and g-out whoops as it cuts down through the forest. Closer to the highway, the growing Vigilante Bike Park offers up multiple pump tracks, multiple jump lines, and a small skills area.
WHY YOU SHOULD GO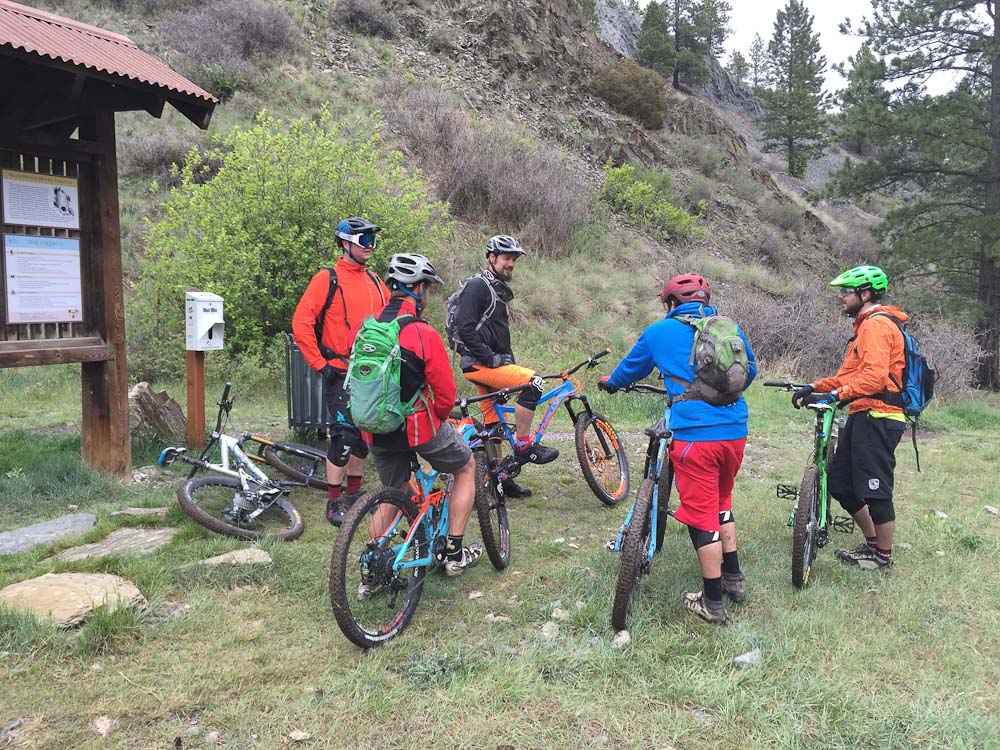 Helena's bike community is a leading force for riding across the entire state, although distinctly non-competitive. Ryan Dunfee.
Helena is not the West's most impressive spot to ride when it comes to pure diversity or bucket list vertical drops, but the town and its riding community's efforts to tie it all together–with a huge trail network with tons of interconnectedness, dozens of access points across town, and free shuttles five days a week to support it–is something that will make any rider jealous when they head back home.
From The Column: Local's Guide
READ THE STORY
Not what we like to see in the La Sal Mountains. | Utah Fire Info photo. Unattended campfires can have devastating consequences. While not currently threatening the town of Moab, as of this morning, the Pack Creek Fire burning in the La Sals has grown to a size forcing the closure of parts of the Whole Enchilada Trail system. Trails including Burro Pass, Hazard Pass and more are currently closed as the fire is blocking access to the trailheads. The fire, attributed to an abandoned
READ THE STORY
Hannah Bergemann doing what she does best: sending it off gnarly drops. Katie Lozancich photo. This year the Red Bull Formation roster grew from six athletes to eight. It meant the introduction of a few new faces—Jess Blewitt, Samantha Soriano, Camila Nogueira, and Chelsea Kimball—into the freeride spotlight and the return of a handful of storied legends like Hannah Bergemann, Casey Brown, Vaea Verbeeck, and Vinny Armstrong. Each athlete brought their own unique strengths and vision to
READ THE STORY
Casey Brown shows us how to fly as she hits her double drop feature at Formation. Katie Lozancich photo. Welcome back to the second installment of our Red Bull Formation Photo Saga! In the last chapter, we featured riders Hannah Bergemann, Jess Blewitt, Camila Nogueria, and Samantha Soriano. Today we're going to showcase the remaining athletes: Casey Brown, Vaea Verbeeck, Vinny Armstrong, and Chelsea Kimball. Each athlete approached their time in the desert differently. Some gravitated