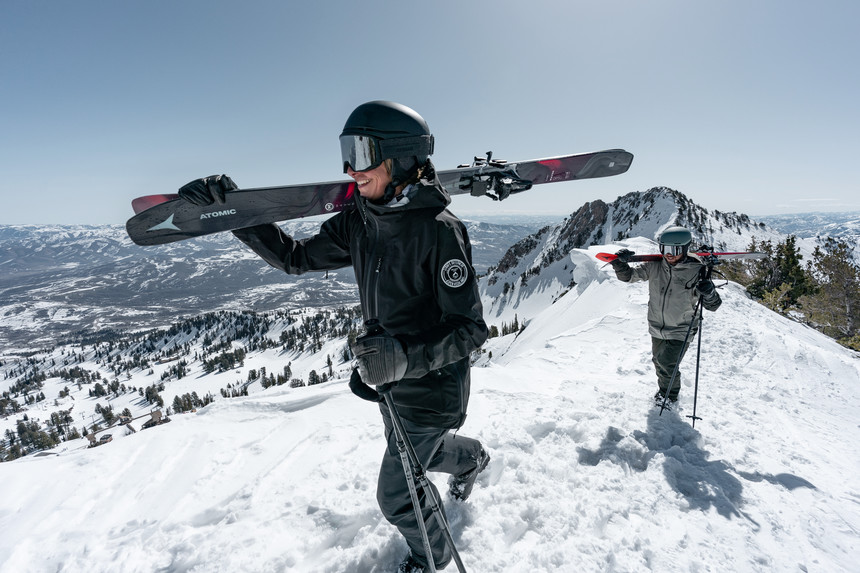 Atomic Maven & Maverick, Atomic photo.
Expand your quiver, expand your mind. No really, it's true. Snow, much like life, is variable. It's helpful to have a tool for the deep days, the park days, groomer days, and the all around days. If you want a ski that can handle just about anything, has an uncanny ability to be a charger through crud, slice through ice and is a stallion on steep groomers, Atomic's 2023 Maven 93c is what you need. Let's break it down, from tip to tail and everything in between.
Ski: Atomic Maven 93c
When I first moved out west, I was riding my skis from the east coast: an 88 underfoot on-piste ski with run-of-the-mill all terrain rocker. As I added more skis to my quiver out here, me and my 'ol 88's said our goodbyes. However, I found myself pining for a similar ski when the weather warmed and groomers looked springy and handsome. Lo and behold, an old flame was revived in the form of the Atomic Maven 93 C. Ex ski racers, ice hill grinders, crud thumpers and groomer fanatics rejoice: Taking turns on these on some fresh corduroy and even icy moguls is like dancing to your parents favorite album: fun, nostalgic, and might be groovy enough to encourage you to become a better dancer.
The Tech:
The Maven's flow profile is designed to enhance getting that effective edge on hardpack and floats on fresh snow. With what Atomic calls an "all terrain" rocker profile, this ski runs through chop like it's butter, maneuvering beautifully while also helping you float in powder. It's constructed of poplar wood, fiberglass and contains a crucial titanal layer inside the ski that keeps you balanced and gives you that flex freedom while avoiding hyper stiffness or rigidity. These skis are stable at speed, agile, and can hold a good edge without the extra weight.
Atomic Maven, Atomic Photo
Boots: Hawx Ultra 115 Pro
First off, let's just get one thing straight: These boots are badass. They're sleek, slim and present themselves as a lean mean driving machine. You know the Batmobile? These are crafted from Alfred Pennyworth himself. As a long, narrow footed driver - I've never had boots that fit like the Hawx. For reference, my shoe size usually wobbles between an 8/8.5, even 9 on some days. Skiing in the Hawx in a 24/24.5 has totally upped my skiing performance by a mile.
I slipped these on and was really really reminded that I have been swimming in my other boots, so if you take anything from this article, it should be to get proper boots. I mean it. Seriously, go to your boot fitter and get it figured out. You're welcome.
The Tech:
Like any boot, it takes a few turns to really break them in. Atomic's Mimic Professional liner definitely aids that process, and gives you a specific, custom fit to your foot. The setup features both heat molding and foam injection technology, which may sound (and look) intimidating at first when it comes out of the box, but hey. Pennyworth really wants you to get your money's worth and destroy some steep lines with these weapons. All I had to do was bring my boots to a local boot fitter and trust the process. Disclaimer: I may suggest calling a few boot fitters in your area to make sure they can do the foam injections required by Atomic's new liners. It really just takes this gun that probably costs $25 at a hardware store, but your local boot fitter should have it. Standing in the Hawx while the foam gets injected feels like you're getting an IV: This. Sh*t. Felt. Crazy. You got high arches? Maybe half a toe, a bone spur or two? The foam works around this. I have ghastly flat feet personally, but my co-worker said she could feel the foam moving under her high arches for added support. It only takes a few minutes for the foam to settle in, and then you're on your merry way.
Stop #1: This boot turns heads.
The design of the Hawx focuses on a precise fit everywhere from your midfoot to your ankle. If you have a narrow foot like I do, and you want to communicate with your ski quickly and feel really in control with a secure fit, this is the boot for you.
I've only ever skied in men's boots, and to have a female specific designed boot makes a difference in a way I can't really place yet. With the specified shape from the width of the boot, and getting into the ankle/calf connection, every component feels like it's one moving unit. The cantable Gripwalk sole pads make me feel like I can run back and forth from my car, up and down stairs, across the mountain and back over the icy parking lot and not lose my footing. Also, snow just doesn't want to stick to them.
True, I have been wearing boots that are a whole size too big for me. True, I have never had custom liners. True, maybe after thinning about these statements above, maybe I have never actually *truly* been skiing, before stepping my foot into one of these diabolically designed baddies.
Bindings: Strive 14 GW
This is something I totally didn't know I needed. A binding with a low profile toe that's close to the snow, and with that means it just improves your connection and feel to the terrain, focusing on that low center of gravity you want while you're skiing. I mean, I clicked into these things and immediately felt like, "Oh, so this is how a skier should be positioned." They're super responsive, lightweight and can handle rougher terrain.The Strives make my old bindings seem like I grabbed them from a dumpster fire. They're super easy to get in and out of, and the low profile means that the bindings sit close to the ski, giving you all that much more control. So, if you want more control, these should be in your cart right… Wait, why are you nodding? Come sit down… why do you feel out of control? Maybe we can dig into that some other time…
Perhaps it was the tantalizing trifecta of these bindings, boots and skis, but I definitely shouted on the hill: "I feel like this is the first time I'm actually skiing," and truly, in a way, it did. So if you want to feel like you're flying, carving into some steep groomers, have all the control in the world and put down edges like a gardener - we've tried, tested and found true that this could be the set up for you.
From The Column: TGR Tested