Wild Rye's Freyah pants got an update for 2022. | Wild Rye photo.
Just a few years ago, there were only a handful of (very uninspiring) options for women's mountain bike pants. Gearing up for a mountain bike ride in cool shoulder season weather usually meant a step down in gear options, with only a few drab, baggy pants made for women and smaller riders there to keep your legs warm and protected once temperatures dropped and the dirt got good again.
Wild Rye definitely upped the ante this year, not only with a revamped ladies pant, but a rock solid pair of chilly weather gloves and a versatile long sleeve jersey. While there's no shortage of reasons to appreciate the arrival of cool October weather, the Ketchum, Idaho-based brand and their new fall mountain bike kit are an extra reason to embrace fall riding. Here's our take on the new gear, which we've put through the wringer on long trail rides, fast shuttle laps, and plenty of leaf peeping (obviously).
Freyah (2022) Bike Pant - $199
Last year's all-new Freyah pant was a huge hit, an incredible layer for ladies who wanted a little more protection along with the comfort, performance, and fun style of Wild Rye shorts. They're stretchy and soft (made with the same four-way stretch nylon as the Freel shorts), but burly enough to feel cozy and protected while blasting through wet, overgrown forestry.
This year's Freyah features a new lower leg zipper that runs from each ankle up to just below the knee, allowing you to slip your knee pads on without fully taking your pants off. It may sound like a minimal change, but that zipper has been a game changer.
I've put hundreds of miles on the first pant and they haven't shown any signs of wear, but one of my only qualms was how tight the ankles were, and how sweaty my legs got while pedaling with knee pads. Sliding them on at the top of the trail without having to fully disrobe has helped keep my temperature far better regulated, which I've learned (the hard way) is ultimately the key to staying comfortable while riding in the cold.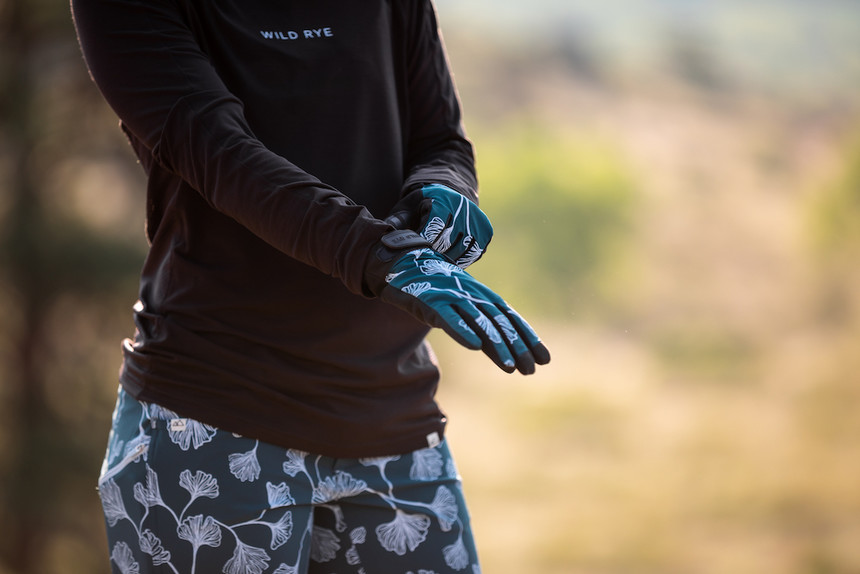 How about matching gloves with your pants? | Wild Rye photo.
Gnarnia Glove - $59
Lightweight summer gloves definitely don't cut it while blasting down hills on icy October evenings. Fleece-lined and wrapped with a touch of Primaloft on the back of the hand, the Gnarnia Gloves are Wild Rye's first cold weather glove, a cozy spot to tuck your hands into when the sun dips below the horizon a little earlier than you anticipated. I've found them to be pretty warm for long climbs unless temps are below the low 40s, so I've been keeping them in a fanny pack as a spare pair of dry gloves to put on for fast descents. Otherwise, if it's truly cold the whole way through they are breathable enough to stay regulated. Despite that, the profile is still low, so they can stuff into a pocket or easily into a pack.
Fall riding never looked so good. | Wild Rye photo.
Holly Jersey - $95
Sometimes the simplest layers are the best, and that's definitely the case for the all new Holly jersey. It's a versatile layer for cool fall rides, stretchy and breathable thanks to mesh paneling along the sides and a combo of polyester, merino wool, and spandex. It's on the thinner side, which makes it a great next-to-skin layer if you choose to pile on another jacket or a vest, and sizing up for a slightly baggier fit makes it easy to fit elbow pads on if you choose. There's nothing revolutionary going on here, but it can be surprisingly hard to find a solid everyday long-sleeve like this. This one is definitely going to stay in the rotation for jogging and ski touring once winter rolls around.
Get everything from Wild Rye at www.wild-rye.com.
From The Column: TGR Tested