This bike is not a social animal. Especially not if you're riding with friends on big, burly bikes. Admittedly, I'm a fan of big, burly bikes. The longer the travel, the better, right? Well, with the advent of what some might call "downcountry" riding, we've been seeing a crop of short travel bikes that seem to defy categorization. They're not enduro bikes, but they're also not what we'd traditionally consider XC bikes made for racing. Rocky Mountain's Element C90 falls squarely into that non-category – the bikes that are surprisingly good at everything, and really good at climbing. Rocky's short travel whip is the type of bike that will make everyone from die-hard MAMILs (middle-aged men in Lycra) to crusty DH bros happy. It weighs less than 25 pounds, has a 65-degree head angle, and somehow eats up chunky trails like it's nobody's business. This summer, testing the size M Element C90 consistently put a smile on my face, and made me seriously reconsider my allegiance to beefy bikes. It's a great adventure buddy that won't slow you down and makes putting massive mileage away a breeze. It will also make your ride partners hate you when you drop them on all the uphills. Enter the era of the modern XC bike.
The Tech
On Rocky Mountain's website, the Element falls under the "Cross Country" tab, but I wouldn't really call it an XC bike. Really, I'd hazard to call it a mini-enduro bike. Everything about the C90 build kit is about shaving grams, but it doesn't come at the cost of shred-oriented performance. Sure, you could take a few extra pounds off the componentry and get this thing in line with World Cup XC bikes – but then it wouldn't ride well. The ultra-light carbon frame boasts 120mm of rear travel driven by Rocky's proven Horst link suspension linkage, providing all the firm pedaling support you could ever want (the compression switch on the shock essentially turns it into a hardtail) while still smoothing out bumps and trail chatter to the point where it feels like there's much more travel involved. The geometry clocks in with a slack front end (65-degree headtube angle), a climbing-friendly seat tube angle (76 degrees) and moderate reach 450mm on the M. The bike doesn't feel as stretched-out as some XC bikes do, which really helps with downhill performance, allowing the rider to keep their weight more centered over the bottom bracket. The frame features Rocky Mountain's RIDE-4 geometry adjustment system, offering 0.8 degrees of change in the head tube and seat tube angles, as well as an 11mm difference in BB drop.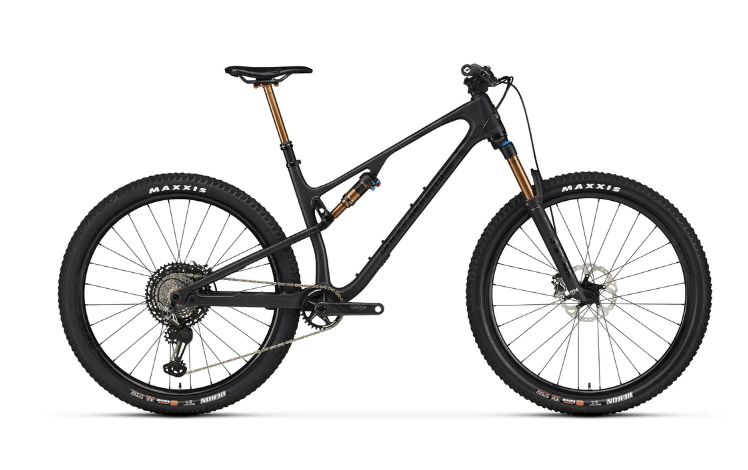 The build kit is stellar, featuring a Fox Float 34 Factory fork and Fox Float DPS Factory shock. Shifting duties fall to a full Shimano XTR drivetrain with Raceface Next SL 170mm cranks. Stopping is provided courtesy of Shimano XTR 2-piston brakes with metal pads and 180mm rotors front and rear. The cockpit features a short Rocky Mountain 50mm stem, Raceface's wide Next R 780mm handlebar, grippy ODI lock-on grips (another highlight – these grips are phenomenally comfortable), and a Fox Transfer Factory 150mm dropper (larger sizes smartly feature a longer post, though it would be nice to see the 175mm on the M). Even the WTB Silverado saddle comes with weight-conscious carbon rails. Finally, the wheels are Rocky Mountain's own 26XC Carbon rims sporting Maxxis Rekon WT EXO 2.4 tires front and rear.
The frame comes standard with two water bottle mount points inside the front triangle – allowing either a double bottle setup, or a bottle/tool mount combo.
Yes, it's a Rocky Mountain, so it's very expensive at $9600 – but there's nothing we'd change on the build kit other than adding personal touches.
The Ride
If I were to compare the Rocky Mountain Element C90 to anything, it would be to a go-kart. With insanely snappy acceleration paired with superbly responsive handling at speed, the bike never ceased to put a smile on my face all summer long, both uphill and down.
Climbing is truly a breeze – yes, weight matters when it comes to uphill performance. The lack of pounds pays off, especially on trails with lots of short bursts of climbing. The bike simply feels to float up these, surprising me with how I felt I had to stand up on the pedals to generate speed. Navigating technical bits including rock steps and slippery roots also felt much easier than on a larger bike, with no loss in rear wheel traction. The shorter reach definitely sometimes contributed to the front end coming off the ground with a hard pedal stroke, but it never felt like it wanted to wander off line if you kept your weight a little more forward. Usually, climbing is a means to an end for me, but the Element made technical uphills something I happily sought after on rides. Classic Jackson climbs I'm used to grinding up on an enduro bike like Ferrins, Phillips Ridge, and Big Munger suddenly became really fun (and much easier).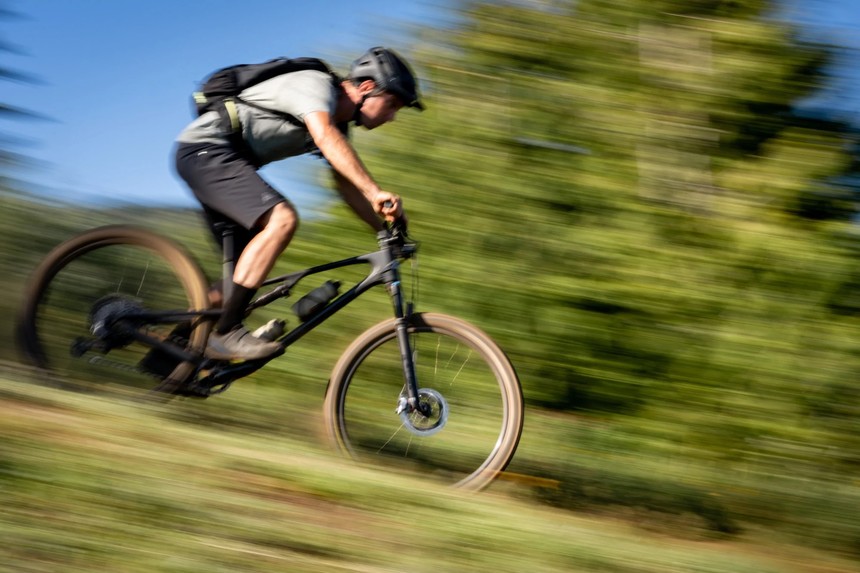 On rolling terrain, like Jackson's Cache Creek trails the bike generates speed like that aforementioned go-kart. Better yet, it's like throwing a dirt bike into a low gear and twisting the throttle – it simply takes off. It certainly generated some jealousy among friends when I took this bike out alongside their enduro sleds. Even on flat trails littered with chunk, it doesn't get hung up on obstacles that would slow a bigger bike down.
Point it downhill, and the bike attains a whole new personality. Most XC bikes are honestly quite scary to ride down technical trails at a rapid pace, deflecting off trail features and rattling you to the core. That rarely seemed to be the case here - the Element provides a very composed and comfortable ride, where the geometry and suspension come together to offer predictable traction and handling. No, it won't let you comfortably or safely carry enduro or DH-bike speeds on technical terrain, but that doesn't make descending on the Element any less fun. Instead of the suspension simply gobbling up trail features, it happily jumps and floats over them. Those sniper trail gaps, hidden high lines, or the sneaky corner cutoffs you like to ride on your big bike are just as fun aboard the Element – you'll even have a whole lot more energy left after not suffering on your climb up.
One thing I noticed, and I will largely attribute this to the tires, is that the bike does not brake very well. The low-profile XC tires corner quite well, but it felt like they would begin skidding almost immediately when applying the brakes. It's easy to learn how to deal with (brake a little earlier and feather the brakes), but it certainly surprised me the first few times when coming upon uphill traffic while flying down a two-way trail. To me, it doesn't seem worth it to swap the light tires out for something meatier – the snappiness and climbing prowess of the bike would likely be too negatively affected.
The Bottom Line:
Rocky Mountain's Element C90 is an XC bike for those of us who are downhillers at heart. It's plenty capable on the downhills, truly fun on rolling terrain, and feels weightless on the uphills. Cranking out big mileage and vert days on backcountry rides is a breeze, especially when there's a reward for all that effort in the form of endless fun on the downhill. It's a snappy, responsive bike that invites you to grab your jorts, a half shell, and inspires confidence to get WAY out there and breathes new life into familiar mellow trails. Call it a modern XC bike, a mini-enduro bike, or whatever you want, just don't be surprised when your friends start to hate you as you crush them on the climbs.
From The Column: TGR Tested