Want to go fast and win races? Yeti's all-new SB160 might just be your ticket to the podium. | Yeti Cycles photo.
Under the butts of Richie Rude and Bex Baraona, Yeti has posted some stellar results on the Enduro World Series circuit in the last few years, especially remarkable since their old bikes didn't necessarily follow the trend of "longer, slacker, and beefier is better." Richie won the EWS aboard a 150mm-travel bike with a 64.5-degree head angle, whereas most of his competitors were on much bigger bikes. Of course, the Yeti engineers figured out ways of refining the race sled into something even faster and easier to pilot at Richie's preferred speeds. This year, the new SB160 takes lessons learned from past years of racing to present a killer package with a hint more travel, length, and refined suspension kinematics to give racers the edge they need. Of course, as much as we'd all like to be, we're probably not pro-level EWS racers, so the real question is does this bike provide for the everyday rider? To test that out, I took the Yeti SB160 T3 on a tour of some my favorite descents throughout Wyoming, Utah, and Washington.
The Tech:
The new Yeti SB160 was designed first and foremost for enduro racing – and one thing matters in that world: speed. What makes a bike fast? Well, a combination of geometry and suspension kinematics, paired with choice componentry for the task at hand. Taking lessons learned from a few successful seasons with the existing SB150, Yeti updated a few details on the bike. The geometry is not overly aggressive but is focused on balancing the rider's center of gravity in a manner to maximize stability and control. Key numbers here include a 64-degree head angle, moderately long reach and front center (465 & 807mm for a M), a rear center that grows in 2mm increments with size (439mm on the M), a long wheelbase (1246mm on the medium) and a very low standover height at 744mm.
Suspension kinematics have been slightly refined – the bike again uses an updated version of Yeti's proprietary Switch Infinity System. The lower link sits on Kashima-coated tracks inside the frame. The new frame packages the whole system inside a tighter, more efficient space, keeping stuff out of the way of impacts and debris. Progressivity increases to 17 percent over the SB150's 15 percent. That gives riders a bit more support, staying higher in the travel to have a little more in reserve for big impacts. Switch Infinity has always been known for the feeling of having something more to push against in corners or when entering chunky sections of trail at speed, and that feeling is even greater in the SB160. From a technical standpoint, allowing the link to move allows anti-squat (how much the suspension linkage itself is resisting compression) to change dramatically depending on how deep into the travel the bike is, also allowing engineers to independently tune the leverage ratio. Higher in the travel, where the link is in its high position, the bike provides an efficient pedaling platform. Go deeper into the travel, past the so-called inflection point, and the link drops into the low position, where anti-squat drops significantly and chain forces can be decoupled from suspension performance.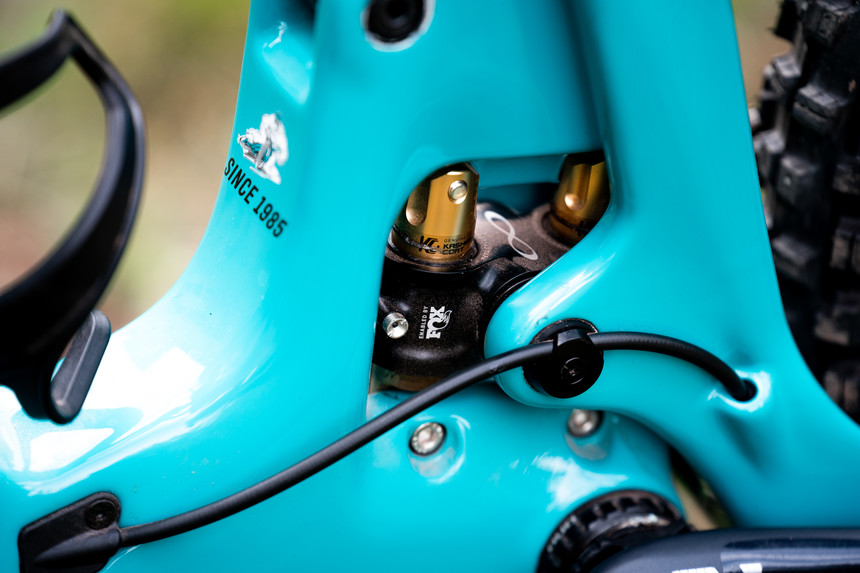 Cleverly tucked away in the frame, Yeti's Switch Infinity linkage is where the magic happens. | Yeti Cycles photo.
Yeti's carbon frames come in a lower-end C and higher-end T version, with with several build kits available for each version for the SB160. We tested the high-end $10,500 T3 build, dripping with parts ready to go racing. Suspension is a full Fox Factory affair, with a 170mm Fox Factory Float 38 fork and a Fox Factory Float X2 air shock (our bike came with seemed to be the updated version of the shock). Brakes are the Sram Code RSC with a massive 220mm rotor up front paired with a 200mm rotor in the rear. Shifting is handled by a Sram XX1 Eagle AXS derailleur, X01 Eagle cassette, XO1 carbon cranks with a 30t chainring, and GX chain. The cockpit is Yeti's own 800mm carbon bar, a 50mm Burgtec stem, and ODI Elite Pro grips. Your butt sits on a WTB Silverado saddle mounted to a Fox Transfer 31.6mm post (175mm for the M). Wheels are DT Swiss EX1700 alloy rims clad in Maxxis EXO+ rubber (Assegai 2.5 up front, DHRII 2.4 in the rear).
The frame has a Boost 148x12mm rear end, a SRAM UDH hanger, a threaded BB shell, sealed Enduro Max bearings, and fully enclosed internal cable routing – all things that make the mechanic in me smile. All the frames are backed with Yeti's lifetime warranty.
In keeping with clear industry trends, sizing on the frames has gotten a bit larger. While Yeti suggests a M for a 5'5"-5'11" rider, my 6'0" self felt that the M was plenty roomy.
The SB160 is a big machine that comes alive at speed. | Zach Montes photo.
The Ride:
How can you tell it's springtime in Moab? The license plates turn green and the bikes turn turquoise. Well, this year, that was also true in late October, after some fall rains refreshed riding conditions in the Utah desert – the perfect place to test out Yeti's brand-new SB160 rig. The Colorado-based brand has a rightfully popular presence here, and their new enduro racing-focused 29er seemed like a perfect choice for a late-season jaunt to the desert. Moab's riding can be defined by how rocky and chunky it is – it's hard to find "flow" here, unless you can keep speed through sections that would knock a bike and rider off line.
I was excited to try how the updated Switch Infinity ride characteristics would work on trails like Porcupine Rim or Captain Ahab, both notorious for endless chunk. Neither trail is one that's easy to ride fast without feeling like riding a jackhammer, but after a few miles I could tell that the rear end of the bike was working really well to smooth out the relentless ledges and sharp rocks, keeping traction in places where I wasn't expecting to have any. The custom shock tune works phenomenally well with the leverage curve – providing smooth, ground hugging traction without any weird spikes.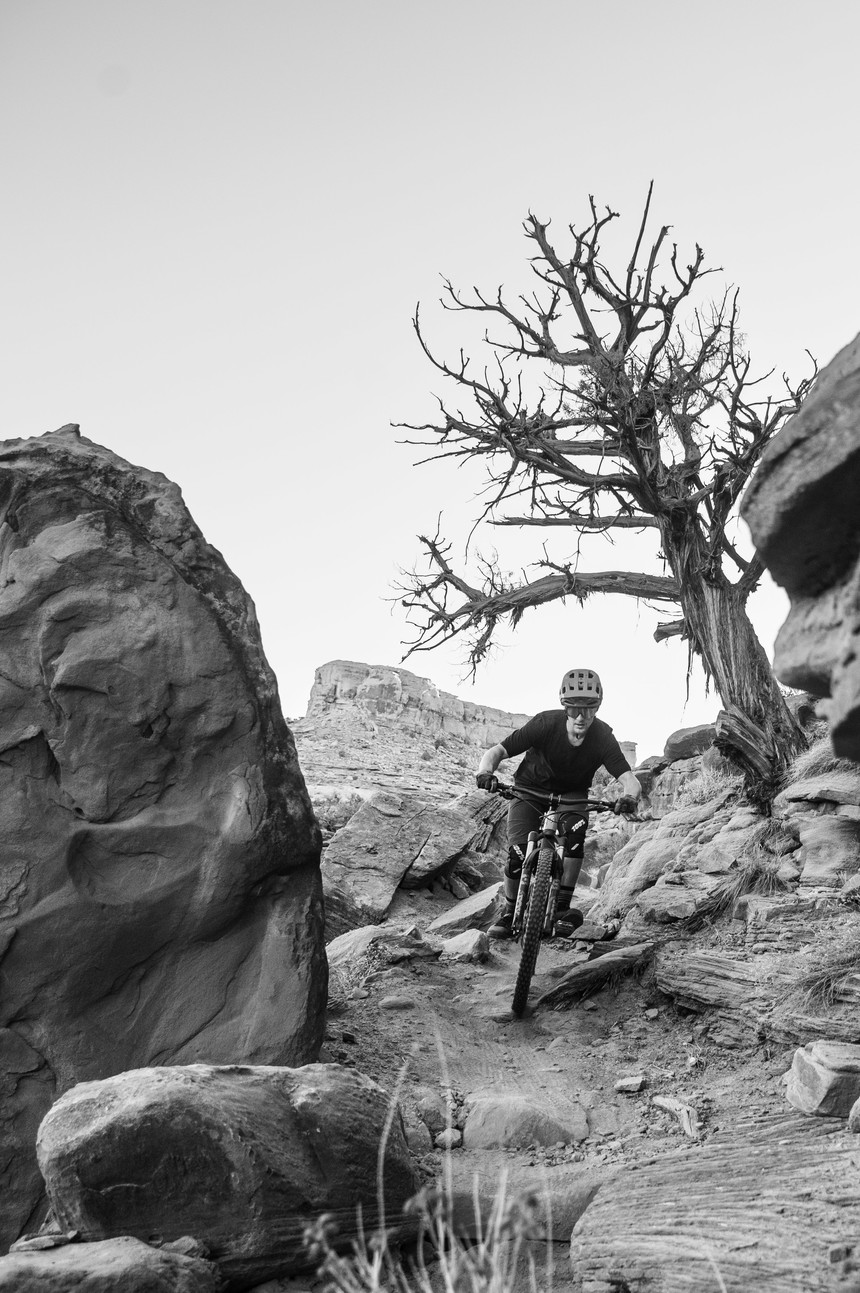 Chunky, technical, and steep terrain are what the bike eats for breakfast, lunch, and dinner. | Zach Montes photo.
Quick pedal inputs are key to clearing sections of trail here (also, pedaling is what wins EWS races), and the Switch Infinity's supportive pedaling platform is a huge bonus here. Save on road pedals, I never felt the need to use the shock's lockout lever, and the controlled movement of the rear end provided all the traction I needed to clear the many "up-and-over" moves Moab is known for without any noticeable pedal kickback. That same platform and the traction it offers served me well on more enduro-y rides closer to home like Lithium or Blacks Canyon where the ability to hold speed through successive steep corners and long sections of steep chunk are paramount to fast times.
Body position on the bike feels slightly more neutral than what I've experienced on older Yetis. The rear end of the bike feels very long, adding stability and encouraging speed, but I didn't feel as "on top of the handlebars" as expected. In other words, there's plenty of room to move around, and that slightly more relaxed position inspires confidence in really steep terrain. When cornering, the low standover height allows the bike to lean over and really dig into the tire side knobs. I found it slightly challenging to corner at slow and medium speeds, but at race speeds it predictably leans over and locks up, holding speed in the exit.
Under braking, the rear end tracks predictably without much brake-induced feedback through the suspension. I should note the 220/200mm rotors and Code RSC brakes are remarkably powerful - so powerful that it actually took a few rides to get used to it.
I tested the M frame, and feel that the stability and plow-y feel the frame provides might make other riders consider sizing down to regain a bit more nimbleness and agility out of the bike. Even though I was just above the suggested rider sizing for the M frame, I never felt it was too short or small, and appreciated the extra playfulness.
One thing is clear – the bike becomes more alive and agile the faster it goes. Despite climbing quite well, at slow speeds the SB160 can feel sluggish, but let off the brakes and it becomes intimately responsive, begging you to go even faster.
For a massive bike, the SB160 climbs very well too - the perfect companion for desert missions. | Zach Montes photo.
As a quick comparison, the new SB160 is best placed against its direct competitors on the EWS circuit – the Rocky Mountain Altitude and the Canyon Strive CFR. I'm lucky to have spent a fair amount of time on all three bikes this year, and while they all achieve the same goal of winning races, seem to do so in different ways, all catering to different styles of riders. Where the Altitude seems to be the most playful, the Yeti seems to be the one that dulls the sensation of speed the most, with predictable stability and handling no matter how brave you are feeling - it also seems to accelerate fastest. The Strive's geo-adjusting Shapeshifter system gives it the edge on long climbs with reduced travel and a more comfortable body position, but for short punchy and technical climbs, the Yeti's Switch Infinity linkage has the advantage with support and traction where it matters most. It's a bike that rewards skillful bike handling, strength, and could certainly give you the edge between the tape.
The Bottom Line
Yeti's engineers clearly did their homework when it came to redesigning the brand's prize-winning enduro race machine. Slight iterative refinements were the name of the game, and they work extremely well to give riders the edge they want when it comes to tackling gnarly enduro courses. It's certainly a lot of bike, and is best suited for very skillful riders, but over the few weeks of testing, it was clear it's a beast that can be tamed – just don't be surprised when you're going much faster than you ever have on a mountain bike, shit-eating grin and all.
From The Column: TGR Tested