Snowbasin, Utah — Sebastien Toutant won the men's snowboard slopestyle Finals on Sunday with his second-run-score of 94.50, increasing his lead on his victory lap. With the win, he also took home his first Dew Cup at the Toyota Championships at Snowbasin Resort in Utah.

Toutant held onto first place after his first-run-score of 90.25, and secured the win as the last rider to go. But he still put all he had into his second run, with a back 270 on first rail, 5050 gap frontside 3 out on the second, front blunt 270 out on the up box, into a front 10 double on the first jump and finishing wiht a back 10 double.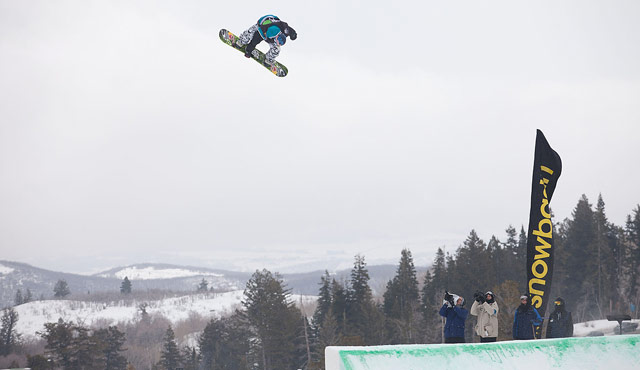 Sebastien Toutant.
"It feels great," he said. "The first stop I got second place, the second stop I got second. To end up the season with a first place and winning the Cup, it's a great feeling. Especially because I didn't have a really good time riding this course because it was really hard and the weather was always pretty bad. But I'm just stoked I rode pretty good and I'm first. I couldn't be more happy."

Dash Kemp also took over the second-place spot on his first run with a score of 83.50. His run went like this: Cab 270 on, to front board tail 270 out, into front 3 back 5 off the cannon, then cab 9 tail into back double 10 on the last two jumps.

He came back in his second run looking to increase his podium position, and he was riding solid until the last hit sent him straight to his face on the landing. His face quickly swelled up and he ended up with a concussion, but was ok to walk away. The upside was that his first-run score held on until the end, and he remembered absolutely nothing about the crash while heading to the podium to accept his award. This is his first season competing on the Dew Tour.

"I feel like I'm in the twilight zone right now," he said. "This is crazy. I'm so stoked."

Spencer Link earned his first Dew Tour podium with his third-place-score of 77.25.

"It feels awesome," Link said. "Dream come true."

"This morning I thought it was going to go bad," he continued. "Practice went horrible. But then I calmed down and I just rode how I could ride."

Link's higher scoring first run consisted of a backside nosepress on the up down, to front 360 over, to backside 180 out on cannon rail. On the jumps, he landed a Cab double 9 to a backside double 10.

With flat light conditions and a course consisting of three rail sections and two jumps, many of the heavy hitters had to deal with falls in thier runs.

Eric Willett was coming off a win at last month's Pantech Invitational, and he had a chance at winning the Cup. But his first run he crashed and in his second he had a bit of a hand drag after his backside 9 that left him in 7th place when the contest ended.

Other big contenders that finished off the podium were Sage Kotsenburg, who had a good first run but not up to his full potential, and his score suffered after a fall on his second left him in 6th place. Gjermund Braaten, who won the first stop of the Winter Dew Tour, also had slight deduction for a hand drag in his first run. He finished 5th.

Results
1. Sebastien Toutant, 94.50
2. Dash Kamp, 83.50
3. Spencer Link, 77.75
4. Jake Aaronson, 70.50
5. Gjermund Braaten, 69.75
6. Sage Kotsenburg, 61.25
7. Eric Willett, 58.75
8. Seth Hill, 53.00
9. Ian Thorley, 40.25
10. Justin Morgan, 37.25
11. Mark Hoyt, 25.00
12. Brandon Reis, 23.25
Spencer O'Brien came back from 5th place to take the win and her second career Dew Cup at the women's snowboard slope Finals at the Toyota Championships. She nailed her second run with a switch boardslide to 5050 on the up gap down box, to a frontside boardslide on the A-frame to switch on the cannon. For the jumps, she went switch backside 5 mute into a frontside 7 indy.
Spencer O'Brien.

"It felt really good," O'Brien said of taking the win. "Kind of surreal. I wasn't really thinking very much on that last run, so when I stomped that last trick I was so happy. It's a lot of pressure when you don't land your first run."

Enni Rukajarvi, of Finland, was second with 86.50, riding without goggles to adjust to the flat light conditions. She threw down a noseslide, tailpress, 5050 stalefish, and back 5 into a Cab 5 on the two jumps. She also finished second at the last women's snowboard event in Breckenridge, Colo., the Nike Open, and this was her first time doing the entire Dew Tour.

"I'm so happy for getting second," Rukajarvi said. "I had big troubles in the practice landing my tricks so I'm just happy I landed my run."

South Lake Tahoe's Joanna Dzierzawski was third with 80.25 after putting together a switch boardslide to tailpress, 5050 to front board on the up down rail, up the cannon poke out, and a back 3 into front 3 off the toes on the jumps.

"Oh my gosh, I am so happy to have made it to Finals at the Dew Tour," Dzierzawski said. "It's my first time making it to all the stops. It was just so awesome and the course was really fun. All the girls were so supportive as always, and I'm just so happy to be here."

Results
1. Spencer O'Brien, 94.50
2. Enni Rukajarvi, 86.50
3. Joanna Dzierzawski, 80.25
4. Julianne Brackett, 73.75
5. Nicki Slechta, 67.60
6. Sarka Pancochova, 36.25
READ THE STORY
Tragically, two avalanche deaths were reported on March 17, 2022. A solo backcountry snowboarder was killed in Colorado's San Juan Mountains while a skier was killed in the Teton Pass backcountry. The man killed in the San Juans was identified as Devin Overton, an experienced local snowboarder. The Teton victim's name has not been released. Both men were caught in large avalanches that failed unexpectedly on buried weak layers. Multiple large avalanches were reported in the last few days in
READ THE STORY
Is hardbooting a sign snowboarding is finally moving out of its mom's basement? With Phantom's newest Slipper HD boot system, it just might be. The number of snowboarders in the backcountry has been on the rise. Only seven years ago I remember frequently receiving remarks from other recreationalists like it was something novel: "oh a splitboarder." Even at busy trailheads like Colorado's Berthoud Pass, it was rare to see other human-powered snowboarders. In the last two or so years I'd be
READ THE STORY
The North Face and Pattie Gonia (they/she/he) are teaming up to host a Summer of Pride, aiming to celebrate how nature lets you be who you are, and all of the beautiful ways that you get outside. With workshops, panels and activities for all, Summer of Pride is about exploration in all shapes and forms. Their mission is to help cultivate community together through a love for nature and having a good time outside. The tour heads to Portland, OR, Columbus, OH, Denver CO, and San Francisco, CA.