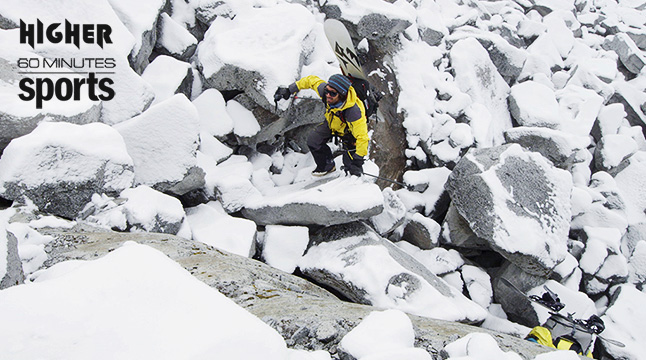 We're honored to have been the subject of a recent episode on 60 Minutes Sports. Throughout the past few months, the team at 60 Minutes has been traveling to Jackson to interview Steve, Todd, and Jeremy Jones. The episode showcased the evolution of Jeremy's riding and the deep collaboration between Jeremy and his brothers Steve and Todd, who cofounded Teton Gravity Research. The timing of the episode is especially meaningful, as it coincides with the completion of Higher, the final installment of the trilogy of films documenting Jeremy's career as a professional rider and his commitment to exploring remote mountains under his own power.
Be sure to watch the trailer now and then catch the episode when it's released online late this summer.
READ THE STORY
On Saturday, December 1, at 9:55 a.m., sixteen people were skiing and snowboarding on the southern end of Expert Chutes, an inbounds zone at Jackson Hole Mountain Resort, when an avalanche broke above them. In a matter of seconds the 150-foot wide slab with a 2-foot crown barreled down the slope, burying five skiers below. Without hesitation, onlookers immediately sprung into action and the ski patrol responded swiftly. Thanks to the cooperation and preparedness of the community and the
READ THE STORY
Not too long ago, snowboarding culture was almost entirely directed and dominated by videos. There were the magazines, too, hundreds of pages thick and chock full of snowboard culture. These were the true sources at the time. Whether you lived in Tahoe, Colorado, Vermont or France—you all saw the same stuff, and you could relate as a snowboarder. The images and the stories held clout. During that time, one of the culture's greatest storytellers, Standard Films, rode alongside and filmed
READ THE STORY
The holidays are quickly approaching and we'll hazard a guess, you probably haven't locked in that perfect gift for the snowboarder in your life. All hope is not lost, we've curated a list, ranging from boards to boots, that are sure to score extra brownie points with any snowboard enthusiast. Plus, if you've been hankering for a few new things, peruse through the list and treat-yo-self to something nice while you're at it. Weston Backwoods Splitboard - $900 Buy the Backwoods Board Here.