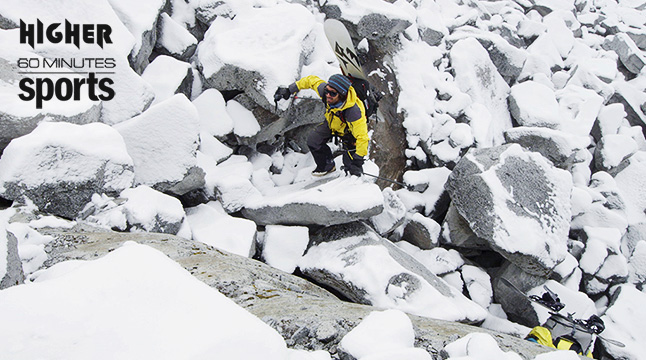 We're honored to have been the subject of a recent episode on 60 Minutes Sports. Throughout the past few months, the team at 60 Minutes has been traveling to Jackson to interview Steve, Todd, and Jeremy Jones. The episode showcased the evolution of Jeremy's riding and the deep collaboration between Jeremy and his brothers Steve and Todd, who cofounded Teton Gravity Research. The timing of the episode is especially meaningful, as it coincides with the completion of Higher, the final installment of the trilogy of films documenting Jeremy's career as a professional rider and his commitment to exploring remote mountains under his own power.
Be sure to watch the trailer now and then catch the episode when it's released online late this summer.
READ THE STORY
Paradise cabin in the ghost town of Gothic, CO. Morgan Tilton photo. We skied into a Dalmatian coat of scattered wood-frame buildings cushioned by a white blanket of deep snow. To my left, a small cabin with dulled evergreen frames and upside-down antlers nailed above the front door was righteously called, , denoted by its sign and dated back to 1935. The half-buried doorway and snowdrift, which inched up by the minute, made me chuckle for the shack's name: This valley was already chalking
READ THE STORY
During Sego Ski Co.'s relatively short history, Ron Murray has become sort of a local legend. His 20-plus years of ski repair experience, combined with his time working in manufacturing and his wholesome philosophy on skiing (and snowboarding) has made Ron an integral part of the Sego team and brand. Ron is pretty much everything you look for in a ski tech. His gentle demeanor breathes wisdom and humility, and it shows in his craft. After all, aren't our skis just an extension of our feet?
READ THE STORY
Greg Von Doersten (or GVD) has been photographing with TGR since the beginning. He met founders Todd and Steve Jones back in the early 90's when they were still skiing for Marmot and filming by themselves with local Jackson Hole crushers. "They were getting it done," Von Doersten told me. "They wanted to see more line skiing and airs in films so they started to develop their own signature thing. I was like 'dang these guys are legit and they are kind of my style.'" Von Doersten