Editor's Note: This piece, written by Contributor Sam Morse, is a first attempt at opening a discussion about diversity in the outdoors–the systemic lack of which has persisted for decades. It by no means is a definitive analysis, and at the end of the day, reflects Sam's opinions and the best conclusions he could make from the research he undertook. We hope you read this with an open mind, and that it opens the doors for a productive, meaningful conversation in our community.
Playing in the outdoors can make life more colorful. Illustration by Gretchen Leggitt.
Kirkwood's Chair 6 whisked a group of teenage boys to the top of the Sierra Crest. The kids sitting on the chair were from some of California's roughest neighborhoods in cities like Sacramento, Bakersfield, and Watsonville. Between them, they represented much of the diversity of a place like California: white, black, Hispanic, and Asian. The snow-covered mountain setting that stretched out before them was a stark contrast to the places they'd grown up in.
One of the teens, James, had had a particularly rough go of it, having fallen into hard drug use and theft following severe abuse as a child, but he was about to discover something that would give him peace, if only for a day. It had snowed a foot the night before, and these kids were about to see what snowboarding in deep powder can do for a person's outlook on life.
Kirkwood is full of stashes, so James and the other guys had no trouble finding one of these hidden spots. Pulling through a thicket of dense pine, the boys moved apprehensively, not sure about their run selection. Then the trees opened up, and everything clicked into place. Below them, an untouched field of fluffy powder beckoned.
They ripped through the glade, letting out whoops and hollers, high and euphoric on a drug they hadn't known existed. Time melted away along with their problems, and they choked on the clouds of ecstasy together.
A few short minutes later, panting at the bottom of Chair 6, they wore grins hidden beneath the snow caked on their faces.
They looked back as the rest of the boys slowly streamed out of the trees. The last to emerge was James—and he had changed.
The boy who had entered that tree run was angry and bitter, deeply upset with the world, impressed by nothing. The person who emerged from those pines was full of a lightness and an elusive peace. His smile was radiant and intoxicating. As he rode up, the teens connected fist bumps, and then, without pausing, James demanded another run.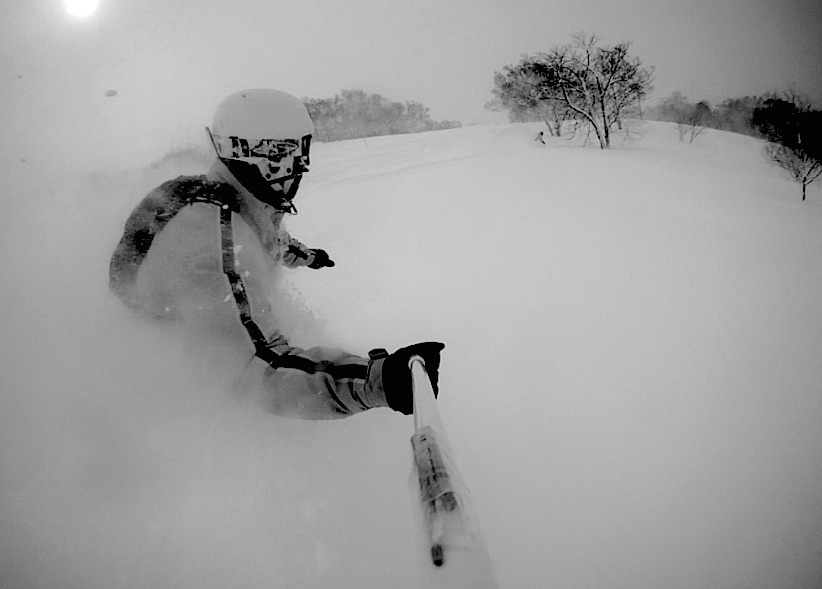 Eric Rhea finds his bliss during a Black Ski Summit in Niseko, Japan. Eric Rhea photo.
A few years back, I was fortunate enough to lead a group of at-risk group home kids on excursions such as this.
During those experiences, I often wondered what being in the mountains—away from violence, crime, and the history of their troubled youths—would do for them in the long run.
I don't claim to know what is best for people. Everyone has their own experiences, and what benefits someone in life is almost always subjective. But I've witnessed the transcendental and transformative power that the mountains can play in young people's lives. I've seen a powder grin shine through burden and pain.
Given how powerful riding powder can be for almost anyone who experiences it, I've always been surprised that a more diverse population hasn't taken to it.
But should all minorities aspire to be like white people and do the sports white people like? No. But people in an equal society should have the ability to make a choice, and to seize the breadth of opportunities that the world presents. Not cultural hegemony; just cultural healing.
If one thing is for certain, it's that affluent white people don't hold a monopoly on the enjoyment of sports. Many of the best athletes in the world are black men and women. The pursuit of, and passion for, sport is universal. In our society, we're all used to seeing black people crush it on the court and field, but for many reasons, black athletes, amateur or professional, are not, for the most part, to be found in the mountains.
According to a SnowSports Industries America study, in 2013, black people made up just 7.3% of alpine skiers, while 72% were caucasian. In terms of snowboarding during that same year, African Americans were a bigger piece of the pie at 10.2%, but white people still made up the lion's share.
These days, not a season goes by that I don't ask myself why. Sure, the usual suspects–the white and privileged–are to be found in every river eddy, smoke shack, and campsite imaginable, but where is everyone else?
At least a few times each winter, usually on a chairlift, some friend or skier will turn to me, and acknowledge the big elephant on the hill.
"Where are all the black people?"
"Why don't black people like to ski?"
"How come minorities don't like the outdoors?"
More often than not, these conversations end as quickly and unproductively as they start. Someone will contribute an incredibly vague catch-all ("black people don't like the cold"), and the chance for a productive conversation dies right there on the lift.
As easy as it is to generalize the reasons for the lack of minority groups participating in snow sports, the actual factors behind this phenomenon are nuanced and specific, and to someone who's paying attention, not all that surprising.
To find out the answers to these questions, I sat down with several well-known and respected members of the African American skiing and snowboarding community. As is the case almost always in life, these guys don't speak for everyone, but they do have unique viewpoints that shed light on a rarely discussed issue.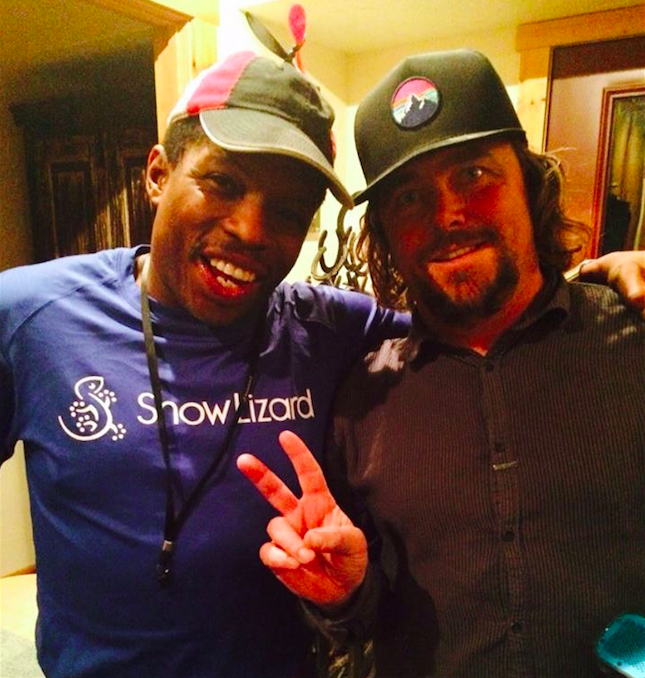 Old friends Marvin Howard and TGR co-founder Todd Jones catch up and scheme new adventures. Marvin Howard photo.
For starters, I interviewed Jackson Hole local legend Marvin Howard, a member of the Jackson Hole Air Force and a badass townie ripper of more than 20 years. Growing up, Marvin had a supportive family that encouraged him to try new things. Over the years, he's thrived in Jackson by owning and managing his own moving business, Mountain Movers. He is a passionate and dedicated ski bum and is well acquainted with the mountain lifestyle.
I also connected with Eric Rhea of the National Brotherhood of Skiers, an organization that has been tirelessly encouraging African Americans to get out on the snow for over 40 years. A self-made man who works as a successful antique dealer in New York City, Eric is unique in that he lives at the confluence of poverty, inequality, and obscene wealth in contemporary Manhattan. Eric is active in many youth initiatives as well as being a key player at NBS ski summits around the world.
Eric's brother John also sat in on our interview and contributed to the conversation. A Harvard-educated real estate developer, John Rhea is brilliant. As a father, John has seen the way our country makes it harder for his kids, and this unique viewpoint of fatherhood has enabled him to play a sage-like role on this topic.
The Rheas see it from 35,000 feet, and Marvin sees it when he walks out his front door, but both angles yield a disturbing understanding of the past, and a hopeful view toward the future.
Economic Uncertainty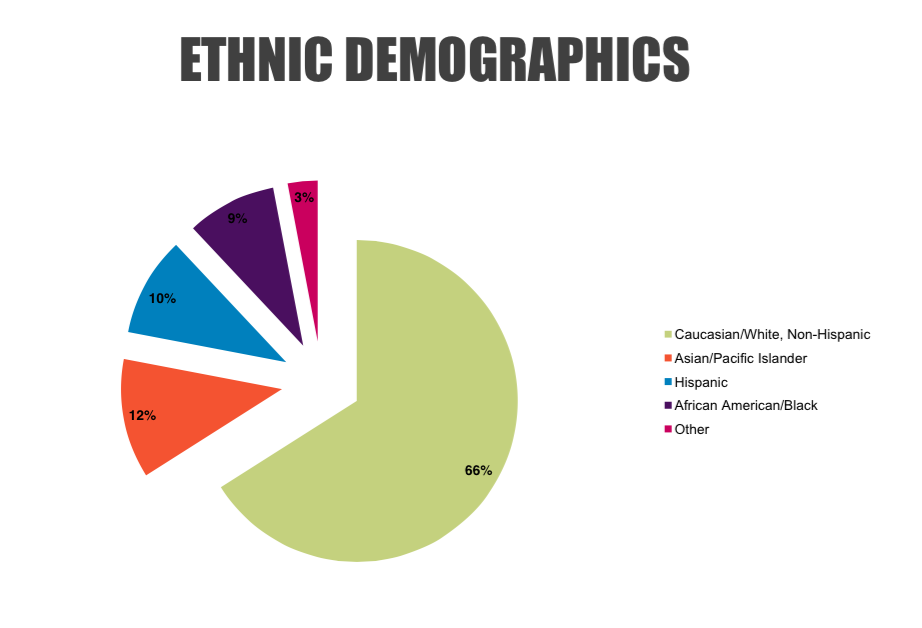 This pie chart comes from a 2012-13 Snowsports Industry of America participant study, and shows the ethnic breakdown of snowsports participants in the US. SIA graphic.
This conversation begins with money and what it does to human priorities. Growing up in a world of middle-class affluence and comfort leads people to make decisions differently than those from less well-to-do circumstances.
Let's face it: snow sports are expensive. Just getting to a ski area can cost a lot of money, and the sport can be put entirely out of reach if you don't own a car. But even once you're in the mountains, there's food, lodging, equipment and overpriced lift tickets, and that's not even including your extracurricular nocturnal activities.
On the flip side, maybe you've committed to living in the mountains, as many ski bums and dirtbags have throughout the ages. This means, assuming you're a 20 or 30-something, that you've put your future on hold so that you can live the dream in the prime of your youth—and decades before more responsible friends retire to do the same. However, a 10-year binge as a ski bum can often yield a nasty hangover, and what was for a brief time desirable and fun at 21 is now immature and irresponsible at 31. Trust me, I know.
For many Caucasian people, this break from reality is the acceptable cost of living the good life, because most white folks know that there's a dependable on-ramp back to a professional career after they've had their fill of the mountain lifestyle.
Due to systemic inequality in the United States, such on-ramps often don't exist for young men and women of color. The decision to dedicate a significant chunk of your early adult life to play in the mountains is perceived as irresponsible. The pressure to steer toward a conventional path of stability is often self-imposed as well as reinforced by one's immediate family, who understand how rarely opportunity knocks.
"It's obvious that if you're a minority in the United States, you have to work harder to get ahead–way harder," Eric explained. "Even once you get your education, just to compete for jobs and resources… the thought process is, 'I must be an idiot to think I'm going to go play in the snow for ten years.'"
Piggybacking on his brother's statement, John also pointed out that a lot of pressure for mature decision making comes from the immediate family. "Most people try to steer their children toward economic certainty," he said. "This is about pathways and careers that people have seen work in the past. The average low-income family hasn't seen ski-bumming lead to economic stability, if they've been exposed to it at all. They see it as wasted youth."
Most people try to steer their children toward economic certainty," he said. "This is about pathways and careers that people have seen work in the past. The average low-income family hasn't seen ski-bumming lead to economic stability, if they've been exposed to it at all. They see it as wasted youth.
You hear a lot buzz about young people taking gap years, of traveling and seeing the world, sowing their wild oats and living life to the fullest. For those in a position to grow from such experiences, they can be immensely valuable. But that value only comes if there is a light at the end of the tunnel—some assurance that even if you put your professional life on hold, there is an opportunity to pick back up where you left off when you're ready to get back in the game. This re-entry into a traditional career path can be a challenge for anyone, but for those whom our society has put at an enormous economic and social disadvantage, it can prove to be an impossible hole to dig out from.
In a world with very few chances for upward mobility, the thought of missing that window, of throwing your future under the bus for the sake of the instant gratification of a season or two of face shots is for most young people just too big of a chance to take.
Another factor is the idea of social autonomy, or not having a financial responsibility to one's family. In many impoverished and developing nations, families band together. In urban areas where there is a greater concentration of poverty, this is also true. Families are more likely to stay together to pool funds and resources.
"If you're from a middle-class family, a wealthy family, it's really about you," John continued. "Your family wants what's right and best for you, including having those life experiences. But if you come from a family where means are tight, you have to provide and help the nuclear unit, so those choices don't become individual; they remain communal."
History and Fear
Minority populations are held back from skiing and snowboarding by geography as well. Like most migrant populations throughout history, as African American people settled into communities during the 19th and 20th centuries, they tended to put down roots around other people of similar races and social status. This led to many cities having concentrated populations of African Americans and other minorities. These migrations along racial lines meant that the cities of America were diverse and multicultural, with many different types of European and African ancestries represented. It also meant that the open spaces of the Western U.S. were mostly left to white people to settle.
It may seem like common sense, but most of the regions that have great access to outdoor recreation in this country are heavily rural: the Northern Rockies (Montana, Idaho and Wyoming) are a prime example of this trend in population distribution. Of the Intermountain West, Denver and Salt Lake City are the only two major metropolitan areas that offer reasonable access to mountain sports. Denver, in particular, has a large minority population, but thus far, widespread minority recreation in the I-70 corridor has not happened, although things are changing.
Part of the geography problem is that committing to living in a ski town, to being a ski bum, is just that: a total commitment. For those intrepid, dumb or wise enough to see through the rat race of life, this commitment can be an enormously rewarding experience. But if you're not all in, the economic feasibility of skiing and snowboarding becomes further and further out of reach.
To participate, either you're poor and you live and hustle in a mountain town or you're rich and you can play wherever you want. This dynamic creates a very black and white choice for most young people of color.
"In mountain towns, you have people who are ski bums—they are hard working, basic wage people a lot of times. They work in the restaurants, other low wage jobs, but because they live right there, they have access," Eric told me. "It's a location thing. It's a recreation thing, like, 'This is what I do. I need to get out and have some peace of mind at the end of the day.' So for the ski bum, it's an easy thing because there's no need to travel. But people who live in city centers or urban areas, we gotta actually hop on a plane, book a hotel, pay a hundred bucks a day for a lift ticket."
Marvin also felt that geography plays a big role, however, he asserted that Americans in general lag behind other cultures in terms of encouraging young people to travel and experience new things.
Europeans, Australians and New Zealanders go do that [travel] no matter what color, race or creed. So, it's not race, it's not color, it's a uniquely African American situation.
"Europeans, Australians and New Zealanders go do that [travel] no matter what color, race or creed. So, it's not race, it's not color, it's a uniquely African American situation," Marvin iterated. "I meet African people from Africa, and they are told to get out of Africa and travel. The average person in Europe gets their passport when they're eight to ten years old—here, the average American doesn't even have a passport."
Marvin touches on an important facet of this conversation when he mentions that in other places, people with dark skin aren't held back as they are in America. His argument highlights that overall, Americans are heavily risk-averse people. Parents in this country, for the most part regardless of their financial status, discourage travel and what most would deem unsure outcomes.
Perception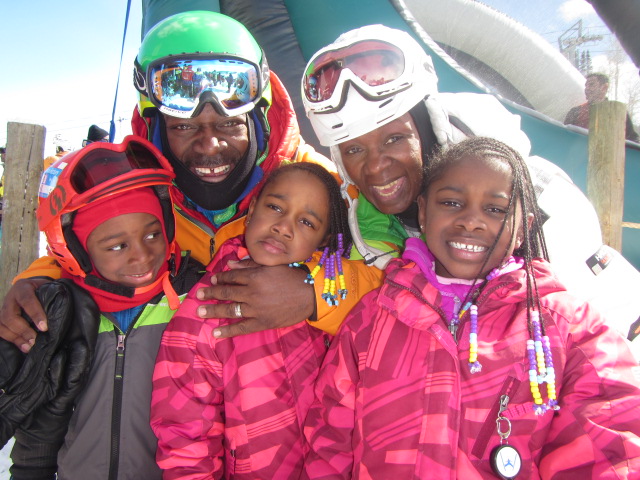 The Rivers family readies for a day on the hill. The kids' expressions cover the spectrum from mischievousness, boredom, and apprehension—but Mom and Dad are stoked! (from left to right): Henri D.L. Rivers IV, Henri D. Rivers, Helaina D. Rivers, Karen A. Rivers and Henniyah D. Rivers. NBS photo.
Something that I noticed during my time as a teacher and youth advocate was that the kids like James, even well into their teens, always loved snow sports, but still maintained a belief that these activities were part of a system that wasn't meant for them. This was fascinating because it showed me how perception created boundaries for these kids and others.
For a long time, skiing, golfing and other like sports were mostly for white people. Therefore, the assumptions that people of color weren't welcome were based on more than just what they'd seen on TV, or in their neighborhood—they were based on the slow grind of exclusion, poverty and injustice that they'd both participated in and been the victims of.
The Rhea brothers, both exposed to skiing when they were little kids, learned firsthand how a person's identity is actively shaped by experience. If you keep a child in an urban setting for their whole youth, they won't have a chance to identify with the outdoors.
"If someone labels something as a 'white' or 'black,' that's because they've gone through a significant portion of their life and they start to define things with much more rigid definitions," John reinforced. "If you expose a young African American or Latino kid to snowboarding in the mountains, they won't define it as 'white,' they'll define it as a part of 'me.' But when you grow up without that experience, and now you're 15, 18, 25, your perceptions are much more cemented."
Eric stressed that he's watched the transformative effect that the National Brotherhood of Skiers and programs like Hoods to Woods can have on young minorities. But you have to plant the seeds early enough, otherwise skiing and snowboarding are perceived as a novelty, and not something that is actually attainable.
We take inner-city kids from the housing projects in NYC. We take them out snowboarding; it's a mentorship program," Eric recounted. "Three of the kids left to go to college this year in Colorado literally because they love snowboarding so much. Nobody from their families had ever gone to college, but the motivation for them now is, 'I need to study, and do well, in order to be able to afford to do this, because I love this now!'
However, sometimes the passion and love derived from skiing and snowboarding can actually inspire a person to lift themselves out of adversity. When you take a child out of their circumstances and expose them to something new, it opens up an entire world of possibilities. In his life, Eric has also witnessed this transformative power of snow sports.
"We take inner-city kids from the housing projects in NYC. We take them out snowboarding; it's a mentorship program," he recounted. "Three of the kids left to go to college this year in Colorado, literally because they love snowboarding so much. Nobody from their families had ever gone to college, but the motivation for them now is, 'I need to study, and do well, in order to be able to afford to do this, because I love this now!'"
Contemporary Urban Culture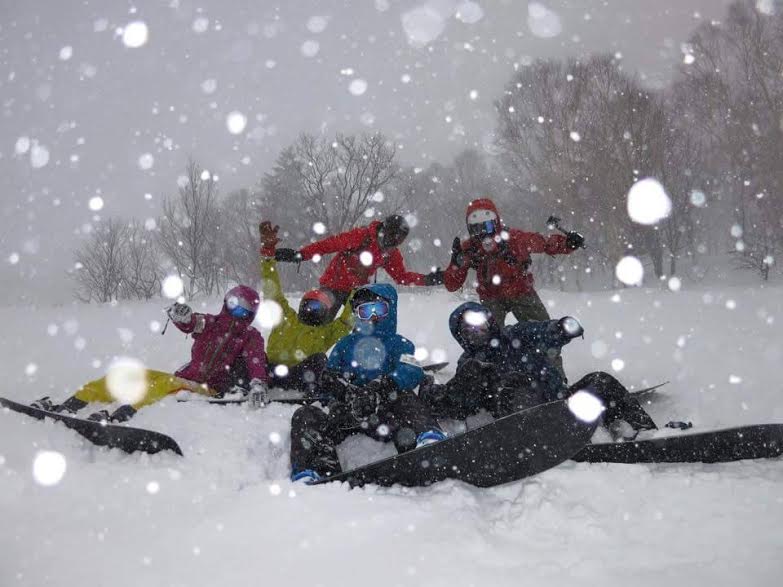 Eric and an NBS crew take a moment of reprieve from the deep pow at Niseko, Japan. Eric Rhea photo.
I asked if when the Rheas shared their life story, and their success and the unique ways they enjoy it with younger, poorer minority mentorees, they were seen as sell-outs. To the contrary, the type of success and affluence that they possess is one of urban culture's highest ideals. Not something to shun, but something to attain and work toward.
"We're in an environment today where there's a lot of glorification of what I would call 'excessive lifestyles,'" John explained as he took me to school. "So whether that's having a yacht, or having a ski chalet, most African Americans see that as aspirational," he continued. "I don't think the youth sees it as selling out. But they want to do it in their own cultural way. They don't want to go out and do it the way it's been perceived historically, they wanna go with their crew and do it in a way that they see as culturally authentic." Eric's own rap anthem below reflects that desire:
So for a lot of young men and women of color, it's not the act of skiing or riding that is desirable, but the ability to afford to do so that is inspiring. The ski and snowboard lifestyle is, in a lot of ways, an excessive lifestyle, making it a status symbol in our society.
It's pretty clear that ski bumming doesn't fit into this aspirational image of excess, but how the Rheas go snowboarding–showcasing their freedom and success on expensive snowboarding trips to the mountains of Japan, Chile and the Northern Rockies–is deeply inspiring to those in the urban mindset.
On this thread, when discussing his rap video, Eric explained that to the common urban kid, "This [snowboarding] is balling on a whole 'nother level. I knew the psychology behind someone watching the video and saying 'This is some fly, next-level shit that I never understood was out there.' Then it sets up this whole new mindset of 'I think I want to experience this.'"
A More Diverse Future?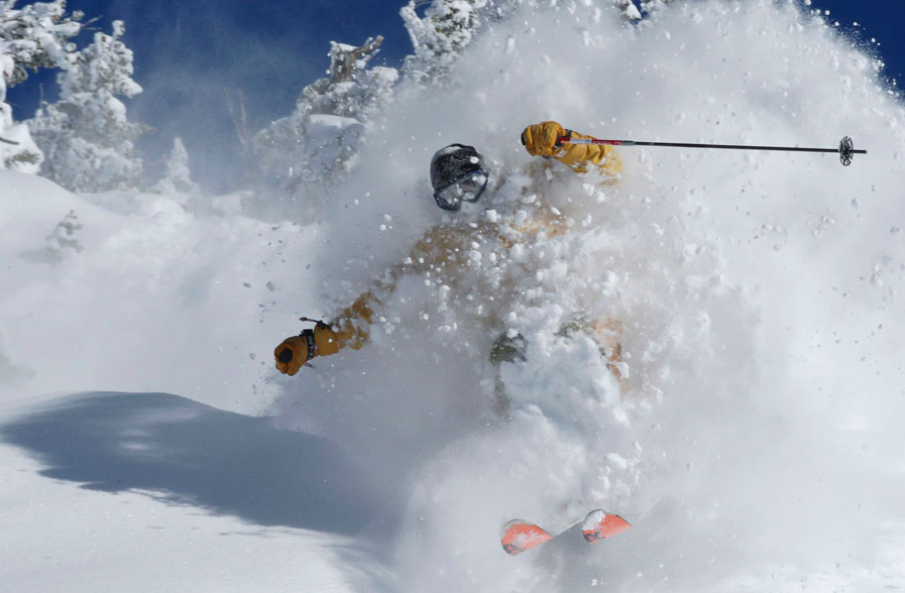 Marvin emerging from the white room at Grand Targhee. If more people of all cultures could have experiences like this, the world just might be a better place. Marvin Howard photo.
Certain parts of the American culture and economic system have limited many people's access to the mountains. Because snow sports are expensive, there will always be those who just flat-out can't afford to do them, but as a society, people should do more to welcome minorities into the mountains, and at the same time not project caucasian cultural narratives onto that experience.
People who practice outdoor sports, and the incredible flow state they produce, have tapped into something that overcomes the divides our culture creates along the lines of skin color, religion, or political preference. As humans, the ecstasy that comes with a powder turn or a hike on a long-forgotten trail should be available to everyone. If everyone was out taking pow turns, or finding their bliss in some other way in the natural world, our society would most likely be a much happier, better place.
But things are changing. With passionate players such as Marvin and the Rhea brothers bringing young people into the fold and setting a precedent, acting as mentors and planting seeds that will in time bear fruit, the mountains will grow more diverse.
According to the SIA study, African American participation in snow sports actually shot up dramatically between 2009-2013. In 2009, African American participation in alpine skiing was at just 2% of skiers, but only five years later, that number had grown to 7%. During the same time, African American participation in snowboarding grew even faster, going from 3% in 2009 to 10% in 2013.
Marvin, himself a life long emissary of stoke, understands that the divide that prevents some from skiing and riding is not genetic, but cultural. "Anyone who dedicates their life and dedicates their mindset to it can and will be a good skier," he told me. "It's not about race, color or creed–it's about dedication to the lifestyle and to the sport."
READ THE STORY
While it might look easy for Sage to shred a line like this, there's a whole lot of planning and patience that goes into it. | Eric Parker photo. Sage Cattabriga-Alosa has almost certainly spent more hours in the backcountry than you have. As a member of the TGR team for over 20 years now, he's developed a keen sense for staying out of trouble in the mountains. The Atomic athlete urges patience, learning, and practice for anyone going out of bounds this season and has a few tidbits of
READ THE STORY
Parkin Costain has been quietly grinding to become one of the best skiers in game. Since his early teens he traveled and competed on the IFSA circuit and was also spending time in the backcountry filming clips with his dad. He submitted the content to TGR's Grom Contest and QuickSilver's Young Guns, which he won. That lead to a spot filming for the yearly TGR movie and he's not looking back. Parkin Costain also talks about his desire to be a two sport athlete with Mountain Biking,
READ THE STORY
The Ski Town Fairytale is a new graphic novel from Ryan Stolp and Sam Morse that explores what it means to live in a mountain town. Skiing has always been a very visual sport. Sliding on snow has been represented in just about every form of visual media possible: films, photographs, drawings, the list goes on. One place we haven't seen much of it, though, is the world of graphic novels. That's where author Sam Morse and illustrator Ryan Stolp come in. The two lifelong ski bums (who might