"I think as humans, we like being around people who are more like us. It's just the human condition to be understood." Carisa Barnett photo.
In the last year, the number of all-women's avalanche classes has increased. Wait, I take that back. They have only just emerged. Thanks to organizations like SheJumps, and films like Pretty Faces, more women are starting to get outside and into the backcountry. But in traditionally male-dominated sports like skiing and snowboarding, women seem to be met with a challenge when it comes to breaking into backcountry riding. Going out with their gung-ho male partners might not provide the best platform for women to gain enough confidence in their knowledge and abilities.
That's where all-women's classes come in. These classes can provide an atmosphere where many women feel more comfortable speaking up, asking questions, and gaining confidence in themselves and their newfound abilities as informed backcountry travelers.
This is not something that is black and white, and not all women are the same. But I do believe that these classes offer something amazing for certain girls, and think we need to spread the word about this new opportunity for women!
We are all just people... but there is something different about having all women. It's so hard to describe. I think as humans, we like being around people who are more like us. It's just the human condition to be understood.
"We are all just people," said ski guide and avalanche instructor Nancy Bockino. "And everyone brings something different to the table. But there is something different about having all women. It's so hard to describe. I think as humans, we like being around people who are more like us. It's just the human condition to be understood."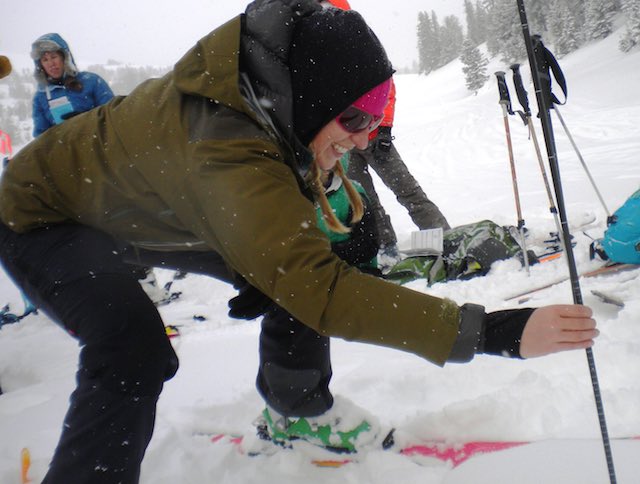 This could be you, taking advantage of the small but growing number of women's-only avalanche courses. Carisa Barnett photo.
Darcy Chenoweth is a climber, skier, and mountaineer out of Missoula, Montana. She started teaching a three-day avalanche awareness course for all women last year. "It's just kind of a prerequisite for the Avy 1 course," she said. It was a bunch of women gathered in a yurt in the Swan Mountains of Montana digging snow pits, learning how to travel safe in avalanche terrain, and skiing pow for three days. "The excitement of these women was infectious. It was enthusiasm at its purest, and it was such a pleasant surprise," Darcy said.
Darcy Chenoweth started teaching a three-day all-women's avi class in Montana's Swan Mountains last year, and will teach her first all-women's full Avalanche 1 course soon. Sarah Halverson photo.
Darcy taught the same course again this year, and will teach her first all-women's Avy 1 class in a few weeks. Like many high caliber and experienced mountain women, Darcy's partners have always been mostly guys. "For many years I've been skeptical of all women's things because all my partners have been men," Darcy said, "but just recently I realized how much I crave going out with girlfriends. After I did my first avy awareness last year it was such a blast. The perspectives of the women in my class were so eye-opening for me."
Darcy and the girls in her course experienced how great getting a bunch of outdoorsy women in one place can be. And how it allowed for her group to talk openly about what it's like being a woman in the backcountry and how gender plays into our decisions in the backcountry.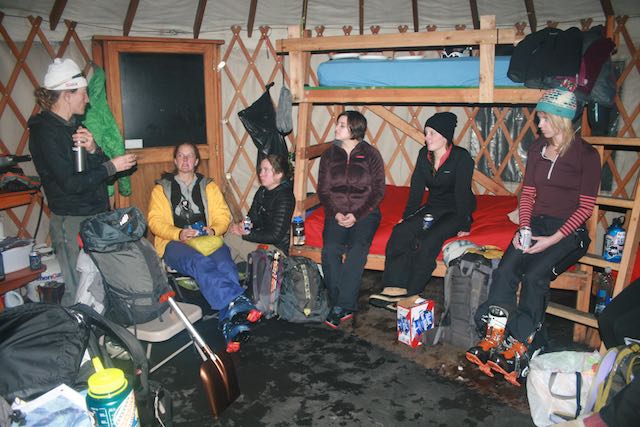 In the hut for Darvy's three-day backcountry course in the Swans. Sarah Halverson
So why do women opt for these classes instead of coed classes? I interviewed two different instructors and a student and everyone more or less came to the same conclusion. What the instructors have noticed is that women decide to take an avalanche class to gain the confidence they need to feel safe in the backcountry. And the student explained how that confidence is more easily attainable— at least for her and others in the class— in a group of other women.
"I find that most of the time, men take and avalanche course because they already are in backcountry and want to know if they are doing it safely," Nancy said. "But women seem to take the course because they want to make sure they know everything they need to know before going out."
An all-gals troupe heads out into the backcountry. Carisa Barnett photo.
Darcy found similar differences in her classes, and both instructors found that the girls in the all women's classes seemed more comfortable asking questions, speaking up, and admitting where their skills were lacking.
"There's a super obvious difference between the all women's classes I've taught and coed," Darcy said. "I notice that women don't ask as many questions in the coed classes. When we are analyzing pit data it's the men that are asking the majority of questions. So I think in those coed classes a lot of questions go unasked."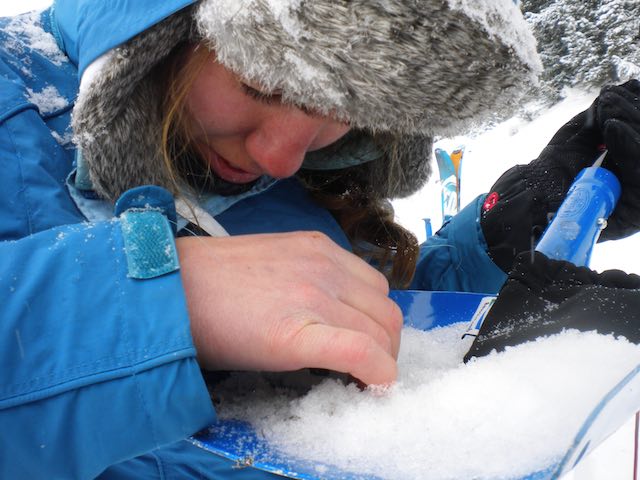 Studying snow crystals. Carissa Barnett photo.
"Nobody wants to ask how to do a kick turn in front of guys who already know how to do it!" Cassandra Skipitis told me. Cassandra just finished her first Avy 1 course. "None of us were afraid to be new at something or ask question when we didn't understand."
Cassandra emphasized that she rides with a lot of guys, and has tons of fun with them, but she can feel intimidated not only by the mountains but the people around her. "I think sometimes I am too afraid to speak up about something with other guys." She admitted.
"I think the women in the all women's class felt less pressure to be backcountry savy prior to the course," Nancy said. "I think they felt like they could come there and learn as we go instead of showing up and already having experience. It was wonderful to see their confidence change in just four days."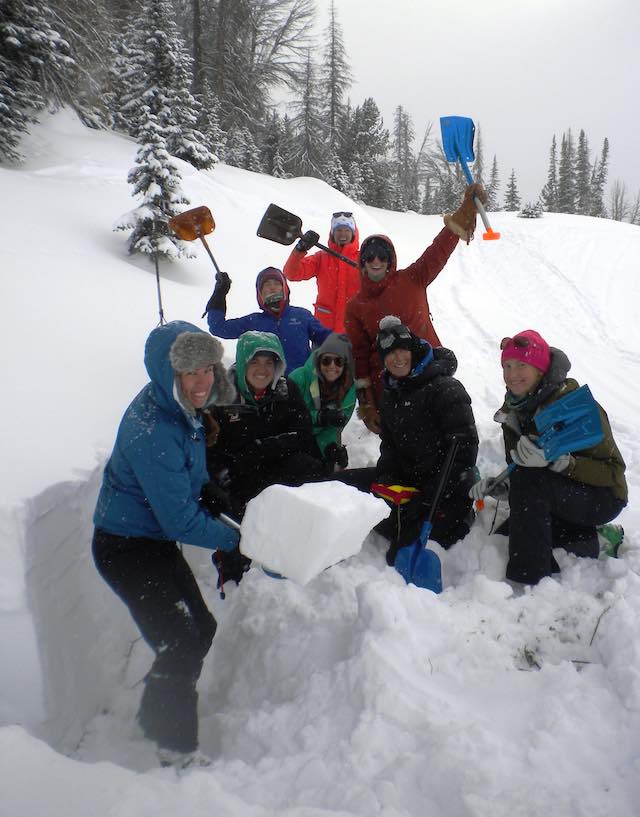 8 girls, one snowpit! Carisa Barnett photo.
There are so many reasons why a woman might want to take a course like this. Maybe it's to take it with your best girlfriends, or the desire to meet other potential backcountry partners, or maybe it's just because there is something different about being with all ladies.
The bottom line is we want everyone to be safe and feeling super good out there. And whether you are stoked on these classes or not, I think Nancy said it best in her interview, "For me, I'm so excited to be able to share the gift of going in to the mountains and If women want that and they feel better getting it from another woman then that is great. I want every girl to be able to look at the Tetons and say, with confidence, I can go in those now."
---
Think you want to take an all-women's course? Check out these awesome groups offering courses this winter:
Backcountry Babes: They have actually been offering all-women's classes for the last 18 years! They're hosting all women's steep ski clinics at Wolf Creek and Silverton, CO this February, and a hut trip to British Columbia in March.
S.A.F.E.A.S.: December 2014 dates at Squaw Valley, Crystal Mountain, Steven's Pass, and Copper Mountain.
SheJumps: at Mount Rainier National Park in Washington in late January, in Estes Park, Colorado in late February, and a one-day backcountry introductory course in Bend, Oregon in late February. SheJumps is also offering an all-women's AIARE Level 2 course in Pagosa Springs, Colorado in early February, and two all-womens' ski mountaineering courses: one at Crested Butte in early April and a second, called Alpine Finishing School, in late April in Selkirk.
YurtSki: Offered an introductory backcountry class and a Level 1 course, both just for women, out of their yurts near Missoula, Montana in December and early January (these were taught by Darcy Chenoweth).
Sun Valley Trekking: An all-women's AIARE Avalanche 1 course is being offered from February 27-March 1st.
From The Column: Women in the Mountains
READ THE STORY
This week in 'Women in the Mountains' we sat down with Wild Barn Coffee's Jenny Verrochi who masterminded an underground women's naked ski event. Sounds cheeky and chilly! Will Beihoffer photo. On March 20th, you could see a full moon on top of Bluebird Backcountry's West Bowl. Well, 22 full moons to be exact. It was all part of a women's event focused on one beautiful, singular goal: skiing butt naked in the backcountry. The cheeky idea came from Jenny Verrochi, who's based in Boulder,
READ THE STORY
There's a few mountains out there whose shape just screams "SKI ME." Among those is one that stands deep in Pakistan's Karakoram range, Laila Peak, a hauntingly beautiful spear of rock whose Northwest Face is a perfect 45-degree ramp of snow that drops nearly 5000 feet to the glaciers below. Not to mention that the face hangs over an equally sized cliff that requires a potentially deadly traverse to navigate. The peak saw its first summit ski descent in 2018 by a team of French skiers.
READ THE STORY
John Collinson's upbringing was a little different than most pro skiers. He grew up in a closet in Snowbird employee housing with his older sister Angel, and didn't do many things that most kids do. However, what he did experience was unfathomable, like summiting Rainier at 4 years old, summiting Everest at 17, and so much more. On the podcast, Mike Powell and Collinson talk about how he went from the closet to his sister's shadow, to pro skier, to social media influencer known for his