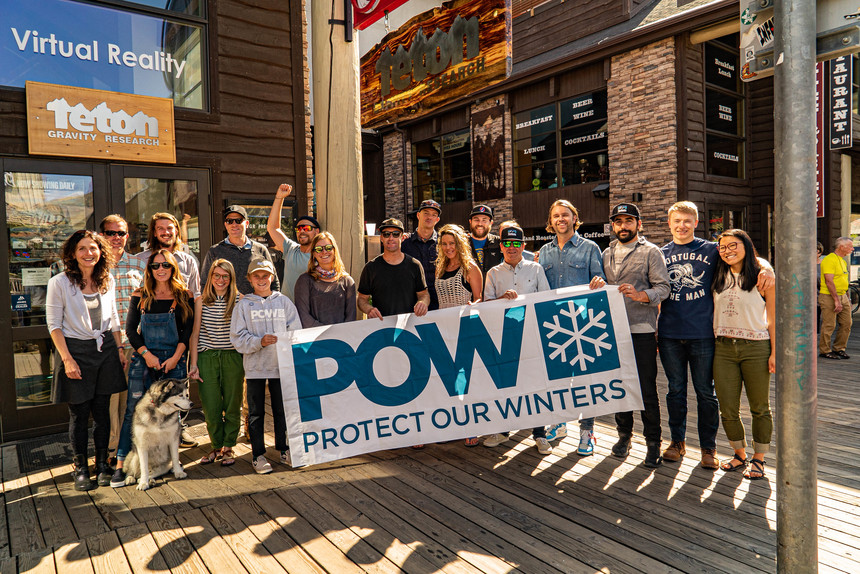 Teton Gravity Research Photo.
Teton Gravity Research hosted notable politicians, professional athletes, scientists, and environmental enthusiasts for a Protect Our Winters (POW) training and mixer at the local TGR Town Store in downtown Jackson. The event was part of the larger Midsummer Melt concert featuring Grammy award-winning band Portugal. The Man, which benefited the Alpine Science Institute of Central Wyoming College and POW.
RELATED: Endangered Species Act Overhaul
"Our brother Jeremy founded Protect Our Winters, and TGR has been involved since its inception," said TGR co-founder Todd Jones. "We're honored to host Senator Whitehouse and the Protect Our Winters ambassador training."
Athlete ambassadors Travis Rice, Lynsey Dyer, Caite Zeliff, Kai Jones, Griffin Post, and Alex Yoder spent the day in the TGR town store theater where they received the latest science, research, and information from Protect Our Winters. The evening progressed with a meet-and-greet with Senator Sheldon Whitehouse from Rhode Island, who spoke about the importance of engaging those people passionate about outdoor sports to share the importance of caring for the environment with friends and families.
Senator Whitehouse has served in congress since 2007 where he has introduced the Safeguarding America's Future and Environment Act (SAFE) and the National Endowment for the Oceans, Coasts, and Great Lakes Act. Prior to the senate, Whitehouse served as the Rhode Island attorney general. He stressed that the effects of climate change directly impact the economy and therefore are relevant even to everyone no matter where they live or recreate, citing how the rise in sea level may soon affect mortgage and property value in coastal states like Rhode Island and beyond.
Teton Gravity Research Photo.
"I'm loving the fact that this unfortunate thing is bringing our community together, and I'm honored to help spread the word that the solutions are here," said Lynsey Dyer. "It's just a matter of giving our community a voice and encouraging them to take action."
Also in attendance was Gary Johnson, former governor of New Mexico and 2012 and 2016 Libertarian Party nominee for president.
RELATED: BLM Plan Solidifying Damage to Bears Ears
The Alpine Science Institute was strongly represented by scientists and students who participate in Central Wyoming College's yearly study of glacier recession in the Wind River Mountain Range. The institute's research was turned into a documentary for PBS called Glaciers of the Winds, which focuses on the environmental effects of glacier recession on local flora and fauna.
Friends of the band Portugal. The Man forwarded them the documentary. The band responded "We love it, what can we do to help?" The sold out show was sponsored by Skullcandy, Fender Guitars, Jones Snowboards, Gentemstick Splitboards, Western River Anglers, Tordrillo Mountain Lodge, Wooden Cyclops, and Sweetwater Fishing Expedition.
Midsummer Melt Poster.