Short answer: While there's a lot of work to do, WNDR Alpine might well be bringing about a serious revolution in the snowsports industry.
Sterbenz stands stop a classic Jackson Hole run, exactly where he wants to see his skis used. Carson Meyer photo.
When Matt Sterbenz stopped by the TGR offices in Wilson, WY a few weeks ago, I was excited for a conversation with one of the most innovative characters in skiing. By innovative, I don't necessarily mean in terms of literal skiing – though Sterbenz was and still is a damn good skier – but rather in terms of ski design and vision for the sport. As captain of the 4FRNT ship for many years, Sterbenz ushered in a new era of skiing, getting creative with ski shapes to change the way many of us approached the mountain. Personally, I've skied 4FRNT skis for years and have always been a fan of their unique characteristics on the mountain.
RELATED: Jason Levinthal Acquires 4FRNT From Matt Sterbenz
These days, after selling the 4FRNT brand to fellow industry veteran Jason Levinthal, Sterbenz is busy with a new project that promises to yet again change the industry. Sterbenz left 4FRNT to pursue a new venture at a small Berkeley, California-based tech startup specializing in material design. The new company, Checkerspot, creates renewable materials derived from algae, and he quickly saw the potential in using this a core ingredient in skis.
For Sterbenz, this is the pinnacle of skiing: a day enjoying the solitude of the backcountry with friends. Carson Meyer photo.
As someone who primarily skis in the backcountry these days, Sterbenz wanted to create something unique in this already saturated market. He realized that there were no true "backcountry" brands, let alone ones that targeted everyday skiers that just wanted reliable gear. What better way, he thought, than to combine this revolutionary new material with his expertise in ski design to create a new brand.
After a year or so of product development, Sterbenz and Checkerspot launched a brand-new ski brand that focuses on backcountry skiers looking to go out and earn their turns. The brand, WNDR Alpine, will debut its first ski this fall in a direct-to-consumer sales model. The ski is called the Intention 110 and will be available in four sizes with either a cambered or rockered profile, which Sterbenz hopes will give skiers plenty to chose from.
The State of the Industry
My goal is to continue educating people on the pleasures and ethics of backcountry skiing.
Our conversation started with a discussion on the status of the ski industry. Our conclusion? Backcountry skiing is definitely here to stay and represents a bright future for our sport, but one thing is missing: a brand aimed squarely at the backcountry skiing demographic. Sure, there are dozens of ski and board companies that offer awesome backcountry touring gear, but in the eyes of Sterbenz, all of them seem a bit diluted. To him, their backcountry gear almost seems like an afterthought in a sea of other products focused on racing, inbounds riding, or mechanized skiing.
WNDR Alpine was born from a desire to become a people's brand. And people like skiing powder. Carson Meyer photo.
Sterbenz wants WNDR Alpine to take that empty spot, and become the first brand dedicated to those who want to hike and skin and access the freedom of skiing good snow in the backcountry. In essence, he wants to bring the glamour of backcountry skiing to the masses, and do it in a way that's friendly to both aspirational skiers and those who have spent years chasing powder in the backcountry.
"While other brands tend to focus on uber-lite and race-focused gear for touring," says Sterbenz, "I want to create skis that feels both instantly familiar and will provide a platform for any type of skiing." He admits that there is no such thing as a true one-ski quiver and proposes a unique way of addressing that problem. More on that later.
Beyond the type of skis other brands are offering, Sterbenz laments the lack of innovation in materials. For years, he says, brands have been using similar combinations of wood, metal, resin, and carbon fiber. They're all great things to put in a ski, with one catch: they're not great for the environment, especially when produced on a large scale.
While 4FRNT fought a bold fight in an industry that has always been resistant to change and reimagined ski shape design, WNDR Alpine is reimagining what goes inside your skis.
Inside the Skis
Checkerspot wants to use skiing as a pathway to explore material potential.
At this point, it's clear to me that Sterbenz is on to something, and I press him for more information on the technology inside the skis. The secret to material inside lies in nature, he says. Simple, right? Currently, the resin used to hold skis together is made almost entirely from oil derived from fossil fuels. Same goes for fiberglass, plastics, carbon fiber, and many other materials that make up modern outdoor equipment. Checkerspot has figured out a way around that inherent issue by harnessing a biological resource: algae. By using the oil produced by algae grown in a lab, Checkerspot has figured out a way to produce a brand-new polymer designed specifically for ski building.
RELATED: Bariloche Scores Biggest Snowfall in 20 Years
It might sound like some space-age rocket-science nonsense, but the idea is actually pretty simple, and shows promise to be a truly sustainable path into the future.
A look inside the Salt Lake City-based manufacturing facility. Carson Meyer photo.
From a ski-tech standpoint, this new material goes into the core of a ski to provide both structural strength and a uniquely damp feeling. Unlike commonly used fiber-based carbon stringers, which thanks to its their weight have replaced metal to stiffen many backcountry skis, Checkerspot's material is cellular. This means vibrations will not be transferred along the length of the skis like carbon fiber strings would.
For a similar weight, Checkerspot's material should provide a stiff and damp ski character, just like a heavier metal ski. Carbon, on the other hand, tends to be super chattery when subjected to real-world skiing. On the snow, WNDR promises a ski that can truly charge in all kinds of snow but won't weigh you down on big days.
Looking further than just creating skis, Sterbenz shares his vision for the manufacturing process as a whole. A huge part of why building skis isn't actually great for the environment is the massive amounts of waste ski factories produce. When a pair of skis is pressed in a mold, the skis need to eventually cut out of a single sheet of fiberglass or other material. Once the ski is cut out, that remaining material has no use, and typically ends up in the trash. In addition, once skis are deemed "retired" there is currently no good system in place to keep them out of landfills.
The vision Sterbenz lays bare is a simple but elegant solution to this waste management problem. WNDR Alpine will offer a three-year buyback program to recycle and ultimately re-use old ski material. He won't divulge details on exactly how the process works, but says Checkerspot has a method to undo the manufacturing process on skis to access the usable materials inside of them.
Looking Forward
My ultimate goal is to lead a community of skiers into the backcountry.
For anyone who isn't aware, the Outdoor Retailer/ SIA wintersports trade show marks the biggest annual meeting of the minds in the ski and snowboard industry. It's a place where athletes, brands, buyers, innovators, and media get together to learn about what everyone else has been up to and get sneak previews of products coming down the pipeline. When Sterbenz showed up in January of 2019, the thought of creating a new ski brand wasn't even on his mind yet.
As he met with friends and industry connections to talk about his endeavor at Checkerspot, he quickly realized that there was growing interest in the industry for what he had to offer. However, he says, "There were a lot of smiles and nods, but everyone seemed hesitant to invest in such new and unproven technology." It was time to build a ski brand as proving ground for what he had to offer.
Sterbenz shows off the goods at home base in Wyoming. Max Ritter photo.
After returning home from the SIA show, Sterbenz quickly put his mind to creating a new brand and WNDR Alpine was born. Using some of the many past connections he had made in his career, he was able to secure a manufacturing facility for Checkerspot and got to work creating the first versions of the Intention 110. Luckily, his favorite ski spots, like TGR's backyard of Teton Pass and the Jackson Hole backcountry, received healthy amounts of snowfall this past winter. Testing the new skis was an easy process. He quickly assembled a team of testers across the US and Canada to get the skis out into the wild.
At this point, WNDR Alpine only offers a single ski shape, but Sterbenz hopes to expand the lineup in a manner that sounds similarly intentional as the rest of his work. Instead of offering all sorts of crazy shapes that only a tiny percentage of skiers will ever like, he wants to create skis that make sense for everyone, across an entire season of skiing.
RELATED: A Look Inside the Vision Jason Levinthal Has for J Skis
"There really are three seasons of backcountry skiing," Sterbenz says, "fall, winter, and spring - and each of them really requires dedicated gear to make the most of." While other brands may offer a dozen different ski shapes, he wants to produce three shapes – one for each season. He also understands that ski profile is something skiers will never agree on, so WNDR Alpine will offer each shape in both a cambered and a rockered profile to suit any style of skier. In addition, once the ski side of things is dialed, Sterbenz plans to move into snowboarding to access the potential of the other side of the industry. He ultimately wants to provide a pathway for other brands in the industry (and across similar ones like the bike world) to access the Checkerspot technology to use in their products.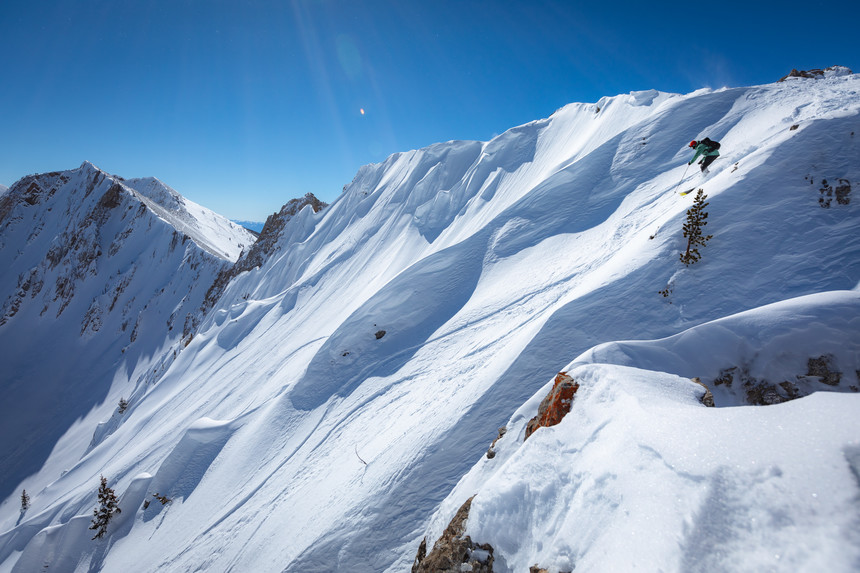 Big alpine faces are just one of the many places where Sterbenz hopes to take the new brand. Carson Meyer photo.
The most fascinating part about what Sterbenz had just spent two hours laying bare to me was that nobody else had come up with such simple and elegant solutions to inherent issues in the ski industry. Without tooting the WNDR Alpine horn unnecessarily, literally nothing he told me seemed very crazy, in fact most of it made perfect sense. Our industry has become plagued by a lack of true innovation, where brands would rather simply adapt to a new trend than become leaders and offer something truly revolutionary. For Sterbenz, it was just a matter of stepping outside the box, recruiting some minds that thought differently, and re-entering our world with something fresh – simple solutions to simple problems.
While there are still several hot months between now and ski season, thinking through these problems with Sterbenz made us both excited to get out there and enjoy the solitude and simplicity of the backcountry again. See you on the snow.