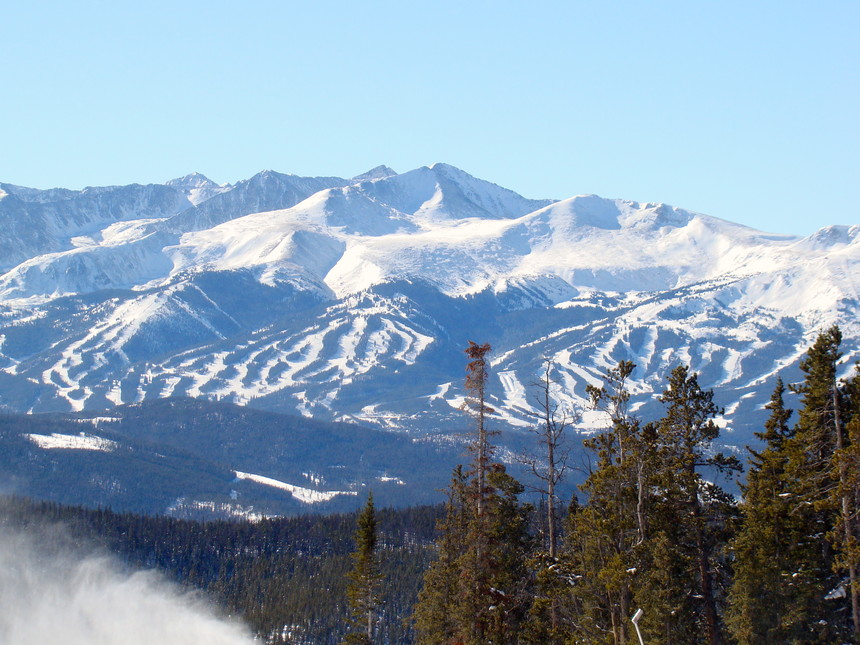 Wikimedia Commons Photo.
For some puritans, ski bums don't have jobs so they can maximize their powder turns and go out drinking every night. For many mere mortals, however, the cost of living in a ski town makes getting a job during the season a necessity. Most ski bums usually look towards working at the local resort because it guarantees a free ski pass and you can crush gondola laps during breaks. After spending a season working at Steamboat Resort in Colorado and living in employee housing, I met workers from nearly every department. I'm going to rank many of these occupations below and provide enough background for ski bums to decide where they fit best.
RELATED: Ski Bum Job Listings Live
Ski Patrol: The top job requires the best. This elite group requires more training and certifications than any other position on the mountain. Just to be considered for ski patrol, you usually need medical training ranging from Wilderness First Responder or EMT to a degree in nursing. Then, ski patrol usually hosts a preseason on-snow skills evaluation. Think a perfectly executed kick turn on a backcountry chute in icy conditions. But you're not a ski patroller yet… After passing the ability test, you're trained to ski while carrying an injury sled. If you don't pick up skills like this quickly, you're off the team. Before the beginning of the season, you must be able to load an injured guest onto a sled and ski them down to the base area from any place on the mountain including the middle of a double black diamond. These are general requirements for ski patrol at most elite ski resorts. Many small hills and second tier destination locations will make accommodations in order to fill required positions. If you do make the cut for ski patrol, you're officially a badass. You can chase down unruly college kids, pull lift passes, and even hold somebody until the police arrive. Yes, this does happen. However, with great power comes great responsibility. Ski patrollers are responsible for treating any injuries in resort boundaries and sometimes even backcountry rescues. When not dealing with a crisis, however, ski patrollers get to cruise around or warm up in one of their exclusive huts on the mountain. Ski patrollers are generally paid well because of the level of training required and the hours are great because you're there anytime the mountain is open.
Ski Instructor: Ski bums wanting to maximize their time gliding over snow are the perfect fit instructing. Never worry about missing an powder day when you work as a ski instructor. Additionally, many snowsport schools offer clinics for instructors to learn from each other, which gives many the opportunity to refine advanced technique. The largest drawback to working as ski instructor is the pay. Nobody is ever going to get rich teaching skiing and with many midseason days when few lessons are booked, work is not always guaranteed. Many ski instructors pickup second jobs waiting tables and doing other work around town to make ends meet while retaining their free season pass. This job is usually best at large resorts with a steady flow of guests.
RELATED: Life of a Ski Instructor in Depth
Lift Operations: Whew… Putting lift operations in third place was a difficult decision. The benefit of lift ops is similar to instructing in that you're working on snow. You're positioned better than anyone to take advantage of hot laps during breaks. The hours are also guaranteed and you can usually volunteer to run lifts during night skiing for extra money. The bad aspects of working as a liftie is that you're constantly in the cold, jerries are always losing their skis getting on the lift, and you're the first person everybody in the line blames when it gets too long. Also, lifties have to arrive at work earlier than anybody else. While the resort may open at 8:30AM, lifties have to arrive hours beforehand to warm up equipment and perform the necessary safety checks. I knew a guy in lift ops who ended each day with a happy hour beer and discount shot of rumplemintz. Yeah, it can be bad. However, lifties also get to jam tunes and think up trivia of the day so it's not all terrible.
Food and Beverage: Food and beverage positions nearly beat out lift operations for the third spot. Work doesn't usually start until midmorning lunch preparation and if you're working at a restaurant on the mountain, then you get to ski to work. Additionally, tips are generally pretty good at resorts so food and beverage can generate a livable income. The downside to working in food and beverage primarily comes from cleaning and grouchy customers. Have you ever been to a winter resort's restaurant that's clean? No, that's because guests are constantly tracking in snow, emptying jacket pockets, and taking all their layers off to hang by the heater. Also, customers constantly think you're responsible for them having to pay $20+ for a mediocre burger. You have to learn to let these comments go.
RELATED: Can you afford to ski bum?
Rental/Retail: This group parties harder than any other on the mountain. Additionally, they're low key the best skiers and snowboarders. Nonetheless, you're constantly fitting guests for boots and then refitting them when they come back complaining ski boots aren't as comfortable as a warm pair of Uggs. Rental/Retail employees usually compensate through excessive cannabis use and then drinking to forget in the evenings. This group seems to attract a younger and more fratty group of seasonal worker than other positions. Not many things to consider besides the obvious responsibilities of this job and the current state of your liver.
Administrative: Human resources, uniform room, and other administrative jobs are the big boy and girl positions of the ski bum world. They're usually reserved for locals who have burned out on the other positions on this list. Administrative jobs also usually provide the best pay, benefits like health insurance, and the longest season. When winter ends and the resort experiences a massive exodus, positions like HR are still there. For those looking to make a sustainable career out of living in a ski town, these are the jobs for you.
RELATED: The World's Hottest Ski Resort
Ticketing: Ticket office! This is usually a good place to look for a second job. This group handles everything from selling lift tickets and replacing lost passes to telling tourists about the sleigh ride dinner package. Most guests at ski resorts are great. They're on vacation and happy. Then, there are those visitors whose ski boots are too tight, they forgot their lift ticket at the hotel, and they just wished they had chosen Hawaii instead of the rocky mountains. The ticket office has to interact with this clientele more than any other position at a winter resort. This job is for those with patience and is usually best part time. Since nearly every guest passes through the ticket office, the standard is higher than rental/retail and employees can't show up under the influence of any substances or obviously hungover.
Daycare: Most winter resorts offer a daycare for kids who aren't old enough to join snowsport school yet. The issue is that these kids are rarely potty trained and haven't spent much time away from their parents. Resorts also promise that kids in their daycare will get time on the magic carpet. Parents are shocked to pick up their toddlers and find out they haven't transformed into the next Lindsey Vonn or Bode Miller. They feel justified because of the high price resorts charge for daycare. Unfortunately, that doesn't change the fact that toddlers' motor functions are barely developed. This job is best for those that really have a passion to care for young children.
RELATED: Aspen Raises Minimum Wage
Parking/Security: Working as a parking attendant may come with a fancy title saying you're responsible for security but that's just not true. You spend most of your day in cold weather telling guests to drive to overflow lots just to have them insist they take a look for better positioned parking spaces themselves. After you've arranged everybody in an organized fashion in the ski lot, you're then stuck walking around the lot looking for anything out of the ordinary and answering questions. Dull and cold work to say the least.