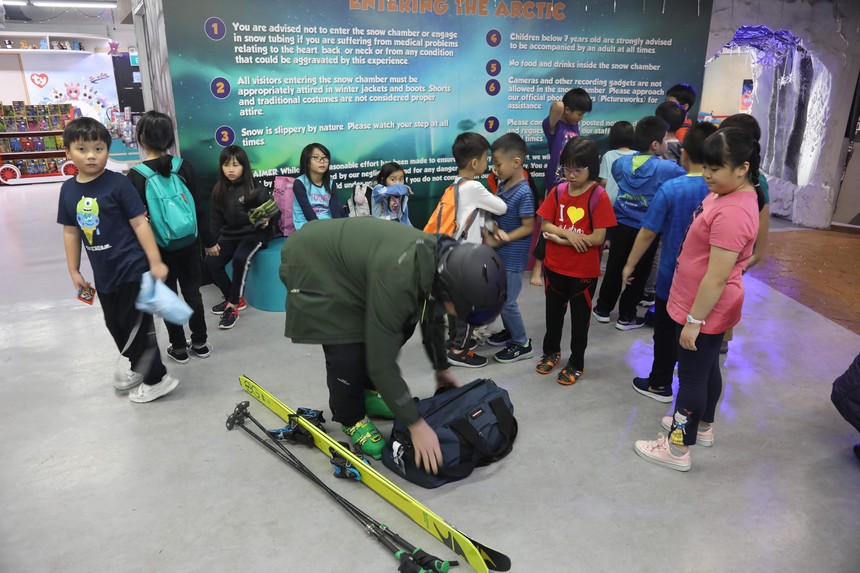 I've been trying to do this for almost six years. Obviously, it is not easy to find skiing in Singapore. I've been forbidden to ski when there was snow, arrived right after a skiing place had bankrupted, found alternative skiing on off-limits sand, and hidden in despair in caves and abandoned bunkers. But Sport Quest to the rescue! Today I finally managed to ski in Singapore with the help of Sport Quest's indoor facilities at the Snow City. Snow, ice, cold, and on skis. Wonderful!
And all this became clear to me an hour before I was heading to the airport for my business trip to Singapore. A quick reconfiguration of my luggage followed; throw in the boots and helmets and add a ski bag.
Snow City is on the outskirts of Singapore, at 21 Jurong Town Hall Road, but only 20 minutes taxi ride from the centre. They run various programs, mostly for children and local who have not experienced snow and ice before. Their programs include just introducing the kids to the cold environment and ski lessons. A popular part of the program is a blizzard simulator, with wind & snow being blown over the kids :-)
My work schedule didn't make it easy to find a suitable time to head to Snow City, however. But Sport Quest's Emeline welcomed us for a visit at any time that suited us, so as soon as an opening appeared in our schedules, we headed there. It felt odd, standing in hot and humid temperature, carrying my skis and staring at the Snow City building. But as soon as we entered, a familiar, gripping cold and white snow and ice made me feel much more home than in the heat of Singapore :-)
They were also in the process of building a snow castle for the Christmas celebrations, so for that purpose a lot of snow had been made, placed neatly in plastic bags (!) on the slope. The usually wide ski run was therefore a bit narrow, but we managed.
Our Apres-ski session was, obviously, downing some Singapore Slings at the Raffles Long Bar. With skis...
Nice experience, and much recommended for the cold-starved Singapore residents and visitors!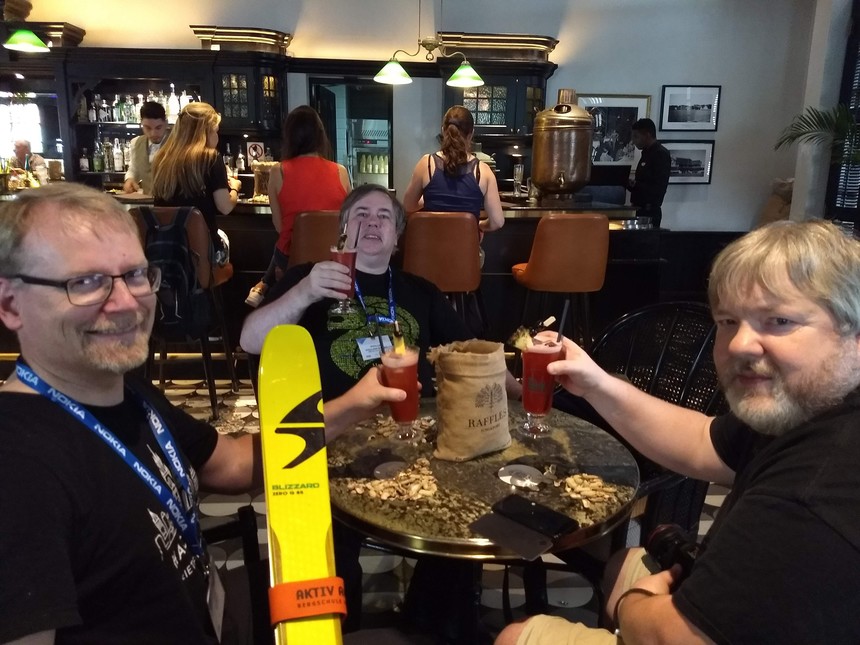 The snow-making tube and bags of snow:
Other Singapore views:
This article has also been published at Blogspot. Tämä artikkeli löytyy myös suomeksi Relaasta. Photos (c) 2019 by Jari Arkko, Tero Kivinen and Phillip Hallam-Baker. All rights reserved. My skiing stories can be found from Blogspot and Teton Gravity Research, as well as of course Planetskier.Net!