This is the kind of project that would have never gone down before the internet and the whole concept of virality. Polaris would have never had a reason to make believe that their little RZR 4X4 could handle like a mountain bike and build a North Shore-style trail replete with wooden skinnies, step-ups, log rolls, tree grind creek crossings, and a full, continuous, sideways loop (you'll have to watch) were it not for the way in which addictively looney peculiarities (Dog goes BASE jumping! Man snowboards Mahattan streets!) have the ability to draw people's fingers to their mouses to click when they would have rarely convinced someone to pick up a DVD (or VHS).
Regardless, and whatever your persuasion regarding motor sports (I'm less interested personally, and am generally pretty against razing the land on this scale for the sake of riding any kind of vehicle), the driving talents of RJ Anderson are impossible to deny over the course of these seven minutes. Who knew a car could grind a tree, or ride a log skinny?
Audience Controversy: Did These Guys Destroy The Landscape?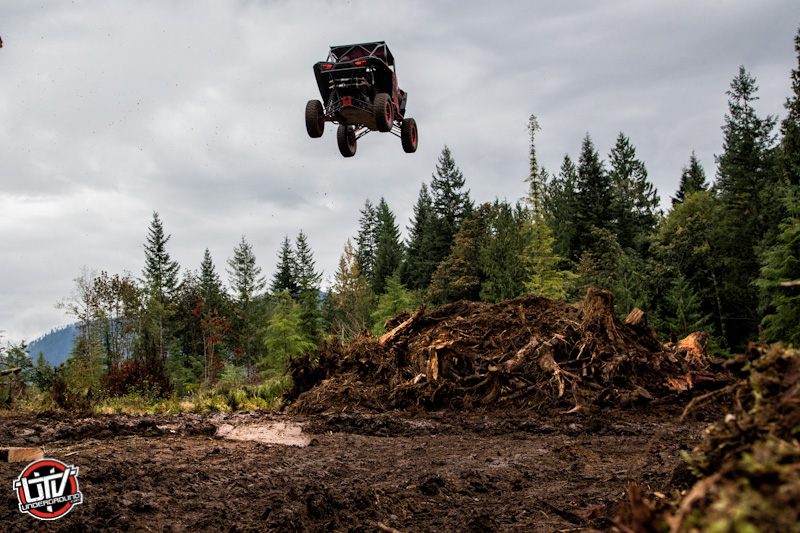 As well, we know based on several of our audience's reactions, that they found the image of gas-powered vehicles tearing up the forest, and the work that went into constructing the course, a bit unsettling, especially as we here at TGR proud ourselves on promoting minimally-invasive, human-powered adventure.
So we asked Joseph DiGiovanni, the Founder of UTVUnderground.com and one of the creative minds behind this insane video, to provide his perspective. This is what he wrote us:
"While our video does show some aggressive and hardcore off-road riding we are still very conscious of preserving our national trail systems. UTVUnderground.com is very active in promoting "Tread Lightly" to our enthusiast friends. I can understand why some would see XP1K2 and think that we are just out there tearing up the land and scaring the earth recklessly but I want these concerned viewers to understand a couple of things.
This property we were filming on is all private logging land. This trail system you see was created for the video and used existing logging roads and trails that were made when thinning the forest. Much of the area was also already completely wiped out by clear cutting so we were simply moving dirt around in an area already trampled through for the use of logging. All of the trails we used / created will be seeded and from there mother nature will reclaim the land just as she does after the heavy logging equipment leaves.
All of the wood you see in our ladder ramp stunts was wood from trees that were cut down on the property. We paid for the trees and wood and now will recycle them. Who knows, you may buy a table made of the same wood RJ made his world record jump on!? While we were in the deeper more lush forest parts of the shoot we were not all that destructive. We built stuff that will either come down or naturally be reclaimed by mother nature. We had some mountain bikers come to the set and ask if we could leave some of these stunts in place for them to enjoy. So I am clear, this "course" is not permanent and will not be left in place for others to ride their RZRs on. The land owners will decide what stays and what goes.
We do appreciate the concerns and understand where they come from. We knew going in we would ruffle some feathers as it pertained to those who dislike the idea of any motorized vehicle playing in the forest but we as off-roaders do have a right to recreate as well. In the end, we all share this land together, and despite our differences in how we enjoy exploring, we do all share the same concerns of maintaining our public lands, respecting our national trail systems and preserving these areas for the future.
Thank you for watching the video and no matter what I hope you all can appreciate the effort put in by our crew to build the ultimate trail ride for RJ Anderson to display his amazing driving talents and showcase the future of off-road recreation and racing with the Polaris RZR."
Thanks to Joseph for sharing his perspective on the work that went into a truly wild video. What do YOU think?