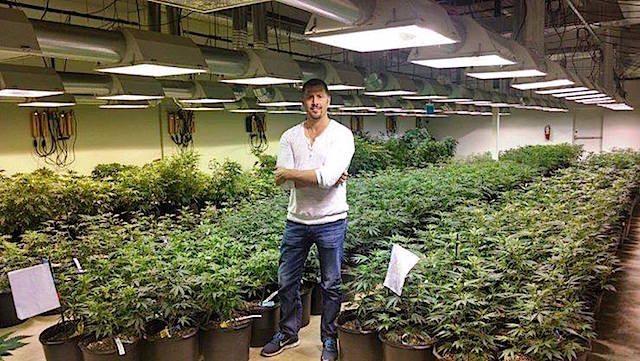 Derek Peterson, a former Wall Street banker, got the idea to get into the marijuana business after breaking his neck surfing in 2003. Terra Tech photo.
It was 2003 when Derek Peterson found himself dizzy and throwing up on the beach in Dana Point, California. He'd just been thrown off of a sucking wave at Gravels, a hollow beach break at Salt Creek that breaks nearly onto the beach, and had landed on his head in a foot of water. He'd blacked out and immediately felt an electric shock snap through his whole body. When he came to, he pushed himself out of the surf and onto the beach.
He told his girlfriend, who hadn't seen the wipeout, that he was okay, and they walked the one block home together, where Derek took a nap, exhausted. 13 hours later, Derek woke up, but couldn't move a single muscle in his body. His girlfriend called an ambulance.
It was the second traumatic injury Derek had suffered in his adult life. The first came in 1996, when the defective front axle of his mountain bike cracked, causing his front wheel to fly off, his fork to nail into the ground, and his face to break the fall for the rest of his body while his arms dragged along the gravel and rock. "I literally had to drop out of college for two semesters in order to go through all the different surgeries, and it took forever to get my teeth fixed," he remembers. "It was one of the most difficult times in my life."
I literally had to drop out of college for two semesters in order to go through all the different surgeries, and it took forever to get my teeth fixed," he remembers. "It was one of the most difficult times in my life.
Between his bike accident and cracking his C1 vertebrae surfing, Derek had had to deal with two lengthy recoveries and found himself disgusted with the side effects and the potential for addiction that came with his prescribed pain medication. He'd smoked weed recreationally, but following both accidents, began to realize its benefits for pain management. "You don't have the side effects or the addiction, and you can wake up in the morning and actually function," Derek said. "Then I started seeing all the chatter on TV about the growth of the medical marijuana industry in California."
Ten years later, Derek is now the founder and CEO of Terra Tech, the first publically-traded company to go into the marijuana farming and cultivation , and one whose valuation is sitting right around $100 million. That's quite a career shift from his prior life as a buttoned-up vice president working the investment baking field for some of the country's most traditional banks–names like Morgan Stanley, Wells Fargo, and Wachovia Securities.
From Blue Collar To Wall Street
Peterson's been in California since 1993, or as he puts it, "long enough to lose my Boston accent." He grew up in a blue collar family of fishermen, lobstermen, and sail-makers back in Rhode Island, where he'd earned his surfing bonifides paddling out into the wintertime chop and howling winds that bring big south swells to breaks like Ruggles and First Beach. Despite the predominantly physical types of employment found throughout his family tree, Peterson always had a mind to do something different, and movies like Wall Street had, at least at face value, perked his interest in the world of finance.
He moved to Southern California mostly to live the beach life and surf more consistent swells and warmer waters, meanwhile dipping in and out of course work at a local community college before taking on night business classes at Pepperdine. While bussing tables to pay for school, he'd wait on a group of bankers who'd come in three days a week and their relationship developed to the point of offering the young Peterson an internship.
Soon after, Derek was trying to learn as much as he could about finance during his internship from 5:30 in the morning until just before lunch, when he'd shift to waiting tables for the lunch rush. Then he'd take his night classes. When he graduated from Pepperdine–the first in his family to graduate from college–the bankers quickly absorbed him into their staff as a full-time salaryman.
As he found his footing in the office world, Derek found himself still hammering away on his studies, this time to pass his Series 7 exam to earn the right to trade securities. He'd be at work at ungodly hours to catch the East Coast opening of the stock market, often hitting his desk at 4:30 in the morning. But the silver lining? Work was over at 2:00 pm, when practically no other working stiff in Southern California could get in the water.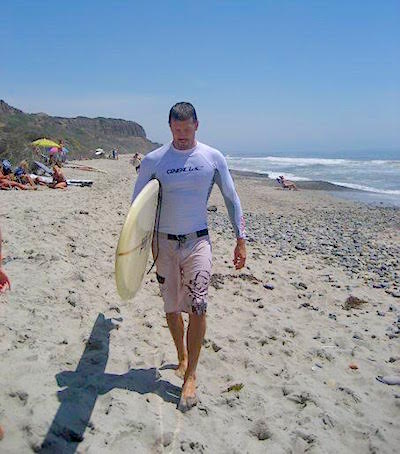 "You didn't have the early morning rush with the people out trying to catch the glassy waves, and the after-work crowd hadn't showed up yet. So you just have the waves to yourself–which is somewhat of an impossibility in Southern California these days," Derek said. "So I surfed probably four or five days a week to try to deal with the stress of everything I was dealing with at the time, whether that was school or work. It was a nice way to separate myself from everything that was going on–that was my exercise. I don't like sitting in a gym or running on a treadmill. People think surfers are beach bums, but those people have never paddled out in 10-foot surf and have had to experience the energy that it takes to handle that."
THE BOTTOM FALLS OUT TO NEW BEGINNINGS
Derek worked the finance routine for the next eight years, selling and trading investments when Wall Street was open, and surfing in the afternoons to get relief from the high-pressure job of managing millions of dollars in customers' assets. He married his then-girlfriend. Things were steady. But then 2008 came, and the financial markets collapsed.
Wachovia, which had become the second-largest brokerage firm in the U.S. and where Derek had risen to Vice President and Branch Manager, collapsed due to its exposure to the subprime mortgage market, and soon after, the government forced its sale to Wells Fargo. It was then that Derek started to become disenfranchised with the finance industry as a whole. "We had taken a huge hit, our customers had taken a huge hit, and I saw a lack of transparency in the markets, which were becoming a mechanism to gamble rather than to invest." At the same time, his high opinion of the standards of accountability and transparency that he thought Wachovia held to crumbled under the harsh light of the financial collapse. "To watch it [Wachovia] become one of the significant casualties of that whole era was a total paradigm shift for me."
Putting his Wall Street hat on for a second, Derek calculated that this single dispensary was making $3,000 to $,5000 in sales per square foot of retail space–on a good day, clearing more revenue than the country's most productive retail outlet, Apple.
Derek began casually looking for something else to do, but had only three real job experiences to draw from: working on docks back East, waiting tables, and finance. But then he heard about a friend of a friend running a medical marijuana dispensary in Northern California that was absolutely crushing it. Putting his Wall Street hat on for a second, Derek calculated that this single dispensary was making $3,000 to $5,000 in sales per square foot of retail space–on a good day, clearing more revenue than the country's most productive retail outlet, Apple. The lightbulb went off. "I had to figure out how to get into this space."
FOLLOWING THE MONEY INTO THE WEEDS

Derek started selling mobile hydroponic growing trailers on the side before Morgan Stanley fired him for being in the weed business. Terra Tech photo.
Derek's wife gave him the go-ahead, but only if he wasn't dealing with the weed itself. So, in 2010, while he was still holding down a full-time job at Morgan Stanley, he started GrowOp Technology, which started out selling high-intensity lighting equipment for indoor growers, eventually growing to sell turnkey mobile hydroponic growing trailers for medical marijuana outfits. Seven months into it, the suits at Morgan Stanley fired him for having his hands in the weed business. Now completely severed from the traditional finance industry, Peterson went all in on weed.
GrowOp merged with a publicly traded company called Terra Tech that was coming out of the market, then bought Edible Gardens, diversifying into the agricultural business and selling hydroponic technology to both industrial and individual growers of produce, who can now pick up the products at Walmart. And while doing their best to keep their hands off the weed itself, as the legalization movement spread, they started getting more comfortable with the idea of getting closer to the goods themselves. "Dealing with the core commodity is where the economics really are," Derek said. "That's where the money is."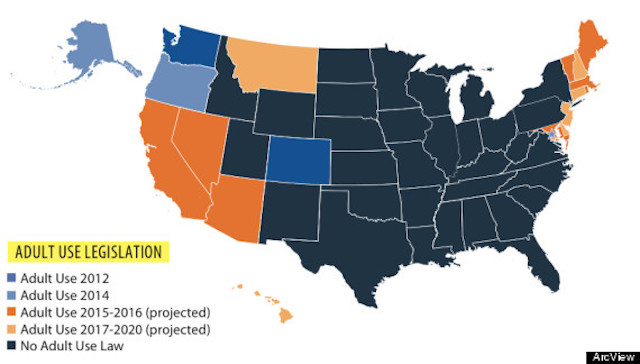 The growth of the marijuana industry is concentrated in the Northeast and West Coast right now, but by 2020, is projected to be a $35 billion industry. ArcView Market Research infographic.
Terra Tech partnered with an outfit in Northern California and won a permit to operate a medical cannabis facility in Oakland. Then, when Nevada opened for permitting, Nevada lobbied the state government and won all eight permits. Last year, they launched their own, real live brand of weed called IVXX–the Roman numerals for 420–and are working to build it on a reputation of consistency, quality, and transparency, something Derek's wanted to bring to the industry since his early days in finance taught him the importance of those standards. "Those kinds of standards are hard to find in California, because there aren't a lot of strict rules on testing."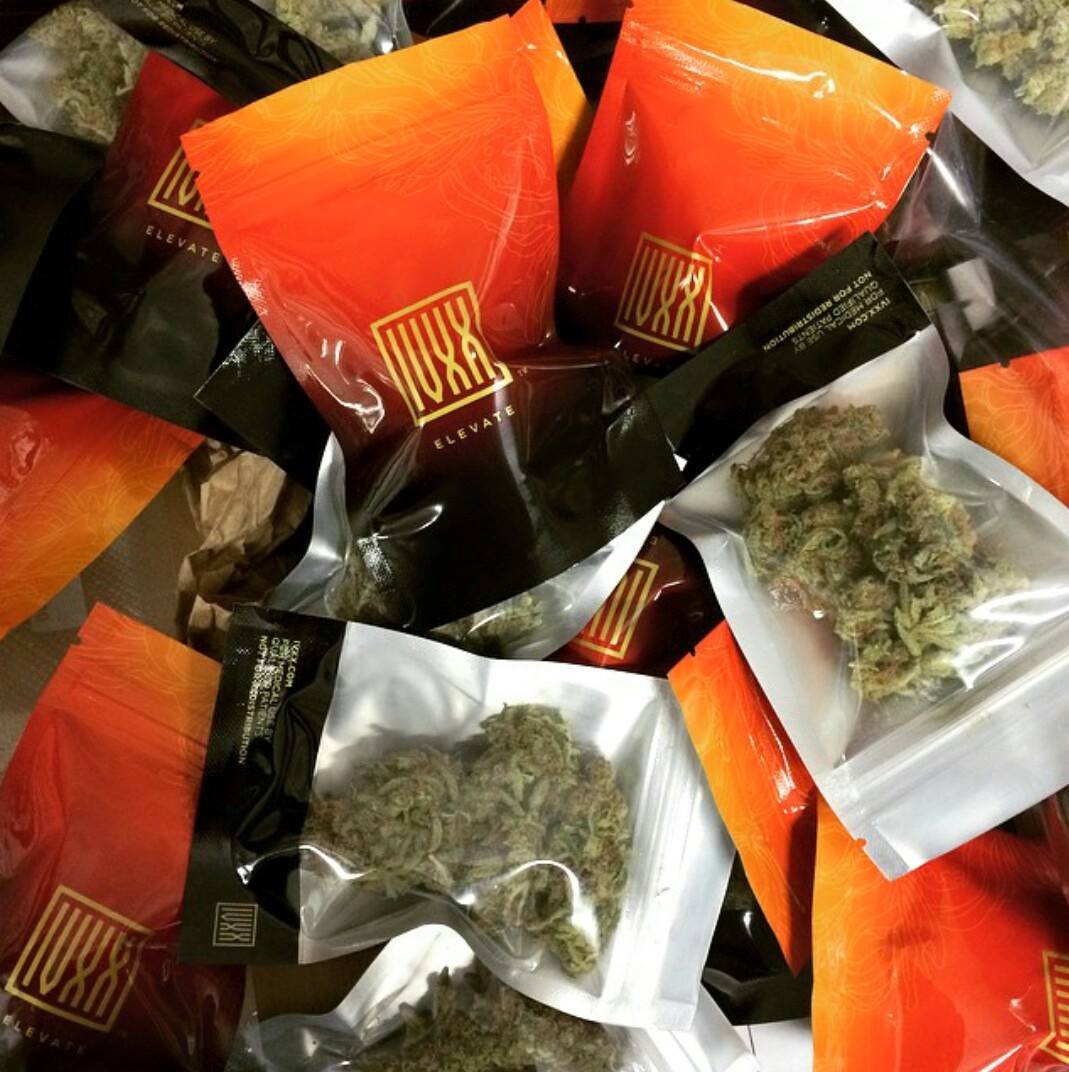 Terra Tech first started selling its own brand of weed, IVXX, last year. Terra Tech photo.
As the market expands, with some projections putting it at a $35 billion industry by 2020 (that's three and a half times the size of the NFL), Derek cedes that the exploding industry is still hampered by the kind of uncertainty Wall Street hates to see. "Every state has a different set of regulations, which means that every market that you want to enter has a different mode of operation." And the chance that the feds might still put the kibosh on the whole thing? "That reality just continues to exist." But, as Derek says, "It's government. It's slow to move and reactive in nature. But with all the polls that have come out saying that over half of the population wants legalization now , it becomes a risk for candidates not to support it because it might cost them votes."
As Terra Tech continues to grow, Derek still finds himself in the water, albeit on a longer board now and in smaller surf. While the lengthy recoveries from two traumatic accidents forced him to give up mountain biking, giving up the ocean was not an option. "Surfing has always been my way to get connected to nature and to decompress. It wasn't as much of a choice; I just knew I had to keep doing it."
READ THE STORY
As rent skyrockets in most ski towns, and the trend of mobile tiny homes continues to proliferate, more and more disgruntled ski bums are flocking to motor vehicles as their primary living quarters. The draw of the open road, chasing pow, and cheap living is one that lures these Kerouac spirits to the asphalt rivers of the United States. With so many different motor options out there for the would-be vagabond, we at TGR put a list together to say what your car camping vehicle says about
READ THE STORY
A few days ago, a historic swell battered the reefs of Teahupoo, resulting in some of the biggest waves ever surfed in Tahiti. 19-year-old Kauli Vaast got away with murder and managed to drop in on what he calls the biggest mountain of water he's ever seen. He says: "I could feel the energy behind me and I knew I had to trust my line and not fall. After that, I thought I could come out over the top of the wave but it wasn't done yet, the wave was still barreling and I just went over the
READ THE STORY
Skateboarding is officially an Olympic Sport and Lizzie Armanto will be representing Finland this summer in Tokyo. | Christina House photo. Skateboarding will finally make its debut as one of the 2021 Summer Olympic sports and we're fired up. The competitions will consist of park and street events with equal numbers of competitors in both the male and female divisions. Although it may not seem so, this is a huge step for the female skate community, considering many women are unable to