Night at the boat ranch. Mile marker X off Baja's Highway. Mike Taylor photo.
It was 1990 when a young surfer named David Reddick—now the revered Director Of Photography at both Powder and Bike magazines—was camping on a dusty cliffside above a point break in Baja, Mexico, when he first laid eyes on the Boat Ranch. Seventeen boats, all painted white, were dry-docked above the beach and all facing into the prevailing northwest wind. Here, eight miles down a dusty dirt road off Highway 1, a clinical psychologist and vagabonding Southern California surfer named Kent Layton had trailered in a fleet of sinking cabin cruisers and other vessels whose owners had outgrown their upkeep, parked them above the sand, and declared himself Mayor of this little Neverland. He even stated so in his hand-written rental agreement, which outlawed anything that stood to detract from the communal qualities of the Ranch, be it a loud paint job, a fence, or a generator sending fumes into a neighbor's homestead on this plot of land leased from the local farmers' collective.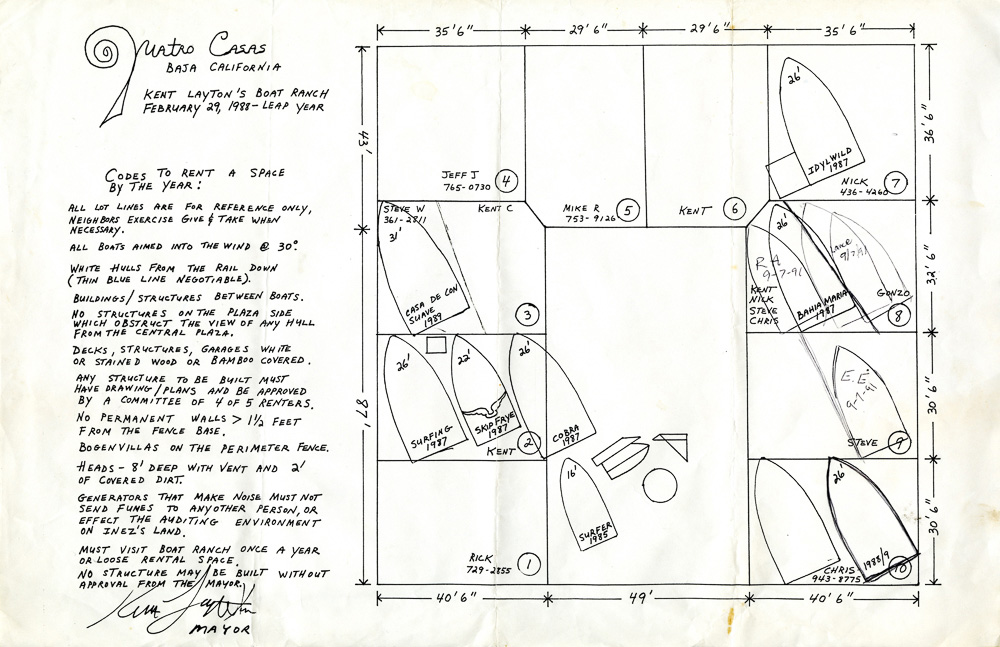 Kent Layton's blueprint & rules for the Boat Ranch, circa 1998.
"There's a certain sense of freedom you get when you get down those dirt roads in Baja," Reddick said about the Boat Ranch. "It's a kind of place where you can shed all your concerns or anything that's stressing you out, and all the open space just helps you let go of it. You just forget anything else." After meeting Mayor Kent, Dave was offered a trial run at the Boat Ranch. He was offered a vacant boat for free for one year, during which the other members of the Ranch would decide whether he "embodied the spirit of the place" and could be written onto the lease.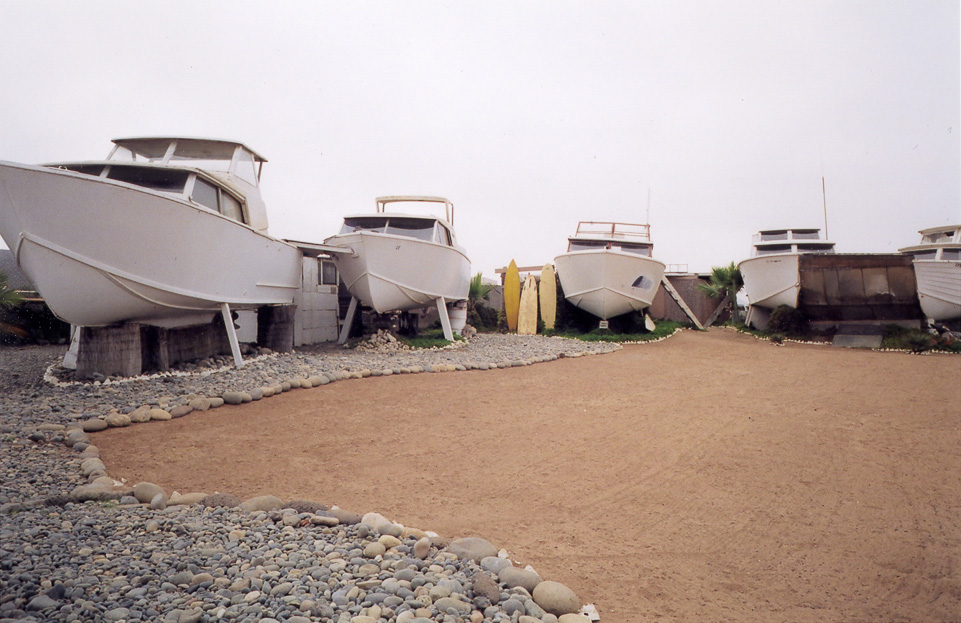 The Boat Ranch's homesteads in their heyday, circa 2001. Dave Reddick photo.
He'd be expected to improve both his own boat and the large communal space that was the center of the property. So twice a month all spring, summer, and fall, he made the five-hour drive down to Baja from San Clemente, gutting little rowboats and sailboats and lining them with cushions and blankets to make a communal fire pit fed by the dead Yucca plants laying about the surrounding desert. He'd surf the mellow right point break out front, a right that favored a medium-sized south swell on a rising tide. While not a legendary wave, it had fun sections, quick barrels to sneak into, and was more or less private to the Ranch crew. The empty desert provided endless tracks to rally dirt bikes through, and occasionally they'd ride the sixty-five miles from Ensenada, weaving back and forth between empty beaches and lonely singletrack and fire roads all the way to the Boat. Occasionally they'd come down the dirt road with a pickup full of Yucca plants to burn to find a drunk Mexican passed out on the road underneath his horse.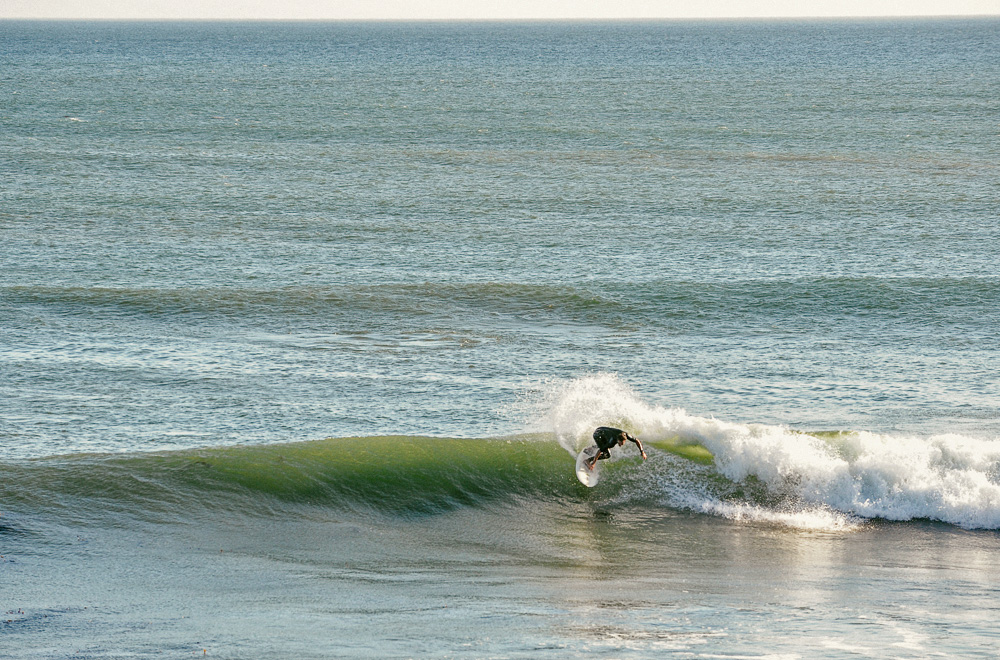 Reddick goes backside out front of the Ranch. Emily Stifter photo.
After the first year, Reddick was voted in, and became a more permanent fixture at the Ranch. They used boats to build everything as new projects came up. They destroyed an old catamaran in the waves and used the four old hulls to build an outdoor gazebo, flipping over a small motorboat and mounting it as the roof. Entirely off the grid, each trip down required loading the car with drinking water and cases—lots of cases—of beer. Reddick remembers one night when the partying got a little bit too interesting.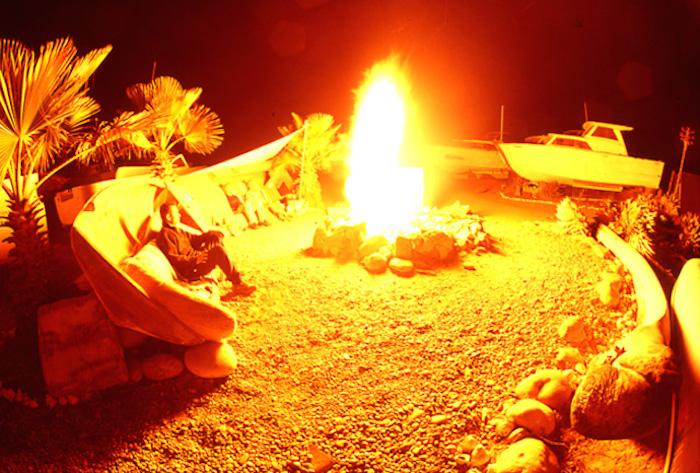 Late night at the Yucca fire, Boat Ranch style. David Reddick photo.
"There was a time when we had a group of skiers down there, some folks from Powder, France, and Wyoming, a whole big group. It was late in the night, we had the fire going, and a group of four federales showed up in this little Jeep just outside the gate. They walked in and said, 'Hey, we're out of gas.' And we told them we had some, and they decided to stick around. We were kind of on our guard for a bit. But they just wanted to stick around for a few beers and party. My buddy and I played foosball against two of the federales, who still had their guns on their back. We were up eight to one and were worrying that we had to back off a bit, but ultimately these guys just had a blast with us, and just got back in their Jeep and drove off."
There's a certain sense of freedom you get when you get down those dirt roads in Baja. It's a kind of place where you can shed all your concerns or anything that's stressing you out, and all the open space just helps you let go of it. You just forget anything else.
Still, the intense violence associated with the drug trade that has gripped Mexico for the better part of a decade has kept many members of the Boat Ranch away. "I'm not going to say it's not safe down there," Reddick said. "It's just unpredictable. It depends on your comfort level; some will tell you it's never been safer, while others will never go back down because of past experiences or those that have happened to people they know." In Reddick's case, a new family prevented him from getting back down to the Ranch as much as he'd like, and as much as the constant upkeep of the ageing boats required. There are fewer of them now, and more of the lots are filled by permanent homes, chipping away at the original, dreamy charm of the place.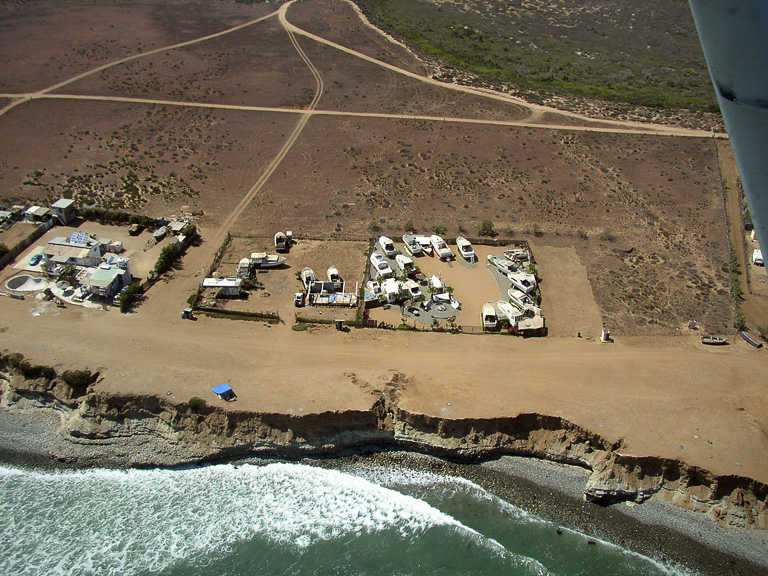 Neverland from the air. Photo courtesy of "Mayor" Kent Layton.
Still, whatever happens, the Boat Ranch will always have served an unforgettable role to those who have been luckily enough to wander off the Baja highway and end up, eight miles later, walking in sandals among the boats with the salt of the Pacific hanging in the air. "We put many many years and a lot of hours of labor and love into that place," Dave said. "And that place has brought a lot of joy to many, many people."
From The Column: Base Camp
READ THE STORY
A pile of 4,000 discarded cigarette butts is far from beautiful. But with a little ingenuity and alchemy industrial designer Taylor Lane is able to transform the garbage into something incredible: a surfboard. The Cigarette Surfboard is more than just a unique recycled board; it's a platform for discussion. Each year 4.5 trillion cigarettes are littered into the ocean, releasing all kinds of toxic chemicals into our waterways. Yuck. RELATED: Protect Our Winters Athletes Sit Down With NBC
READ THE STORY
In light of the Black Lives Matter protests happening throughout the country, host Stacie Vanags focused the latest episode of the Salted Spirit podcast on the topic of racism. Joining her in the discussion is Rhonda Harper and Dr. Cassie Comley. RELATED: Here is a list of BIPOC Outdoor Organizations You Can Support Harper is most well known for launching Black Girls Surf, an organization that supports black girls and women in surfing with the hopes of making the sport more accessible
READ THE STORY
I'm not even going to start about my views on people not wearing masks during this lovely time were all going through, but COME ON - do they really need to end up in the ocean too? Kook of the Day points out the obvious in their recent post: if your mask or protective gloves end up in the ocean, you're a kook. Please dispose of your gross germ-infested mask properly. Like the trash can. We don't need dolphins and seabirds dealing with more of our human problems because of your laziness.