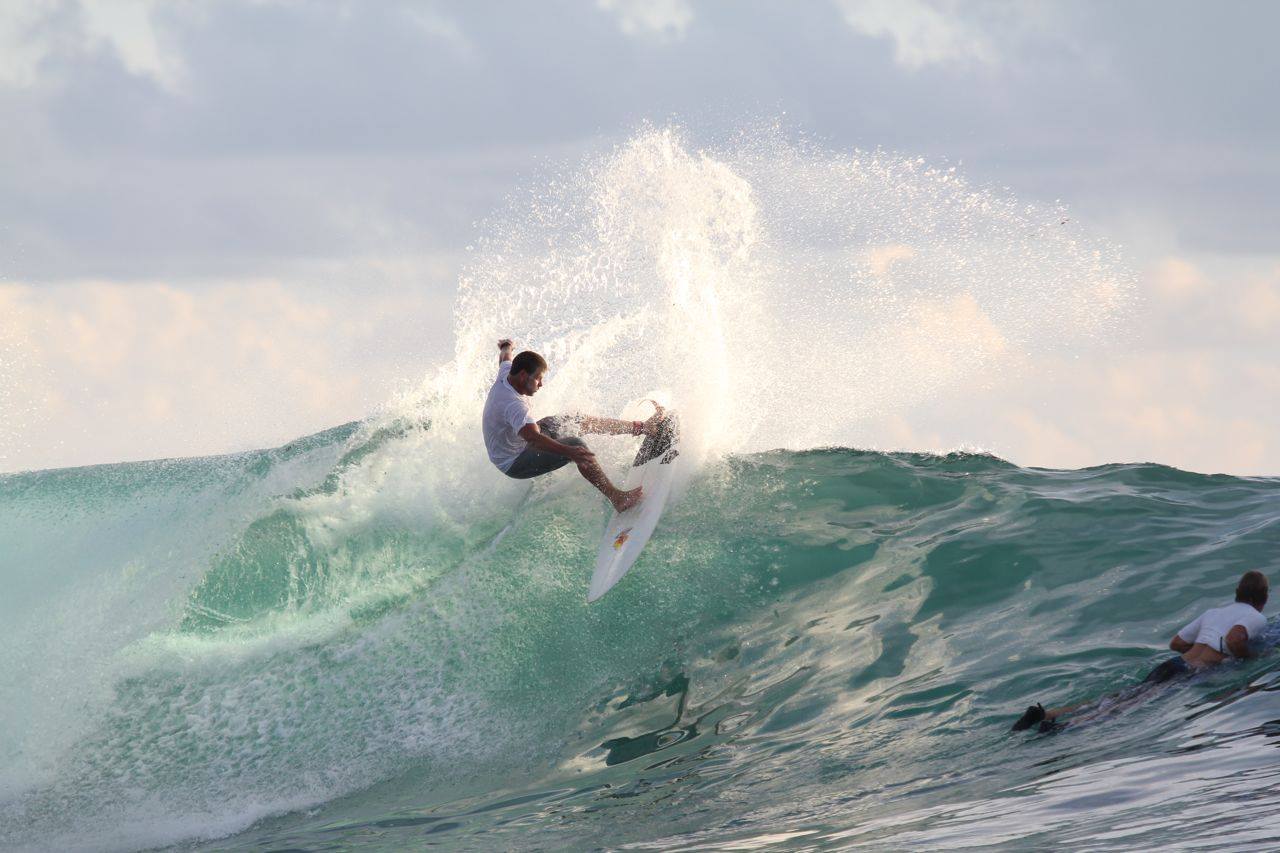 Despite the oft-used proverb, a family really doesn't have to be a ball and chain keeping you from the waves. Combining a surf trip with a family holiday is an art, but when you get the hang of it, it can lead to some of the best trips you'll ever take.
When you hear that patter of little feet for the first time, you know life will never be the same again–but that's no excuse to give up your hard-earned surf trips. Many surf destinations are actually ideal for family holidays; you just need to find a place where everyone has something fun to do, whether that's surfing, building sand castles, or sipping cocktails on the beach while reading the latest Jilly Cooper novel.
The cherry on the top is warm, tropical water: not only is surfing just in board shorts simply more fun, but changing in/out of wetsuits cuts into both surfing and family time
Take the advice of the experts at LUEX Travel, and forget wasting precious holiday time in swell-less hellholes when you could be surfing your brains out while the entire family has a ball.
The Key Factors of the Perfect Family Surf Trip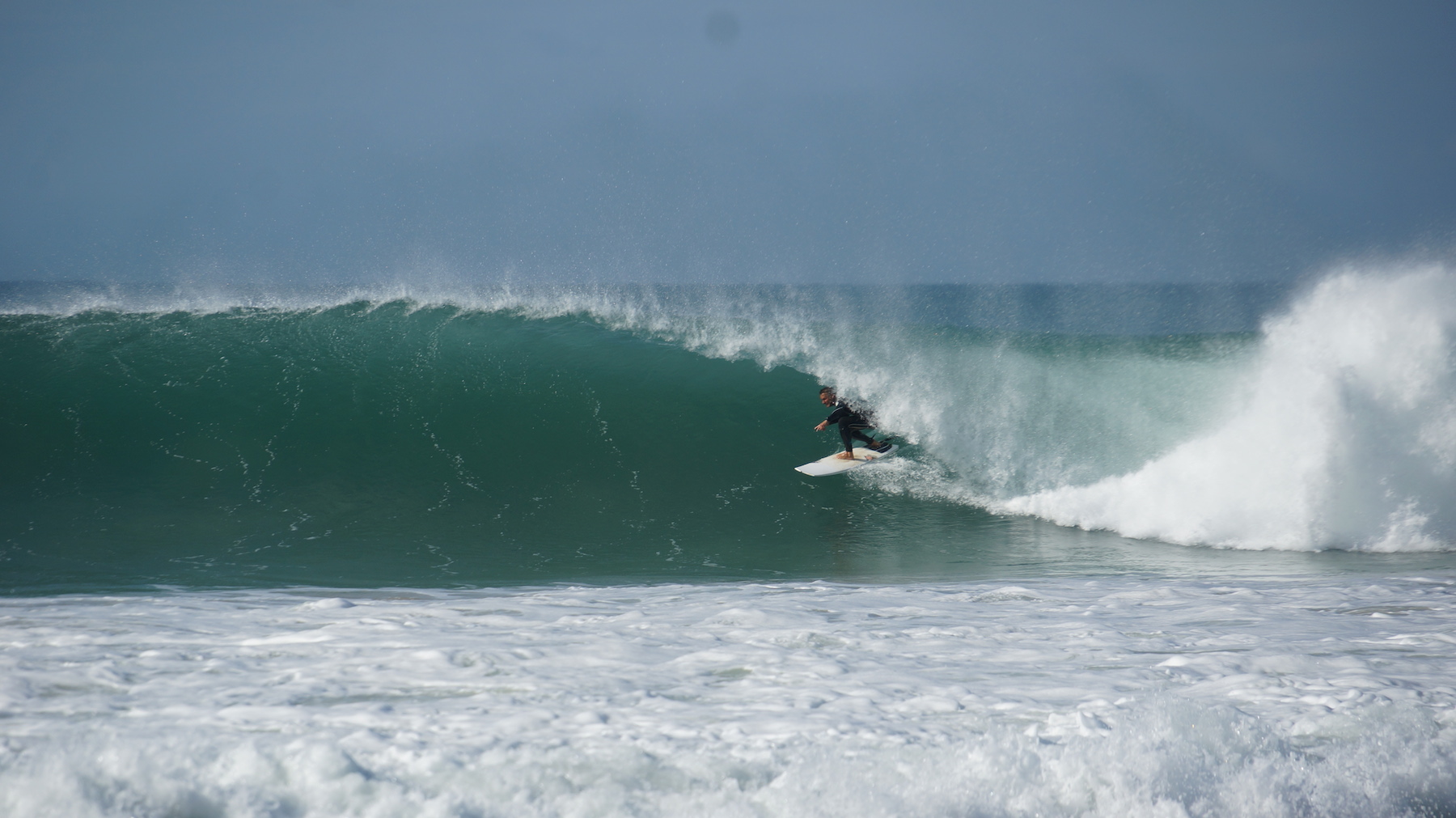 There are some key factors you need to consider for a successful family surf trip, and you need a destination that combines as many of them as possible. These factors fit into three main categories: Your/the Surfer's needs, Mum's/the Non-surfer's needs, and the kids needs.
Surfing Parent's Needs:
On the face of it, your needs are pretty straightforward: good surf. It's not quite that simple though, as the rest of the family won't be too happy if you spend the whole time chasing waves and are never around. You have to make surfing as time-efficient as possible. Find a destination with consistent, quality swell so you can plan your sessions ahead rather than spontaneously dropping everything when the waves start working, and ideally one with several nearby spots with different exposures to choose from, preferably including some wind-protected and tide-independent spots.
Stay as close to the break as you can, as the less time you spend traveling, the more you get in the water per session. Preferably, you want to actually be able to see the waves from your accommodation so you don't waste additional time checking conditions. The cherry on the top is warm, tropical water; not only is surfing just in board shorts simply more fun, but changing in and out of wetsuits cuts into both surfing and family time.
In terms of surf, you're spoilt for choice: perfectly situated in Central America, Las Plumerias picks up lots of swell, and gets an average of 330 offshore days a year
Non-Surfing Parent's Needs:
Obviously, these will depend a lot on what your non-surfing partner likes to do, but we can generalize a bit: romantic resorts with good restaurants, spa facilities, yoga classes, swimming pools and pretty beaches are usually a hit. For the more adventurous, look for a destination with plenty of sporty activities, like horse riding, snorkeling, scuba diving, etc.
If you can combine all these things with a nice resort or hotel that's a pleasure to spend time in, in close proximity to the break and children's facilities, you're onto a winner. Some form of crèche or childcare can be useful too.
Children's Needs:
The most basic requirement for kids is a nice sandy beach to play on–who can build (and then jump on) the biggest sandcastle is an essential summer holiday rite of passage. You need somewhere warm enough to hang out in swimwear without getting cold, and protected from the wind to avoid stinging sand grains getting blown into little eyes. A beach with some calm or protected water is also essential–a dumping shore beak isn't an ideal place to learn to swim! Good quality medical facilities nearby are an absolute must, and similarly, the fewer vaccinations needed the better!
Accommodation needs depend a little bit on the age of your kids, but safety is paramount. A fenced or contained resort will limit how far they can wander, and you want to avoid staying too close to any roads. With younger kids, you may also want to avoid places with too many sets of stairs, though kids clubs and activity groups–or even better, surf lessons–can be brilliant fun and a great way to make new friends. You should also consider the policy at meal times. Are kids welcome to eat with adults, or do they have special earlier meal times? Does that fit with your preferences regarding quality family time vs. romantic time?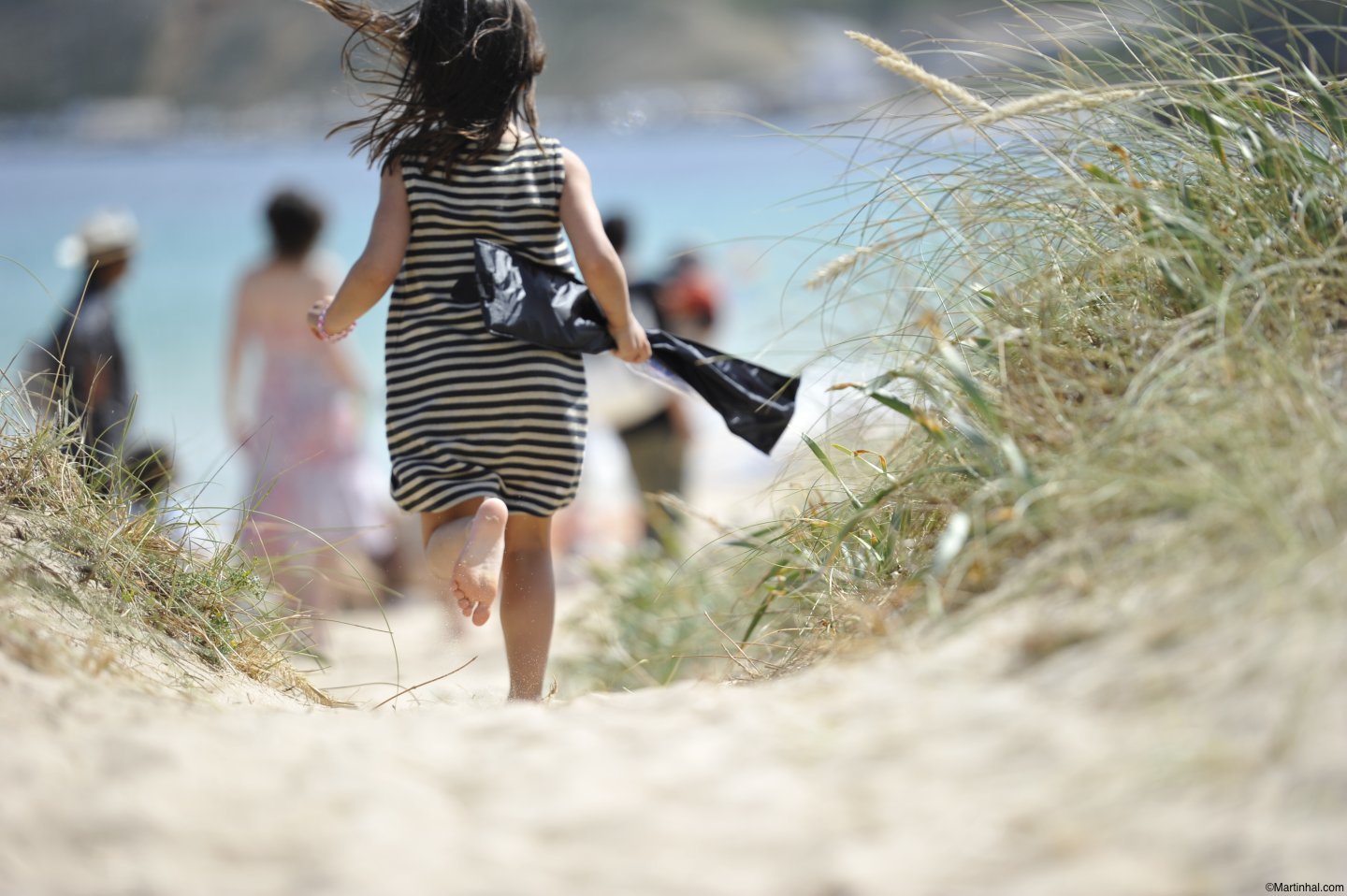 Traveling is likely to be the most stressful part of any family trip, but with a bit of thought you can mitigate that too. Logically, the shorter the flight the better, and ideally you want to fly direct rather than mess around with lots of connections (you can use LUEX's handy flight check tool to plan your route, and make sure you also check the airline's surf baggage policies). Don't forget to factor in the transfer from the airport too – normally a taxi or private minibus will be a lot more relaxed than public transport.
Top Family Surf Destinations
There are great family surf destinations all over the world, but bearing in mind the above advice about travel times, the top choice for you depends on where exactly you live! Our top picks include...

Maldives's 4 Seasons Resort Kuda Huraa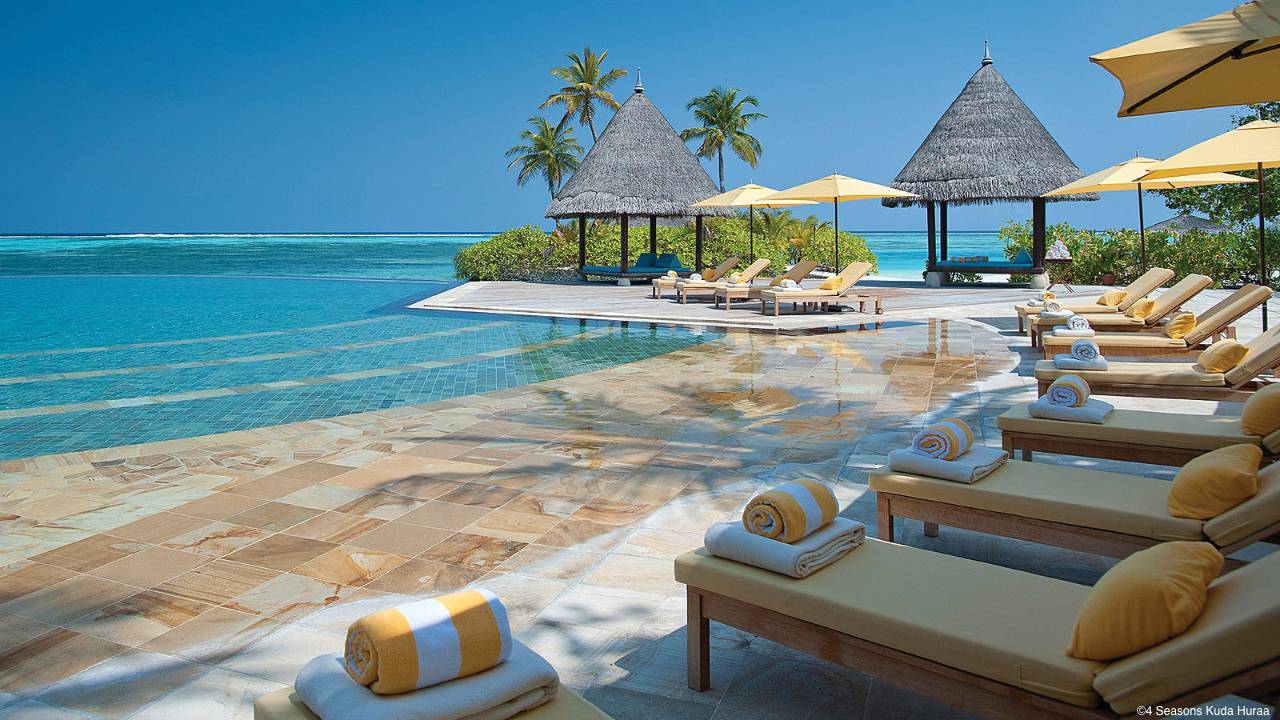 4 Seasons Kuda Huraa is full of family appeal, from family beach bungalows to pioneering kids activities, lagoon surf lessons and diving courses, interactive conservation opportunities, and thoughtful amenities, there's something for everyone, all wrapped up in the tropical perfection, consistent swell and warm water of the Maldives.
In addition to a range of age-specific activities (from coral reef building to dolphin cruises), there are also specially priced–or even free–meals for kids, and children up to 12 years can stay in their parents' rooms for free.
Portugal's Martinhal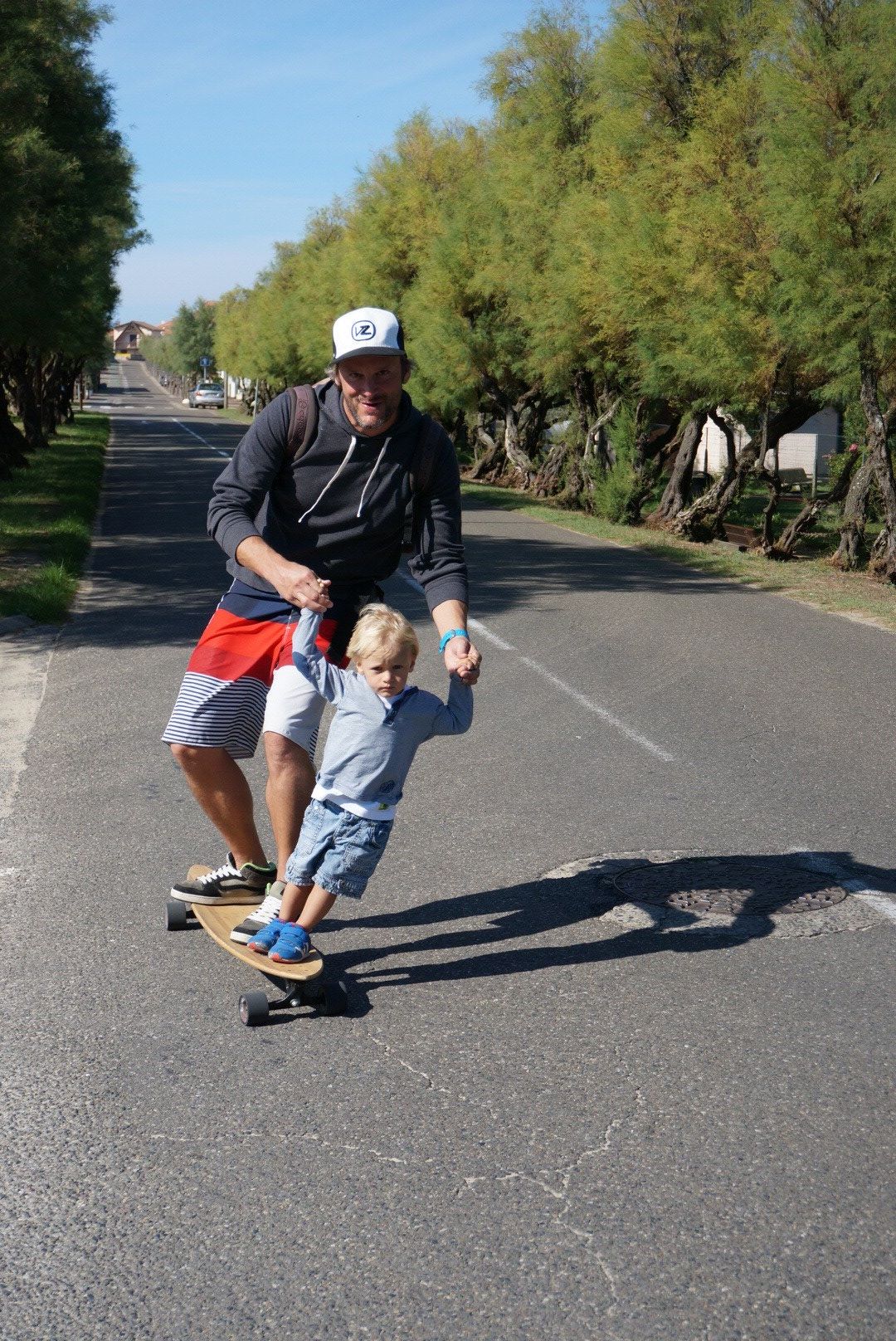 Guest facilities and leisure options at Martinhal BeachResort & Hotel are designed with families in mind, but adults can take advantage of the resort's wealth of amenities too. For the active, Martinhal is a playground of possibilities. If you are looking to unwind in more active ways, try one of the leisure activities from the Pick & Choose program: a wide range of complimentary and paid activities ranging from dolphin watching and bike tours through the beautiful Natural park, to pilates and yoga lessons.
Even better, you're right in the middle of Portugal's Algarve, a year round surf destination with a huge selection of waves, warm water, and solid Atlantic swell.
Nicaragua: Las Plumerias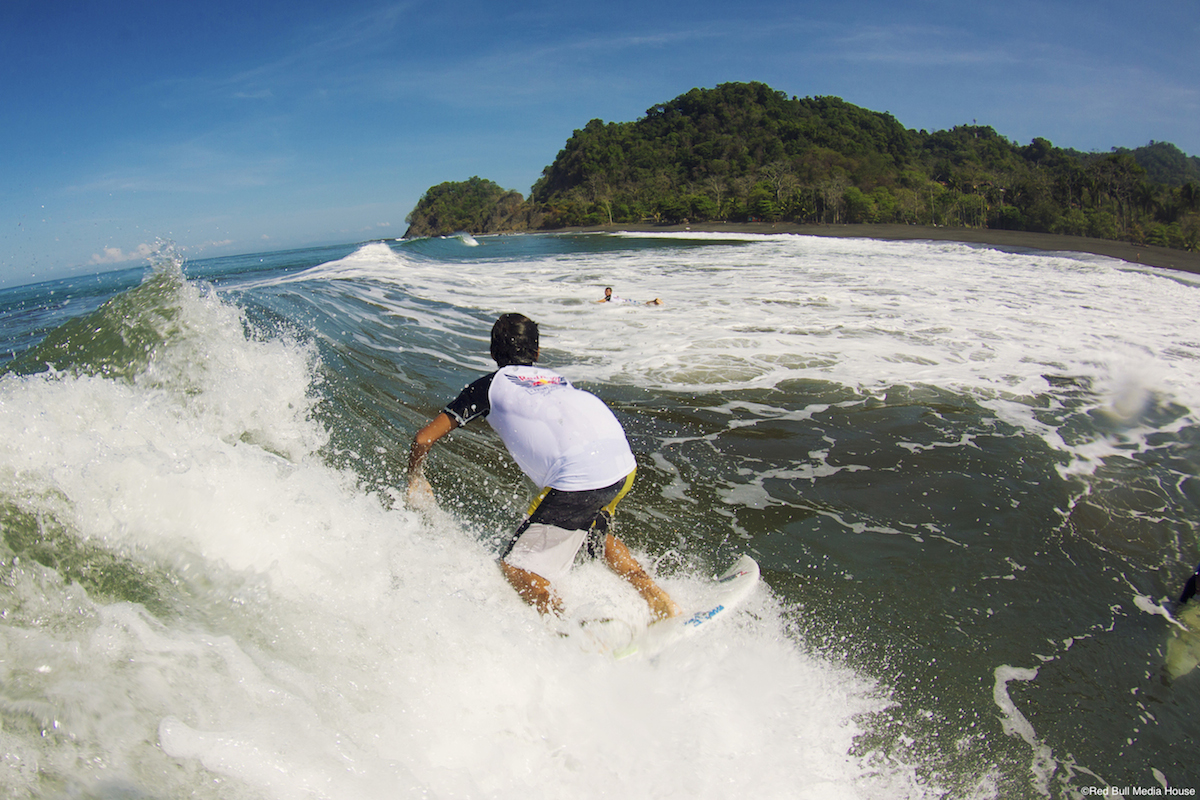 Las Plumerias is a family-run resort with several private bungalows and cabanas. It's an ideal set up for families: the hosts know exactly what everyone needs, and the wide range of activities will keep everyone entertained. You can go horseback riding on the beach or in the jungle to look for monkeys, learn to fish and bake bread, watch turtles, visit hot spring pools, go snorkeling, or get a massage.
In terms of surf, you're spoilt for choice: perfectly situated in Central America, Las Plumerias picks up lots of swell, and gets an average of 330 days of offshore wind a year. There are more than 12 spots to choose from, including beaches, reefs, and point breaks.
Mozambique's White Pearl Resort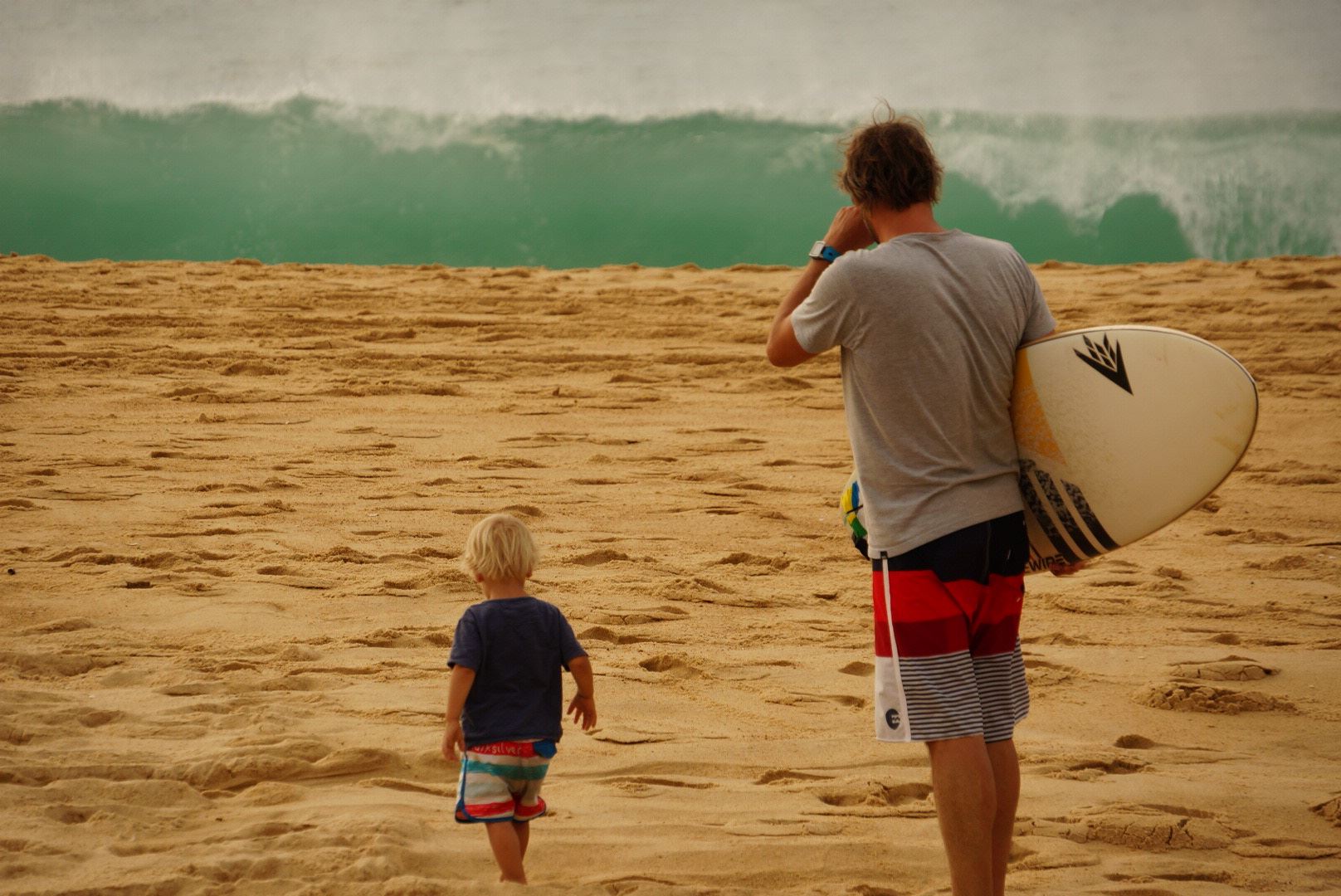 White Pearl Resort is ideal for families, and a real slice of luxury, mixed with a dollop of African adventure and more than a little romance. They have a great 'Kids Skipper Club' that will keep the little ones occupied for hours: guided by the resort's experienced activity team, the program is filled with fun, educational activities that encourage children to explore the mysteries and wonders of Mozambique, from beach sports and sandcastle building to baking with the chef and treasure hunting.
The surf is excellent, with long sand-bottomed point breaks galore. Surfers of all levels can enjoy the waves at Ponta Mamoli, White Pearl's private beach. More experienced can also get into some more powerful surf at Ponta do Ouro–one of the world's most perfect waves, and comparable to J-Bay but without the crowds. Other activities include reef diving, ocean safaris, snorkeling, horse riding and turtle watching. There's really something for everyone.
READ THE STORY
In light of the Black Lives Matter protests happening throughout the country, host Stacie Vanags focused the latest episode of the Salted Spirit podcast on the topic of racism. Joining her in the discussion is Rhonda Harper and Dr. Cassie Comley. RELATED: Here is a list of BIPOC Outdoor Organizations You Can Support Harper is most well known for launching Black Girls Surf, an organization that supports black girls and women in surfing with the hopes of making the sport more accessible
READ THE STORY
I'm not even going to start about my views on people not wearing masks during this lovely time were all going through, but COME ON - do they really need to end up in the ocean too? Kook of the Day points out the obvious in their recent post: if your mask or protective gloves end up in the ocean, you're a kook. Please dispose of your gross germ-infested mask properly. Like the trash can. We don't need dolphins and seabirds dealing with more of our human problems because of your laziness.
READ THE STORY
Another one bites the dust. As a direct result of the worldwide COVID-19 pandemic, the World Surf League has decided to cancel the remainder of the 2020 season. Not that it actually ever got started, since not a single Championship Tour event has taken place this year. That means there will be no 2020 World Champion, but lucky for surfing fans, the 2021 women's season kicks off this November in Maui, and in December on the North Shore for men. RELATED: Nic Von Rupp Gets Pitted At Skeleton Bay