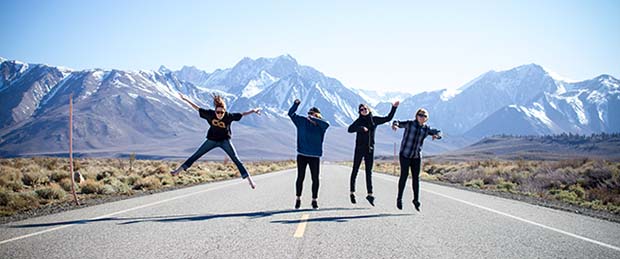 Outta' the kitchen founders, Ashley-Dawn Byrd, Stephanie Sue Feld, and riders Erika Durchi, and Kelsey Boyer, take a break from road tripping to enjoy the view. Gillian Montgomery photo
Sometimes you just gotta' go for it. That's what 25-year-old Ashley-Dawn Byrd and Stephanie Sue Feld did when they met one frigid Minnesota winter and created their film project Outta the Kitchen.
"When I met Steph and we went snowboarding together, I couldn't believe I'd never seen any videos of her online before," Ashley said. "She was so cool and talented! So I bought a camera and we went to Colorado to try some filming."
The girls made a quick video called Stephanie Sue Feld: 3 in 3 and it ended up getting reposted on Snowboarder Magazine and Yobeat. Not bad for a first edit!
Steph Sue Feld grew up in Wisconsin and like many young girls, she hated snowboarding at first. She even remembers kicking her instructors from time to time. But by the time she was 14, she was hooked. After school, her mom would drive her to the local hill (a.k.a. the local landfill with 200 feet of vert) 45 minutes away where she'd practice hucking and jibbing as the token female in a group of guys. Once out of high school she went to one semester of college before high-tailing it to Colorado to pursue snowboarding. She is now a professional snowboarder and spends her winters in Park City and beyond.
But she hasn't forgotten about her midwestern roots.
"There are so many girls there who are talented but are super limited by the terrain," Steph said. "I think it's really important to reach out and ride with those girls so we can show them that they can do more if they want."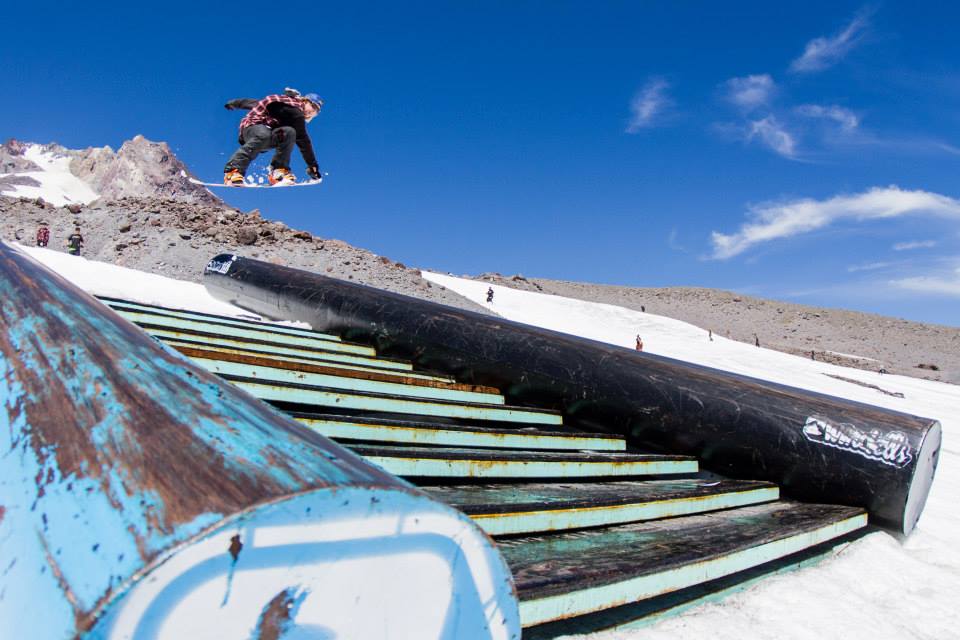 Stephanie Sue Feld going big at Windells. Gillian Montgomery Photo
Outta' the Kitchen wasn't really born until the girls road tripped to Windells Camp at Mt. Hood in Oregon. They were immediately disappointed by the lack of filmers keen on filming the girls, but at the same time, they were motivated by the community of lady shredders that wanted to be filmed.
"I made myself available to the girls," Ashley said. "At first they were hesitant and didn't want to waste my time, but I assured them I wanted to be doing it! And now we have this big team of girl riders who make the web series possible. We also met our photographer, Gill, who was the missing piece to the crew."
The girls set out to expand their reach and help grow women's snowboarding by supporting and elevating each other. Now they have over 17 riders and counting.
Here is a taste of the Outta The Kitchen web series! You can watch all five episodes by Ashley-Dawn Byrd on Vimeo.
Gill Montgomery is a super talented photographer and snowboarder who was eager to get on board. "I was really stoked on the idea of Outta' the Kitchen," Gill said. "I love seeing all the girls just get so excited to be snowboarding. Sometimes girls can be intimidating to each other. We want to be open and approachable and show that we can push each other and have fun as an all women's crew."
Ashley and Gill work together to make refreshing content and get girls the exposure they need to go big time. "I'll stand next to a feature for as long as it takes for her to land a trick," Ashley said. "I don't want to pressure them and I want to make sure they are having fun, because that shows in the footage."
Outta' the Kitchen riders Stephanie Sue Feld, Kelsey Boyer, and Mariah Dugan show some diversity at Windell's ski camp in Oregon. Gillian Montgomery Photo
This year the girls have shifted from making small web episodes to focusing on the bigger picture—a full-on film project to come later on in 2015. They have been traveling the country filming, hosting women's ski camps, and giving back to their sport. Here is a little video they made where they talk about the pressures of the industry and their motivations to make a movie.
Basically, women's snowboarding is begging for this movie. And although Ashley is the sole filmer and editor thus far, her teammates tell me she is absolutely killing it. "We just want to create something that's fun to watch and will inspire girls to get out and go snowboarding."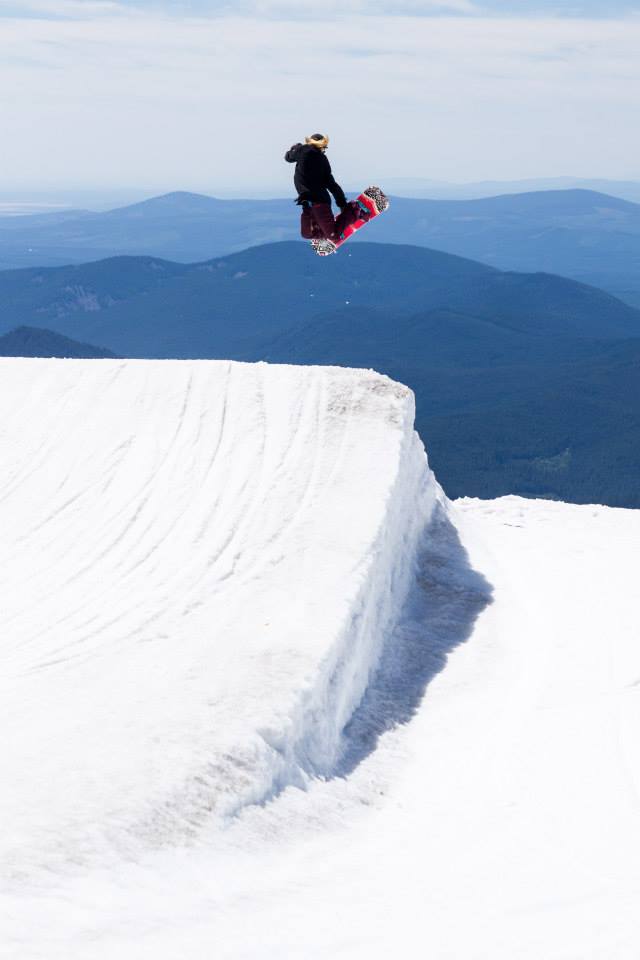 Maja Keefer showing us how it's done! "Women in snowboarding need to support women's snowboarding" - Kimmy Fasani. Gillian Montgomery Photo
If you want to support these ladies or if you are interested in riding with them (which I highly recommend!) check them out on Facebook and Instagram!
From The Column: Women in the Mountains
READ THE STORY
Last Thursday was a day for the history books, with yet another edition of Kings and Queens of Corbet's going down at Jackson Hole Mountain Resort. The venue? None other than Corbet's Couloir right under the top of Big Red. The athletes? 26 heavy-hitting skiers and snowboarders hungry for the title and ready to absolutely throw down. Lucky for them, the Tetons have been going through one of the most epic storm cycles in history, transforming Corbet's into the ultimate playground for
READ THE STORY
Once in a blue moon, an event or competition comes around that completely redefines the trajectory of a sport. In the case of snowboarding, that just happened with the first stop of the Natural Selection Tour at Jackson Hole Mountain Resort. The brainchild of none other than Travis Rice, Natural Selection pitted 24 of the world's best male and female riders against a course designed expressly to progress freestyle backcountry riding. We're talking not a machine-built slopestyle course, but