Skinning to couloir descents in Cortina. Seth Lightcap photo.
Bibi Tölderer-Pekarek combines strong alpinist skills with big mountain riding in a way that no other female snowboarder in the world does. The Austrian started ski touring and riding off-piste when she was 8 years old. She says her progression to hitting big lines inbounds to climbing for gnarly lines out of bounds was a natural evolution.
Tölderer-Pekarek was the only female featured in the Deeper, Further, Higher trilogy. Along with Forrest Shearer, Ryland Bell, and her husband, Mitch Tölderer, she was featured in the #Find_Away episode, "The Weakness in the Wall," for which the four-person crew endured long, technical approaches to descend the Dolomites' tight couloirs.
It might surprise you to learn the Jones team rider, in addition to having busy professional snowboarding career, runs a physiotherapy business in Innsbruck. It also might surprise you to learn the veteran big mountain snowboarder scaled back a bit this season because she's expecting her first child in June.
We caught up with Tölderer-Pekarek to ask how she manages professional snowboarding and business ownership, and how she developed into a world-class splitboard mountaineer.
You run your own business. Can explain what you do, and how you balance that with being a professional snowboarder?
I'm a physiotherapist. I have my own therapy business with three other people. It's more common [for professional athletes] in Europe [to have another career] because our education is free. You can just do it. It's a lot easier. I think that's big difference between here and in the states. Sometimes it's hard because you have to focus on two different things. On the other the hand, it's good to have something else.
I really enjoy being a physiotherapist as well. For me, it was always important. We get a lot of sports people coming here for Functional Training classes. We're preparing people for surfing season now. In autumn, we prepare snowboarders and skiers.
We have a mixture of people training here. Some guys who are on Freeride World Tour train with us. Some are really motivated amateur sportsmen. Some are former freestyle snowboarders, who want to stay fit and still really enjoy riding. The older you get the more need you feel to be fit when the snow is good. Some are weekend warriors who still wanna go full on during the weekend.
Training is individual for everybody, I think. It's good to work on your weak points, and make them better. I always want to test myself, find new exercises, find new programs, and then share with people what I've learned from my own experience.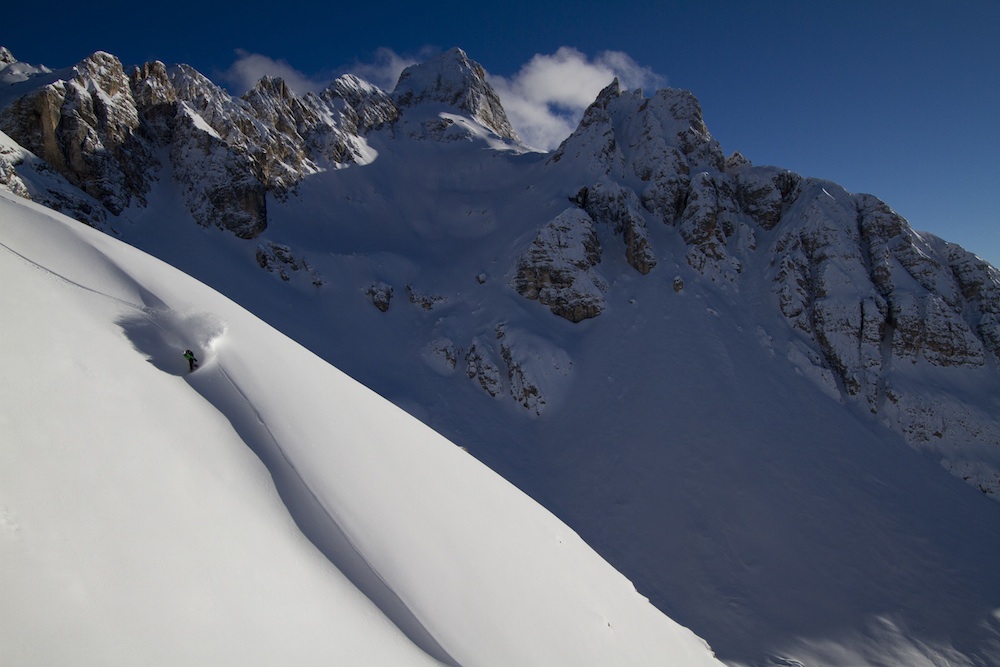 Bibi throws a massive toeside spray. Seth Lightcap photo.
You're well-known for having a super-strong alpinism background. Did climbing come before snowboarding, or was it vice versa? How did you develop such strong mountain skills?
My parents took me into the mountains when I was a kid. They are normal Austrians. They were ski touring, and brought me when I was 8 years old. My mom took me off-piste as a kid on skis. I always enjoyed it.
Leaving the ski resort was a natural evolution. You want to climb this peak or go on that mountain. You want to go away from more common, well-ridden mountains. You're looking for more challenges.
Mountaineering is necessary in the Alps. It's very rocky sometimes. You need ropes when you hike steeper stuff. You learn a lot along the way. You learn how to deal with situations, so you aren't jumping into the cold water.
Some people just climb up a mountain because they want to approach that mountain. My main focus is to ride good snow. I also like to ride steep stuff. There are interesting mountains everywhere. I like trips because I like new mountain ranges. There's no particular area that's my favorite. Diversity is good.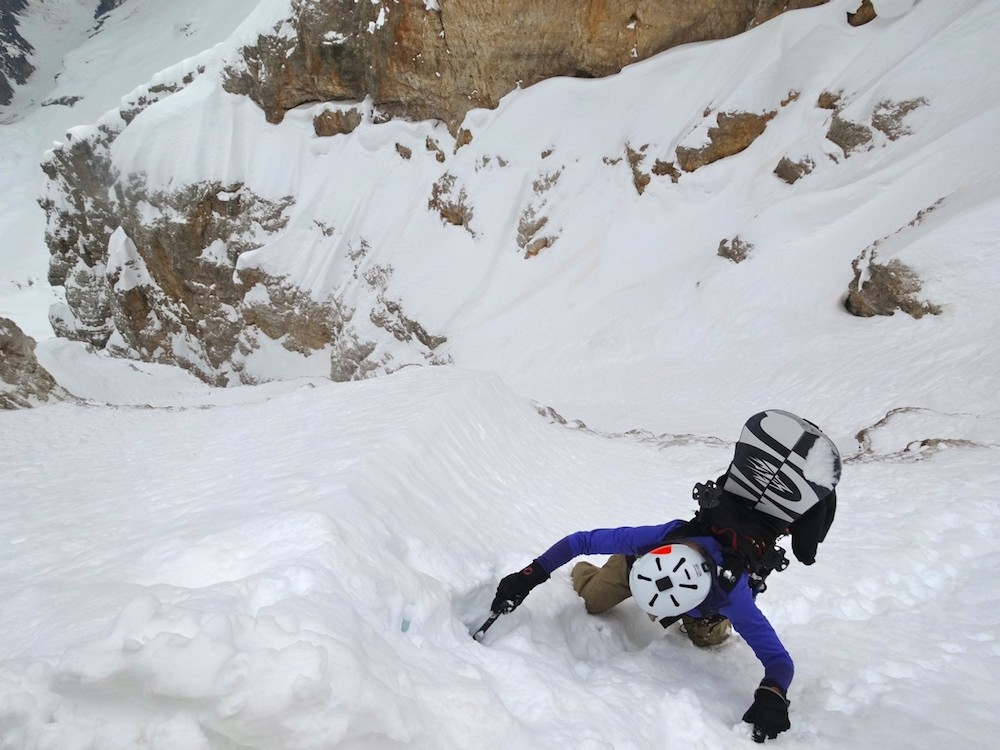 Also a seasoned alpinist, Bibi huffs her way up a couloir. Mitch Tölderer photo.
What was your experience like on the Freeride World Tour?
From a riding point of view, you learn a lot. You're always challenging yourself. On the other hand, I'm not that much of a competition person. I like more the quietness of the mountains. The older you get, the more you don't like to see all those lifts and people. You just enjoy the silence and the wildness of the mountains more if there's no resort. For me, snowboarding is something really enjoyable, and freeriding isn't something that's competitive.
The older you get, the more you don't like to see all those lifts and people. You just enjoy the silence and the wildness of the mountains more if there's no resort.
Filming is like competition. You challenge yourself. You have to think about what you're going to do. You have to plan it. It's something you want to do, but you have to put a lot of effort into it as well. If you have a good outcome, you're happy and you're stoked. It's motivating.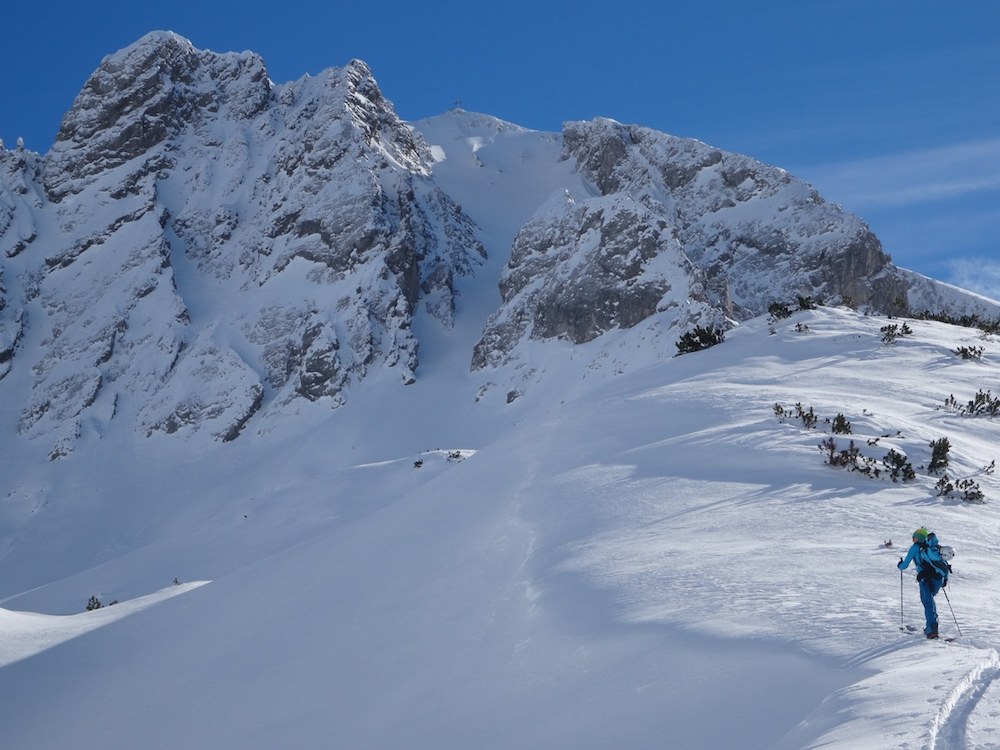 On the search for good snow. Mitch Tölderer photo.
You've been able to film, and earn some pretty amazing sponsorships. How were you able to develop these opportunities for yourself?
I'm not a person who plans too much about what I'm going to do next. Opportunities come up. There are mountains to climb. It all happens very naturally. I do what's interesting in the moment.
With Jones Snowboards, I knew the team position was coming because I was riding for O'Neill with Jeremy. Again, it was not something that was planned out. We went snowboarding together. Jeremy is focused and motivated. He's a good planner. It's just fun to work with a person like that in the mountains or to go out and ride lines together.
Dropping in. Seth Lightcap photo.
It's pretty unusual for a husband-and-wife team to have such high profile snowboarding careers. It's even more unusual for them to remain backcountry partners throughout their careers. What role has Mitch played in your snowboarding?
We've been together for 12 or 13 years. We do a lot together. But it's not just the two of us. Sometimes you go with this person or that person. We have a team of three or four people. Besides being married, we're good buddies as well. It's easy to have your backcountry partner at home, so you can ask, 'Do you want to ride this tomorrow?' It's big advantage.
It's easy to have your backcountry partner at home, so you can ask, 'Do you want to ride this tomorrow?' It's big advantage.
I really appreciate that Mitch never put any limits on me. He never said you can't do this because you're too weak, or you're a girl. He always believed in me and encouraged me. If your partner gives you the mindset you can't do something, you question yourself. But if he believes in your skills, you don't limit yourself. The trust goes the other way, too. I believe he knows what he's doing. He's not a reckless person. He knows what he can do, and trusts his skills.
I'm pregnant now, with our baby coming at the beginning of June. It's going to be more difficult to do what we want to do. When I do something with Mitch, I think more. I still went snowboarding a week ago. But, for me, it's about not giving up what you enjoy doing.
From The Column: Women in the Mountains
READ THE STORY
Some adventures are a long time coming. Big mountain riders Jeremy Jones and Griffin Post have been adventuring deep into the mountains of Alaska for most of their careers, but in recent years have turned to embracing a foot-powered approach to exploring these peaks. While it might be much easier to reach these legendary ski and snowboard objectives with a helicopter, both riders have learned to appreciate slowing down the process and doing it the hard way. A few years ago, after an
READ THE STORY
Is hardbooting a sign snowboarding is finally moving out of its mom's basement? With Phantom's newest Slipper HD boot system, it just might be. The number of snowboarders in the backcountry has been on the rise. Only seven years ago I remember frequently receiving remarks from other recreationalists like it was something novel: "oh a splitboarder." Even at busy trailheads like Colorado's Berthoud Pass, it was rare to see other human-powered snowboarders. In the last two or so years I'd be
READ THE STORY
The North Face and Pattie Gonia (they/she/he) are teaming up to host a Summer of Pride, aiming to celebrate how nature lets you be who you are, and all of the beautiful ways that you get outside. With workshops, panels and activities for all, Summer of Pride is about exploration in all shapes and forms. Their mission is to help cultivate community together through a love for nature and having a good time outside. The tour heads to Portland, OR, Columbus, OH, Denver CO, and San Francisco, CA.