Andrew Miller at high camp in Nepal–17,700 feet–while shooting for Higher with Jeremy Jones in October 2013.
Andrew Miller grew up hoping that he was going to be a professional snowboarder. So he never imagined he'd be where he is now—breaking ground in the world of ski and snowboard photography. It's not often I get to talk to people who are so stoked about what they do that they almost can't even handle it. That's Andrew. "I still can't even believe it when l walk by a North Face store and see my images blown up on the walls," he said in our interview. I could actually feel his excitement coming through the phone. Although he's been in the game for the last six or seven years, he's just now starting to break into the big leagues, with a recent cover of Transworld Snowboarding shot on Jeremy Jones' near-vertical descent of the Shangri-La spine wall in Nepal, and he's not planning on stopping any time soon.
The start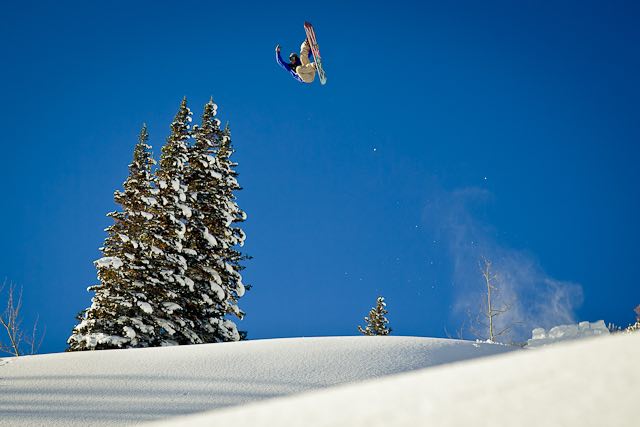 Jules Reymond boosts big in the Utah backcountry for Andrew's lenses. Andrew initially has his hopes fixated on being a pro snowboarder before a blow knee put him behind a camera.
Like many photographers in their late twenties, Andrew grew up shooting film cameras in a high school photography class, but unlike most, his mom was an artist and had a huge influence on him. She always had cameras lying around, and Andrew would take them and shoot his friends skating, snowboarding, and surfing. But back then, and maybe even now, his number one love was snowboarding. With big dreams of going pro, he moved to Mammoth after high school, but was quickly let down when he blew his knee out.
He was twenty at the time.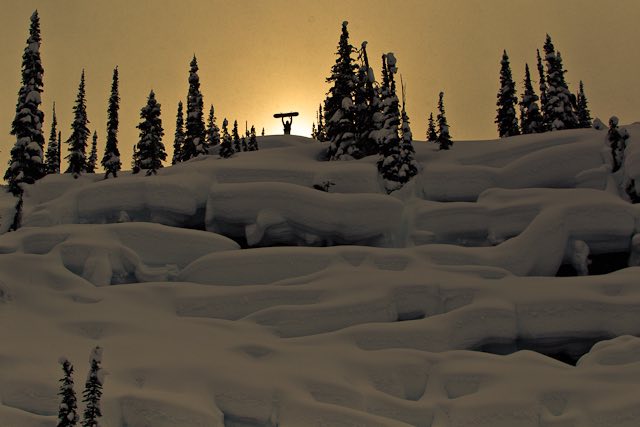 Lucas Debari claims one at the top of his line in British Columbia.
"I had to come to terms with not being able to be the rider I needed to be to go pro. While rehabbing, I followed my friends around with a camera and started to improve my shooting."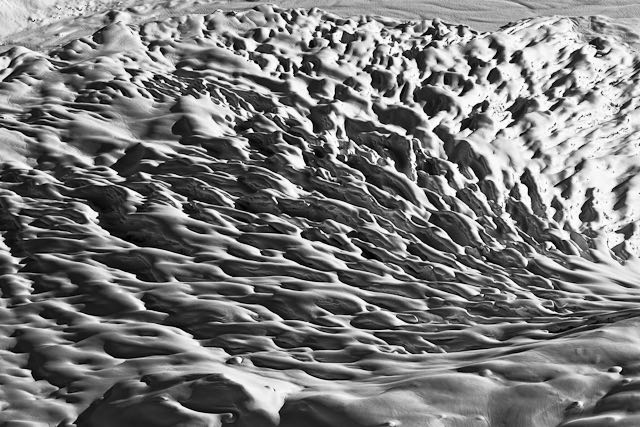 Waves of glaciers in Alaska.
Year after year, Andrew got small gigs as a photographer. But perhaps the most career-making was one with a company called Snowrev that paid him to cover snowboarding contests–everything from little park contests on the East Coast to the X Games.
"I'd go there and watch the staff photographers from Transworld Snowboarding, and I seriously learned so much from them. When we'd all put our galleries up, I compared my stuff to theirs and learned new ways of shooting."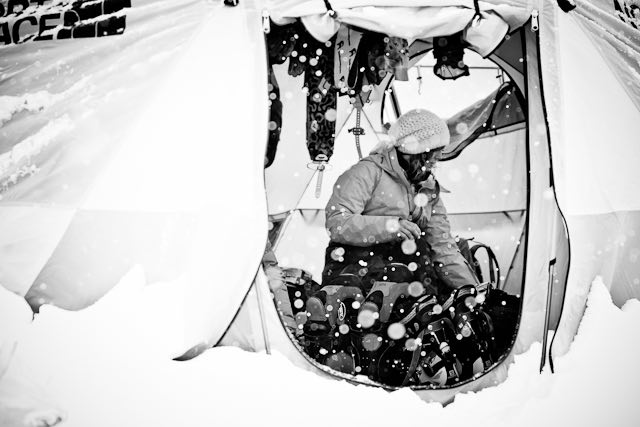 Olympics medalist Kaitlin Farrington on a backcountry trip in British Columbia.
That was seven years ago, and it's safe to say Andrew has come a long way since then. He's gone from riding Bear Mountain in a sweatshirt and jeans to one of the best ski and snowboard photographers in the business with expeditions to destinations like Chile, Nepal, and Japan under his belt.
And he only recently quit his day job.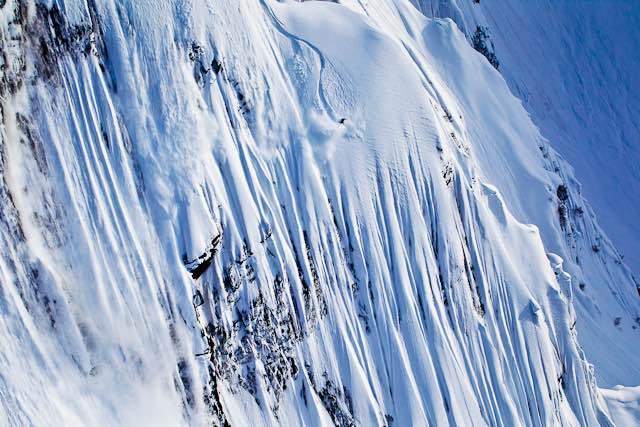 Manuel Diaz shredding a seriously hairy and exposed face in Alaska.
One thing people don't know about Andrew is that since graduating high school, he's been working close to full time at a hospital drawing blood and giving flu shots to fund his photography passion. "I lived in two completely different worlds; the people at that lab had no idea I was a photographer and the people I went to Japan with on a shoot didn't know I worked in a lab."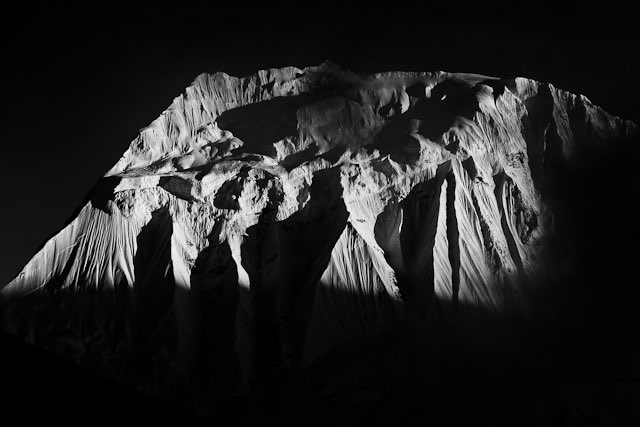 "Science fiction wall" in Alaska.
He's put in a lot of hard work and is definitely seeing results.
"Five years ago, I was stoked because I sold one photo for an ad, and now I finally quit my second job and am able to say I'm 100% devoted to photography."
Job Description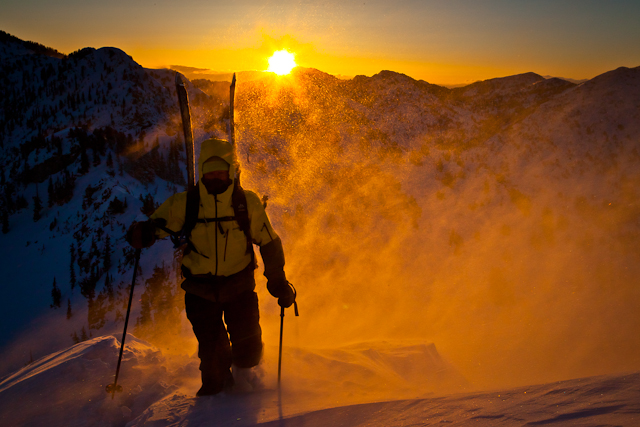 Forrest Shearer summits a windswept ridgeline at dawn in Utah.
Andrew Miller has a really refreshing way of looking at his life. When it comes down to it he really just sees himself as a snowboarder who shoots photos. "I'm the guy shredding all day who happens to have a camera," he said. "When I'm shooting, I just want to have a vibe where it's not this big deal that I'm shooting, because you get the most genuine moments when people are just having fun."
That's why Andrew is so good at what he does–because he loves it so damn much that his subjects just get wrapped up in the good atmosphere.
Big Break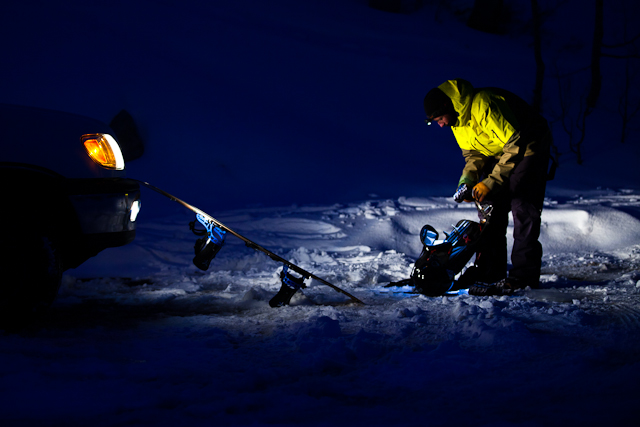 Andrew owes much of his breakthroughs–including his trip to Nepal for Higher–to the assistance of rider Forrest Shearear, seen here loading up for a dawn patrol mission.
This last season, Andrew got to go to Nepal with TGR to photograph Jeremy Jones snowboard the Shangri-La spine wall for Higher. According to him, the invite was unexpected and hearing him tell the story was priceless.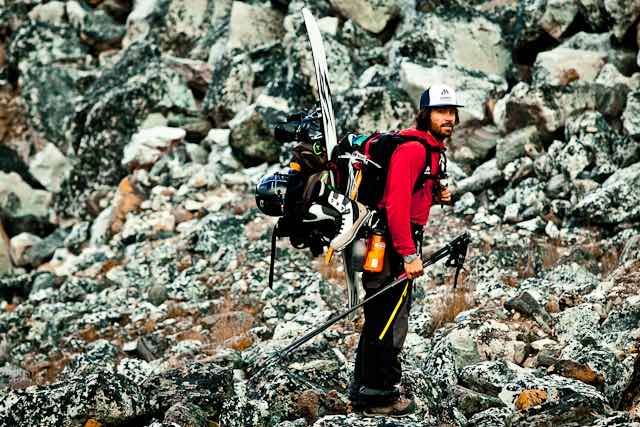 Andrew met Jeremy Jones for the first time only two months prior to their Nepal trip on a journey to Chile to shoot for Jones Snowboards.
"I met Jeremy barely two months before we went to Nepal–it was crazy! I went down to Chile to do a test shoot for Jones Snowboards with Jeremy and Forest Shearer. Forest–man, he has helped me out so much, the most out of anyone. He has connected me to this community, and he invited me to Chile. I seriously can't thank Forest enough.
Anyways.
We went down to Chile, and the weather absolutely sucked, but somehow we had a great time anyways. I just hustled my ass off and tried to make good images. It was really warm, and there was barely any snow. I was surprised that Jeremy was so stoked and kept telling me he was loving the images I was getting.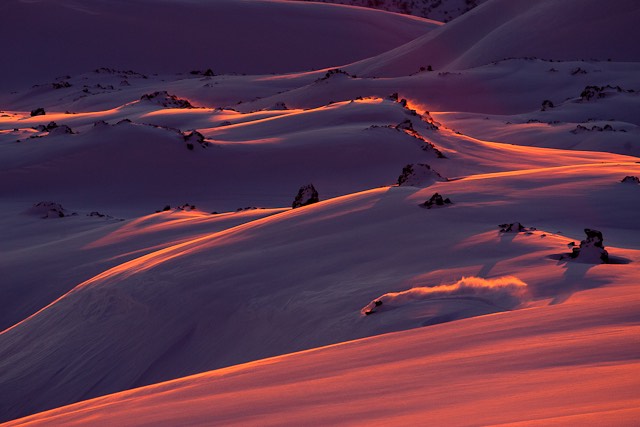 Shots like this one of Alex Yoder, taken during the Jones Snowboard trip to Chile the summer of 2013, helped Andrew earn the nod to the biggest trip of his life to Nepal with the Higher crew.
During the trip, I had overheard Jeremy talking to Forest about going to Nepal and I was like, 'Damn, that's crazy,' but that was it. But then after the trip, Jeremy hit me up saying, 'Hey man, there is a 10% chance we need a photog for Nepal, do you have any interest?' I said yes, and he said 'Cool, get back to you later.' It was a two second conversation.
A couple days later I got a text.
'Hey man, there is 30-40% chance. Still want to go?
Of course I did.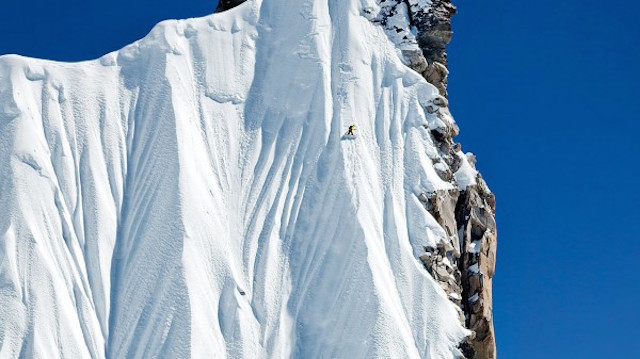 A section of the photo Andrew took of Jeremy's final line in Nepal–which pitched out at nearly 65 degrees–which earned Andrew a Transworld Snowboarding cover.
Two weeks later he calls me and says, 'Ok, how serious are you about going to Nepal?'
It immediately scared the shit out of me, but I had to do it.
I said 'Alright, Jeremy, I don't care the cost or how long, count me in 100%'
The next day I got a call.
'Alright, you're good to go for Nepal.'
And that trip was a trip of a lifetime for me."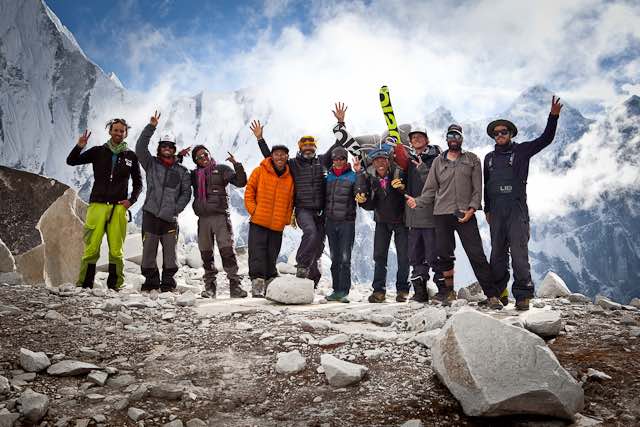 Andrew (far looker's right) with the Nepal crew at the end of the successful trip in October 2013.
I believe it. For you guys who haven't seen the movie. Jeremy Jones went to Nepal for forty days and snowboarded just three runs over 20,000 feet on Shangri La, a kick-ass looking spine wall within a day's walk from Everest base camp.
And Andrew Miller was there documenting the whole thing.
Now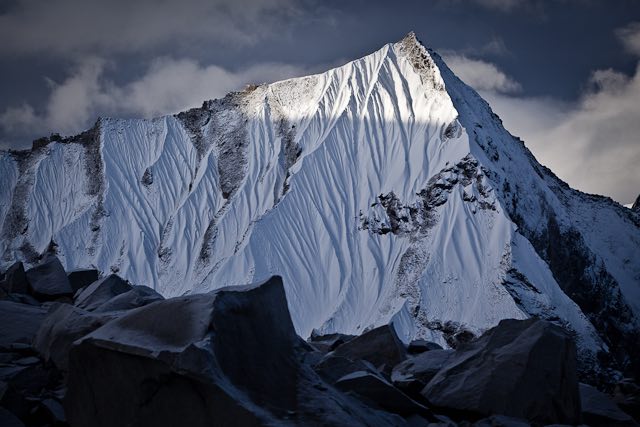 Andrew shot this beauty of spine walls intermingling with wind-scoured ridges during his Nepal trip.
Andrew is going into the new year full of momentum and stoke. Every trip he goes on is his new favorite, and his goals for the season are to have a good, safe year. As simple as that.
"I'm still learning, and I still have so much to see and photograph, so I'll go anywhere."
From The Column: Through the Lens
READ THE STORY
An avalanche caught five skiers on Saturday morning at Jackson Hole Mountain Resort. Everyone survived. The slide was triggered near the top of the freshly-opened Thunder Lift in an area next to the Expert Chutes zone. The slab broke loose from the base of a cliff with a crown measured around two feet deep and 150 feet wide. A JHMR ski patrol search team armed with two dogs, a Recco device and avalanche beacons immediately began searching the area, uncovering the victims, which included
READ THE STORY
On Saturday, December 1, at 9:55 a.m., sixteen people were skiing and snowboarding on the southern end of Expert Chutes, an inbounds zone at Jackson Hole Mountain Resort, when an avalanche broke above them. In a matter of seconds the 150-foot wide slab with a 2-foot crown barreled down the slope, burying five skiers below. Without hesitation, onlookers immediately sprung into action and the ski patrol responded swiftly. Thanks to the cooperation and preparedness of the community and the
READ THE STORY
The holidays are quickly approaching and we'll hazard a guess, you probably haven't locked in that perfect gift for the snowboarder in your life. All hope is not lost, we've curated a list, ranging from boards to boots, that are sure to score extra brownie points with any snowboard enthusiast. Plus, if you've been hankering for a few new things, peruse through the list and treat-yo-self to something nice while you're at it. Weston Backwoods Splitboard - $900 Buy the Backwoods Board Here.