Editor's Note: The Bucket List is a new column we've started centered around single adventures that you'll remember the rest of your life. These are the cream of the crop–some of the most incredible end-to-end adventures available anywhere in the world.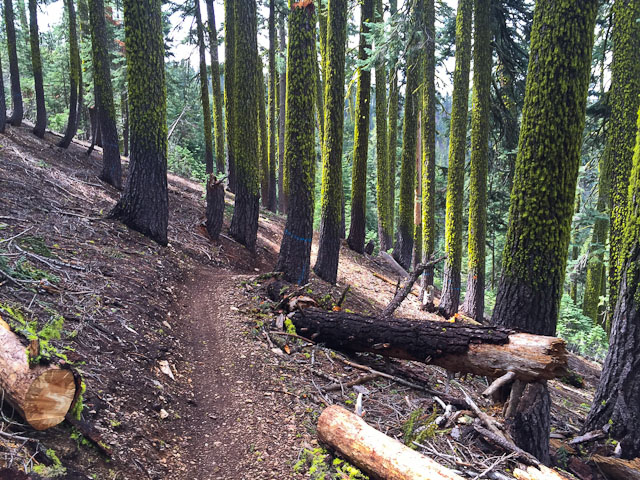 Mile X of Downieville's 16 miles of absolutely grin-inducing downhill. Ryan Dunfee photo.
It was midway down the Third Divide trail when my speed peaked, scratching now at 36 miles an hour. At that speed, your eyes level higher, watching the trail arc through a hillside of giant Douglas Fir trees that grow in size until their shadow stretches in your periphery before disappearing in a snap. At that speed, you don't feel like you're the one moving forward–instead, the sensation is of the world just coming right at you, the wheels spinning at a burning pace while your bike simply hovers. Rock gardens and root drops barely register, the terrain almost seems to flatten, and the sensation of the speed is all-consuming. The gravity pushes the tires into the dirt on every corner, creating traction beyond question, and it simply feels like a different sport.
Of course, the truly ridiculous thing is that I've been enjoying this sensation for over an hour, and there's another thirty minutes of this flow state left to enjoy. For the $20 price of the shuttle ride to the top, the 4,300 vertical feet and 16 miles of gravity-fed riding of the Downieville Downhill–we counted over an hour and a half of pure, continuous descending–is about the cheapest high you could ever hope to get.
Quiet and laying about a deep, steep river valley, Downieville looks like something out of the Appalachians. Ryan Dunfee photo.
The tiny hamlet of Downieville, California–about an hour and a half northwest of Truckee and Lake Tahoe­–looks like a town that should belong in the Appalachians. In the crux of a steep mountain valley, and at the confluence of the Downie and North Yuba rivers, the town of Downieville hosts a classic downtown built on the back of the California gold rush, with clapboard houses clinging to the sides of the valley, their porches hanging over the narrow streets, and jacked-up Broncos in the driveway ready to pound up the assortment of Forest Service roads that slink through the valleys.
Downieville as a mountain bike destination came together mostly by accident. At first, many of the 300,000 people from around the world that descended on this part of the Sierras hunting for gold cut trails to and from town to various mining claims in the hills. Then, when dirt bikers start growing in numbers, the Forest Service began using money from bike registrations to work on the trails around town.
Then, in the '80s and '90s, mountain bikers started riding–maybe surviving is a better word–these trails on mountain bikes. The Downieville Classic, started under a different name in 1989, has been bringing riders to town every summer ever since, and the growth has fueled more bike-specific work that has ultimately connected just a hair over 16 miles of truly amazing trail into what is now collectively known as the Downieville Downhill.
What To Ride, What to Bring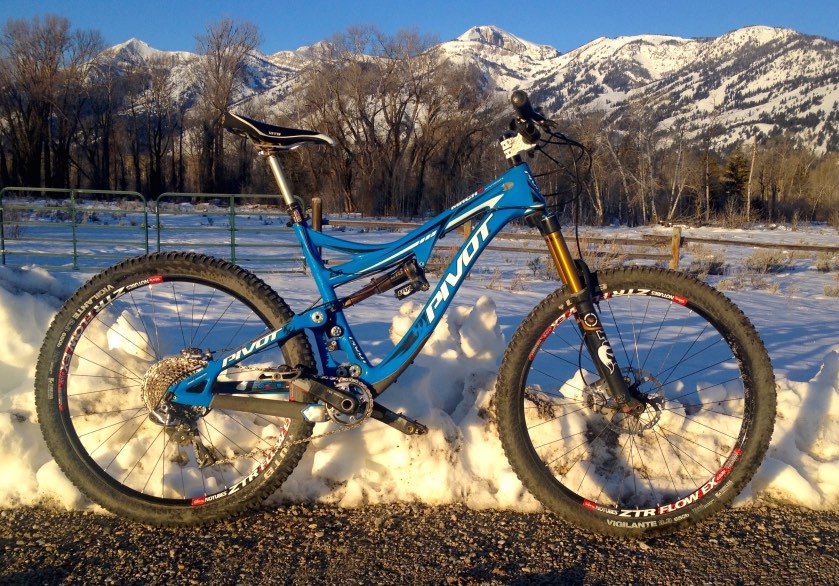 The Downieville Downhill has a level of tech and speed that feel purpose-built for today's enduro bikes, and the Pivot Mach 6 I brought from Jackson for the ride was in its element the whole way down. Ryan Dunfee photo.
The Downieville Downhill feels almost purpose-built for today's class of enduro bikes. In reality, you'll be comfortable on any full-suspension bike with 140-160 mm of travel, and the trail really rides a lot more fun if you're on something in that range. The two big outfitters in town­– Yuba Expeditions and Downieville Outfitters–both rent high-spec enduro bikes, and at Yuba you can even demo a $10,000 Santa Cruz build, replete with ENVE carbon rims, and spend the day shredding on a bike only a few surgeons can afford.
Regardless of the bike you're on, Downieville is accessible for all intermediate and above riders who are comfortable at least picking their way through moderately rocky sections. None of the rock gardens (minus The Waterfall) are overwhelming, but there are a million of them. If you're only comfortable riding dirt, Downieville's probably not best for you yet.
Once you have your bike dialed, you'll want to account for the huge difference in temperature and climate you'll experience dropping 4,300 vert in one ride, and pack an extra layer for the top section if it's not the thick of summer. Bring plenty of water and whatever you'll need to deal with mechanicals on the way down, namely inner tubes. You're going to spend a couple hours hammering down too many rock gardens to count, and as the summer dries the dirt up and brings the sharkiest rocks out of hiding, the ride is notorious for popping tubes and shredding sidewalls. If you're not prepped, you'll be along way from help.
A full face would be overkill, but this is a trail you'll be happy you brought knee pads for, if only to feel good about keeping it pinned through Downieville's rock gardens.
Where to Stay
If you're looking to spend more than a day in town, there's a few B&B's in Downieville and roughly 15 Forest Service campgrounds spread throughout the Tahoe National Forest surrounding town. All require paying a fee.
The Downieville Downhill: The Ride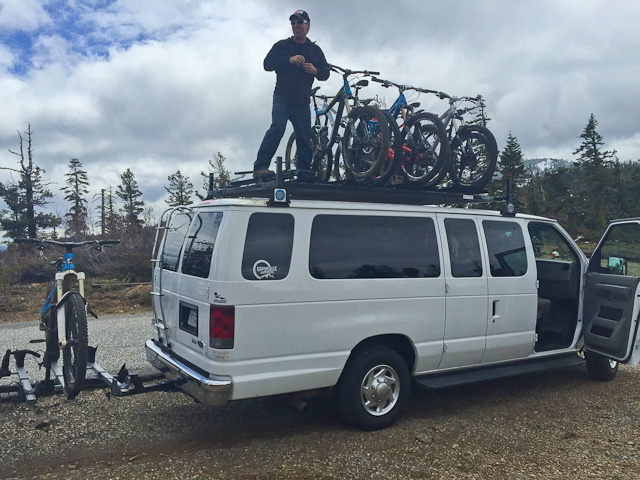 The crew from Downieville Outfitters drops us off at the top of Packer Saddle after a 40-minute ride. Ryan Dunfee photo.
Unless you are on a suicide mission to Lance Armstrong your way to the top, most riders will start with a $20 shuttle from either Yuba Expeditions or Downieville Outfitters, which you'll want to reserve several days in advance. The shuttle takes about 45 minutes to ferry you all the way to the top of 7,000-foot Packer Saddle.
At the top of Packer Saddle, there's three cross-country loops you can hop on if you want to add some miles to your already-long day: Big Boulder, Lavazzola, and Pauley Creek, which breaks off farther down after the Sunrise Trail. Taken all together, adding these into your descent will turn the experience into a bell-to-bell affair.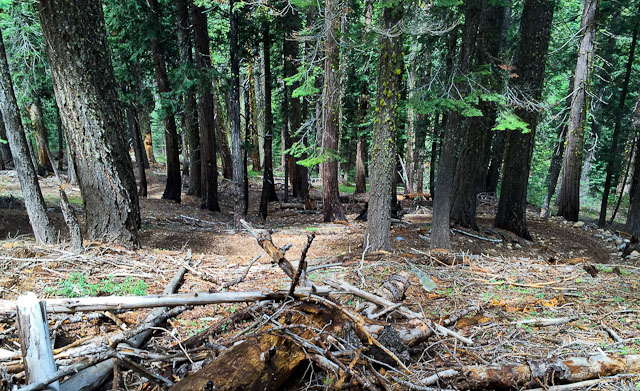 The first part of the ride, the Sunrise Trail, starts with a couple miles of newschool flow with loamy berms and fun tables. Ryan Dunfee photo.
If you're like most, and here to floor it down the hill, then you'll immediately pedal into Sunrise, which marks the start to the official Downieville Downhill. This starts the ride with about a mile and a half of rolling newschool fun, with whoops, rollers, and small tables leading into arcing berms as the trail starts to descend. A more pedally section follows, rich with loam as it arcs through amazing stands of Douglas Fir wrapped with green moss. It's a great section to get your legs stretched out, your bike underneath you, and pump some fun trail. You'll come to a natural stopping point after The Gorge–a steep, whooping rock halfpipe through a streambed that is a real challenge to pedal up. You'll be a bit surprised to find out you're only about 12% through your ride.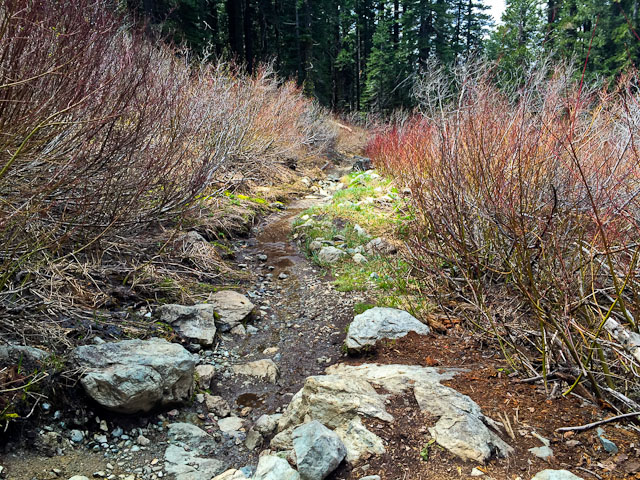 The "real" Downieville starts with rocky bits diving across and through some creekbeds. Ryan Dunfee photos.
Now the "real" Downieville begins, and the area's litany of technical-but-fun rock sections start appearing in front of your tires. Some bounce through creek beds, the water exploding under your wheels, while one brings you, at speed, straight through the bottom of a small waterfall that at first glance has no obvious lines through. Based off the sheer number of encounters you're going to have over the course of the ride, your rock game is definitely going to improve, if only because you'll be tempted to start slamming through sections at the ludicrously fun speeds the trail encourages.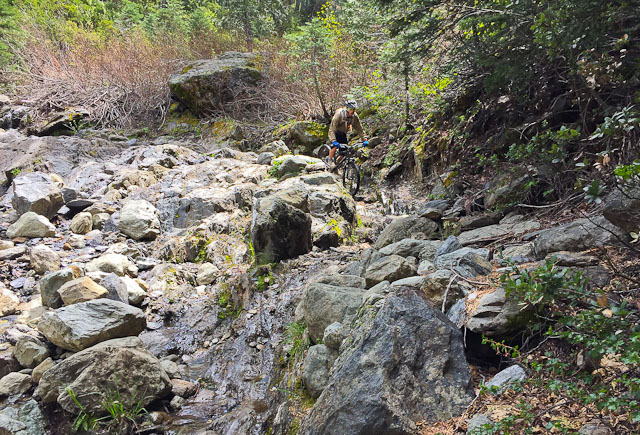 Ryan Rambo tries to find his line through The Waterfall. Ryan Dunfee photo.
Stay loose and keep your eyes looking up and out, beyond the rocks, and you'll make it through. Even on your first ride, once you've gotten into the rhythm, it's great to know that the trail stays relatively consistent in its level of tech–you'll never have to worry about rounding a corner at speed into a field of Geo Metro-sized boulders. Continue for what seems like forever gaining speed, skipping over rocks, cornering, jumping, drifting, and repeating this pattern two hundred times.
The Butcher Ranch Trail–the first to make Downieville famous. Ryan Dunfee photo.
You bottom out, take five, and then drop into the infamous Butcher Ranch Trail–a 150 year-old mining road littered with the ride's most technical sections and the original trail to put Downieville on the mountain bike map. The right side of the narrowing trail drops into Butcher Creek, while in front of you waits whooping sections of g-out rock gardens that hug ledges of mossy granite. It's one of the few times you'll be hitting the brakes as you roll into a down, murmur "Wow!" and throw the bike around to try and find your line.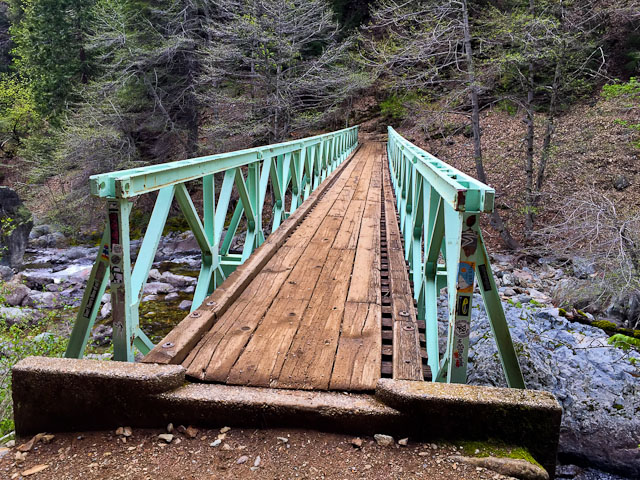 One of the few footbridges that cross the creeks and rivers of Downieville on the way down. Ryan Dunfee photo.
Once you've showed off your tech skills, you'll roll to a stop alongside an old footbridge that takes you across the creek and up for a brief, ten minute climb up the old packing trail to a ridge and the start of the Downieville Downhill's fastest section: the Third Divide Trail.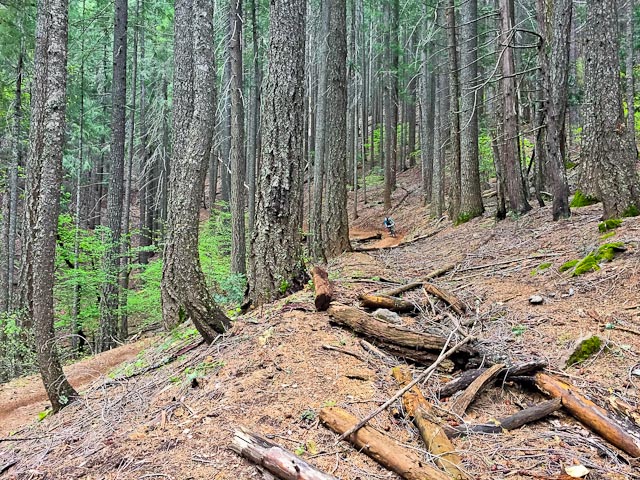 The Third Divide Trail will get you flying at the highest speeds you might ever hope to reach. Ryan Dunfee photo.
Here the trail lengthens back out and the trees open up along with your speed, which is about to max out as you roll into three miles of the most butter-smooth, grin-inducing, warp-speed singletrack you could hope to find anywhere. It's the closest you're going to get to the Endor speeder bike scene from Return of the Jedi, and if you let off the brakes, you'll find your bike levitating as it careens through the trees, riding corners high up on the left bank of the trail and blasting with speed over root drops and small rock gardens that barely register as they vanish under the wheels.
The sightlines are such that the next section of trail is rarely out of sight around the corner, meaning that even on your first time through, you'll be extremely tempted to break land speed records. Going this fast, for this long, adds an element to the Downieville experience that can rarely be matched anywhere else.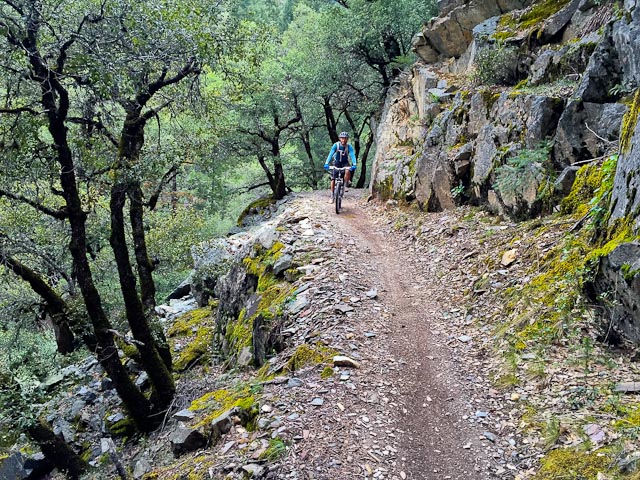 The finish on First Divide carries you through some incredibly aesthetic singletrack that winds high above the Downie River and Pauley Creek. Ryan Dunfee photo.
The Downieville Downhill finishes on the First Divide Trail, a rolling section of narrow singletrack that hugs the steep canyon walls high above the Downie River and then Paulie Creek, with the landscape changing to something you'd expect to find in Southeast Asia. Everything around you is wrapped in damp moss, and views of the river below appear and disappear behind the canopy of low trees. Some fun technical bits that hang along steep walls that fall into the valley below keep the last parts of the trail spicy, leading eventually to a fire road finish and a casual pedal through the back parts of town and your car.
Sustenance awaits at spots like Coyoteville Café and Riverview Pizzeria. Enjoy, and possibly tempt yourself with another lap after you've carbo-loaded for it. Downieville Outfitters offers a $5 discount off your second shuttle, along with lifts to Chimney Rock and Mt. Ellwell if you want a go at different parts of the Downieville trail offerings.
Why You Should Go
With Lake Tahoe a quick drive south, combining a trip to Downieville with one to Tahoe's huge variety of riding will get you an incredible diversity of really good riding in the span of just a long weekend. Downieville itself, however, offers a singular experience. Long after losing cell service, you find yourself at the bottom of a deep valley, in a picturebook little town, then get ferried up to ride one of the longest stretches of continuous downhill anywhere in North America, with terrain ranging from jumpy flow trails to rocky gnar, loamy corners, narrow tech and all-out high-speed fun, all in a single ride with just ten minutes of climbing and an ever-changing visual feast of Sierra landscapes along the way. Sold yet?
From The Column: The Bucket List
READ THE STORY
The North Face and Pattie Gonia (they/she/he) are teaming up to host a Summer of Pride, aiming to celebrate how nature lets you be who you are, and all of the beautiful ways that you get outside. With workshops, panels and activities for all, Summer of Pride is about exploration in all shapes and forms. Their mission is to help cultivate community together through a love for nature and having a good time outside. The tour heads to Portland, OR, Columbus, OH, Denver CO, and San Francisco, CA.
READ THE STORY
Michelle Parker taking it all in at Red Bull Formation. Izzy Lidsky photo. Michelle Parker has long been a household name when it comes to action sports. I can remember watching Superheroes of Stoke in high school and seeing Parker and Ingrid Backstrom be the first examples of women skiing big lines I'd ever seen. Parker ended up winning Best Female performance for that film. A Lake Tahoe native, her career dates back to her teens when she began competing in freeskiing before switching to
READ THE STORY
Versatile, reliable and designed for every type of rider, the brand-new Ride Concepts x TGR Livewire mountain bike shoe reflects the universal two-wheeled language that is explored in Esperanto . | Liza Barnes photo. To celebrate this week's World Premiere of Teton Gravity Research's latest action-packed mountain bike film , TGR and Ride Concepts have collaborated to offer a brand-new mountain bike shoe - the TGR Livewire. With the parallel mantras of Live the Dream and Ride Every Day,