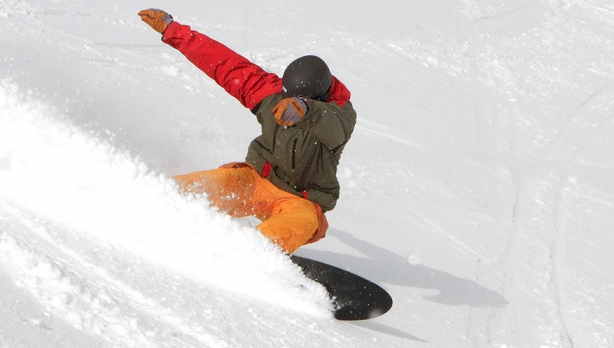 The author blasting dust on crust for the camera. Photo: Ryan Dunfee
Let's be real: snowboarding rules. Nothing in life quite compares to the feeling of ripping down a mountain, treating every roll and bump like a skate park feature. It's a sport born out of surfing and skateboarding, but has become something all its own: speed and force blended with grace and fluid movement.
The Jackson Hole Pow Wow is an event built around celebrating snowboarding. The premise is simple: a bunch of the raddest riders and brands come together for a week-long board test at the Jackson Hole Mountain Resort. The days are filled with hot laps and ad-hoc crews of riders that grow big enough to take over entire Tram cars. The nights are focused on reveling in snowboard culture, from the renegades of the past to those progressing snowboarding into the future.
This year Pow Wow organizer and local snowboard legend Rob Kingwill was kind enough to invite me out to test out some boards.
My mission: to find and ride the weirdest, widest array of snowboard shapes in the world.
#1) The Rat Tail From Lib Tech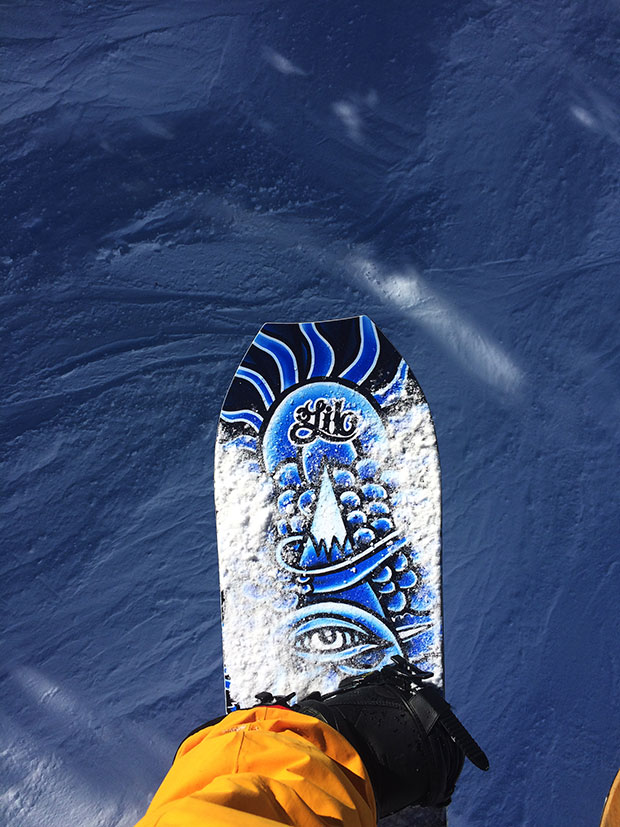 Lib Tech getting cray with their shapes. Photo: Olaus Linn
This board looks straight f**ing wicked. It's got a scooped nose and a tri-forked tail, and is apparently inspired by Lib rider Jamie Lynn's classic hairdo. He did the honors on the killer graphics as well. The deck I took out was a 158 which is a little shorter than most of the boards I ride. The sidecut is fairly straight though, meaning there's a long effective edge under foot. The recent drought of snow in Jackson had us testing pow boards by ripping groomers, and I actually had some moments where I was locked into a turn so hard that I couldn't pull out (no pun intended you dirty bird).
Final verdict: this board is fast and mean, and it'll write checks your body can't cash if you're not ready.
#2) Mikey Franco's Big Brown Swallowtail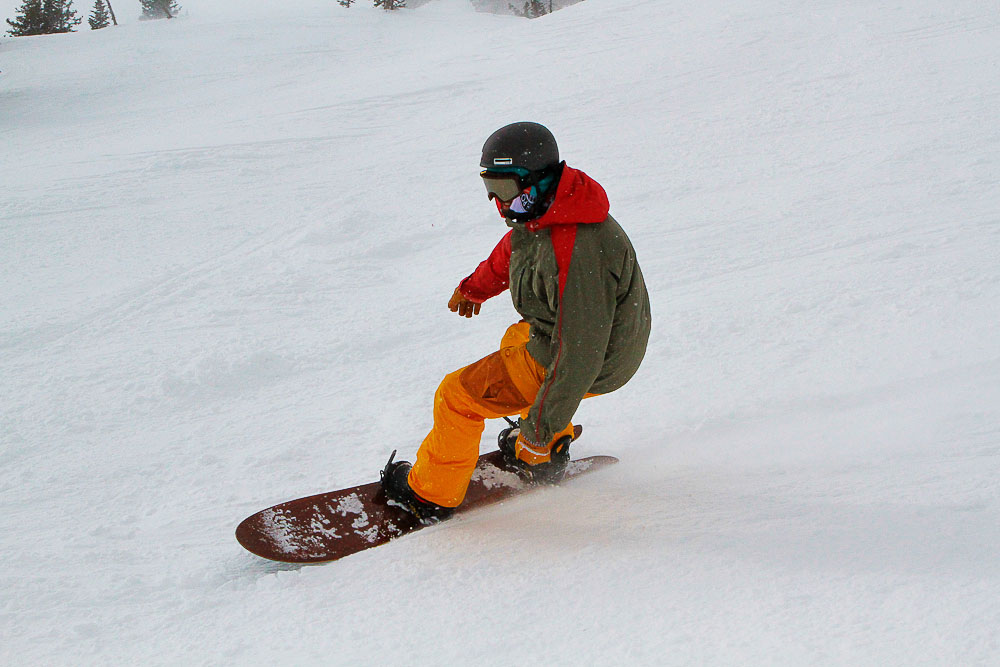 Nose for days. Photo: Ryan Dunfee
Mikey is an old-school snowboard pro who's been building custom boards in Jackson for years now. He brings a lot of decks out to the Pow Wow test and they invariably end up being crowd favorites. When I asked him which one I should try out he steered me to this gigantic 169cm snow-surf shape. The marginal conditions made me arch an eyebrow at this board, but I dutifully mounted it up and hopped on the Gondola.
Nothing gets stranger looks on the mountain than a huge fish shape with a massive nose and tiny swallow-tail on a hard-pack day, but the joke was on everyone else as this board charged hard. The size and width of the nose provided excellent stability, even at ludicrous speed. The surfboard shape and directional sidecut gave it the ability to absolutely rail big swooping turns. I suspect that in tight icy moguls this deck would have been less fun, but let's face it – what board would be?
Final verdict: not your dad's pow stick. If you like turning on a snowboard (and you should), you need to give one of these snow-surf shapes a try.
#3) GNU Zoid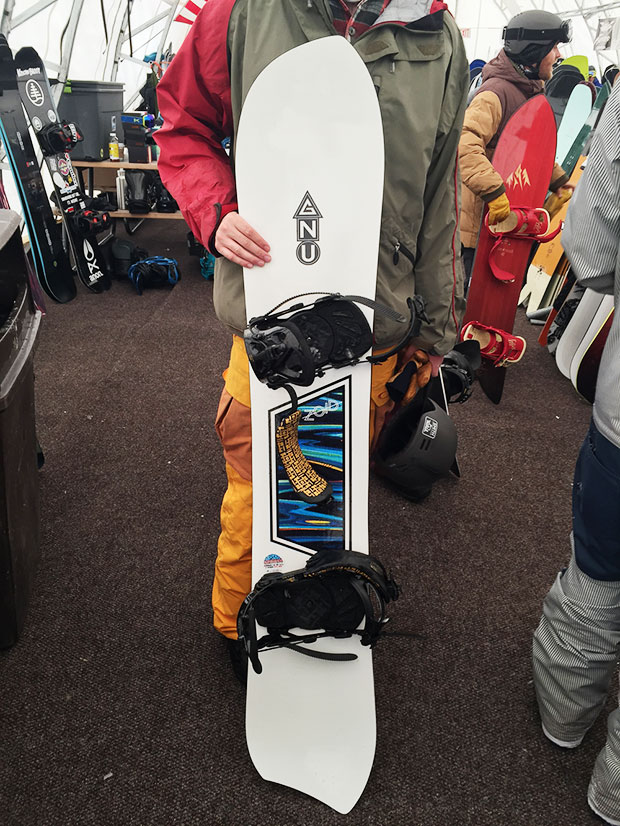 Similar to an acid flashback. Photo: Ryan Dunfee
The R&D folks over at Mervin seem to be hitting the banana peels hard these days because they're churning out boards that look like they belong in Salvador Dali paintings. There the similarity to drug-addled artwork ends – these boards have some smart, intentional engineering behind them. The bleeding edge of this work on the science of the snowboard turn is found in the Zoid – an asymmetrical deck with both regular and goofy-foot models. The idea is simple: put a longer, shallower sidecut under the rider's toe edge, making it easier to keep clean contact with the snow despite the rider having less relative leverage on that edge. The heelside edge gets a much deeper and shorter sidecut directly under the rider's center of gravity.
The effect is wild – far from having to adjust your turn to fit the unique shape of this board, it feels incredibly natural. I was amazed at the short radius performance in particular. I ripped through the tight trees of the North Woods and popped back out onto Rendezvous Trail laughing my head off. You can also make amazing little shallow turns – the edge-to-edge performance is so fast that you can winnow between your edges in a deadly straight line.
Final verdict: the 158cm Zoid I rode was a little short to be in my comfort zone, but I enjoyed the hell out of experiencing something truly new and different.
#4) Jones Snowboards 162 Flagship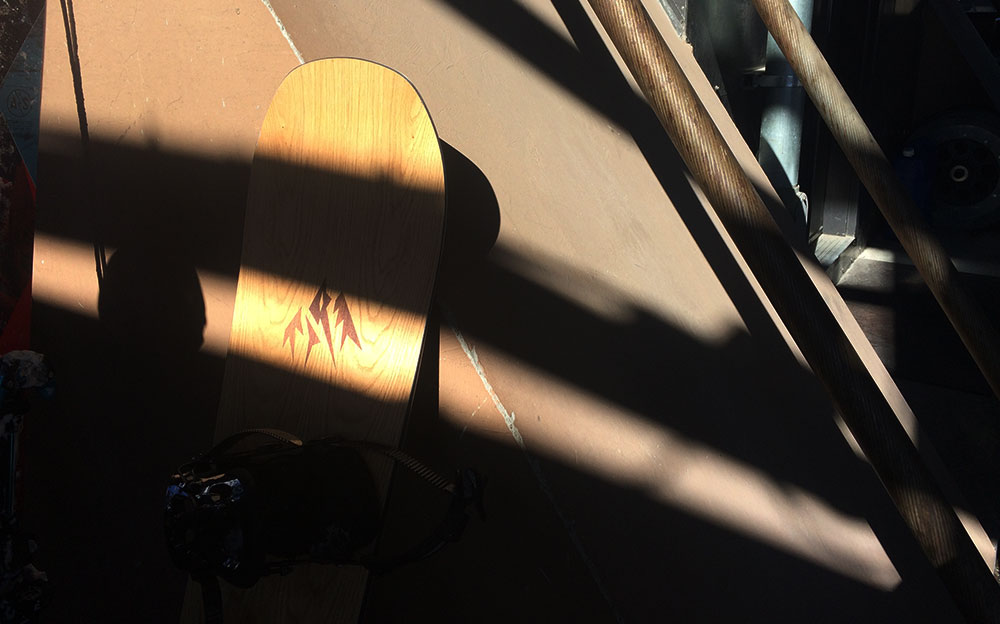 Afternoon delight glamour shot. Photo: Olaus Linn
At the end of my first day of testing I had my fill of wild directional rides and wanted to get back on something a little more conventional. That's not to say the Flagship is ordinary in any way. It's got a rad directional twin profile with all the latest bells and whistles that's designed to shred the entire mountain as easily as it blasts backcountry pow. It actually felt strange to suddenly have a big twin under my feet again, and it took a run to get the hang of it. After that I was blasting around having a great time on the Flagship. It was a little unfair to compare a board designed to do everything well to some of the more wacky and specific shapes I tested, but it held up well.
Final verdict: I found the Flagship to be super flexy and playful for a big charger – the ideal board to be riding day in and day out.
Sometimes I get stuck on that board for days or weeks at a time – it's just too much fun to want to ride anything else.
The man himself Jeremy Jones showed up at the Pow Wow to test out some boards (and probably pick up a few ideas for new shapes). He also brought a big stack of his own decks for everyone to enjoy and I heard consistently good things about them throughout the test. His take on a snow-surfer design, the Stormchaser, was particularly popular. At one point we had an impromptu 360-carve contest just below the top of Thunder and that board surprised everybody by ripping right around and putting more conventional boards to shame. As Jeremy put it later:
"Sometimes I get stuck on that board for days or weeks at a time – it's just too much fun to want to ride anything else."
Definitely check one out if you get the chance.
#5) Gentemstick Big Fish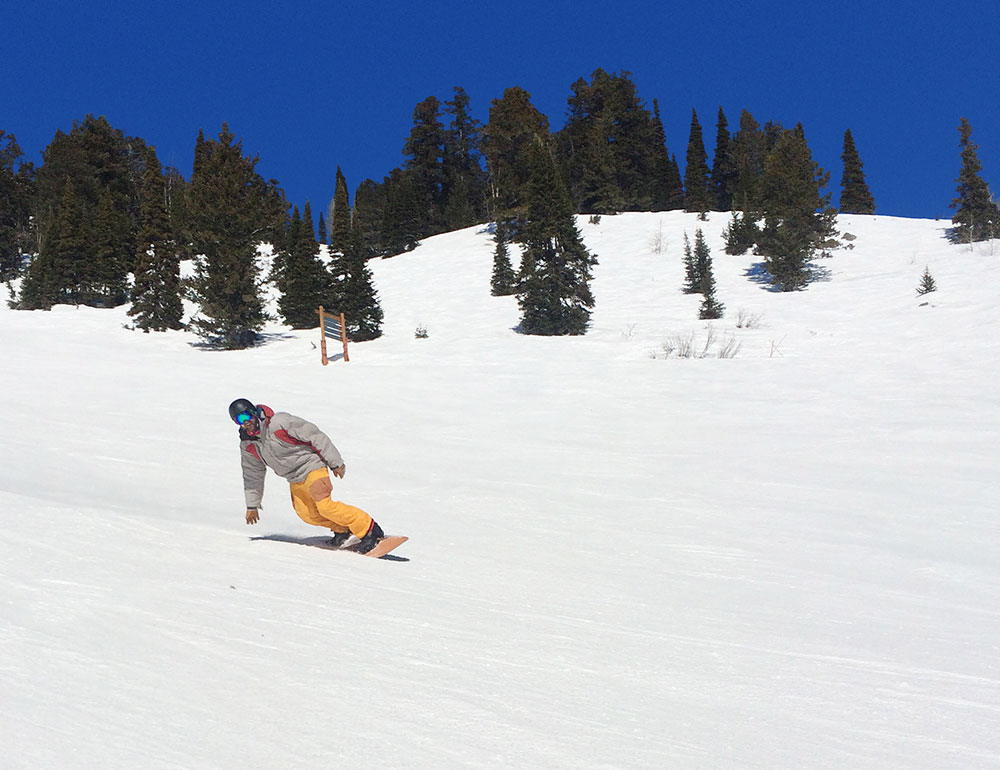 Testing pow boards on groomers shouldn't be this fun. Photo: Jenelle Johnson
Gentemstick and their line of hand-crafted boards inspired by the soulful beauty of Japan's rugged mountains (and shaped by the legendary Taro Tamai) have begun to reach mythic proportions with the non-urban segment of the snowboarding community. I absolutely wanted to try one out for myself during the Pow Wow and I'll tell you right now, it did not disappoint. Gentem had a big contingent of riders and boards on hand this year after they were nearly impossible to snag during last year's test. Those guys took one look at me and steered me towards the Big Fish. I never got a chance to measure this board officially, but at somewhere around 160 cm, it was one of their bigger snow-surf designs (although still pretty short overall).
I got a lot of funny looks riding up the Apres Vouz chair first thing in the morning on a groomer day with this wide, pointed swallow-tail on my feet, but if they were laughing after I pointed the first pitch of Upper Werner, I couldn't hear them. The Big Fish is so perfectly shaped that the turning experience is practically magical. Bouncing short-radius turns, laid-out looping carves, toeside, heelside – in one run I had more fun making turns than I have all year long. I can imagine that this board would be wonderful in powder but that's certainly not all it can do. Riding a Gentem it is easy to see how folks like Alex Yoder have found a new level of shred nirvana by pursuing mastery of the snowboarding skill that is easiest to learn and most difficult to perfect.
Final verdict: hands-down my favorite board I rode this week. I'm completely converted and it's going to be tough to go back to anything less than this level of awesome.
From The Column: The Goods
READ THE STORY
It was with great sadness on this day in 2014 that the world learned of the deaths of J.P. Auclair, Andreas Fransson, and Liz Daley, three individuals that all held different, but vital, places in the greater snow community. Mid-day yesterday, we began to hear news that J.P. and Andreas were in the Patagonian backcountry, toeing the Argentinean and Chilean borders, for their first film project together, which they were working on with the help of two Swedish partners, Bjarne Salen and Daniel
READ THE STORY
Check out the teaser for Cam Fitzpatrick and This is Us In's latest creation: It's a celebration of all things that make snowboarding in Jackson Hole what it is - the greatest thing maybe ever. In his words: "
READ THE STORY
Ingrid Backstrom is a name we've been hearing in freeskiing for a while now. But what about Brooklyn Bell? Vasu Sojitra? Emilié Zynobia? Better yet, what happens when all these athletes team up on a project together? A film highlighting and uplifting people of color, women, and adaptive skiers. Titled the film explores notion that the approach itself, whether it be to ski a line or to break down old barriers in the ski industry- isn't always the most glamorous part of a journey, but it's how