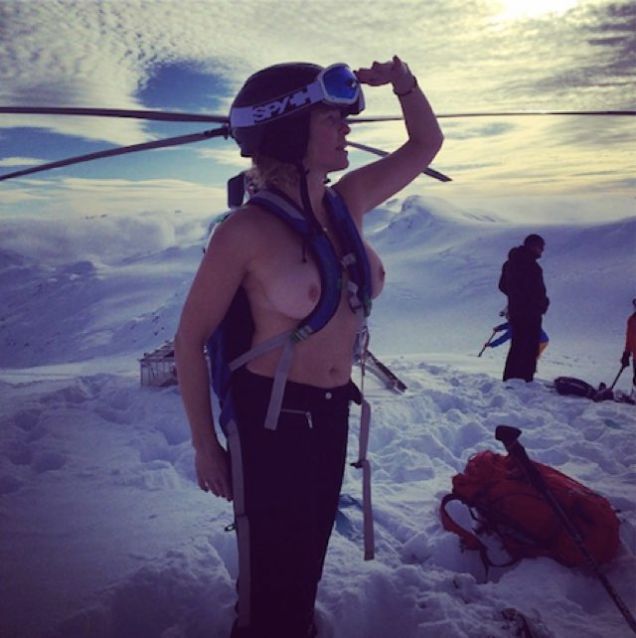 Welcome to Eonline.com Tetongravity.com, your breaking news source for all celebrity-related snowsports nudity. In our newest pageview cranker, passing comedian and headstrong thirty-something former girlfriend of 50 Cent–one Chelsea Handler–continued her celebrity salvo against Instagram's no-nudity policy by posting a picture of herself heliboarding topless on her Christmas vacation. To the delight of boys, men, and supporters everywhere, the photo of Chelsea's 34Cs was left up mercifully for one half hour before Instagram's social mores gestapo deleted it, although in the interest of social amplification, most all of them were also reposted on her Twitter account, which is beholden to no such standards.
Handler has long opposed what she considers Instagram's double standards for male vs. female toplessness on the photo-based social media platform, while the company has defended its right to set its own decency standards. For whatever it's worth, the snowsports community can at least respect that Handler appeared to have managed a run or two in the backcountry topless without catching a frontside edge and chest-planting into the snow.
Handler herself seems bent on completing the traditional TGR skier or snowboarder's bucket list, which in addition to heli skiing includes breaking yourself off and getting wasted in Aspen.
For actual core snowsports entertainment, please check out The Garrett Russell Experience: Episode II.
READ THE STORY
It was with great sadness on this day in 2014 that the world learned of the deaths of J.P. Auclair, Andreas Fransson, and Liz Daley, three individuals that all held different, but vital, places in the greater snow community. Mid-day yesterday, we began to hear news that J.P. and Andreas were in the Patagonian backcountry, toeing the Argentinean and Chilean borders, for their first film project together, which they were working on with the help of two Swedish partners, Bjarne Salen and Daniel
READ THE STORY
Check out the teaser for Cam Fitzpatrick and This is Us In's latest creation: It's a celebration of all things that make snowboarding in Jackson Hole what it is - the greatest thing maybe ever. In his words: "
READ THE STORY
Ingrid Backstrom is a name we've been hearing in freeskiing for a while now. But what about Brooklyn Bell? Vasu Sojitra? Emilié Zynobia? Better yet, what happens when all these athletes team up on a project together? A film highlighting and uplifting people of color, women, and adaptive skiers. Titled the film explores notion that the approach itself, whether it be to ski a line or to break down old barriers in the ski industry- isn't always the most glamorous part of a journey, but it's how