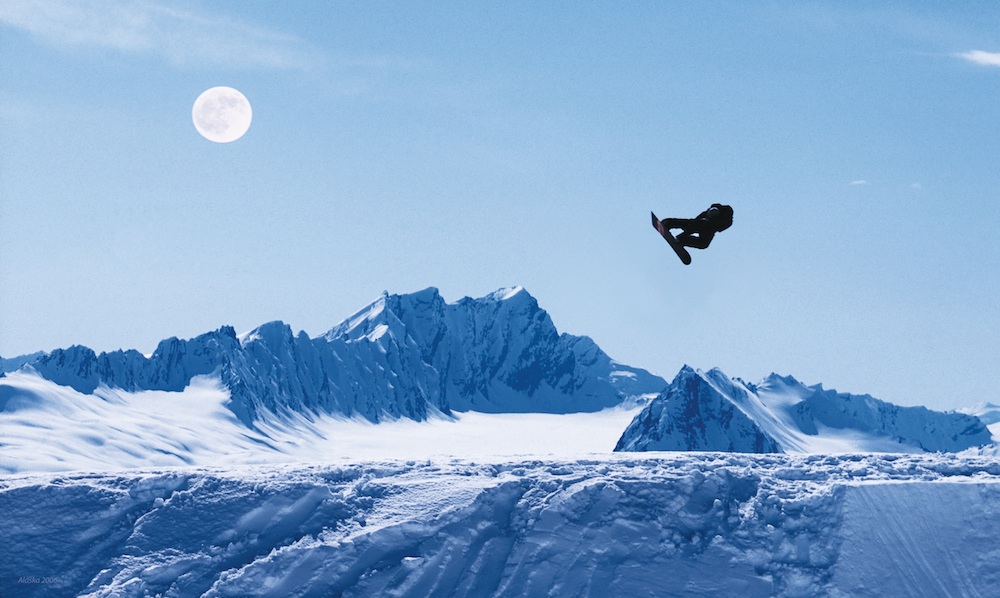 Basich self-portrait. Mike Basich photo.
Pro snowboarder and photographer Mike Basich just released a book, The Frozen Chase, which is the culmination of 15 years of self-portraits and snowboard photography. Basich's focus on self-portraits predates selfies, social media, and even digital photography. He started shooting his own snowboard selfies using a 35mm film camera and a tripod.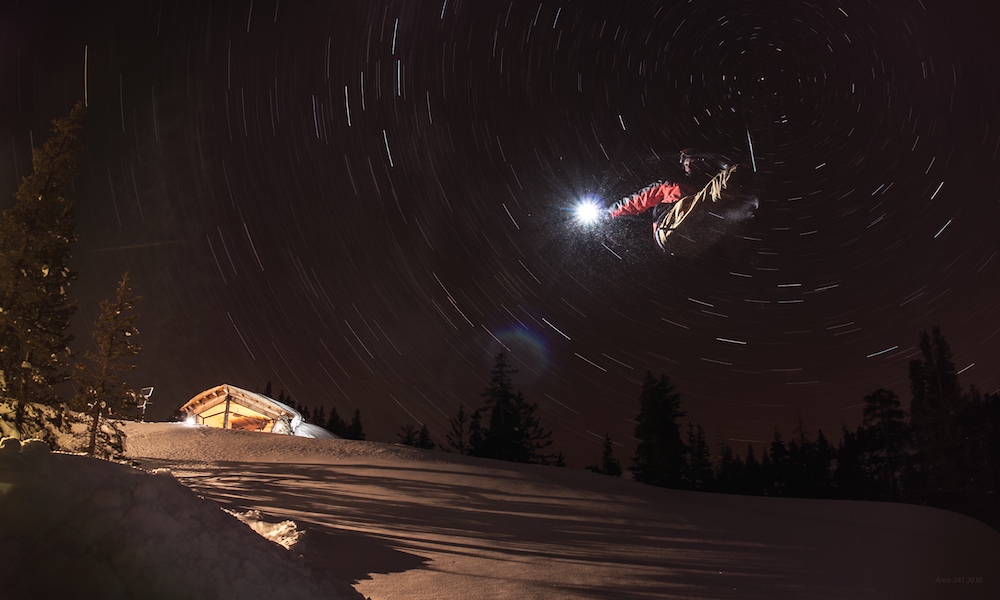 Basich at his cabin. Mike Basich photo.
"I started taking portraits for a few reasons," Basich explains. "I wanted my two imaginations to work together. I wanted to capture how I truly wanted to be shot, and to be the rider. I wanted to share what snowboarding was to me. It wasn't accepted as a cool or legit thing back then."
Basich's unique style of photography involves what he considers a combination of multi-tasking and pure action. The results are a mixture of point of view, including mid-air selfies, and tripod-enabled self portraits.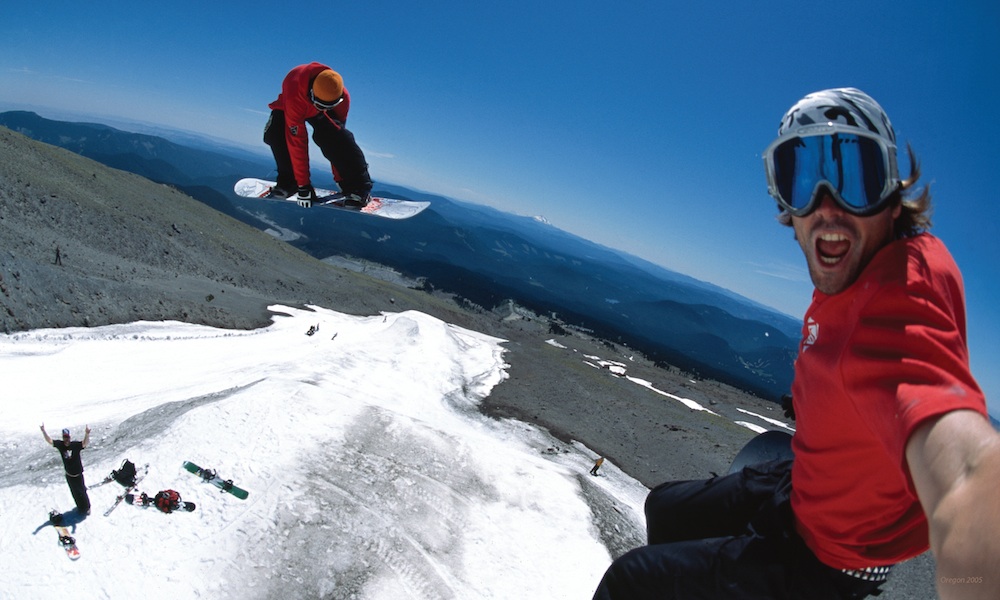 The original follow cam. Mike Basich photo.
"I like POV. There's a lot of room to work with it," Basich explains. "With this book process, I realized a lot of the stuff I shot with my tripod holds something else. It was more work. With a tripod and a 35mm, it was a huge adventure. I had to hike for the shot at least twice. Half the time you could run out of film, and not even know it. You could accidentally shoot up into the air. Then you would have to wait for the next storm.
POV is fun, and it holds something of its own, but it's pretty effortless compared to shooting with a heavy F-5 on the harness I built to wear on my chest."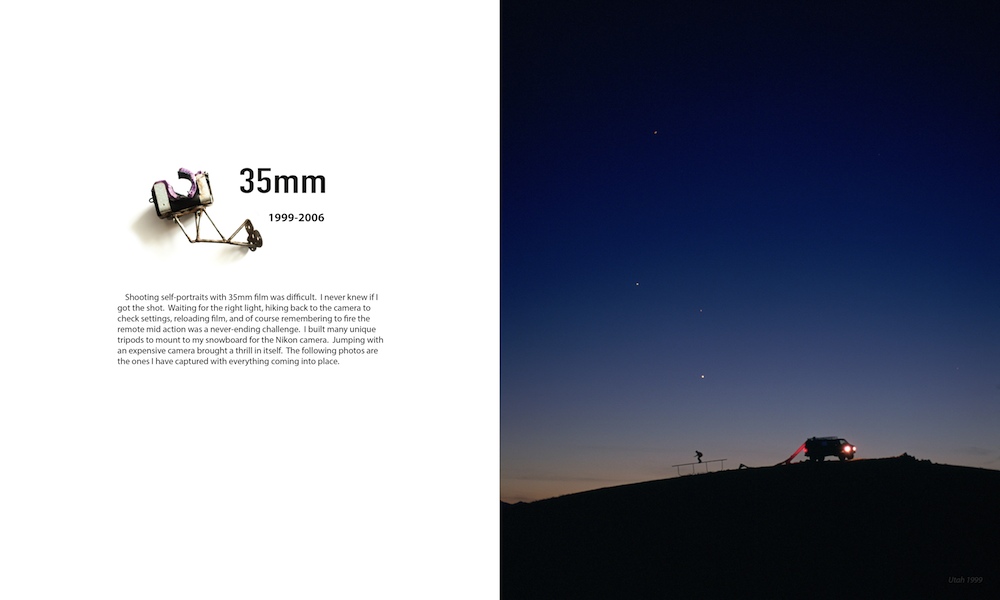 An excerpt from The Frozen Chase. Mike Basich photo.
Basich admits that part of why he started shooting was to see if he could eliminate coordinating travel with other photographers and riders. Setting his own schedule, moving out of his house, living out of his car, going on roadtrips, and not having to plan it with somebody else gave Basich a big outlet to start capturing more images.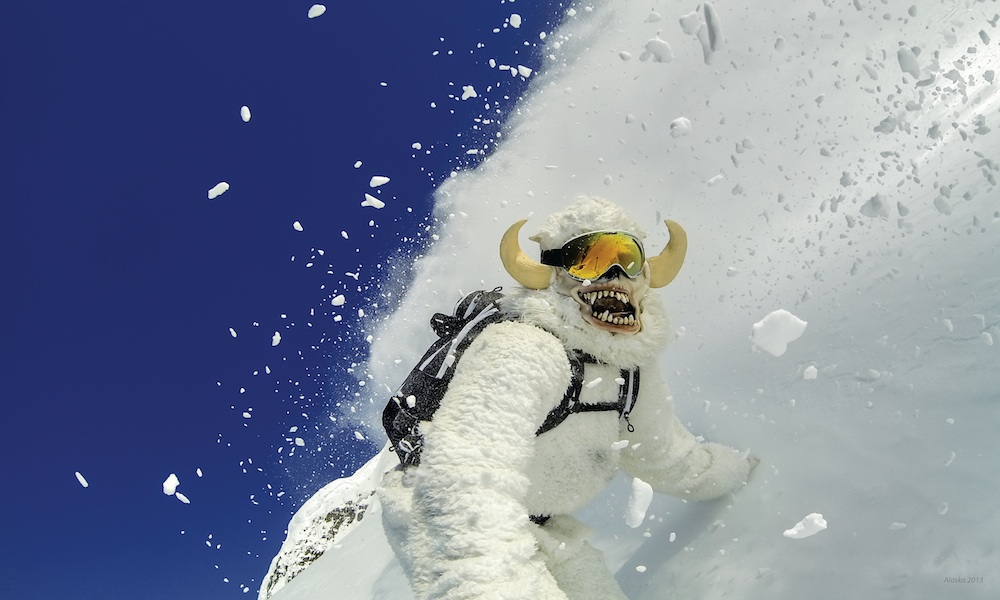 Sierra faceshot. Mike Basich photo.
As his career as a content creator gained momentum, he used it to leverage better sponsorship opportunities. Basich explains that marketing his two talents allowed him to quit competing, and to supply images of himself and other team riders to sponsors.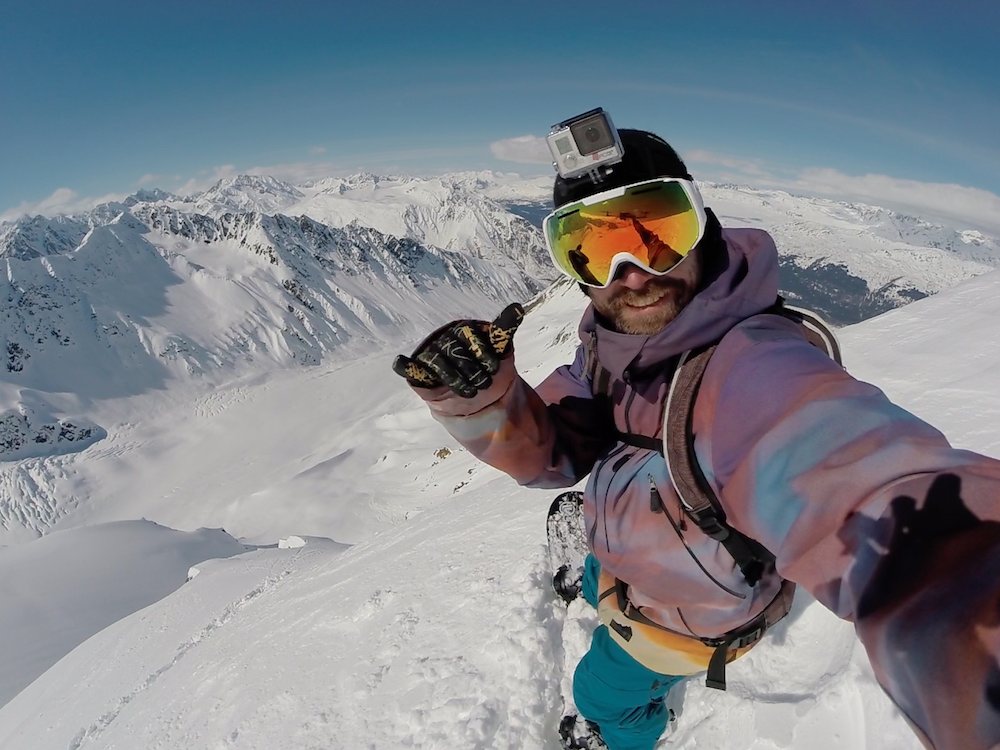 Selfie shot via drone in Alaska. Mike Basich photo.
"I shoot photos because I know what it's like to be an athlete," Basich says. "When I'm looking through a lens, I can understand what the athlete thinks."
"When you know what you're going to do in the air, you can fire and capture that peak moment. It's a beautiful moment in a self-portrait. I try to work with photographers that have a really strong level of snowboarding. People who don't snowboard capture something different–it feels disconnected."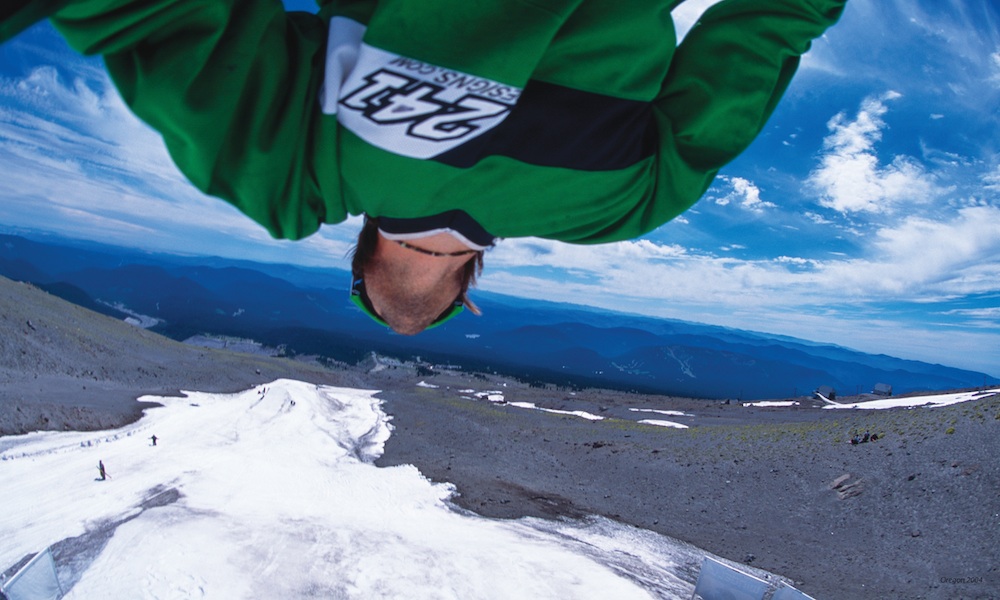 That peak moment, inverted. Mike Basich photo.
The California native pursues self-sufficiency in nearly every aspect of his life. He lives in a cabin he built in the Sierras with a chairlift he installed himself and his own snowcat. He runs his own clothing line and online retailer, Area-241. He says he built his home, which can only be accessed via snowmobile during the winter, because he wanted a space in the mountains where he could wait for storms instead of constantly chasing them around the world.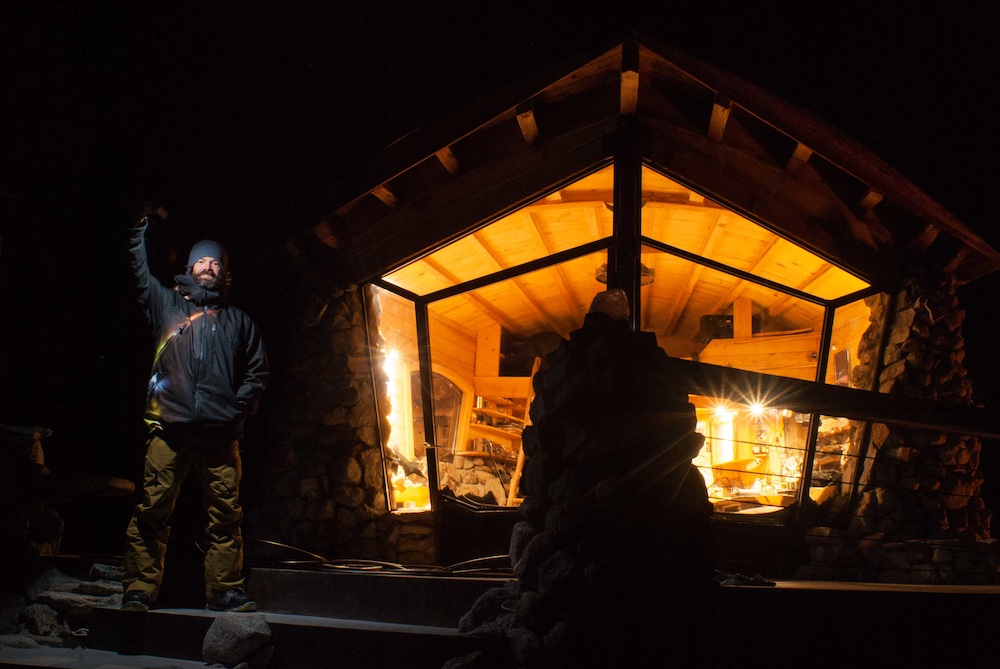 Basich in front of his Sierra cabin. Mike Basich photo.
Building the cabin, he adds, built up his appreciation and gratitude for simple elements. Now he can walk out his front door, whether it's at three in the morning or right after a storm, and shoot photos.
SEE ALSO: A full video tour of Mike Basich's handbuilt tiny home in the Sierras
Outside of hiking or using his snowcat to access terrain near his basecamp, Basich doesn't travel much other than an annual pilgrimage to Alaska. He says that due to its extreme terrain and elevation, Alaska is where he'd like to pursue future projects, an endeavor he calls "working with gravity."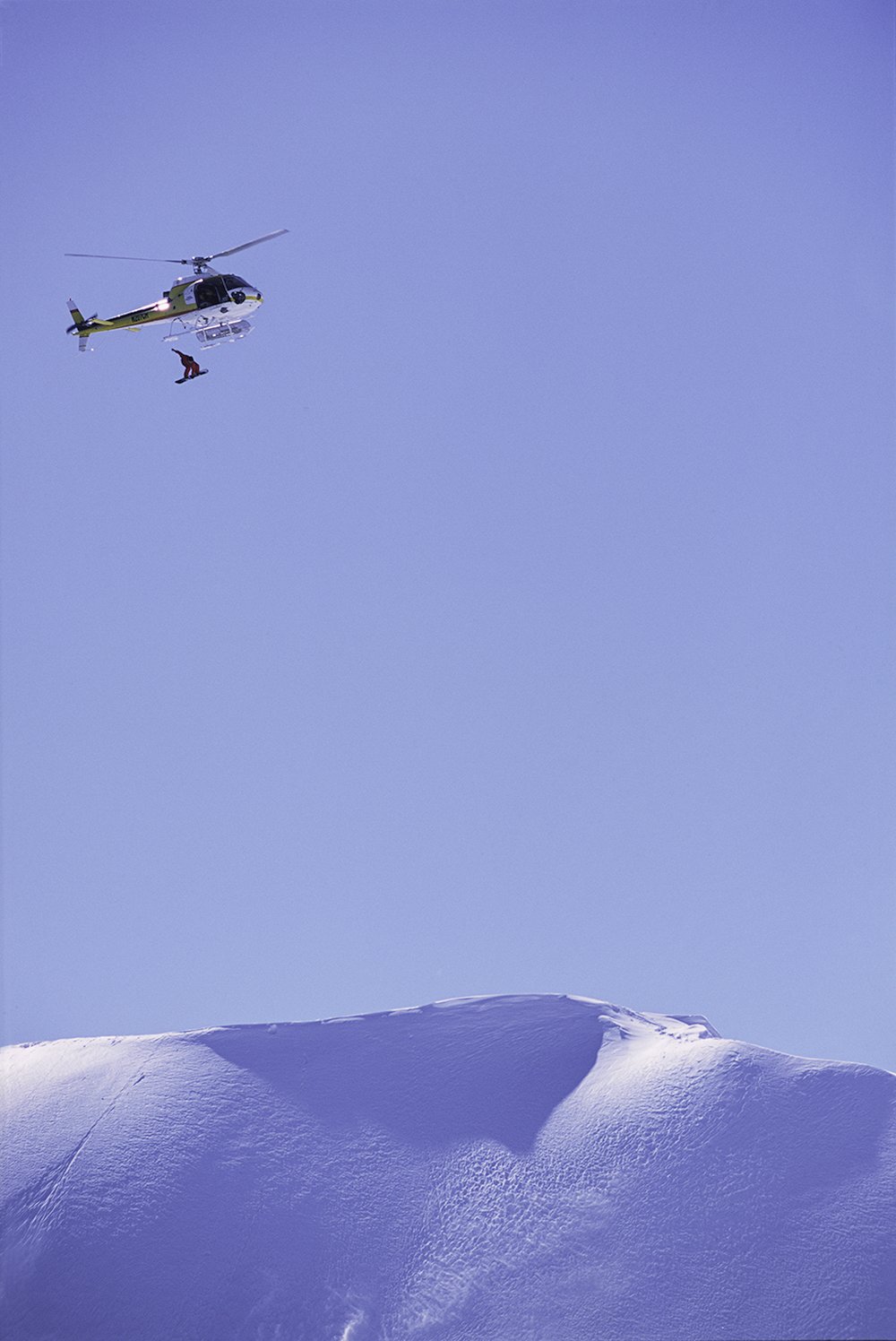 The cover shot for The Frozen Chase. Mike Basich photo.
The Frozen Chase, he says, is meant to share an era as point of view photography rapidly changes.
"One of the beautiful things that's been happening with POV technology for about five years now is that people are getting more creative with what happens in the image, instead of just firing away at the image," Basich explains. "There are smaller cameras now, with different exposures and lights. It's not just an automatic toy anymore. That's bringing something back to shooting self-portraits."
Mike Basich's The Frozen Chase is available for purchase on Amazon.com.