Danny Davis on his way to X Games gold in 2014. ESPN photo.
Tonight marks the first night of the annual Winter X Games; the biggest stage for winter action sports on television. The Mack Daddy of them all. The Superbowl of Snowsports, complete with Superbowl-esque commercial product placement, advertising, and viewership–totaling over 1 million people over the course of this coming weekend. If you're sponsoring pro skiers and snowboarders, there's no more valuable marketing opportunity than getting your logo featured on the Sportscenter highlight reel.
Or is there? When the X Games started in 1996, there was no other means of getting mass exposure for your brand if you were in action sports. There was no Instagram, no Facebook, and no YouTube–and definitely no viral videos. But, as Candide Thovex's epic video from last week showed us–garnering over 7 million views in barely a week–brands have far more diverse ways of reaching audiences in the 21st century. But do YouTube hits trump X Games Gold when it comes to a sponsor's bottom line?
The reality of brand reach for ski and snowboard brands, as well as for the general consumer brands that have latched onto the sports for exposure, is more complex than it used to be back in the 90s. While mass spectacles like the X Games might provide overwhelming numbers of eyeballs viewing logos, when it comes to actually selling ski and snowboard products, viral content–the kind that's inspirational, interactive, and more relatable to the experience of the average skiers or snowboarder–is what makes the difference to the bottom line.
FOR CHEETOS, X GAMES MATTERS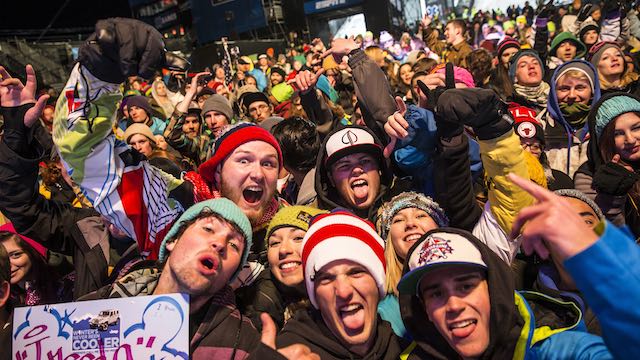 For general consumer brands, the broad viewership of the X Games is important if you're selling potato chips or energy drinks. ESPN photo.
For general consumer products like Monster, Cheetos, or Skype, who make products any viewer–skier, snowboarder, or total non-athlete–would buy, events like Winter X provide a huge number of pure impressions from the general public, and that matters. But for niche equipment manufacturers looking to sell more boots, boards, and skis, the X Games doesn't move the needle. "When the average skier sees an athlete win the X Games on a pair of high performance Atomic skis, we hope that bleeds down so that they will want Atomic next time they buy their own, lower performance skis," said Kathryn Smith, the American Marketing Manager of Salomon and Atomic. "But the average X Games viewer isn't paying attention to the skis–they're less engaged." And it's doubtful they even ski to begin with. "Plus," said Line Skis Global Brand Director Josh Malczyk, "How many real skiers or snowboarders will give up a weekend to watch a contest?"
The appeal of an athlete's social media presence, on the other hand, is becoming more obvious as it becomes a bigger and bigger part of how we consume media. For one thing, the impressions of their products seen through Instagram or YouTube is practically free advertising. But the most important part of the impressions is that these viral hits are more relatable to the average skier, snowboard, and/or normal human beings who love to ski and snowboard but may have no desire to compete. "The X Games is a mass spectacle; it's impressive as a sporting event just like a good football game is," Malczyk quipped. "I love watching football–I was almost crying over the Seahawks game this weekend–but that doesn't mean I'm going to go play it."
BUT MORE RELATABLE CONTENT SELLS GEAR
Viral content is also personal and interactive. Any Joe Shmoe can watch the X Games and see winning athletes standing on a podium, but there's no guarantee he will even notice the Atomics they were riding. On the other hand, any Jane Shmoe can be one of Tom Wallisch's 119,000 Instagram followers and will be reminded constantly that he rides Line skis, even if she's just fan-girling over his latest dog pic. Malczyk even puts it plainly that the reason Line undertook a veritable coup in the ski world to sign one of its biggest park athletes wasn't for Wallisch's potential contest success–he's won the X Games, Dew Tour, and FIS World Championships–but for his enormous social reach. "Even when we had Full Tilt boots on Sochi Olympic medalists, and on the cover of The New York Times, it wasn't that valuable," Malczyk reflected. "It just doesn't sell gear."
Even when we had Full Tilt boots on Sochi Olympic medalists, and on the cover of The New York Times, it wasn't that valuable. It just doesn't sell gear.
On the other hand, good ski and snowboard content developed outside the realm of competition reaches the average passionate skier and snowboarder more often, and relates more to their own experience. "Not every skier wants to compete," Smith reflected, "but every skier wants to ski." So for Smith, something like Cody Townsend's Line of the Year video, which blew up the internet this fall, matters more than an X Games gold. It's more relatable–it's skiing powder, free from any competition or structure–and it's reaching skiers who are actually engaged enough to be familiar with the brand, and even the model of skis Townsend was using. "Ultimately," said Malczyk, whose own team produces loads of content through outfits like The Traveling Circus and Nimbus Independent, "The content side is what's talking to the people that want to listen."
READ THE STORY
This quaint Montana town has the western charm of an outdoor playground but the amenities of a city. Grant Gunderson photo. Whitefish, Montana locals will proudly tell you that "Whitefish is not a ski town, it's a town of skiers." From a quick glance, that phrase feels a bit misleading. It appears that Whitefish has all the classic ingredients of a quintessential ski town. There's a ski resort eight miles from downtown, a world-class National Park in its backyard, and plenty of open space
READ THE STORY
Big waves are nothing new to surfers these days, but how about to skiers? California skier Chuck Patterson decided to combine two of his favorite things-- big wave surfing and skiing on some of Half Moon Bay's biggest swells. Using custom skis designed specifically for this feat, and taking inspiration from Patterson's late friend, Shane McConkey, they allow him to carve the waves as he would snow. Fitted with classic ski bindings, and worn with regular ski boots, the carnage if Patterson
READ THE STORY
Caite chilling on the patio for a little aprés at Jackson Hole. Nic Alegre photo. Caite Zeliff is blowing up! We're not just talking the bomb-holes at the bottom of a huge, double-stager cliff either. She is truly on her way to being one of the next superstars in skiing. The self-professed goofball has had a dream of becoming a pro skier for a long time but her journey has taken a few big setbacks. Her plan was to become a member of the US Ski Team. Ultimately, after many attempts and