It is rare that a story captures so much of your imagination and wonder. Something that is truly extraordinary; no hollywood script writers needed. Sometimes the truth is just more interesting. That was the case when I sat down with Far From Home director and producer Galen Knowles and Phil Hessler. Far From Home chronicles the story of Brolin Mawejje. Originally from Uganda, Mawejje is on an incredible journey to be the first African to snowboard in the Olympics while going to medical school. I talked to Knowles and Hessler about his journey.
How did you first meet Brolin?
Hessler: "I first met Brolin about ten years ago. He enrolled in my fifth grade class in Lincoln, Massachusetts, only two days after he emigrated from Uganda. It was the middle of January and he did not speak a word of English. He eventually joined an after school program that would take kids skiing and snowboarding. I was a big boarder and that is were we started to spend more time together, on the slopes of a little hill in Massachusetts.
Our friendship grew from there. At the time Brolin was having a really hard home life. His mom had left Uganda when he was two, and then brought him over to the states ten years later. So he was basically meeting her for the first time. He ended up getting kicked out of his house, which is explained in more detail in the film, and was couch surfing with local families."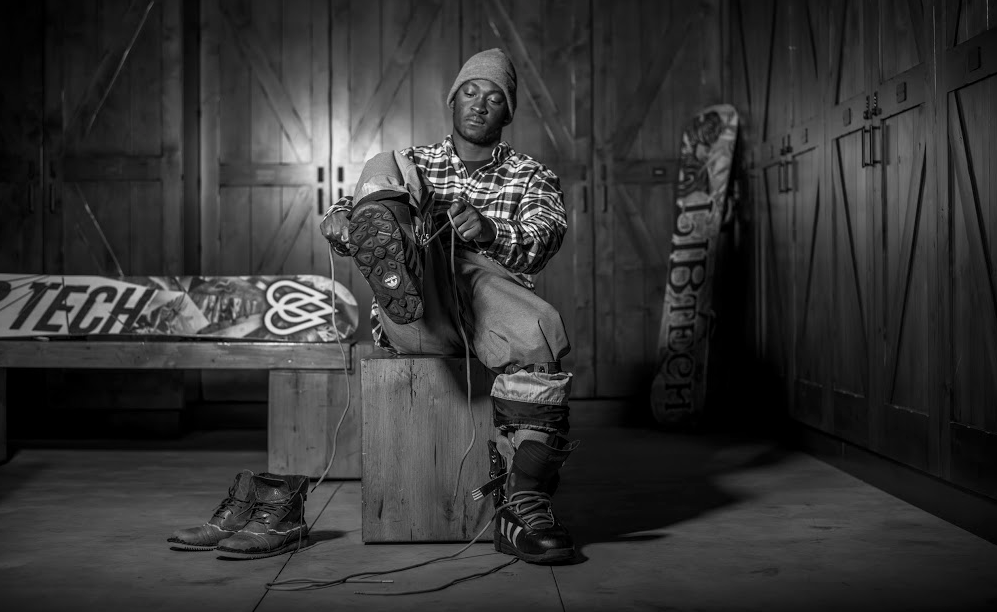 Mawejje laces his boots before going out to ride. Ben Giradi Photo
Hessler: "At the time, my family and I were moving to Jackson Hole. This was in 2009, so we were both sixteen, and he didn't have a place to stay. My family asked if he wanted to move with us. It kind of just snowballed from there. Once in Jackson, we had the opportunity to snowboard a lot more and to be part of the freeride team. We ended up going to school together at Westminster College in Salt Lake City.
Someone who was extremely important to Brolin's story is our friend James. He introduced Brolin to snowboarding and was his first friend in the States. They both moved to Lincoln at about the same time and were total outcasts. They connected and the three became best friends. James has a real tough story and came from a dysfunctional family in Boston. He ended up going down this track of serious drug addiction around the time we moved to Jackson Hole. James plays a really important role in the film."
What were those first days at the mountain like with Brolin?
Mawejje during the filming of Far From Home. Ben Giradi Photo
Hessler: "At first it was funny because Brolin absolutely hated the cold. He could only stay out two or three runs and would have to go back into the lodge to warm up. For the most part, however, he was just super happy and stoked to be out there. It was really the first time he had friends that didn't judge him. He could just be himself and not worry about home life or being bullied at school."
What was the move to Jackson Hole like?
Hessler: "In Massachusetts we went to school with a lot of African-Americans, but Brolin was always an outcast because he had a really thick accent. When he came to Jackson he was literally the only black kid in our school, but everyone loved him and wanted to be his friend."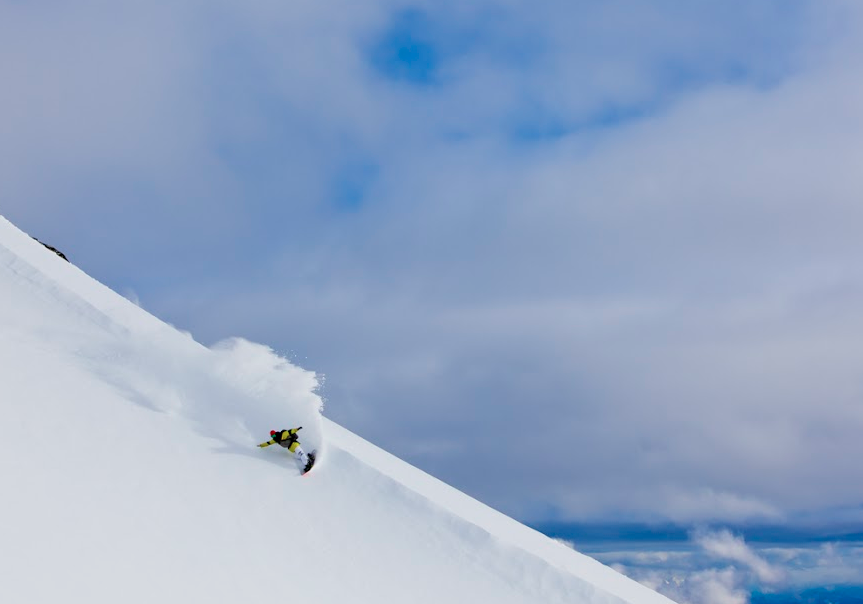 Cam FItzpatrick, one of Brolin's friends from Jackson Hole, shreds fresh powder. Ben Giradi Photo.
"In terms of snowboarding everyone was so accepting. We had this opportunity to grow up riding with kids like Blake Paul and Cam Fitzpatrick. Brolin just assimilated into that community, which really pushed his riding. It was a big learning curve snowboarding-wise coming to Jackson."
Knowles: "I think the terrain of Jackson Hole makes you take snowboarding a lot more seriously than back east."
Education for Brolin seems to take on a strong importance. Where did this come from?
Hessler: "Growing up in Uganda, Brolin's father really stressed the importance of education and sometimes literally beat it into him. When he got to the United States he always had that drive and motivation. Since day one of knowing him, he told me he was going to be a doctor. Now he is one of the youngest analysts at Massachusetts General State Hospital and about to finish a degree in pre-med."
Where did the idea for Far From Home originate?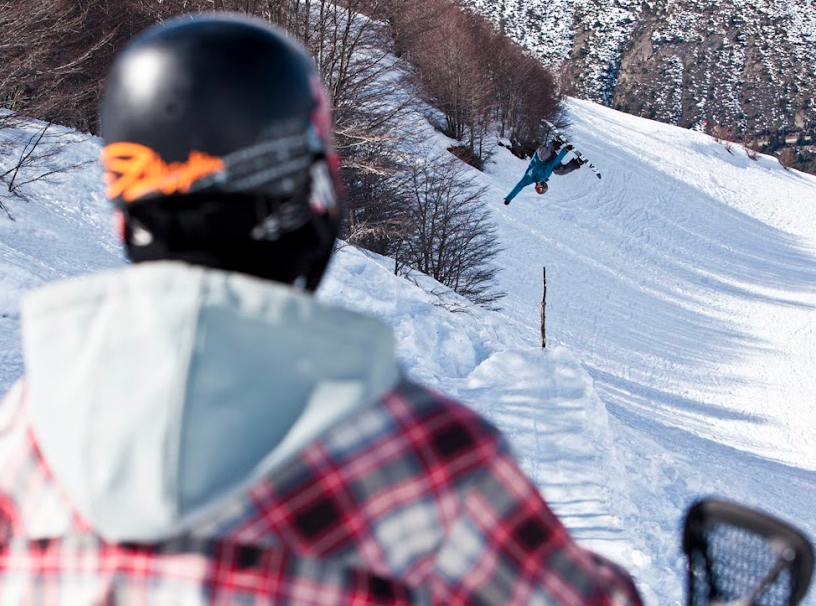 Brolin gets inverted during the filming of Far From Home. Ben Giradi Photo
Knowles: "I met Phil and Brolin the first day of my freshmen year at Westminster. We were living on the same floor. At the time I was making ski films and short edits out of my dorm room, so they knew I was into film. I still remember the moment when they came up to me and asked for help telling Brolin's story. We didn't really know anything beyond that, or what it would become, but from there the idea was planted.
I want people to take away what it's like to have the power of passion. You really don't know how far that passion can take you unless you go 100%.
Knowles: Over Christmas break we rented a bunch of camera equipment and filmed a teaser for Far From Home in Jackson Hole. We launched a Kickstarter campaign and raised $22,000 for our first production trip to Uganda. When we arrived in Uganda we were subjected to a whole new world, something beyond I had ever imagined. From there the support just continued to build. We made two trips to Uganda and filmed over 450 hours of documentary footage. We really just held a camera and followed Brolin around for a year."
Where did the idea to try and qualify for the Olympics come from?
This May, Brolin will begin another chapter towards the 2018 Olympics. Ben Giradi photo.
Knowles: "When Phil and Brolin first approached me they said the Olympics are something that is a possibility. Brolin realized from a mentor that it would be easier to affect change in Uganda as an Olympian. He truly loves snowboarding and has always been driven to be the best. This combined with the opportunity to help his country made the endeavor important to him. It is unparalleled opportunity for him to put medical reform in Uganda on the world stage."
Where does the Olympic bid stand?
Hessler: "Throughout the course of the film and going to Uganda we were able to meet with members of the Ugandan Olympic Committee. They really have no idea what snowboarding was, so Brolin had to explain the sport. Once they understood they got completely behind Brolin. Somehow we ended up doing a press conference for 50 media outlets in the country, which was broadcasted to 14 countries in Africa explaining his endeavor."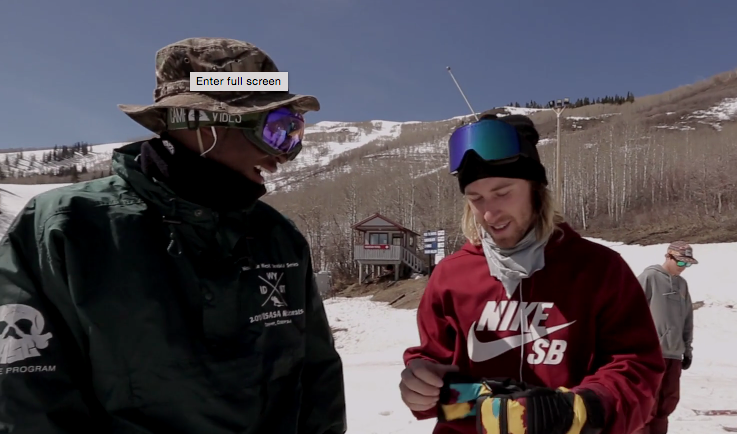 Brolin meets 2014 Olympic gold medalist, Sage Kotsenburg. Ben Giradi photo.
Hessler: "Now, Brolin is working with some great snowboard coaches. These are the same people who helped establish Olympic programs in New Zealand and Australia. They know everything about the FIS and IOC. This May Brolin will begin riding under the Ugandan Flag and will start in World Cup events next year. He has to get 50 FIS points before the Olympics."
What are you hoping to people take away from Far From Home?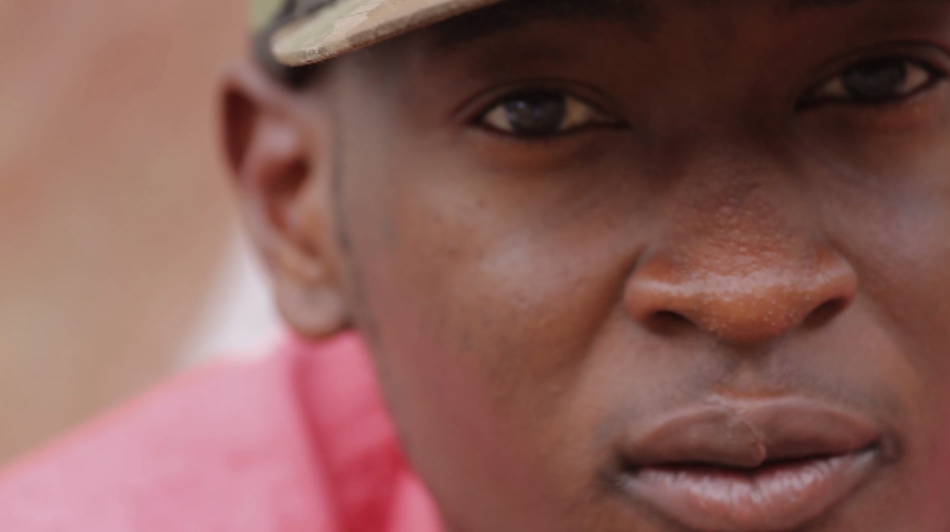 Brolin during the filming of Far From Home. Photo courtesy of Ben Giradi.
Hessler: "I want people to take away what it's like to have the power of passion. You really don't know how far that passion can take you unless you go 100%. As long as you have a vision, perseverance, and are determined to finish what you start, good things are inevitably going to come from it."
READ THE STORY
If you need the perfect thing to start your winter off right, look no further than the TGR Magic Hour tour! We're stopping all around North America and beyond this Fall to show our latest ski film, so we thought we'd make a little "Where to Go and What to Do" guide for you in our top 5 favorite spots we'll be showing Magic Hour! When? Saturday, September 17th, World Premiere Where? Jackson Hole, WY Where to find some ski + snowboard gear? If you're in town before the premiere at the
READ THE STORY
Some adventures are a long time coming. Big mountain riders Jeremy Jones and Griffin Post have been adventuring deep into the mountains of Alaska for most of their careers, but in recent years have turned to embracing a foot-powered approach to exploring these peaks. While it might be much easier to reach these legendary ski and snowboard objectives with a helicopter, both riders have learned to appreciate slowing down the process and doing it the hard way. A few years ago, after an
READ THE STORY
Is hardbooting a sign snowboarding is finally moving out of its mom's basement? With Phantom's newest Slipper HD boot system, it just might be. The number of snowboarders in the backcountry has been on the rise. Only seven years ago I remember frequently receiving remarks from other recreationalists like it was something novel: "oh a splitboarder." Even at busy trailheads like Colorado's Berthoud Pass, it was rare to see other human-powered snowboarders. In the last two or so years I'd be