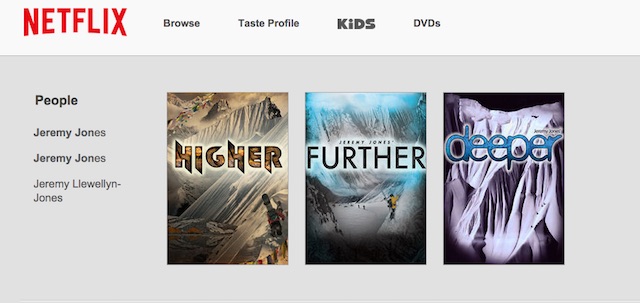 We're stoked to announce that the entire Jeremy Jones trilogy–Deeper, Futher, and Higher–is now available on Netflix in both the U.S. and the U.K. Listed in the Sports Documentaries section, the trilogy is now 100% available for viewing on Netflix domestically and in an increasing number of countries internationally.
Check it out at Netflix today and enjoy. And if you're not into streaming, buy the DVD package in the TGR store today.
READ THE STORY
Exactly when to get your little ones out on the slopes is a century-old debate. In reality, it varies from child to child. What isn't up for debate though is simply discouraging someone all together—especially when they're a kid. RELATED: Junior Freeride is Alive and Well — FJWC Kappl Results This grom was told in kindergarten that four-year-olds can't snowboard, and his Dad's response? A bonafide shredit of his son tearing it up on boxes and mini booters. Age is just a number folks. Be
READ THE STORY
2019 was a wild year in the adventure world, with everything from first descents and ascents of the planet's wildest peaks, to stories of incredible rescue missions in impossibly harsh environments. Each year, National Geographic selects of Adventurers of the Year, people who have accomplished things so out of the ordinary that they deserve higher recognition. Among those who have won this award in the past are Jeremy Jones, Alex Honnold, Kilian Jornet, and Hilaree Nelson, to name a few.
READ THE STORY
Big Bear Mountain Resort Morning Arrive at Los Angeles International Airport and head straight for San Bernardino National Forest, home of Big Bear Mountain Resort. Consisting of twin properties—Bear Mountain and Snow Summit—Big Bear is the place where Southern California goes to ski and ride. Head to the top of Bear Peak and start your day on Geronimo, the highest lift served run in Southern California at 8,805 feet. To really get your legs burning, test your skills at the canyons: