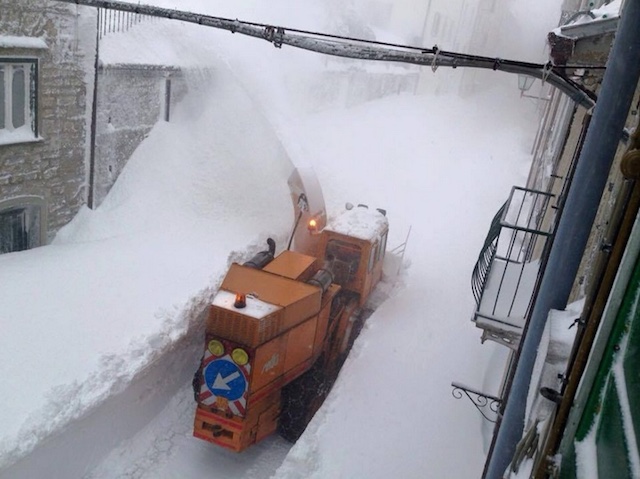 The town of Capracotta, Italy, last week following 101 inches of snow that fell in 18 hours. Meteoweb.eu photo.
According to Meteoweb.eu, on Thursday, March 5th, the town of Capracotta in the Italian province of Isernia broke the single-day snowfall record–tallying up an absurd 265 centimeters, or 8 feet, 4.8 inches–in a mere 18 hours. The town, which sits at right about 4,700 feet in central Italy's Apennine Mountains, is historically one of the snowiest areas in the world thanks to its proximity to moisture coming off of the Mediterranean, and broke the single-day snowfall record previously held by the town of Silver Lake, Colorado, which tallied up 6 feet, 4 inches during an April storm in 1921.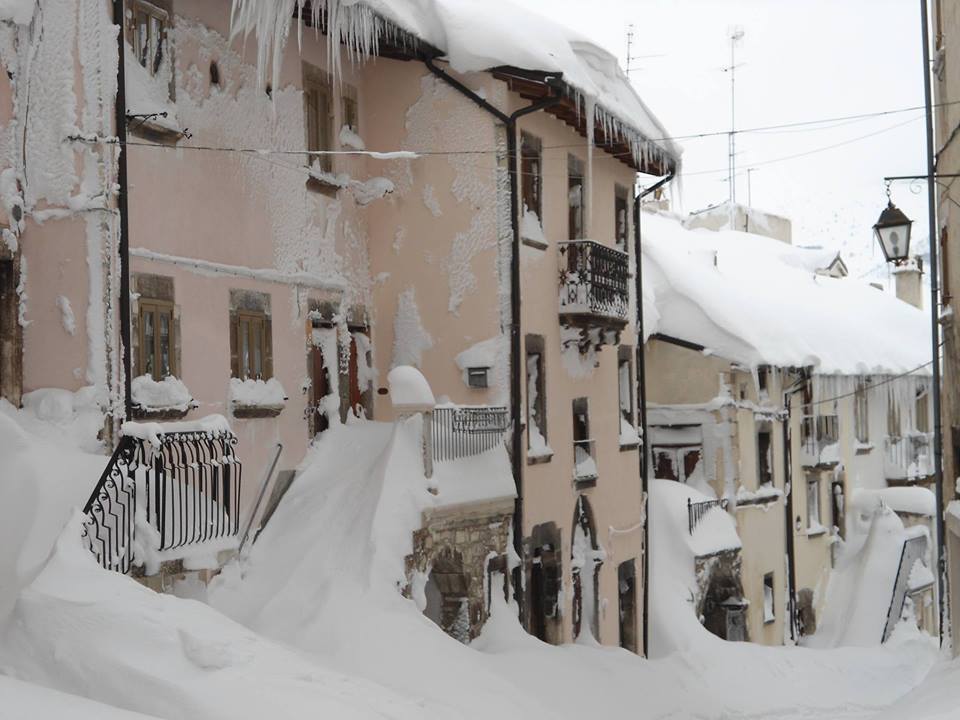 The streets of Capracotta post Guinness book-setting snowfall. Meteoweb.eu photo.
If you're looking to make up for the complete lack of pow days at your home mountain this winter, Capracotta is within quick striking distance of a flight to Rome or Naples, and the broader area hosts 16 ski areas and three national parks for ski touring. You can read a bit about the nearby Abruzzo region in a cool trip report from Powder's Erme Catino here.
Read also: The Winners and Losers of the 2015 Season
READ THE STORY
Caroline Gleich has been a fixture in the backcountry skiing and ski mountaineering world for the last five years (at least). She started out shooting epic powder shots with legendary photographers Lee Cohen and Jay Beyer at Alta and eventually found that she was interested in bigger mountains and bigger lines. Gleich is notoriously goal-oriented and she managed to show the outdoor community, through her actions alone, that a Utah pow skier could become an accomplished ski mountaineer. She
READ THE STORY
What happens when a guidebook gains such notoriety that it becomes a life's mission to complete every descent within its covers? Ski mountaineer Caroline Gleich recently checked off descent #90 of Andrew McLean's the Chuting Gallery, marking her completion of a list of some of the gnarliest skiing in North America. For most, a list of potential climbs or descents opens up a world of possibilities, giving much-needed beta on faraway, unfamiliar areas. For others, guidebooks represent
READ THE STORY
During Sego Ski Co.'s relatively short history, Ron Murray has become sort of a local legend. His 20-plus years of ski repair experience, combined with his time working in manufacturing and his wholesome philosophy on skiing (and snowboarding) has made Ron an integral part of the Sego team and brand. Ron is pretty much everything you look for in a ski tech. His gentle demeanor breathes wisdom and humility, and it shows in his craft. After all, aren't our skis just an extension of our feet?