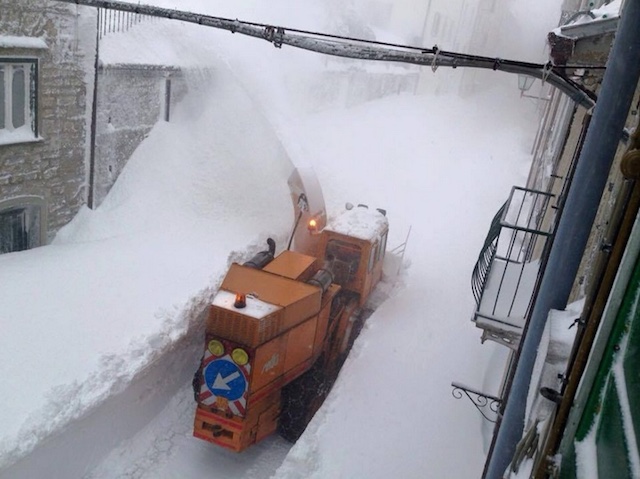 The town of Capracotta, Italy, last week following 101 inches of snow that fell in 18 hours. Meteoweb.eu photo.
According to Meteoweb.eu, on Thursday, March 5th, the town of Capracotta in the Italian province of Isernia broke the single-day snowfall record–tallying up an absurd 265 centimeters, or 8 feet, 4.8 inches–in a mere 18 hours. The town, which sits at right about 4,700 feet in central Italy's Apennine Mountains, is historically one of the snowiest areas in the world thanks to its proximity to moisture coming off of the Mediterranean, and broke the single-day snowfall record previously held by the town of Silver Lake, Colorado, which tallied up 6 feet, 4 inches during an April storm in 1921.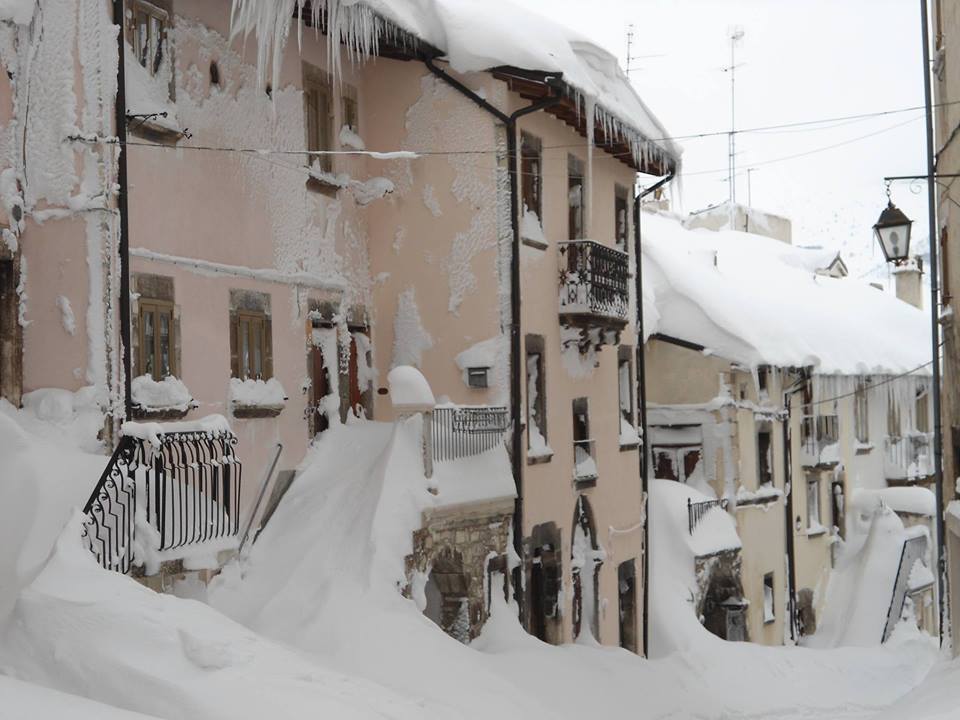 The streets of Capracotta post Guinness book-setting snowfall. Meteoweb.eu photo.
If you're looking to make up for the complete lack of pow days at your home mountain this winter, Capracotta is within quick striking distance of a flight to Rome or Naples, and the broader area hosts 16 ski areas and three national parks for ski touring. You can read a bit about the nearby Abruzzo region in a cool trip report from Powder's Erme Catino here.
Read also: The Winners and Losers of the 2015 Season
READ THE STORY
Flickr The Supreme Court of Canada ruled Thursday that building a year-round ski resort on lands considered sacred by the indigenous Ktunaxa Nation does not violate religious rights, per a report by the Canadian Broadcasting Corporation (CBC). In a unanimous ruling, nine Canadian Supreme Court justices denied a 2016 appeal filed by the Ktunaxa Nation to block the construction of the highly controversial Jumbo Glacier Resort in British Columbia on the grounds that it impinges upon the Ktunaxa
READ THE STORY
It's official, Burton just dropped Team USA's snowboarding uniforms and... well... they're something. The North Face took subtle inspiration from NASA for the freeskiers' uniforms in the lettering but it stopped there. Burton went full spacesuit, basically creating an exact replica of Neil Armstrong's duds. Burton hasn't been afraid to push the design envelope with its Team USA uniforms. The jean/plaid combo of 2010 is the stuff of outerwear legends and this is sure to join the pantheon of
READ THE STORY
Parker White is a force in skiing. His style was forged over many years and disciplines, from formative turns in Vermont's mountains to terrain park and urban destruction and the recent and seemingly endless powder quest. He jokes that he chose this path at age nine. He didn't know it at the time, but he truly did. Life ever since has been centered on skiing. He moved out west at the age of sixteen with the permission of two very supportive parents, who both have deep roots in the snow.