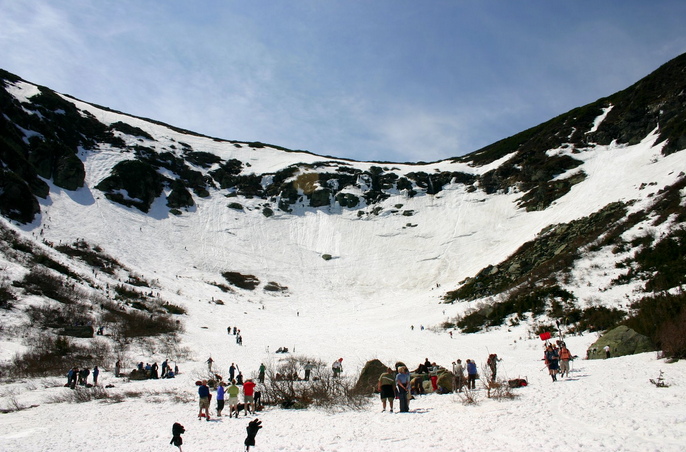 Tuckerman Ravine in late spring. Wikimedia Commons photo.
Tuckerman Ravine is a rite of passage for many East Coast skiers. The iconic cirque on Mt. Washington was one of the incubators of American skiing. In 1939, Toni Matt became the first person to straight-line the headwall, accidentally, at the infamous American Inferno, a 4.2 mile race from the summit to base. Toni completed the 4,000 vertical foot course in just 6 minutes 29.2 seconds, reaching a top speed of 85 mph–on wooden skis. You don't have repeat Toni Matt's feat in order to enjoy a spring weekend at Tucks, but can instead enjoy bootpacking up vertical chutes unlike any other available terrain on the East Coast, find yourself super gripped and with a puckered butthole above the Headwall–where all you can see is the bottom of the valley and the terrain just seems to waterfall into a vertical pitch below. Or, you can simply charge up in your Patriots jersey, a keg strapped to your back, and lap the lower bowl on a shitty sled and start the party on the Lunch Rocks.
What to Bring
For many, this will be your first big hike to go skiing or snowboarding. I would recommend bringing equipment that you feel comfortable using. This is the absolute worst day to test out a new pair of equipment (ask our Editorial Manager, Ryan Dunfee, who broke his ankle doing just this at Tuck's). For people who have a walk mode on their ski boots, you could hike in those, otherwise a sturdy pair of hiking boots will suffice, as the hike to the ranger station below Tuck's is better done in shoes than ski boots. If it's not mid-winter, it's debatable as to whether or not a touring setup is even worth it, as given the traffic on Tuckerman, almost the entire ascent is easier done as a bootpack.
A pack that has either the option for a diagonal or A-frame ski carry is essential, as you'll want both hands free to hold onto the steep walls of the Ravine as you hike.If you don't have a snow-specific pack most multi-day camping backs will work.
Be sure to pack a lot of water, a lunch, and bars. Even in the late spring, the weather on Mt. Washington can be notoriously fickle so bring extra warm and waterproof layers. The day before, I would set up your pack to make sure it is comfortable and you have enough room to store everything. The trailhead is the worst place to realize you don't have the right equipment, as any gear stores are at least thirty minutes away at this point.
Avalanche Conditions on Tuckerman Ravine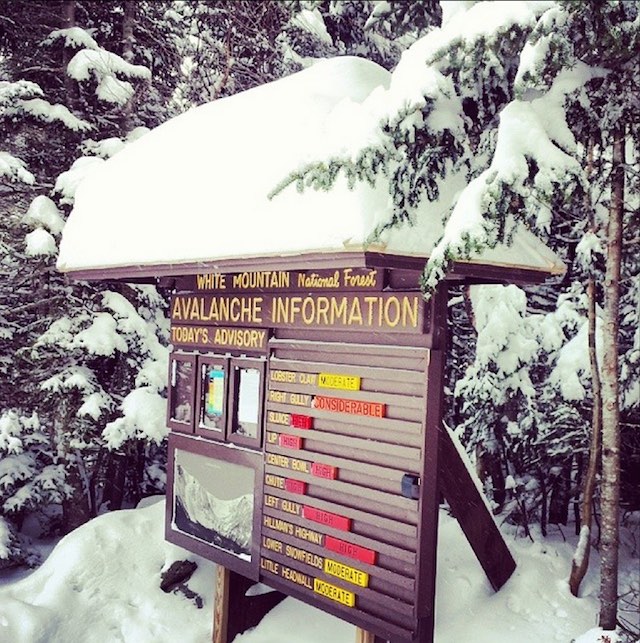 The Mt. Washington Avalanche Center posts a daily avalanche bulletin next to the Hojo's cabin you should absolutely check on the way up. MWAC photo.
If you show up to Tuckerman for the first time as an experienced backcountry skier or rider with avalanche training, be prepared to be horrified by the scene at hand. On busy spring weekends, up to 3,000 people will make their way to test their mettle on the slopes of the Ravine, but it's a safe bet to assume that the vast majority have only ever experienced lift-accessed riding, and that more than 90% of the people there have never had any avalanche education or are even aware that they are possible on the East Coast. Not to mention that an equal percentage have never spent an hour bootpacking up a 50-degree pitch, so whether it's an abundance of fear or a lack of fitness, you're bound to encounter folks who are out of their depths.
SEE ALSO: 6 Avalanche Strike Mt. Washington in One Day
It's a genuine miracle more people don't get hurt or slid on Tuckerman Ravine, although mid-winter conditions can last into April, requiring an entirely different skill set than when the spring slush season opens up. The Mt. Washington Avalanche Center tracks avalanche conditions daily throughout the winter and spring, and if you don't keep an eye on their website, they post a detailed bulletin next to the Hojo's cabin that includes predicted avalanche conditions for the major runs on Tuck's. Be mindful of them. The Forest Service typically has rangers in the bowl, along with a volunteer ski patrol, to get injured folks out.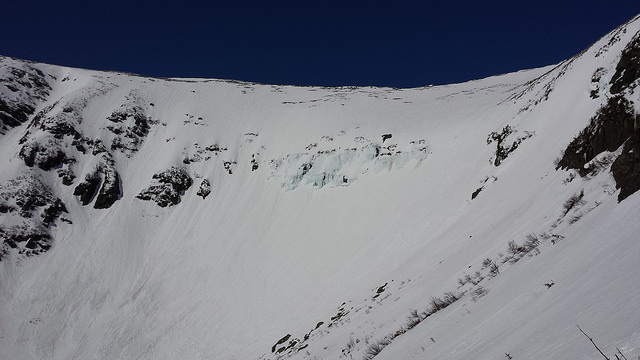 Tuckerman Ravine, seen here in mid-winter, is grade-A avalanche terrain you need to approach with caution. Mt. Washington Avalanche Center photo.
In short, if you have avalanche gear, absolutely bring it, but if you don't, you won't be alone. Be mindful of what and who is going on around you, don't ski on top of other people, and watch the slopes as the sun loosens the snow up more and more as the day goes on. If you see folks riding down and releasing a ton of snow on every turn, you probably don't want to ski that run anymore, especially taking into account the extra time it'll take to get to the top.
Getting There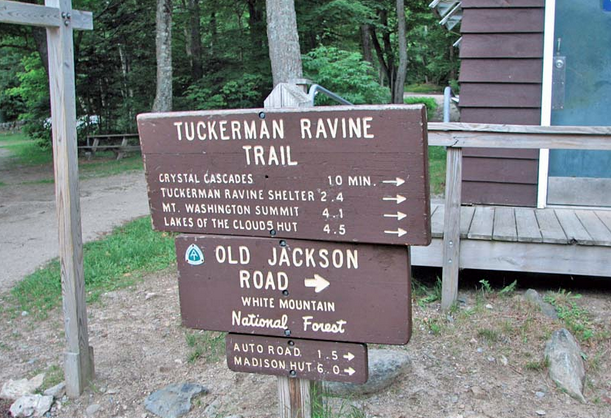 The Tuckerman Ravine Trailhead. Peakbagger photo.
The trailhead for the Tuckermans is located at the Pinkham Notch Visitors Center, which is only about three and a half hour drive from Boston. Directions can be found on their website. To get to the bowl, you will hike up the Tuckerman Ravine Trail.
Pinkham Notch Visitors Center to Hojo's on Tuckerman Ravine Trail: 2.4 Miles
It is approximately a two hour hike from the Tuckerman Ravine Trailhead to Hojo's, the caretaker cabin and outpost below Tuck's. The trail is extremely well-marked and travels past Crystal Cascade and then up a series of switchbacks before leveling out. You know you are close to Hojo's when you see your first views of Lions' Head and Tucks. Take a rest a the deck at Hojos and revel in the anticipation of an epic ski day. If it's the weekend, there will likely be hoards of others, many in hilarious Masshole-themed shirts, doing just the same.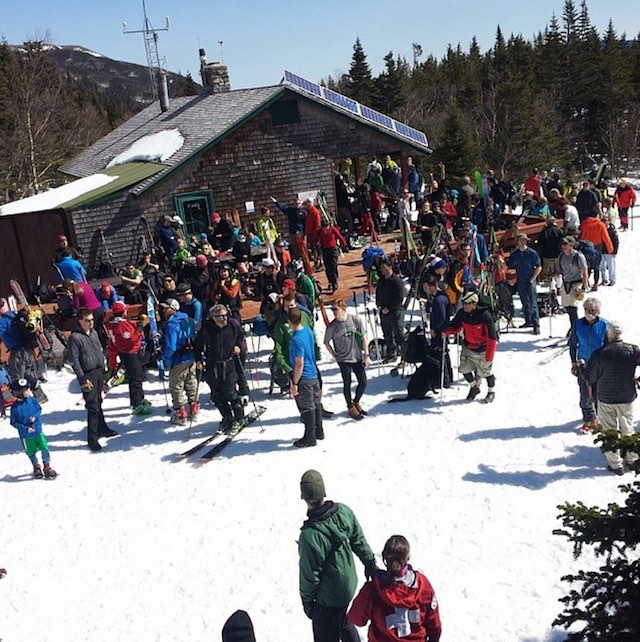 Hojo's, seen here in on a busy spring day, marks the entrance into the alpine of Mt. Washington. Mt. Washington Avalanche Center photo.
Hojo's to the Base of Tuckerman Ravine: 0.6 Miles
After Hojo's, the Tuckerman Ravine trail continues to the base of of the bowl, following the ridge above Cutler River. The trail is similar to a rock staircase, with views of Hillmans Highway to your left, as well as the Lower Snowfields. Lunch Rocks are up to your right when you reach the base. While classically understood as the best place to have lunch, drink beer, and watch the carnage, it's actually a horrible spot to hang out; many have been injured, and even a few have died, after getting hit by icefall as the spring sun heats up the ice-rimed cliffs above the rocks. As well, folks tumbling down Right Gully inevitably slide straight at the Lunch Rocks. Stay on the bottom of the bowl if you're hanging out.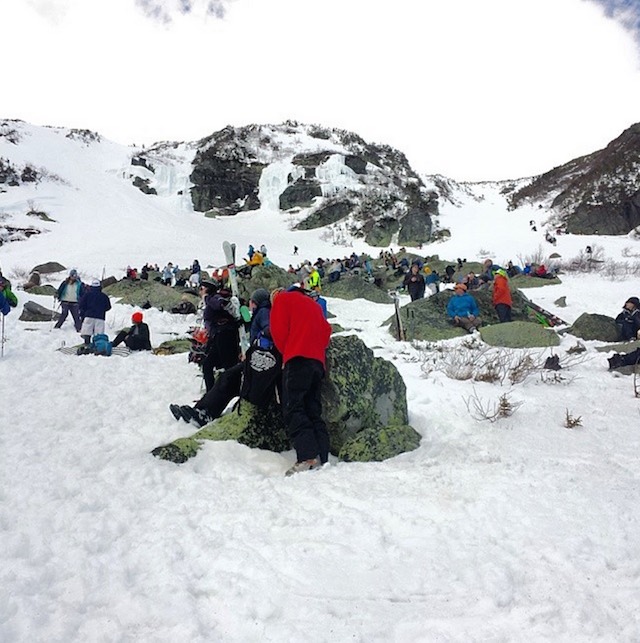 Lunch Rocks looks tempting, but it's pretty obvious how exposed it is to falling riders, wet slides, and icefall from above. Mt. Washington Avalanche Center photo.
From here, it is about an hour of steep, vertical bootpacking to the top of the bowl, depending on what terrain choice you make. There are a variety of ski options depending on your ability and comfort level. It should be noted that all skiing in the bowl is considered expert only and should be taken with extreme caution, as runs like Center Headwall have a sustained pitch of 60 degrees. For a list of all the pitches of runs on Tuck's, check out the Mt. Washington Avalanche Center website.
What Lines To Shred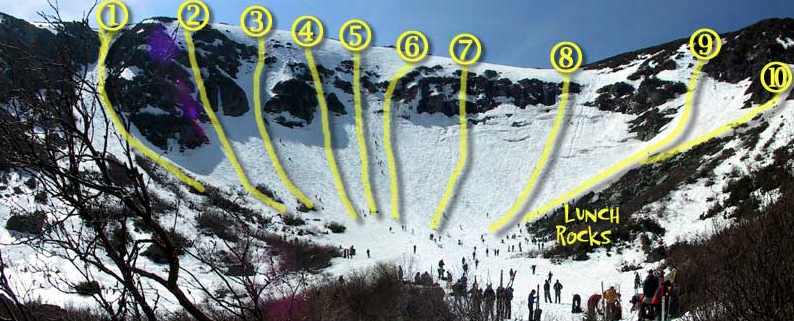 Time for Tuckerman photo.
Before choosing a line we recommend talking to a ranger about the hazards and potential routes you are planning to hike. If possible, hike up the line you want to ski so you have an idea of what it looks like and what potential risks might be present.
#1: Left Gully. This is considered one of the easier routes in the bowl. Once at the top you have a couple different options. You can transition below the headwall or hike the last bit to ski it. The headwall has been measured at 55 degrees, but Left Gully has a sustained pitch of 35 degrees, and a maximum pitch of 45 degrees.
#2: Chute Variation South. Variation from The Chute that is not skiable in late spring due to lack of coverage. Sustained pitch of 40 degrees, maximum of 50.
#3: The Chute. This can be a very intimidating route from the top during the spring because the melt creates "the chute", with rock walls on both sides. The choke at the bottom is also a prime place to get taken out as you're hiking up if someone starts tumbling above you. Keep your head up... Sustained pitch of 40 degrees, maximum of 50.
#4: Chute Variation North. A variation of the chute that should be attempted earlier in the spring when coverage is better. Sustained pitch of 40 degrees, maximum of 50.
#5/6: Center Gully. The routes are 40-50+ degrees at their steepest points. Usually get steeper as you climb with the crux coming just below the headwall.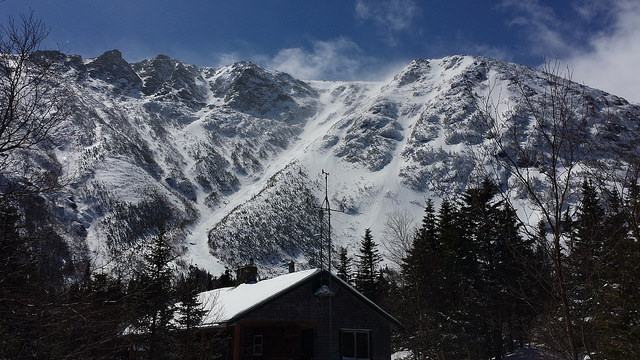 Hillman's Highway, with a sustained pitch of 30 degrees and a much longer vertical drop than most runs off Tuck's, is accessed right from Hojo's and typically sees smaller crowds since it's apart from the Ravine proper. Mt. Washington Avalanche Center photo.
#7: The Icefall. Arguably the hardest section of Tuckerman's, especially in the spring. You'll be skiing over the Headwall, blind, into up to 100 feet of exposure above huge icy cliffs, and if you're really good, can feather your way into some mandatory airs that demand superhero quads to stomp on the slush below. Sustained 60 degree pitch.
#8: The Lip. Steep up at the top of the run. Average grade is 40-45 degrees.
#9: The Sluice. Similar to The Lip, with an average pitch of 45 degrees and a maximum pitch of 50 degrees.
#10: Right Gully. One of the easier routes at Tuckerman's. If you are unsure about skiing something steeper this is a good first run, with a sustained pitch of 35 degrees and a maximum pitch of 45 degrees.
Getting Out
You can ski out the Sherburne Ski Trail if snow conditions allow. It usually melts out in mid-April, requiring a mix of skiing and downclimbing the trail, which would be a blue square at most ski areas. If it is not open then you will hike back down the Tuckerman Ravine Trail. Either way, have cold beer and shorts waiting, and reward yourself with a huge dinner in North Conway on the way out of town.
From The Column: The Bucket List