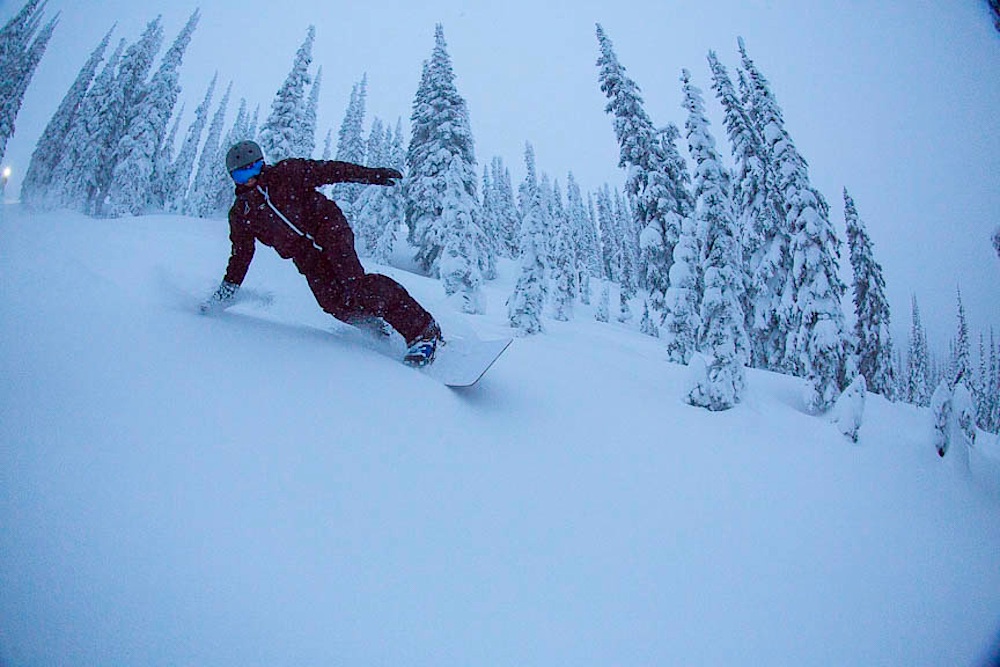 Yes. Snowboards Brand Director Alex Warburton turns a Yes. Clark custom shspe. Yes. photo.
Stock products are what they are. When you order a Burton Custom X, you know what you're getting. You don't have options to change up the graphics, the shape, the camber profile, or the sidecut. For many years, the only way to get a board with the specs and graphics you wanted was to order a custom board from a smaller, freeride-focused brand.
Most competitive and professional snowboarders get custom boards because when they want to perform a high-level, challenging move at speed in high-consequence terrain, they need a board that matches their body's morphology and transmits force in a very precise way. Now that the average riding level, and disposable income attached to that rider, has increased, a couple of mainstream manufacturers are offering some new and unusual customizable options.
Mervin Manufacturing
Lib Tech launched a DIY Board Builder program this November, marketing manager Jami Davis says ads only a hundred bucks to the total cost of a board compared to a stock option.
"You can build a board all the way through, and the website gives you a price that you can email to yourself," she says. "The price depends on the model and which materials are going into it. It is, on average, about $100 more than the buying the model without custom options would cost."
Lib Tech's custom program has had a huge, positive response from its customers, so much so that Davis says the Washington company will soon launch new graphics, including some of Jamie Lynn's 20-year anniversary graphics. Mervin will also transition the custom graphics program to their skis, most likely next fall, and allow snowboarders to cut and shape their own powder board shapes.
Read Also: The 5 Funkiest Snowboard Shapes I Rode This Winter
"Our boards are made in the US, so we can pull it off," Davis adds. "We have the flexibility that other manufacturers don't. We could mix in older graphics, and new colors. People are excited to make the boards theirs. We're seeing shops putting their names on the base; snowboard patrollers putting their patrol name on the base."
Down the road, Lib Tech will offer customers a dream trip to the Mervin Factory where they can see their boards built from raw material in person. "You'll feel like you're in the Willy Wonka factory," Davis explains.
Yes. Snowboards' S.I.Y. Program
Yes. Snowboards' customization options are also taking on a do-it-yourself mode that hands the actual customization process over to the customer. Inspired by the long-established trend of garage surfboard shaping by passionate amateurs, the company sells a blank, uncut powder board called The Clark (after the Clark surfboard foam company) as part of their S.I.Y. (Shape It Yourself) program.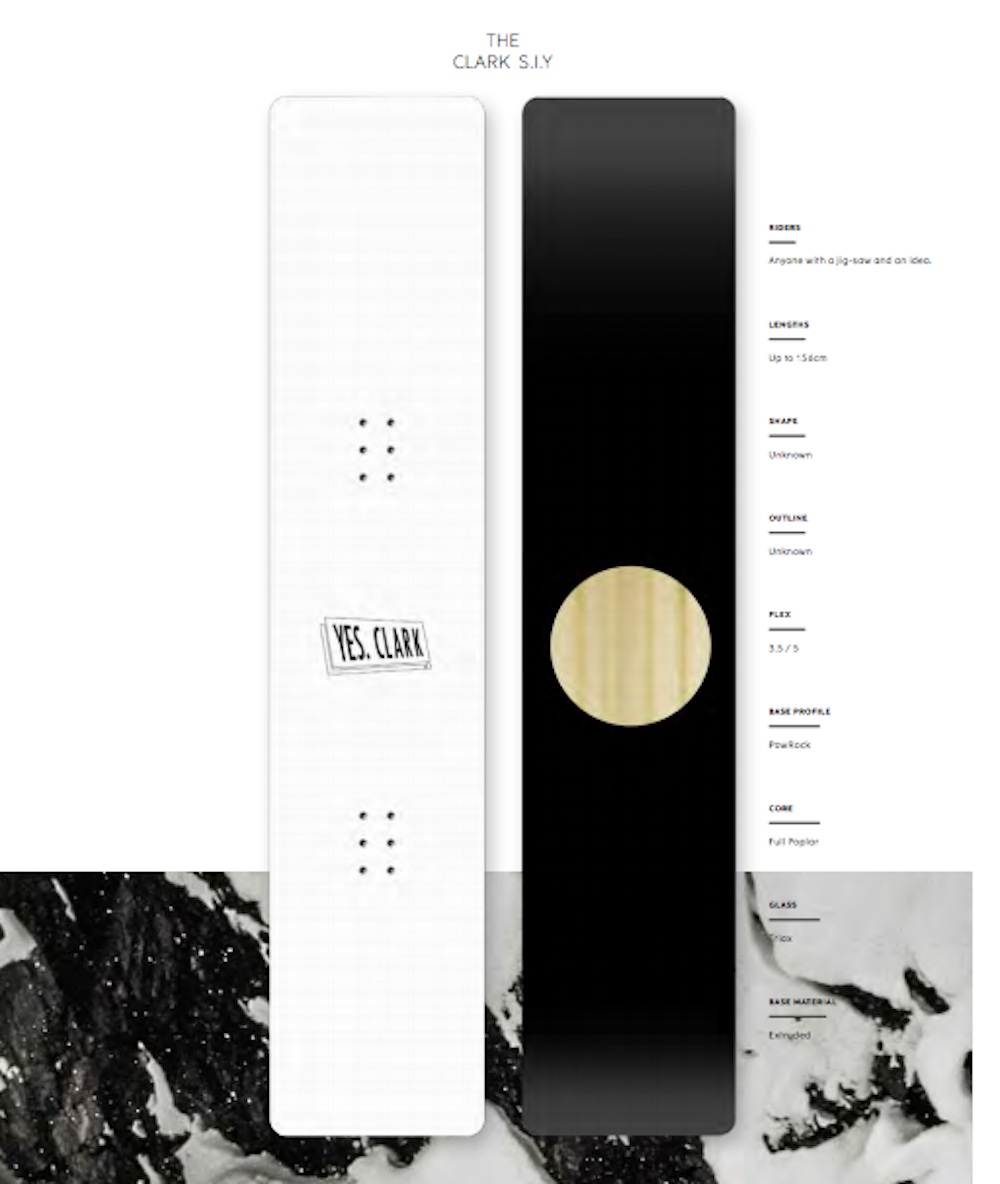 The Yes. Clark, pre-shaped. Yes. photo.
Brand Director Alex Warburton explains that the board is called the Yes. Clark, a nod to Clark Foam, which sold blank surfboards to shapers until it went out of business in 2005.
"It's like buying a piece of lumber," Warburton says.
The Yes. Clark comes with no warranty and, arguably, the most honest and funniest warning label in snowboarding:
Safety:
Don't come back and try to sue us because you're an idiot. We made this product for people who can think for themselves and be responsible for themselves.
Snowboards are made from wood, fiberglass, resin and plastics. Cutting these materials causes dust that you can choke on and itches your skin.
Cutting this product also may create sharp bits that can cut you.
The tools themselves can be sharp and unfriendly to dummies that aren't careful.
So be careful, pay attention to what you're doing and wear appropriate safety gear.
Warburton says that Yes. Clark's S.I.Y. is a way to democratize the board shaping process. After customers shape their Clarks, they send their boards into the Yes. factory to get pressed, and are returned with a ready to go, fully customized pow board.
Of course, building a custom snowboard is a tad more complicated (or maybe not?) than designing your own surfboard; after all, you're working with a host of different materials instead of just foam and resin, and having to slap edges on a finished shape to ride anything but pure pow somewhat limits the accessibility of broad customization for your average amateur snowboarder. But it's an interesting trend, and as the room for niche shapes grows, so follows the space for full customization. The question is: will you build one?
From The Column: The Goods