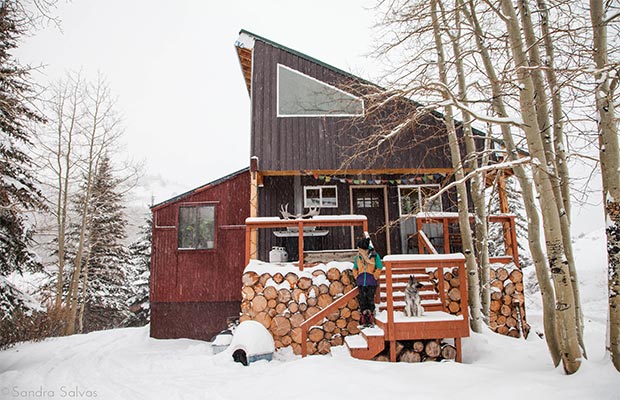 Snowboarder's paradise. Sandra Salvas Photo
Ride in, ride out. For many of us the most important feature of any dream house. For Cindi Lou Grant and her husband Zach, this dream is a reality. Together with a band of family and friends, they converted a run down A-frame into the ultimate skin-in, skin-out cabin in the Utah backcountry. I recently was able to talk to Cindi about her dream cabin.
What inspired you and your husband to undertake this project?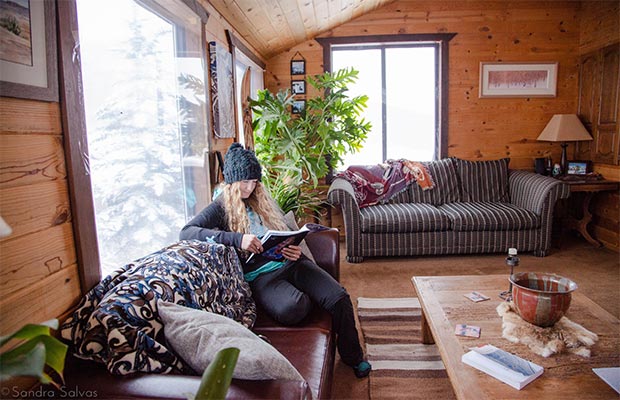 Nothing like a little reading after a long day of riding. Sandra Salvas Photo
Finding the cabin took about 3 years of homework and as with most big life events, a series of things fell into place to make it happen. Zach and I where born and raised at the mouth of Little Cottonwood Canyon, and spent everyday we should have been in high school snowboarding at Brighton together. We started to notice that we only drove out of the mountains to sleep in the smog of the city, and we would drive past all these sweet little cabins in Big Cottonwood Canyon.
After we graduated high school, a 700 square foot cabin on the mountain went up for rent by photographer and heli guide Kelly Gray as he pursued his Alaskan lifestyle. For the next five sweet years, our love for adventure blossomed into a life of adventure as we grew in skill, experience, and even marriage in the tiny Silverfork cabin. We knew we wanted to stop putting our money into rent and start investing our hard earned dollars in our own place, but we didn't know how deep we were about to take that dream.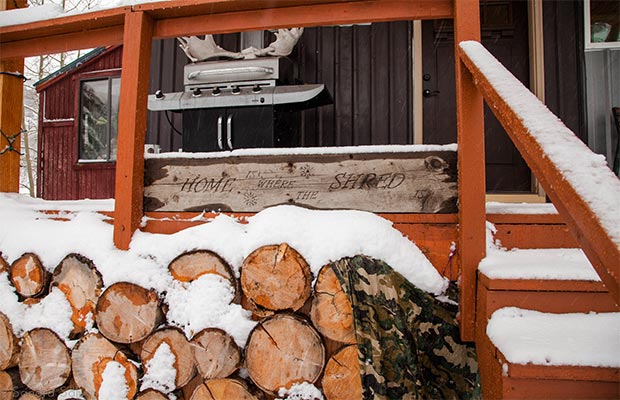 Home is where the shred is. Sandra Salvas Photo
Our home base moved deeper into the wilderness when we found an A-frame that was badly neglected but in a prime location for both split-boarding and easy on our wallets. After much barter with the owner (an ex ski patrol turned mountaineering guide), we finally settled on a fair price. There was no water, the apex of the A-frame had such a large gap that we could see day light come through the roof, and the cabin was left ransacked by the twisted realtor. But it was in a beautiful location and had a solid foundation, which for us was a great start! We went straight to work drilling a well. Water availability was a huge roll of the dice,, and when we hit water Zach and I started happy dancing in the front yard.
What was the process of rebuilding the chalet?
We built our dream chalet by hand but it never would have happened without the help of awesome friends and family. People were so excited for us to pursue our dream that they came up to see it, and ended up getting put to work. I think our friends and family were intrigued by our dream, hyped on doing "man shit," and they must love us, because they kept coming back to help.
A view from the loft. Sandra Salvas Photo
Over the span of three months, we tore it apart, salvaged what we could, and put it back together again. We built a makeshift crane out of lumber, pulleys, and rope to lift all forty 2x16 beams up two stories. The cabin's design was simple and seriously overbuilt to take more than record snow loads. We put the main entrance on the second floor, opposite the roof shed, in order to minimize shoveling snow. We made the roof south facing with a nice pitch for shedding snow off and allowing for future solar power. We also put in a couple huge 8x4' windows on the south side that bring in a lot of passive solar heat. The location allows us to receive sunlight all day long, even in December, and all the windows make it so that we never have to use lights during the day.
You used as much as repurposed and natural materials as possible. Could you describe some of what you reused?
When Zach and I moved in, all the heat-saving insulation we sprayed was still exposed, we only recently covered the therma-shield OSB in house wrap, and we had just reconnected the wood-burning stove pipe to the chimney the day before. We proceeded to work on the place with materials we already had. The old metal roof was cut up to use as siding. We used recycled beetle-killed knotty pine to cover the walls and ceiling–pulling out each nail, cutting to size and nailing them back up. We proceeded to use my mom's construction ladder to get to bed at night while we felled lodgepole pine trees, cut them in half, sanded them flat, lacquered them, and built a staircase.
Looking back at this project what has stuck out in your memory?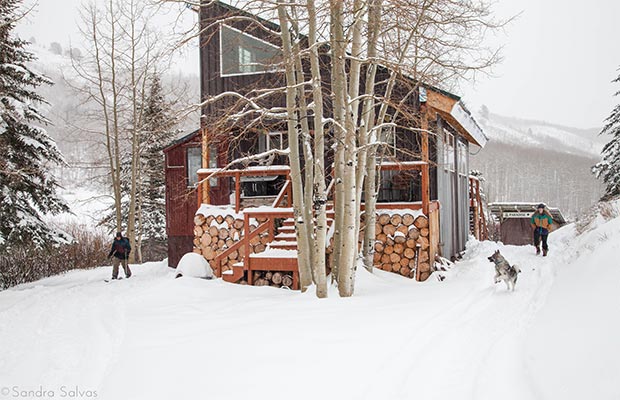 The perfect cabin for a base for backcountry adventures. Sandra Salvas Photo
All these projects–framing, roofing, siding, windows, tongue and groove, sheet rock, paint, stairs, masonry, chimney, plumbing, electrical–happened because we worked our asses off for two years. We sacrificed so many days of mountain biking, fishing, and climbing to make it happen. Looking back now, we are so fortunate to have connections to every skillset we needed to help us manifest our lofty dreams, and I am so grateful for everyone's desire to help with our success. We have both learned more about construction then we ever intended to when we bought a "fixer upper" that turned into a full blown "do over." But when the snow rolls in and its time to hang up the tool belts and get back on our splitboards, it makes winter that much more special.
How has the cabin impacted your snowboarding?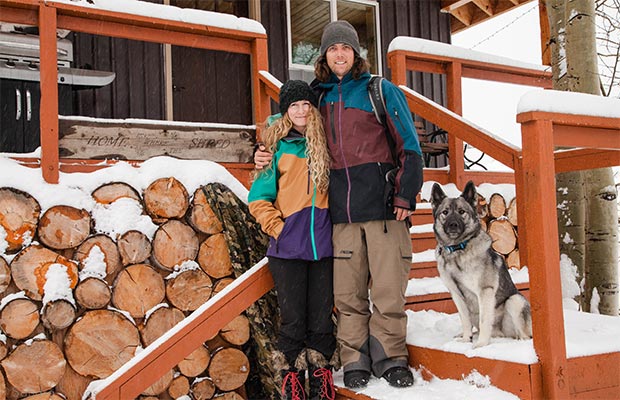 Family photo with Cindi, Zach, and Yoda Bear. Sandra Salvas Photo
Only boards or snow machines can access our cabin in the winter months, making everyday an adventure. Living in the snowpack makes us more connected to how storms stack up. Manifesting our dream makes future dreams seem that much more attainable. We are just a couple of regular people with an passion for mountains, and we want people to know that if you want it, you can get out there and get it.
From The Column: Base Camp
READ THE STORY
In 2012 it was hard to think of a more influential female snowboarder than Jess Kimura. At that point in her career, her list of accomplishments felt endless: She made ESPN's Top 50 Most Influential People in Action Sports and 50 Most Influential Women in Action Sports lists, had a pro model board with Capita, and collected 10 different awards from TransWorld SNOWboarding—which was the most for any female athlete. Plus, she became known for putting out one jaw-dropping edit after another. But
READ THE STORY
The Brett Tippie Podcast If you're a mountian biker, you probably already know who Brett Tippie is. The boisterous, fun loving, "Director of Goodtimes", is a member of the MTB Hall of Fame who kicked off his career pioneering freeride mountain biking in the mid '90s. Appearing in ground shattering films like, "Kranked", and traveling the globe with the worlds first freeride team, "The Froriders", Brett established himself as one of the biggest stars in the sport. Over the last 25 years
READ THE STORY
Check out the teaser for Cam Fitzpatrick and This is Us In's latest creation: It's a celebration of all things that make snowboarding in Jackson Hole what it is - the greatest thing maybe ever. In his words: "