"At the peak of a tremendous and victorious effort, while the blood is pounding in your head, all suddenly becomes quiet with in you. Everything seems clearer and whiter then ever before, as if great spotlights had been turned on. At that moment you have the conviction that you contain all the power in the world, that you are capable of everything, that you have wings. There is no more precious moment in life than this, THE WHITE MOMENT, and you will work very hard for years just to taste it again." Yuri Vlasov
Svalbard, 80 Degrees North. Day 14
I have found a snowboarders paradise where the sun never sets and all aspects have good snow and inspiring terrain. Steep faces stick out of flat glaciers making for easy access and clean outruns.
The temps are cold enough to keep the sun from baking the snow but not too cold so staying warm is not an issue. The elevation is low making the air thick and the hiking easy. Glaciers line the valleys but are filled in so crevasses are not an issue. The snow is dry but coastal so the avalanche danger is minimal.
There is a mix of open faces, tight couloirs and everything in between. There is not another snowboarder in any direction for thousands of miles. Until 8 months ago I did not know such a place on earth like this existed. How many more places like this are there?
It was hard for me to walk away from the sure thing of snowboarding in Alaska and head to an unknown place at the top of the world. There were so many unanswered questions going into the trip that could not be answered from google earth, checking weather reports or talking to locals. What is the best time of year to go? How much does it snow? Does the wind blow all the snow away? Is the terrain worthy?
The bigger the risk, the bigger the reward and up until a few days ago I had to question if the long travel and being away from my family for so long was worth it. The terrain was awesome but the snow was less then ideal. A few days of snow followed by a few days of sun changed everything.
Just after midnight I blitzed down a pink face of perfect snow on terrain every bit as good as AK. Coasting to a stop at the bottom of the line my body was overcome with a high I have only felt a few times in my 25 years of snowboarding. I screamed, laughed, screamed some more, laughed some more, fell over onto my back, and screamed and laughed a lot more. The feeling is hard to describe. No amount of money can buy it or no amount of planning can achieve it. It is a complex combination of precision, control and letting go all in one. Only my snowboard has taken me to this other world, a world so precious and rare that I have only touched it a few times in my life.
It is a high that I will never completely come down from. A high I will bring home to my family. A high I will tell my kids to strive for. It is a White Moment.
**Literally every direction from camp had lines like these. This is a southeast face and although it was in the sun for 8 hours a day it never got baked. The lookers left coulior was one of the first lines I hit in the area.**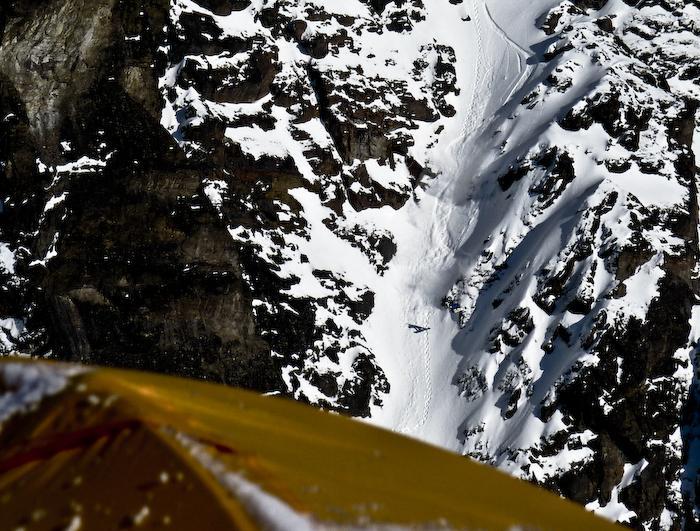 **I turned 40 degrees right to take this shot of Terje'. He has one of the most polished and clean acts in snowboarding I have ever seen. No flaps, no getting lost on lines, no missed trannies. **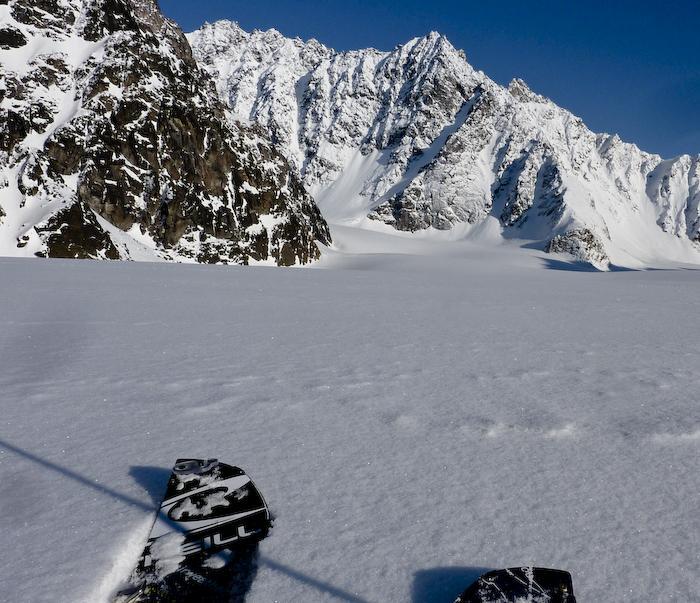 **10pm and the North aspects are starting to light up for the evening session.**
**Wheres waldo? The camera men feeling small.**
**Terje' getting in a morning surf .**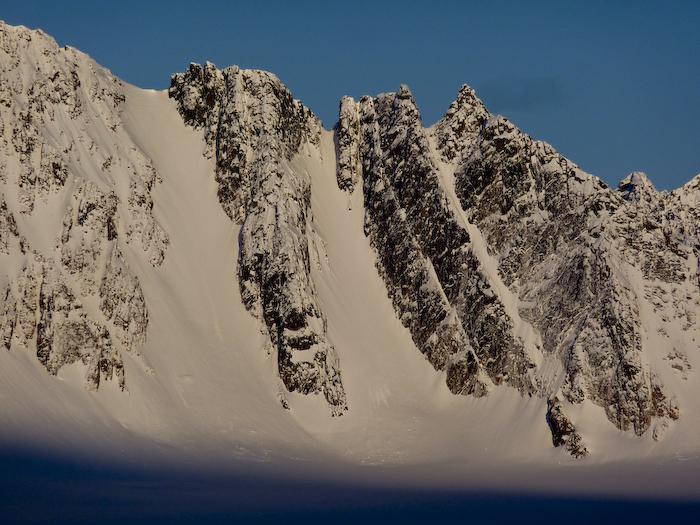 **Lines like this are a dime a dozen in Snowboarders Paradise.**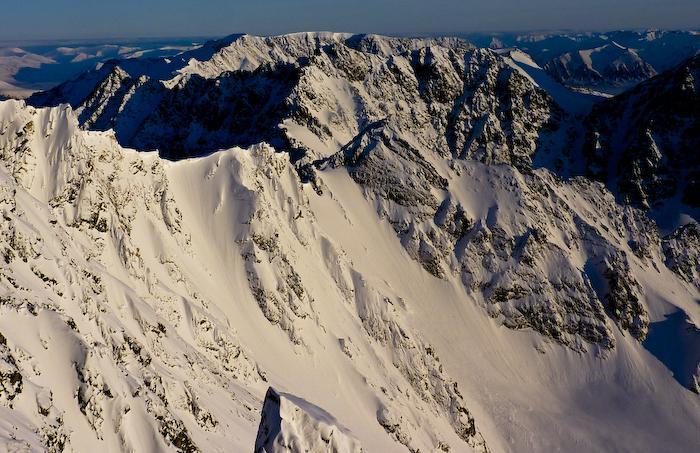 **After losing so many friends in the mountains the past few years it was nice to go to place that has all the love of the steeps with out the secondary hazards.**
READ THE STORY
The first major snowstorm of 2017 has slammed into central Chile bringing an early Mother's Day gift to Valle Nevado, Arpa Snow Cats, El Colorado, La Parva and Portillo resorts. With over two feet from the May storm and another expected to hit on Wednesday, Chile's main ski areas could begin to open for the season several weeks ahead of schedule, as early as late May. Ski season in South America generally operates mid-June to October. We have collected a series of photos from the
READ THE STORY
During Sego Ski Co.'s relatively short history, Ron Murray has become sort of a local legend. His 20-plus years of ski repair experience, combined with his time working in manufacturing and his wholesome philosophy on skiing (and snowboarding) has made Ron an integral part of the Sego team and brand. Ron is pretty much everything you look for in a ski tech. His gentle demeanor breathes wisdom and humility, and it shows in his craft. After all, aren't our skis just an extension of our feet?
READ THE STORY
Greg Von Doersten (or GVD) has been photographing with TGR since the beginning. He met founders Todd and Steve Jones back in the early 90's when they were still skiing for Marmot and filming by themselves with local Jackson Hole crushers. "They were getting it done," Von Doersten told me. "They wanted to see more line skiing and airs in films so they started to develop their own signature thing. I was like 'dang these guys are legit and they are kind of my style.'" Von Doersten