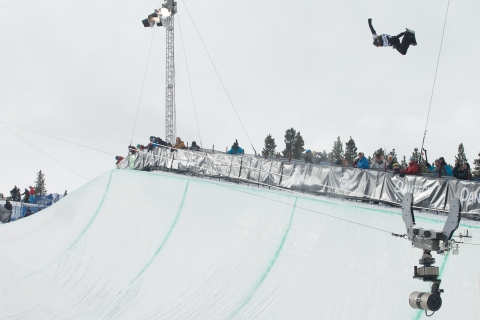 The Dew Tour iON Mountain Championships marked the fifth consecutive year of a winter stop at Breckenridge, Colorado, and when it comes to Superpipe this location has provided multiple ground breaking opportunities for riders and spectators alike.
This year, Dew Tour introduced to the superpipe a cable camera that runs down the center of the pipe showing the rider's runs from drop in to finish from the front perspective – a superpipe first that truly enhanced the viewers experience.
Directly following a snowy final for the women, the clouds broke and offered some sunshine to the men making for a feel good environment for everyone.
With past years in the back of everyone's minds, Shaun White was a favorite to come in and take home another Dew Cup to add to his collection. However, as we saw in semi-final, White is human and occasionally slips an edge and with the stiff competition this event was truly up for grabs.
By the halfway point of the competition, Louie Vito had laid down an insane first run that temporarily put him in first place with a score of a 90.00 that seemed unmatchable. Then, White rolled in and everything for before went out the window as White nailed every wall with perfection and pulled out a 95.25 and the top spot.
White's first run held true and carried him to the top of the podium and awarded him the 2012 Men's Snowboard Superpipe Dew Cup. White's double mctwist 1260, or tomahawk as White prefers to reference it, was truly the trick that set his run apart from the rest, as he was the only one in the lineup with it in his arsenal.
That's not all, since White had secured a spot on the podium, and practically guaranteed a first place with only one rider left to go, White went for another trick that only he has in his bag, a double rodeo. Although he did not pull the double rodeo, he did take home the Dew Cup.
"I think that [the new single-stop event format] is great – the Bigger, the better! When you make it a premier event like that it sets it up for everyone to bring their A-game," said White, still taking in his victory. Looking toward the future at the 2014 Olympics to take place in Sochi, Russia, "I started training a year ago, and this is all part of it. I'm just going to keep doing what I have set out to do."Be sure to check back shortly for complete results posted below and a photo gallery posted to the top of this article.
Be sure to check back shortly for a photo gallery posted to the top of this article.
Results
1st Place – Shaun White 95.25
2nd Place – Louie Vito 90.00
3rd Place – Taku Hiraoka 81.50
4th Place – Christian Haller 77.00
5th Place – Ayumu Hirano 72.75
6th Place – Nathan Johnstone 66.75
READ THE STORY
The first major snowstorm of 2017 has slammed into central Chile bringing an early Mother's Day gift to Valle Nevado, Arpa Snow Cats, El Colorado, La Parva and Portillo resorts. With over two feet from the May storm and another expected to hit on Wednesday, Chile's main ski areas could begin to open for the season several weeks ahead of schedule, as early as late May. Ski season in South America generally operates mid-June to October. We have collected a series of photos from the
READ THE STORY
During Sego Ski Co.'s relatively short history, Ron Murray has become sort of a local legend. His 20-plus years of ski repair experience, combined with his time working in manufacturing and his wholesome philosophy on skiing (and snowboarding) has made Ron an integral part of the Sego team and brand. Ron is pretty much everything you look for in a ski tech. His gentle demeanor breathes wisdom and humility, and it shows in his craft. After all, aren't our skis just an extension of our feet?
READ THE STORY
Greg Von Doersten (or GVD) has been photographing with TGR since the beginning. He met founders Todd and Steve Jones back in the early 90's when they were still skiing for Marmot and filming by themselves with local Jackson Hole crushers. "They were getting it done," Von Doersten told me. "They wanted to see more line skiing and airs in films so they started to develop their own signature thing. I was like 'dang these guys are legit and they are kind of my style.'" Von Doersten