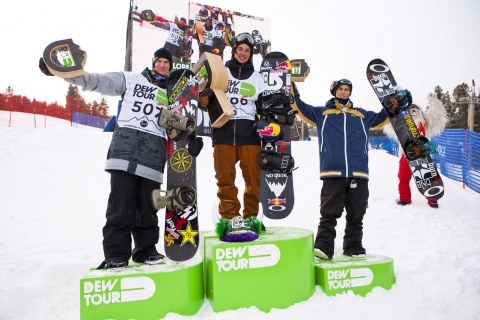 From 31 to the elite twelve, the Men's Snowboard Slopestyle at the Dew Tour iON Mountain Championships in Breckenridge, Colorado consisted of the best snowboarders in the industry riding on what many have been referring to as "the best slopestyle course ever."
As the final event of the last stop of the 2012 Dew Tour, spirits were high from riders to fans, and despite some winds and snowfall flurries, the level excitement and talent on display was something to be remembered.
When the semi-final came to a close back on Wednesday, Torstein Horgmo ended the day leading the pack and earning him the top qualifying spot after taking his two runs. Similar to the semi-final, riders in the final each were allotted two attempts to take to the slope in an effort to get that single highest score of the day.
After all the riders finished their first attempts on the course, it was Mark McMorris who nailed every trick and took the highest score of a 90.00. Then, during the second laps, McMorris upped the ante again growing from his previous score to a 95.00, which put the pressure on the remaining men left to drop.
Maybe it was the added confidence McMorris gained from the night before when he won the first-ever Big Air at Dew Tour, maybe not. Whatever it was, the Canadian snowboarder came out swinging in both runs stomping everything he tried – a feat in and of itself.
In the end, nobody was able to unseat McMorris and he rode out of the final stop of the 2012 Dew Tour with two titles! McMorris' best run of the day was his second run that included a lipslide to fakie, switch hard 270 onto the next down feature, a cab double cork 900, frontside 720, backside 360 to tap on the iON camera feature, a double wildcat and a frontside double cork 1260 to cap it off.
"This course is sick! Four jumps, three rails – it's a really technical setup. When you get to ride a really big course it is so much more fun… A lot of times you are limited to two or three ways of spinning, but with four jumps it makes for endless opportunities for lines you can choose – it makes for a lot more creativity," said McMorris after he received his second Dew Cup in two days. McMorris went on to express his approval for the new Dew Tour's change to a one-stop format, "[Dew Tour] is on the right track, one hundred percent!"
Chas Guldemond and Staale Sandbech rounded out the rest of the podium, respectively.
Results
1st Place – Mark McMorris 95.00
2nd Place – Chas Guldemond 90.75
3rd Place – Staale Sandbech 85.75
4th Place – Sebastien Toutant 84.24
5th Place – Roope Tonteri 79.75
6th Place – Peetu Piiroinen 65.00
7th Place – Torstein Horgmo 75.00
8th Place – Sven Thorgen 70.25
9th Place – Sage Kostenburg 50.00
10th Place – Eric Willett 43.75
11th Place – Maxence Parrot 30.25
12th Place –Ulrik Badertscher 23.75
READ THE STORY
The first major snowstorm of 2017 has slammed into central Chile bringing an early Mother's Day gift to Valle Nevado, Arpa Snow Cats, El Colorado, La Parva and Portillo resorts. With over two feet from the May storm and another expected to hit on Wednesday, Chile's main ski areas could begin to open for the season several weeks ahead of schedule, as early as late May. Ski season in South America generally operates mid-June to October. We have collected a series of photos from the
READ THE STORY
During Sego Ski Co.'s relatively short history, Ron Murray has become sort of a local legend. His 20-plus years of ski repair experience, combined with his time working in manufacturing and his wholesome philosophy on skiing (and snowboarding) has made Ron an integral part of the Sego team and brand. Ron is pretty much everything you look for in a ski tech. His gentle demeanor breathes wisdom and humility, and it shows in his craft. After all, aren't our skis just an extension of our feet?
READ THE STORY
Greg Von Doersten (or GVD) has been photographing with TGR since the beginning. He met founders Todd and Steve Jones back in the early 90's when they were still skiing for Marmot and filming by themselves with local Jackson Hole crushers. "They were getting it done," Von Doersten told me. "They wanted to see more line skiing and airs in films so they started to develop their own signature thing. I was like 'dang these guys are legit and they are kind of my style.'" Von Doersten