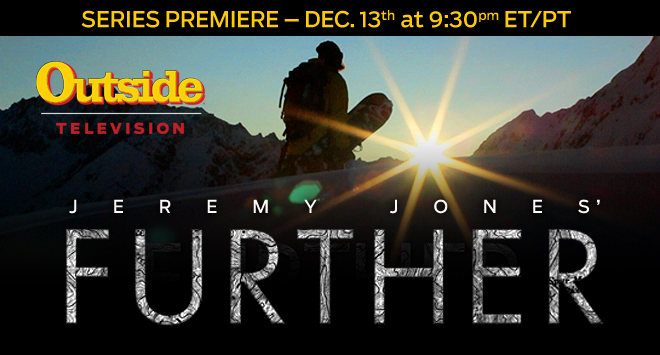 (Teton Village, Wyo.) - The award-winning producers from multimedia action sports brand Teton Gravity Research (TGR) have produced a ten-episode original series giving viewers an intense look at the personalities, adventure, drama, and excitement from two years of filming Further with Jeremy Jones. Showcasing some of the greatest snowboarding adventures on the planet, the original TV series will air exclusively on Outside Television, premiering Thursday, December 13 at 9:30pm EST with new episodes each Thursday. Outside will also provide Further fans with dual encore episodes every weekend.

The second installment in the Jeremy Jones trilogy that began with Outside Television's popular series Jeremy Jones' Deeper last year, Further explores some of the world's most remote mountain terrain while continuing Jones' mission to camp deep in the backcountry and on the summits of unridden lines to access near-vertical spines and wide-open powder fields. Join Jeremy and his crew as they push their minds and bodies Further.

"We've always thought this type of riding is perfect for a television series, which allows us to go more in-depth and show viewers more of these trips to tell the full story," says Jeremy Jones. "We learned what's possible working on Deeper, and we've been able to build upon that experience with Further, both in terms of riding and the overall production."

"This is exactly the sort of flagship programming we want people to identify with Outside Television," echoes Rob Faris, senior vice president of programming and production for Outside Television, which has been expanding rapidly through Comcast Xfinity and other systems since June. "The true success of the Jeremy Jones trilogy is the overall quality of story development, characters and production rather than devising action just for the thrill of it. We look forward to continuing this franchise even beyond Deeper and Further and are fortunate to have attracted such world-class partners as Teton Gravity Research and Jeremy Jones."

About Teton Gravity Research

One of the world's leading action sports brands, TGR has produced 30 award-winning feature-length films, numerous television series, and national television commercial spots. Known for its cutting edge media and lifestyle product, TGR works with the top athletes in their respective disciplines, capturing, celebrating, and bringing to life the passion and enthusiasm associated with action sports. TGR is a proud member of 1% For The Planet and strongly believes in protecting the environment in which the team works and plays. For more information on TGR, please visit tetongravity.com, one of the leading online destinations and communities in the action sports industry.

About Outside Television

Outside Television is the only national programming network dedicated to the active outside lifestyle and the more than 141 million Americans who regularly participate. Based on Outside Magazine and its critically acclaimed brand, Outside Television embraces running, biking, skiing, hiking, sailing, surfing, kayaking, snowshoeing and any other adventures involving wind, water, snow and terrain; as well as the full spectrum of the people's lives who engage in them. Offering exclusively high-definition programs, Outside Television is fast becoming a fixture among leading cable, satellite, telco and broadband providers' sports and entertainment offerings. To learn more about Outside Television, visit www.outsidetelevision.com.
READ THE STORY
The first major snowstorm of 2017 has slammed into central Chile bringing an early Mother's Day gift to Valle Nevado, Arpa Snow Cats, El Colorado, La Parva and Portillo resorts. With over two feet from the May storm and another expected to hit on Wednesday, Chile's main ski areas could begin to open for the season several weeks ahead of schedule, as early as late May. Ski season in South America generally operates mid-June to October. We have collected a series of photos from the
READ THE STORY
During Sego Ski Co.'s relatively short history, Ron Murray has become sort of a local legend. His 20-plus years of ski repair experience, combined with his time working in manufacturing and his wholesome philosophy on skiing (and snowboarding) has made Ron an integral part of the Sego team and brand. Ron is pretty much everything you look for in a ski tech. His gentle demeanor breathes wisdom and humility, and it shows in his craft. After all, aren't our skis just an extension of our feet?
READ THE STORY
Greg Von Doersten (or GVD) has been photographing with TGR since the beginning. He met founders Todd and Steve Jones back in the early 90's when they were still skiing for Marmot and filming by themselves with local Jackson Hole crushers. "They were getting it done," Von Doersten told me. "They wanted to see more line skiing and airs in films so they started to develop their own signature thing. I was like 'dang these guys are legit and they are kind of my style.'" Von Doersten