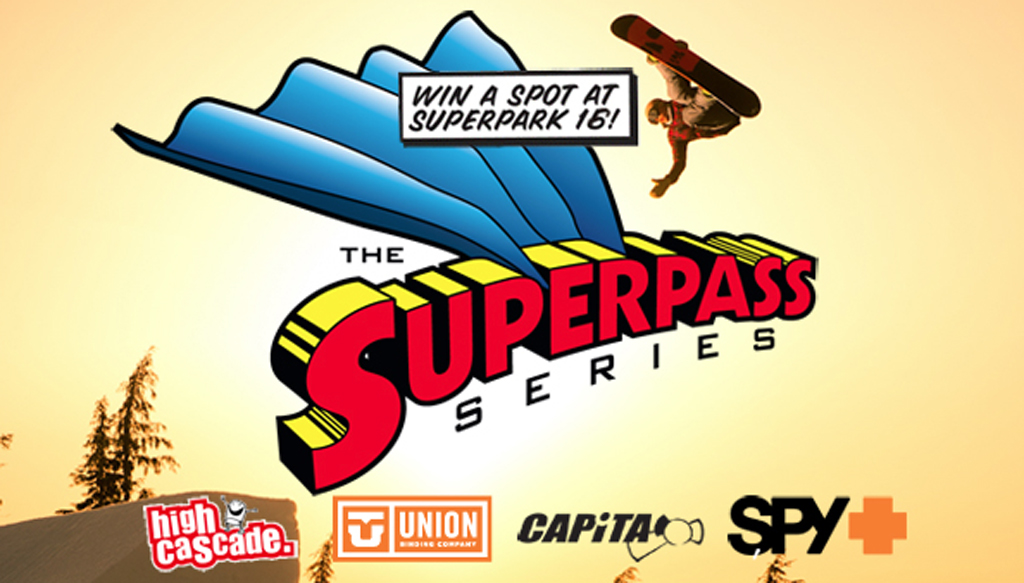 In 2012, SNOWBOARDER Magazine's "Superpark" returns for its sixteenth season. Superpark brings the top park riders in the world together on one slope to test their limits on cutting-edge terrain crafted by the best snowcat drivers on earth. The event that holds true to its name has established itself as one of the most prestigious four-day events of the year, blasting riders like Travis Rice, Lonnie Kauk, and Josh Malay on to the scene. Every year, right before the snow melts, a closed resort holds the biggest names in the sport. From riders to park builders, filmers to photographers, even team managers will be there roaming around landing zones like high school basketball scouts.

Now that the exposure meter is set, the question is raised, how do you get in? Well, until now you had suck on toes of the infamous Pat 'The Eye' Bridges, but he opted for a real foot masseuse and launched this contest for all you up and comers to show him you really can back rodeo that 120' hip jump and you can do it in front of every lens in the industry, first try. The Superpass Superpark Qualifying Series sets out to create a gateway to greatness by allowing one rider from each stop to earn a spot at Superpark.

Each Superpass event is only open to the first 50 registered riders. Once your name makes it onto the start list you have three runs on the three jump course to throw down your best tricks and impress the SNOWBOARDER Magazine staff who will be judging on-site. Emerge victorious and earn all access to SNOWBOARDER Magazine's marquee Superpark 16 event.

Superpass Series stops:

1/21/12: Mt. High, CA
2/5/12: Mtn. Creek, NJ
2/11/12: Sierra-at-Tahoe, CA
2/26/12: Powder Ridge, MN
3/3/12: Loon Mountain, NH
4/7/12: Brighton, UT

Superpass Summary:
- Course: 3 jumps (25 ft, 35 ft, 45 ft)
- 50 rider field on a first come first serve registration basis
9:00am - 10:00am: Registration
11:00am - 2:00pm: Three Run Main Event
3:00pm: Awards Presentation
- 3 Judges
- Each judge scores one jump from 1-5. Then all three judges' scores for each run are combined. Best possible score for each run is 15.
- Final results based on the best run of 3 in the finals.
- Top finishers will receive prizes from participating sponsors with any first place winners over the age of 18 receiving an invitation to Superpark 16.
- Helmets are required!
READ THE STORY
For many parts of the West, this years snowpack has been unstable, unpredictable, and at times, just downright scary. A pretty heavy snowfall in November followed by a bit of a drought created a weak layer here in the Tetons. As snowboarder Travis Rice puts it, when you're riding in bounds, you can get a false sense of security when you're able to ride wherever, not to mention ski patrol having your back. But stepping into the backcountry is a whole different animal. With similarly unstable
READ THE STORY
Even the most experienced riders aren't immune to unstable snowpack. Maurice Kervin learned this firsthand last Friday while snowboarding on Loveland Pass, his 65th day of riding this season. Kervin and his ski partners had been keeping a close eye on the avalanche forecast all week. Although the danger had actually dropped, Kervin recalls feeling unsure of the conditions. Intending to ski a line called 'No Name,' the pair set out, and tested snow stability along the way, not finding any red
READ THE STORY
As skiers we're always talking about the snowpack and how stable or unstable it is, but what does that really mean? This slide in Hyalite, Montana is a pretty good example of 'unstable snowpack.' Triggered by a skier who made it all the way down before the face actually broke (one lucky fellow), the slide was a pretty classic slab avalanche. Our friends at the Gallatin National Forest Avalanche center broke down what happened with slide. Essentially, it was a slab of wind packed snow