Jonathan Cheever straddles two worlds—in a single week he might turn a wrench under a sink and barrel down banked turns on a boardercross course in a pack of armored riders hungry for victory.
The twenty-eight year old Boston native, who has a wicked pissa accent, is following in footsteps of the family business as a licensed journeyman plumber. But he's also a pro SBX rider, now lives in Park City, and rides frickin' fast enough over the berms and gaps of courses to land on the U.S. Snowboard Team. He's had over forty World Cup starts since 2006 and four podium finishes. Cheever's also the 2011 U.S. champ.
He's gunning for the hole shot at the upcoming Olympics and making a movie, too. Luckily, you can easily keep taps on Cheever's latest endeavors at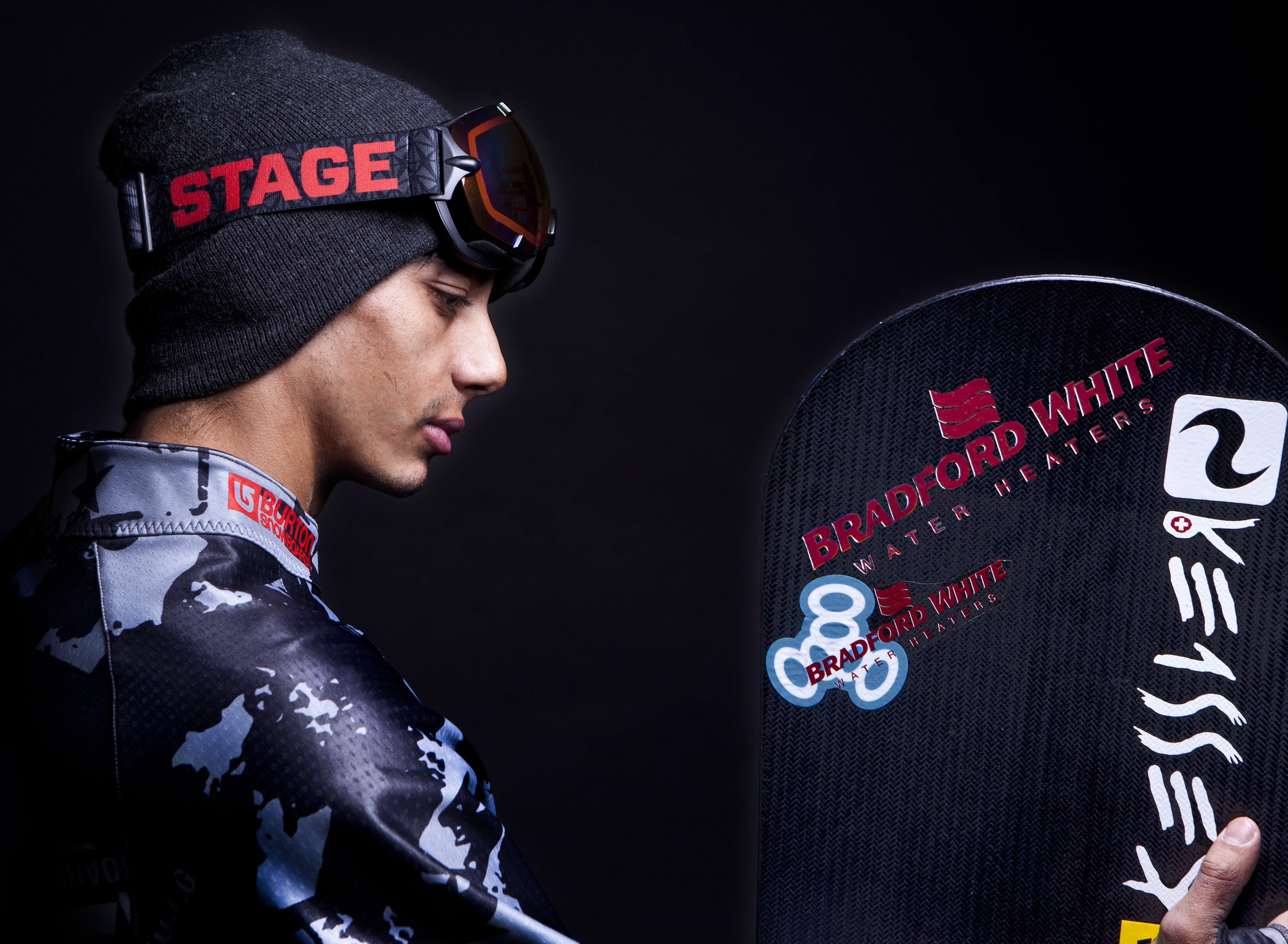 You're living the dream, traveling the world as a pro snowboarder. But what's the reality of getting it done?
I am living my dream for sure. For the true answer that most people expect, it's an awesome life but it's lots of work. I travel the world and snowboard. I love it. I am thankful everyday for the opportunity I have, the places I go and the things I get to do. It comes with a price. I am constantly training off snow to make sure I am healthy enough to be in a position to win. I have had six orthopedic operations, a handful of concussions, a torn Achilles, and I can list other injuries that some people would cringe over. But it's always worth it to me.
For what most people don't say... as far as pro-action sport athletes are concerned, there are only a handful of people making a real living at this. And for sure I have tasted that before. However, things can change quickly. I am a licensed plumber, so that is normally my income in the off season. When I tore my Achilles [in March of 2012], I lost almost all means of livelihood. I couldn't snowboard or turn wrenches. I hope the creditors don't read this, but I have so much credit card debt just to give myself the best possible chance of winning these next Olympics. I am investing or at least gambling on myself. I put myself in the best possible position to do well this upcoming season. If all goes well, prize money and hopefully endorsements will get me out of the red. If not, well this "pro snowboarder" thing is more of a hobby. I don't want to put out a sob story though. Life is good.
You're the Boston guy with a wicked accent, the plumber snowboarder dude. What's it like when you are working as a plumber. You've even helped out some of your team members. Yes?
One of my best friends is my teammate Nick Baumgartner. He is from the UP of Michigan and has a wicked accent as well. It's a little more "you betcha" and "donchaknow." We were in a van on the way to an event and chatting, probably a little loud and obnoxious—a.k.a. normal—and one of our other teammates stopped us and said, "Holy shit. It's like bird calls or something in this van between both your accents because I can't understand anything you two are saying."
I remember helping (Lindsey) Jacobellis fix a shower at one of our events. Most of my teammates don't live close, but I piped a toilet for one of my coaches, fixed a toilet for our physical therapist, installed a water softener for one of the staff of USSA and a water heater for another, I also did work for other non-snowboard athletes in Park City. It's awesome. It's almost a way of sponsoring me I guess.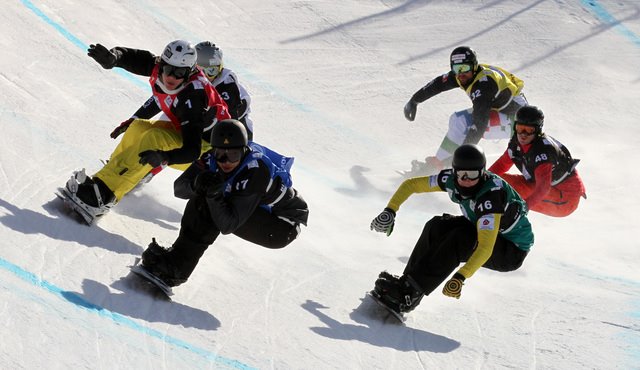 How do you train when you're working as a plumber?
It's been a while since I have been a full time plumber and training. I did that one summer and yeah it was awesome for the bank account, but for the body and snowboarding it wasn't.
I pick and choose my work and if my father is busy enough in Boston I will work for him for a few weeks. I love going home and seeing the family. When a bigger job rolls around I am doing it by moonlight. I consider plumbing as my sidework and snowboarding as my real work, although being under a sink is more lucrative at the moment. The Olympics only rolls around every four years and not only do I want to represent, I want hardware. More training than plumbing at the moment.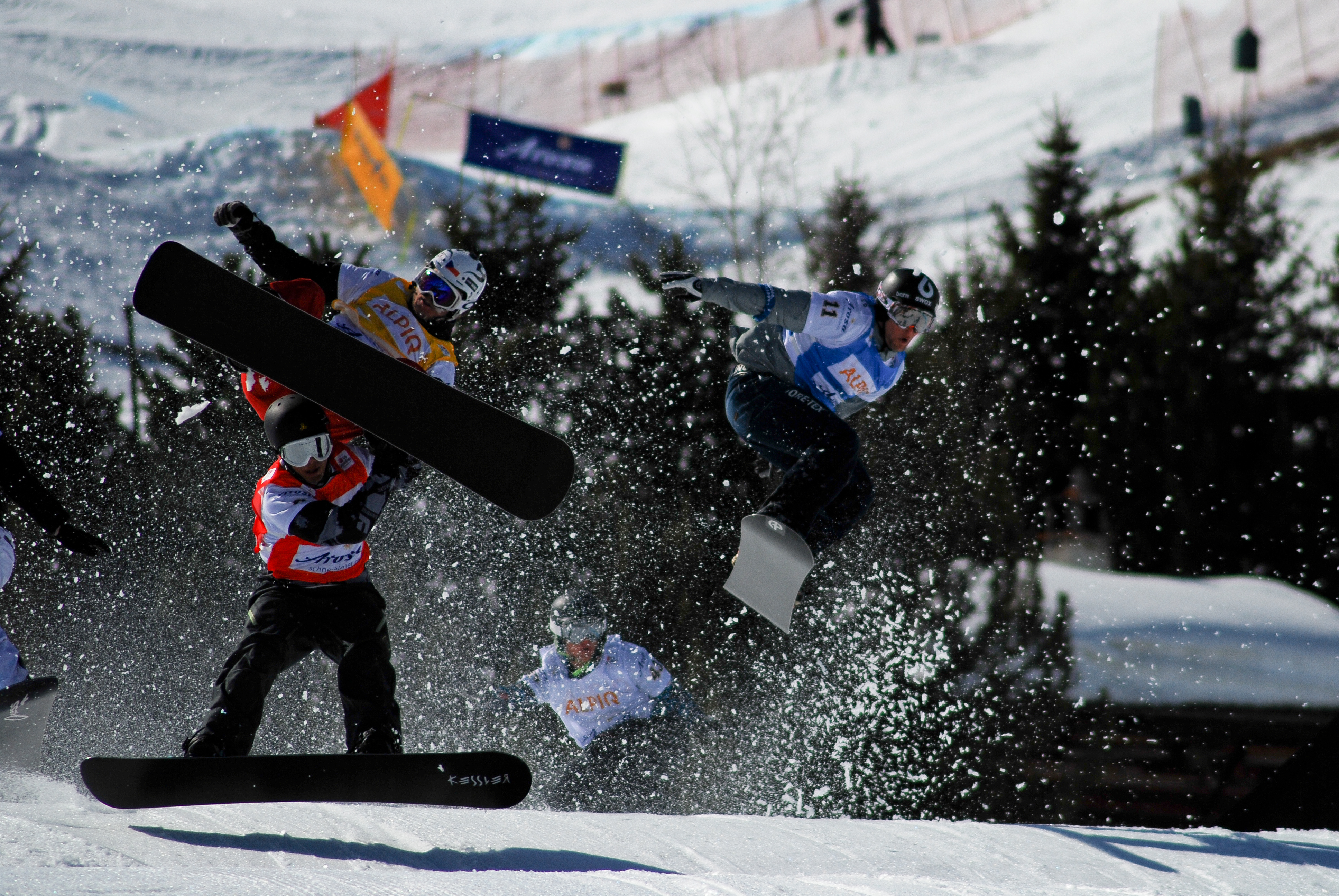 Do you feel as though you are living in two very different worlds and are you able to shift between them fairly quickly or easily?
The question is spot on. It's hard to explain to anyone what snowboarding is like for me. I can't explain falling in love to someone who has never been in love. That is why I do it. But just like a relationship, snowboarding isn't always bliss.
My schedule is awesome, but crazy. From training full time in Park City and tying up all my loose ends, to being on a ladder in Boston the next morning installing sprinkler pipe at Boscy's Liquors in Saugus, Massachusetts to being in Tirol, Austria snowboarding in the Alps all within a short few weeks. It's insane. I hope this life continues.
Shifting between the two worlds . . . I have a hard time doing it this year. I am so focused on winning and being in the position to do so. If I feel like working for a week is going to have an effect on winning I will pass until after the Olympics.
Money kind of makes the world go round. In all reality, some people would be working right now to pay off debt. Just like I said before I want to win. And yeah, I have lots of trouble not thinking about snowboarding and what I could be missing by plumbing at the moment. That can wait until after the Olympics.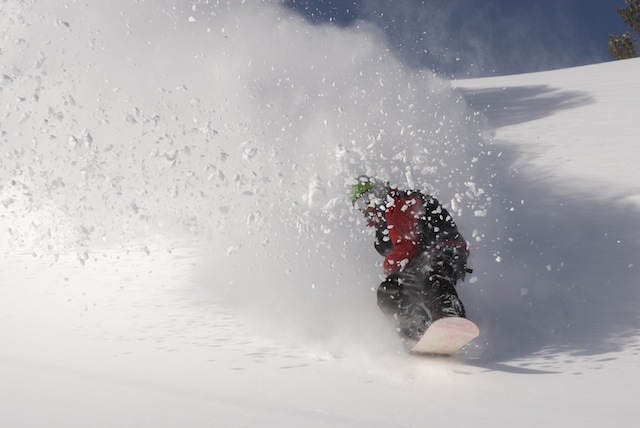 You're on the U.S. SBX Team, a World Cup podium finisher, an X-Gamer, a national champ, etc. Yet are there misconceptions about the rewards—prize money, sponsorships, funding—that such lofty achievements bring?
I am sure there are. But if I had millions of dollars, my life wouldn't change much. I would be doing exactly what I am doing now. Maybe with some minor adjustments to ease stress. Also Snowboard Cross can be a rough sport. Looking around at my colleagues, we all have had close calls and know people who weren't so lucky to slip away with just an injury.
An injury free SBX World Cup Snowboard Season with equipment (yes sometimes most of us have to buy equipment to have the best stuff) is $20,000 - $25,000. This only covers travel, lodging, food and equipment for competing. Training costs per season are $10,000. Six months normal living expenses—$10,000 - $15,000.
So there you have it. The number is 40-50k in the red right now before prize money, sponsors, etc.
What about prize money?
A rough break down of prize money—give or take and depending on taxes—for the World Cup is $10,000 for first, $6,000 for second and $2,500 for third. For the X Games, it is $25,000 for first, $12,000 for second and $5,000 for third.
Some people say this is taboo to mention. But I probably have about $12,000 in sponsorships and grants that come in a year if I am lucky.
SBX doesn't get the same love as pipe and slopestyle. Does that impact your golden goals including winning a Sochi medal?
I am not sure if that is entirely correct. It does have some truth though. Shaun White is the face of the sport and he excels in pipe and slope. As far as the core industry is concerned, SBX isn't in magazines and videos. The equipment is expensive and not to mention we are the only discipline where the venue is built for us and torn down when we leave. There is room to change that to make the courses more available for the public. SBX is a pure form of racing though. First one crossing the finish line wins. No timers, no waiting, no judges. It's cut and dry . . . and awesome.
As far as impacting goals is concerned it never crossed my mind. If it was the most popular thing in the world or if no one knew what I was doing, I would want to win anyway.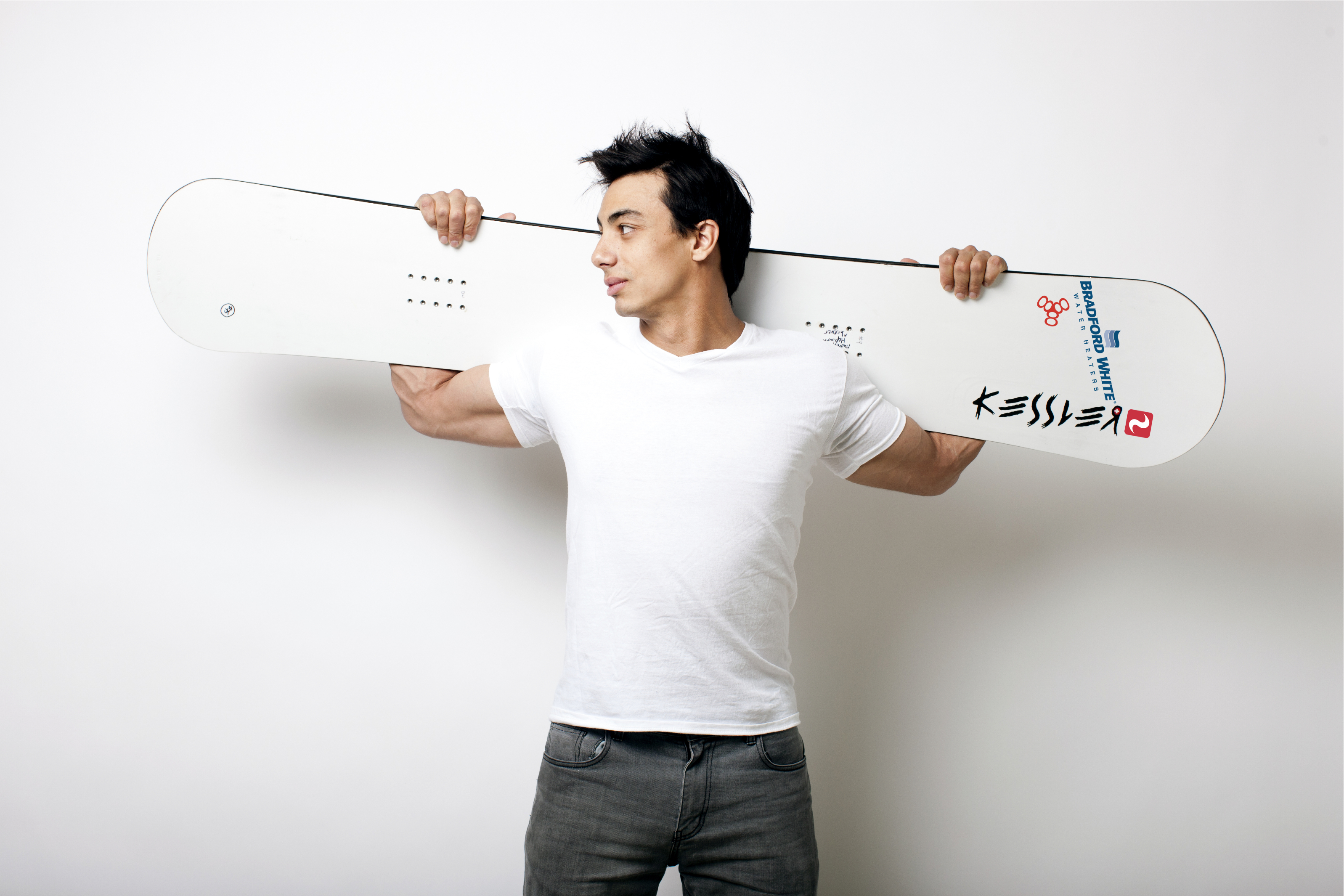 You're making a film called SBX The Movie with director Brett Saunders and your Austria Snowboard Team member girlfriend Maria Ramberger about your Olympic quests. How's it going and what does that take in terms of resources?
The movie is chugging along. It's a lot of work but it's fun. I feel like the three of us deeply involved in this are really helping out the whole village rather than just one person. This is great for the sport and in turn will be great for the athletes. Raising funds to break even on this thing is a little bit of a struggle.
Anything else?
Thank you to all my supporters—Bradford White Water Heaters, Triple 8 helmets, Mom and Dad, Toko wax, Stage goggles, and please follow my adventures at youtube.com/TeamCheever and SBXtheMovie.com.
From The Column: Blue Collar Pros
READ THE STORY
Exactly when to get your little ones out on the slopes is a century-old debate. In reality, it varies from child to child. What isn't up for debate though is simply discouraging someone all together—especially when they're a kid. RELATED: Junior Freeride is Alive and Well — FJWC Kappl Results This grom was told in kindergarten that four-year-olds can't snowboard, and his Dad's response? A bonafide shredit of his son tearing it up on boxes and mini booters. Age is just a number folks. Be
READ THE STORY
2019 was a wild year in the adventure world, with everything from first descents and ascents of the planet's wildest peaks, to stories of incredible rescue missions in impossibly harsh environments. Each year, National Geographic selects of Adventurers of the Year, people who have accomplished things so out of the ordinary that they deserve higher recognition. Among those who have won this award in the past are Jeremy Jones, Alex Honnold, Kilian Jornet, and Hilaree Nelson, to name a few.
READ THE STORY
Big Bear Mountain Resort Morning Arrive at Los Angeles International Airport and head straight for San Bernardino National Forest, home of Big Bear Mountain Resort. Consisting of twin properties—Bear Mountain and Snow Summit—Big Bear is the place where Southern California goes to ski and ride. Head to the top of Bear Peak and start your day on Geronimo, the highest lift served run in Southern California at 8,805 feet. To really get your legs burning, test your skills at the canyons: