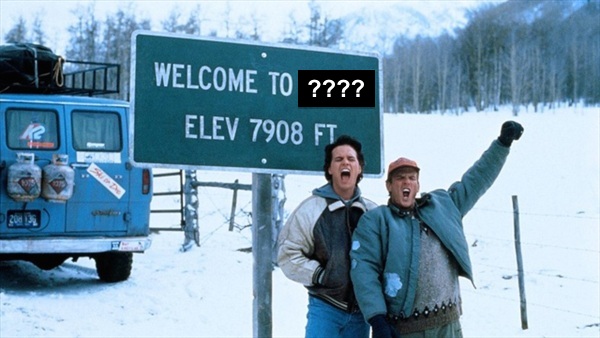 What would TJ & Dexter do? (They'd move to Aspen, but it was the '90s).
An unprecedented superstorm/polar vortex is currently bearing down on the continental United States, which means that if you've just realized it's high time you were able to ski every day starting next week, this is the time of year to figure out where which ski town you belong in.
We've provided the following guideline, because skipping out on a non-ski bum life–often boring–for a reality full of happy-go-lucky friends, powder days, spectacular backcountry days of the kind money can't buy, and the best beers you've ever had, can't be beat. So ditch college, postpone grad school, drop the career you've been building for a decade. You are not going to be one those saps that just rides on weekends, or spring break from college anymore! This is your season!
If you've already done this and currently live in a ski town, you can get back to doing squats, studying radar weather maps, The Farmer's Almanac, and El Nino predictions for your region. Here's our definitive guide to deciding which ski town to move to this winter...
Revelstoke, British Columbia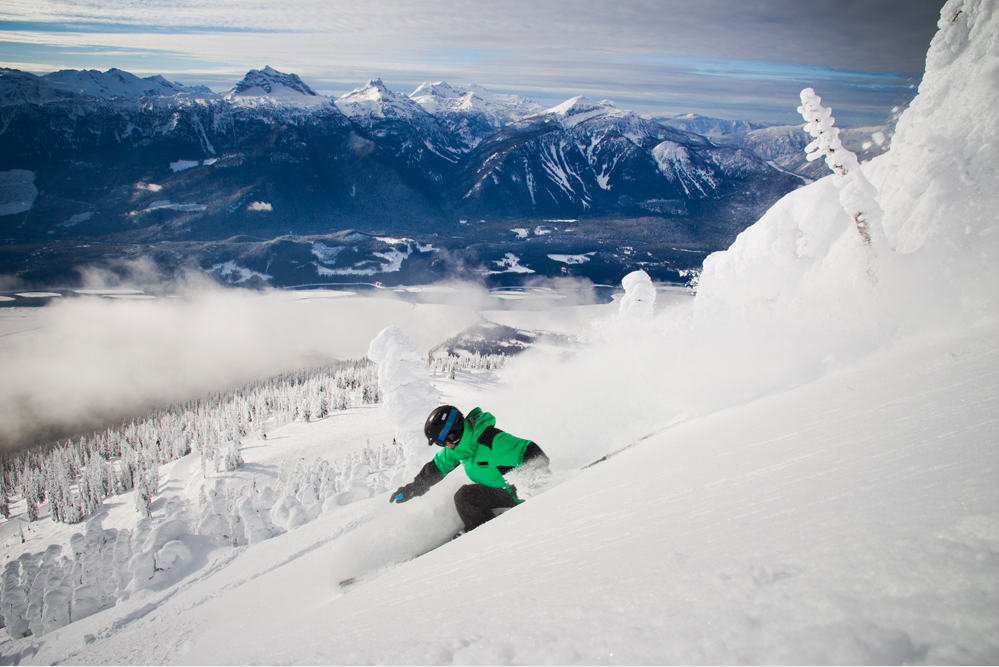 Just out for a rest day at the resort, eh? Ian Houghton/Revelstoke Mountain Resort photo.
Move here if you… are super nice. You are super modest. You either already do or plan to: shred huge lines for breakfast, take down pillow lines like dominos, and skin from the roadside to 3,000 meter summits all day long. But you still like to have the lifts nearby for rest days. You will ski tour in the rain, you will sled-ski in the rain, and your super sick sled makes slednecks jealous. You are a way better than most pros–whoever sees you shred knows it–but you still totally respect those pros, because you are too nice. You are thoughtful, even philosophical, but content with a nice quiet rural life (except for toys with engines). Oh, and you need a whole town of people equally as humble, as nice, if not nicer, than you are, and possessing similar ski and sled skills. If you met some crass, pompous asshole from the East Coast, which is unlikely, you wouldn't understand what language they were speaking, even though it's English.
Aspen, Colorado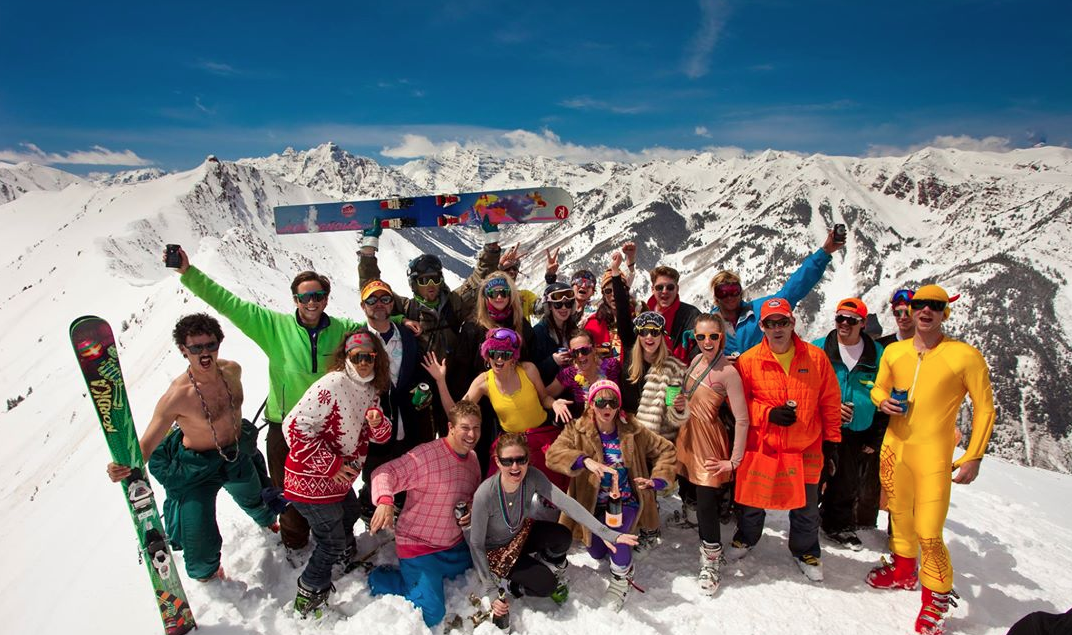 Another Aspen party, except you had to ski to this one. Aspen/Snowmass photo.
Move here if you… are the kind of ski bum that wants to be up to your nose in snow–the amazing kind of snow that you can have year-round, inside. You like dressing to the nines, you need shopping in stores of the sort that sell $90 socks, and you expect to see Paris Hilton at half the champagne parties you sneak into. You like to stay up until six in the morning, and a ski day that starts at three in the afternoon is fine with you. But you still like skiing powder (the outdoor kind), so you prefer a place where most other skiers don't venture off the groomers, if there are even other skiers in the lift line to begin with. It's a fine balance. If you wanted some dull town in the sticks where there was nothing to do besides ski, you would be in Jackson.
Summit County, Colorado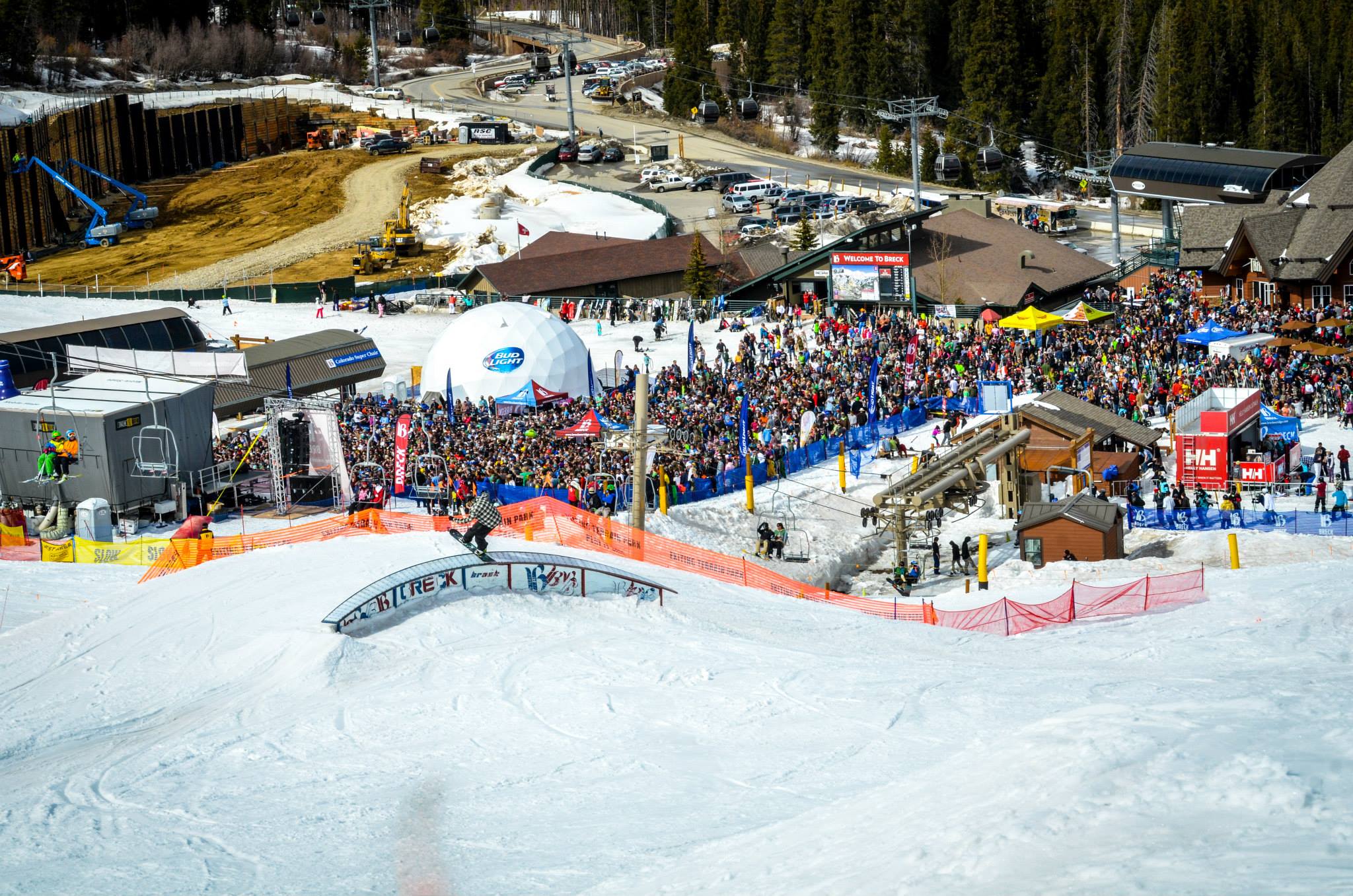 Music... riding... park... lines... legal weed, all right! Breckenridge Ski Resort photo.
Move here if you… might have come here on a ski weekend from campus, or spring break, and forgot to go back to school. Or maybe it was a break between college and grad school? Who cares; weed's been legal for almost a year and your long-term memory is spanked! All that matters is that you're here now, and you like to get out on the slopes, even if the terrain isn't mind-blowing and the snow isn't that deep. And party!
Even if it's months between serious storms, the partying is always on point, so it's a win-win. You're cool with getting wasted in a dark, carpeted bar that hasn't been cleaned since 1973, or a trendy little dance club with lots of people who still claim they're "in school." You want a big city nearby, where you might go one day to finish school/get a real job, and don't mind if all its residents overwhelm the roads and slopes every weekend like a biblical flood. It's mostly really important because that city gets amazing music, and no Phish/Phantogram/O.A.R. show is as good as one at Red Rocks. You'd rather ski groomers and park from October to June than pow and steeps from December to April.
Mount Baker, Washington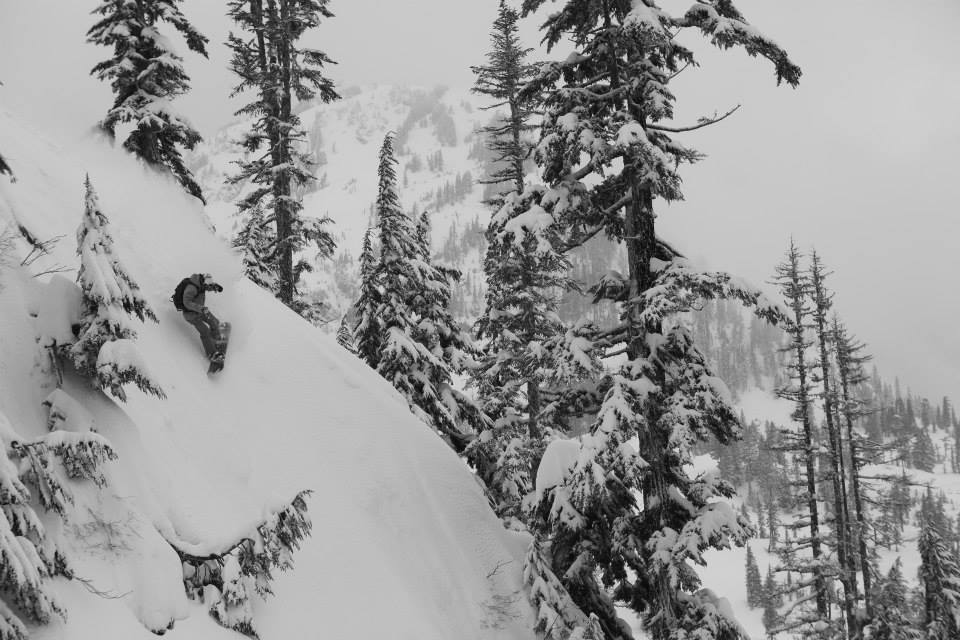 If you have never heard of Facebook and can't stand "the scene," come hither. Mount Baker Ski Area photo.
Move here if you… like people, but not that much. Cities are out, and small towns are even too much. As a matter of fact, your personality is classified far beyond introvert status, headed towards hermit. The wannabe-pro, skittle-y, self-promoting, hyped-up scene give you hives, and you are so low key, you don't even want to be seen on the lift. You only wear black, and only ride fixed-grip chairs. Your sole priority, nay, consideration, is shredding the deepest, sickest powder days ever beholden. You will be happy just tunneling around in the white room, your shit-eating grin out of sight, as you bounce around pillows and slash huge windlips. And then, you'll go back to your tiny 'village' on the ski hill road that doesn't even have internet, and not post anything on social media, and spend the rest of the night shoveling the 38 feet of snow that just fell on your roof, and then pet your cat before an early bedtime. In fact, this will be the last thing you ever read on the internet.
Sun Valley, Idaho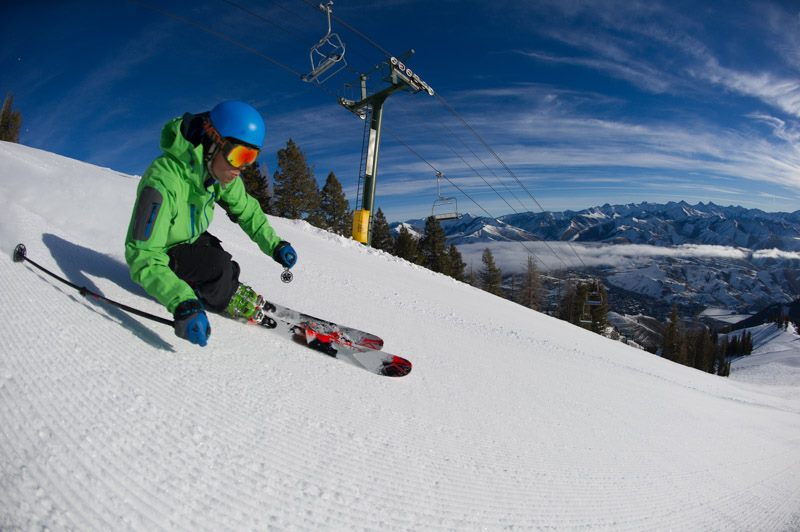 The most love a groomer will get this far West of Stratton. Sun Valley photo.
Move here if… your version of skiing is a genteel one; a social and altogether pleasant pastime. You don't want to be tempted by lots of accessibility to powder in the backcountry, which can be dangerous, so you don't care if much of that is found nearby. Fast, well-maintained groomers and delicious lunches by the fire are a fine way to kill time until the snow melts on the bike trails. Deep down, you like cross-country mountain biking waaaaay better then skiing or snowboarding. Oh, and you have a family plane. But so does everyone else you know, so it's no big deal. If you're really itching for some good skiing, you just fire up the single-prop and fly out to wherever it's currently going off.
Jackson Hole, Wyoming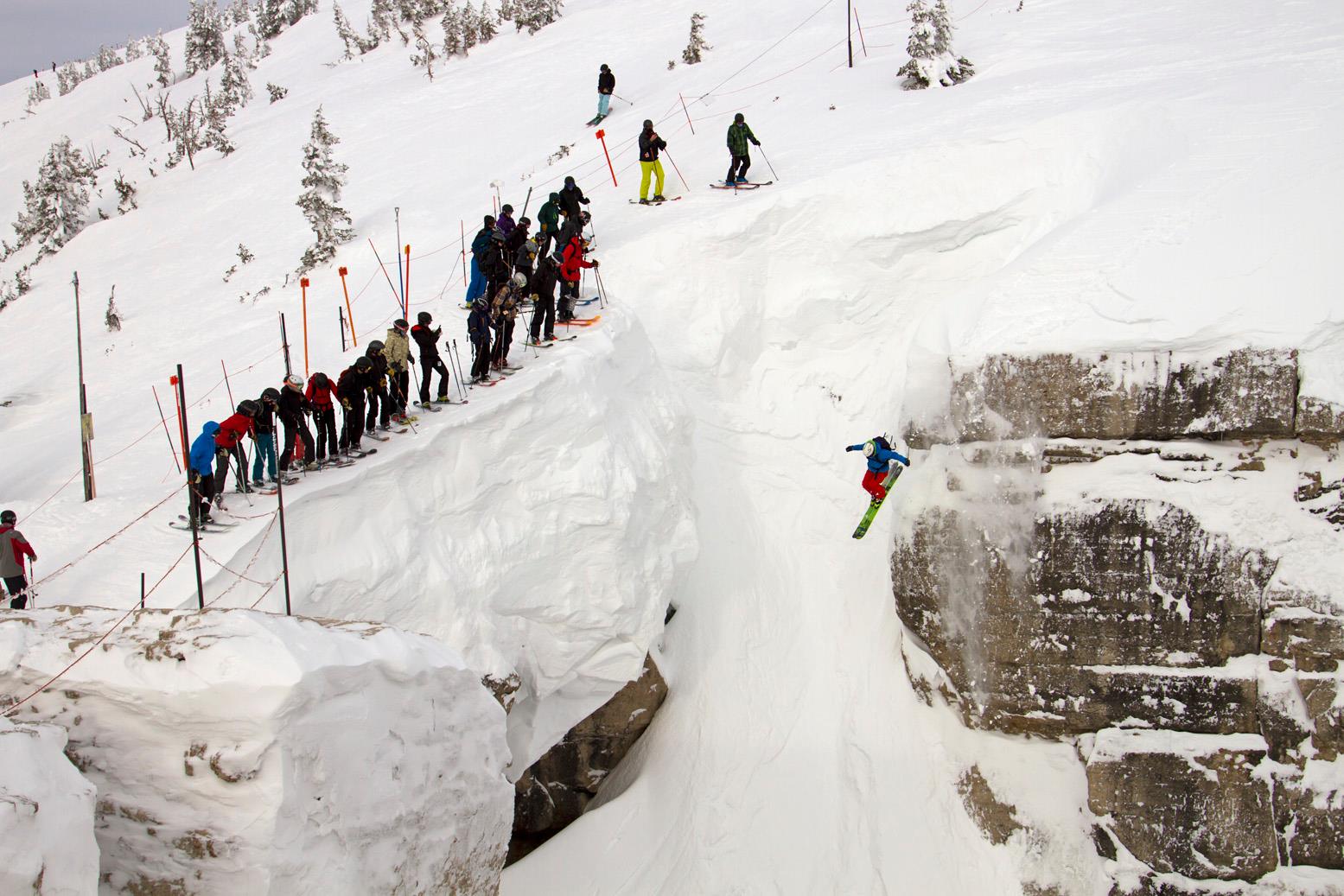 "I'm the (196th) best skier on the mountain!!!" Jackson Hole Mountain Resort Jackson Hole Mountain Resort photo.
Move here if you… have a trust fund. You are the best skier at your home mountain in Pennsylvania, Vermont, or wherever you went to prep school. Your parents will purchase a house for you, because ski towns are great real estate investments and Jackson's market is going off. Until then, renting a crappy room in a crapbox condo for $1000 a month is fine. You won't mind having a restaurant job for 5-30 years, since all your fellow servers will have a Masters or PhD from even better schools than you went to, and validate your "career" path. A reasonable morning would consist of being up at 4:45 am and in line for the tram by six for one run of powder, because after that, there will not be one square inch of untouched snow, since every other raddest skier or rider in the world is here, too. But you don't give a shit about the lift lines, because the chair is only there to get you into the backcountry, and you're going to get into ski mountaineering one of these days and never see another soul on your 14-hour missions into Grand Teton National Park. And no one can party you under the table, even though there's no good parties.
Salt Lake City, Utah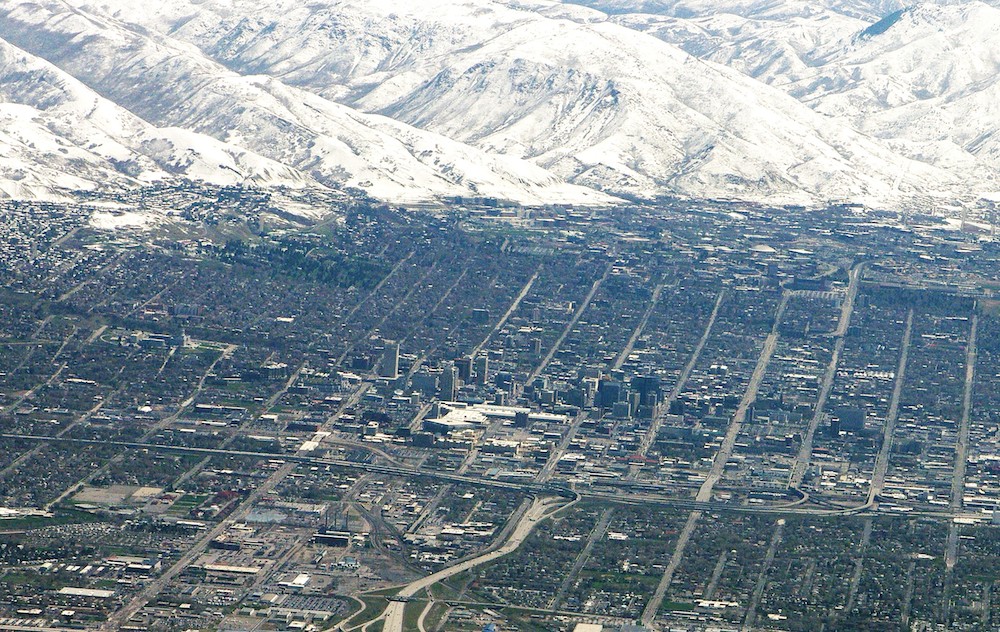 Real jobs + real mountains... mind blown! Wikimedia Commons photo.
Move here if you… can't totally give it all up to live in a ski town monoculture. You need a city (or a semblance of a city, at any rate), and you like working a real job for a real paycheck. But also powder! You want it all. And you plan on taking it all, thank you very much. Proselytizing religious culty-types don't scare you. You are pretty sure you will not lose your mind if you have to go into the office on a powder day, since you can dawn patrol it and be at your suit-and-tie office 20 minutes later. You can focus on the bright side of weak beer and lame nightlife, which is that it'll be easier to get up for pow laps before work. You collect a posse of like-minded type-A career-focused hyper athletes whose resting heart rate is a 23 and who do day trips to Jackson on the weekends to hike and ski the Grand Teton before driving home for dinner.
Whistler/Blackcomb, B.C.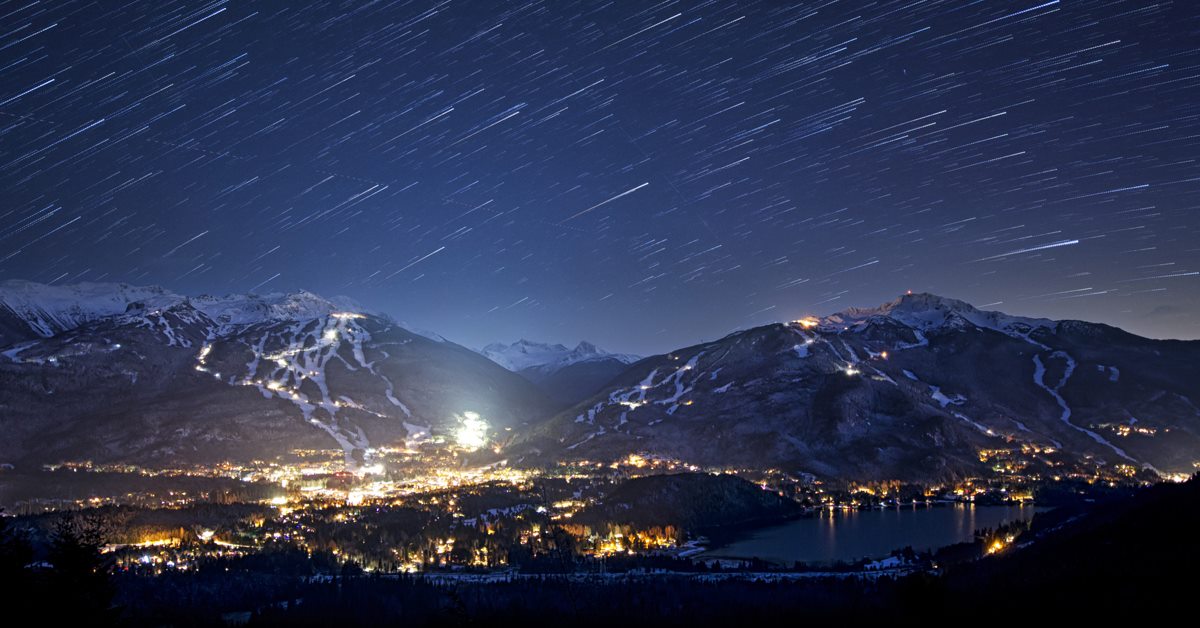 Somewhere down there is everyone you need to know to go pro. Whistler/Blackcomb photo.
Move here if you… want to be a pro skier or rider, and are either Canadian or from one of the dozens of countries (not America) that Canada gives away awesome visas to. You are so stoked that even walking to the lift in the pouring rain will never get you down. Deeper pow up high, eh? You have the kit, the gear, the attitude, the ambition, and you need a town with the connections: the photogs, filmers, writers, and just about all your ski heroes. You're adept with the helmet cam, you love social media, and you are going to plaster your radness all over the place. You love sushi, and parties, and everything that crosses your path. Life is so amazing. But you're humble at the same time. You don't know how you do it. It's just what you and your friends do, eh?
Killington or Stowe, Vermont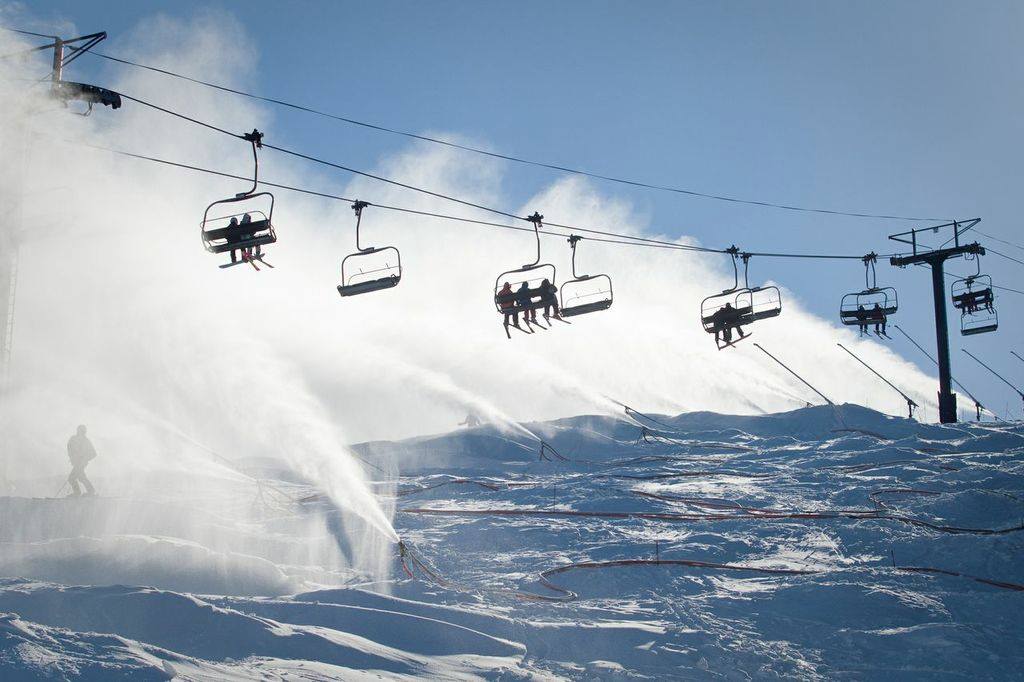 Is this getting you excited? Do you dream of snow guns? Killington Resort photo.
Move here if you… are going to get a real job. Soon. On Wall Street, when your parents call in a favor to one of their college buddies. In the meantime, you truly appreciate, and can dish up, a fine race tune, and like to arrange your waxes and p-texes by color. Snow guns give you a hard-on. You love the elements, and are stoked to ski in frigid winds, freezing rain, and graybird days. You crush technical, blue-ice tree skiing and icy steep chutes that are actually waterfalls. Not like other places, where anyone can ski anything because it's covered in pow. You shred bumps, but you tour, you hike, you find pow anyway you can, even if it's just one turn of it–and you just completely slay it, because you also love skiing ice, and weirdly to many other skiers, refuse to give it up. The West Coast is way overrated, or maybe you're just too timid to move away from home.
Lake Tahoe, California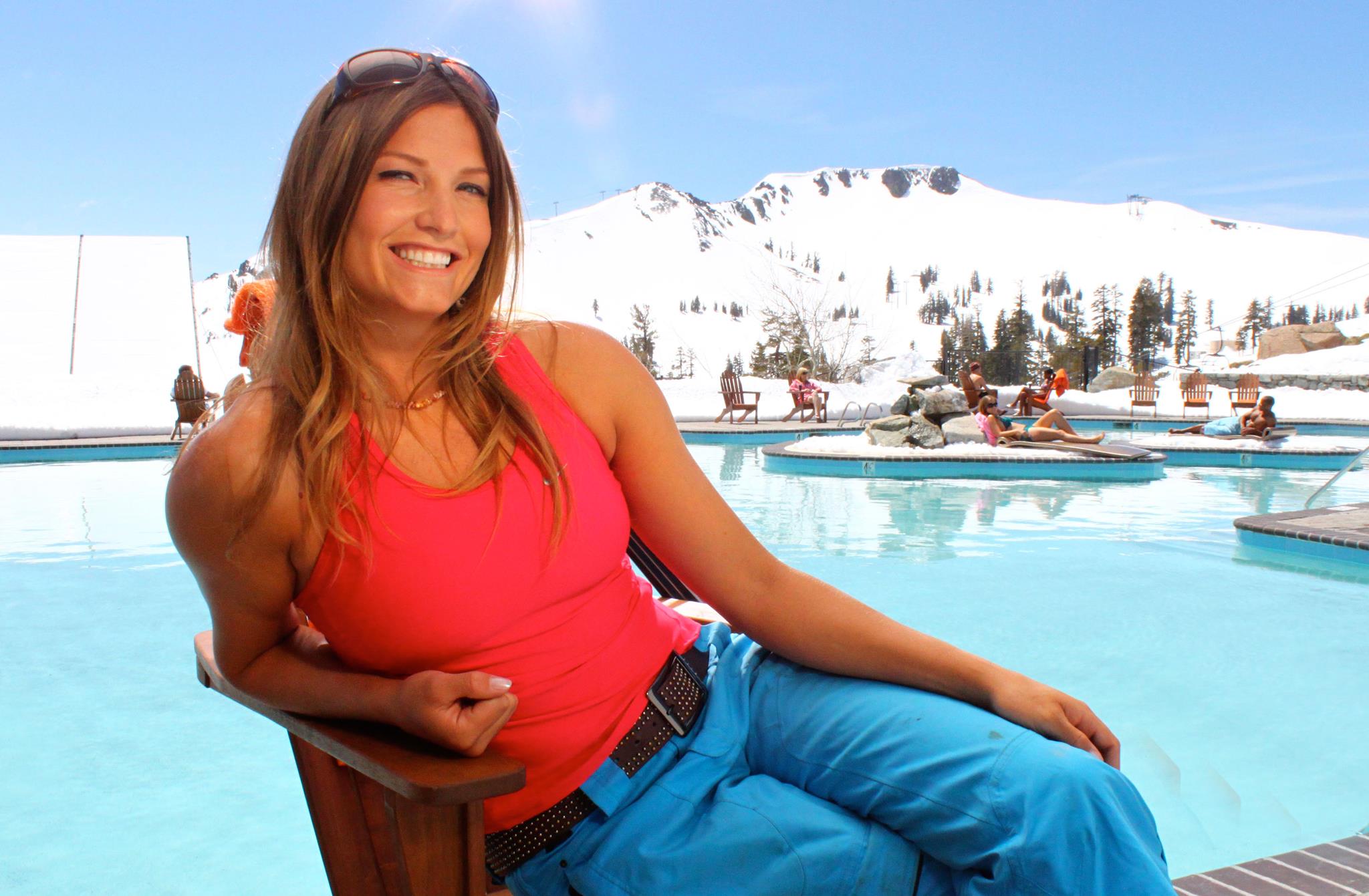 Tahoe! It's got babes (that rip, like Julia Mancuso), skiing is fun here, and it's warm enough when it's not dumping to wear a tanktop. Hey, we got a pool, too! Squaw Valley photo.
Move here if you.. are from California. You're fun. Skiing and riding is fun. You want to be there with other fun, smiling people. You'll definitely take pow and shred the crap out of it, even escalate things to fisticuffs in the liftline for it, but if it doesn't show up, you can have fun anyways. Because you, and every one you know, owns a huge costume box, and it's always sunny and warm when it isn't dumping. The riding is awesome, but you can't take it too seriously, after all, since Shane McConkey is your hero, and you hike to his monument for training in the off-season. You are versatile: slush bumps one day, paddle the SUP the next, and climb a scary mountaineering line the next. You'd be okay with a place that isn't populated mostly by people from the East Coast (relatively), and you want your beach with your mountains. And you're brave: David and Goliath–type fights don't scare you (you're David, by the way). You, and all your fun friends, will fight to keep skiing awesome, mostly through costumes.
Silverton, Colorado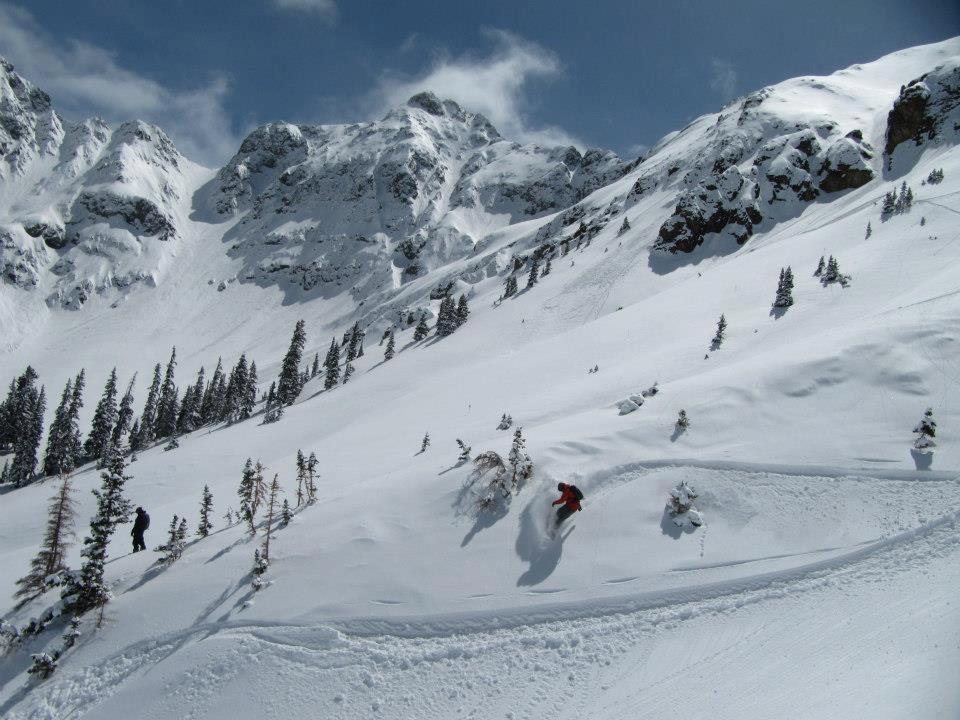 Just left the house to head down the street for more bacon and whiskey... Silverton Mountain photo.
Move here if you… haven't ridden a groomed run in four seasons, and never intend to again. You've taken every single backcountry-related course possible, from your WFR to your Avi III and AMGA guide certification, but you decided against becoming a ski guide as it'd cut into your time bootpacking and skiing 5,000 foot couloirs. You don't mind living in a dead-end town of barely 500 people, making $12,000 a year, and driving a truck held together with bailing wire, as long as every line you ski or ride is absolutely terrifying, due to the fact that the snowpack is the most dangerous in the country or you're looking over a thousand feet of blind exposure. You ski with a rope, can reset your own femur if you break it tomahawking over cliffs, and your family hasn't heard from you in six years.
READ THE STORY
The Summit Daily News is reporting the death of a man on Quandary Peak, a popular 14er just south of Breckenridge, Colorado on Sunday. The man was skiing with a partner when he sustained critical injuries at 13,400 feet. His injuries remain unknown. RELATED: Lucas Merli Talks About the Scariest Rescue of His Life A search and rescue team led by the Summit County Rescue Group responded to the call around noon and dispatched a Flight For Life Helicopter to provide advanced life support. He was
READ THE STORY
It's been a historically white December in Whistler, so white in fact that the 151 inches of snow that fell last month have beaten out the previous record of 149 inches that fell in 1994. Whistler Blackcomb spokesman Marc Riddell had this to say about Snowcember: "It was a phenomenal holiday period and we've got a great base to start the season, particularly given the snow we've had in the first days of January." He added, "It took some time to arrive this season, but it's not letting
READ THE STORY
The wait is finally over. After almost a year of waiting, we finally get to watch some of the best freeride skiers and snowboarders on the planet huck their carcasses on the world stage again. The Freeride World Tour, freeriding's preeminent competition circuit, returns to Hakuba, Japan this week to kick off the 2019 season. RELATED: Here Are the Top 5 Cliff Drops From Last Year's FWT With an already stacked athlete roster, FWT also just announced two additional wild cards. Local