Editor's Note: Be sure to check back tomorrow for the exclusive premiere of Out On A Limb presented by Columbia. Out On A Limb chronicles Vasu's backcountry skiing exploits. The film is a finalist at the Banff Mountain Film Festival and won the Winter Wildlands Backcountry Film Festival.
Many of you haven't heard of Vasu Sojitra, but you will soon. At the age of 9 months, he was diagnosed with septicemia, a blood disease resulting in the amputation of his leg. His ski film about his backcountry exploits Out On A Limb which is presented by Columbia and produced by T-Bar Films was selected to premiere at this year's BANFF Mountain Film and Book Festival. Furthermore, he recently decided to pair up with Paradox Sports and Exum Guides to be the first adaptive athlete to ascend and descend the Grand Teton with crutches. Sojitra is testament to the notion that disability does not equal inability.
How did you come across the idea to summit the grand? Was this something that you had considered doing before?
"Not really actually. Paradox Sports called me and asked if I was interested in climbing the Grand Teton. I never thought about it but was stoked on the idea. For I while I was on the fence, I knew I could summit but I was worried about taking time off from work, the weather, and everything that can go wrong on a trip. So the program coordinator at Paradox Sports invited me to go on this climb and I finally said yes! I started crowd sourcing so I could afford to go and I reached my goal within four days, it was really cool to get that type of support."
How did you prepare for the climb?
"I'm pretty active in general. I rock climb occasionally and go to the climbing gym. I've done a lot of backpacking and hiking trips, I spent a lot of time outside in general. I didn't really do anything different other than taking a couple days break before the climb just so my body could recover for it.
Photo Credit: Will Strathmann
Did you need any special equipment?
"The only thing I actually did use were little crampons for my crutches. On the climb itself, I just strapped my crutches to my backpack and just climbed with my hands and foot. Nothing too crazy."
How many other people did you team up with? What were some of the other athletes like?
"There was one person with an arm amputation below the elbow. One person who already summited a year or two ago, who was a veteran and an below knee amputee. Another athlete that was a 25 time IronMan who was also a below knee amputee. And one athlete who had paralyzed right arm and lung. We had one guide from Paradox Sports, then my friend who was the film maker to document the trip, and four guides from Exum. The total eleven."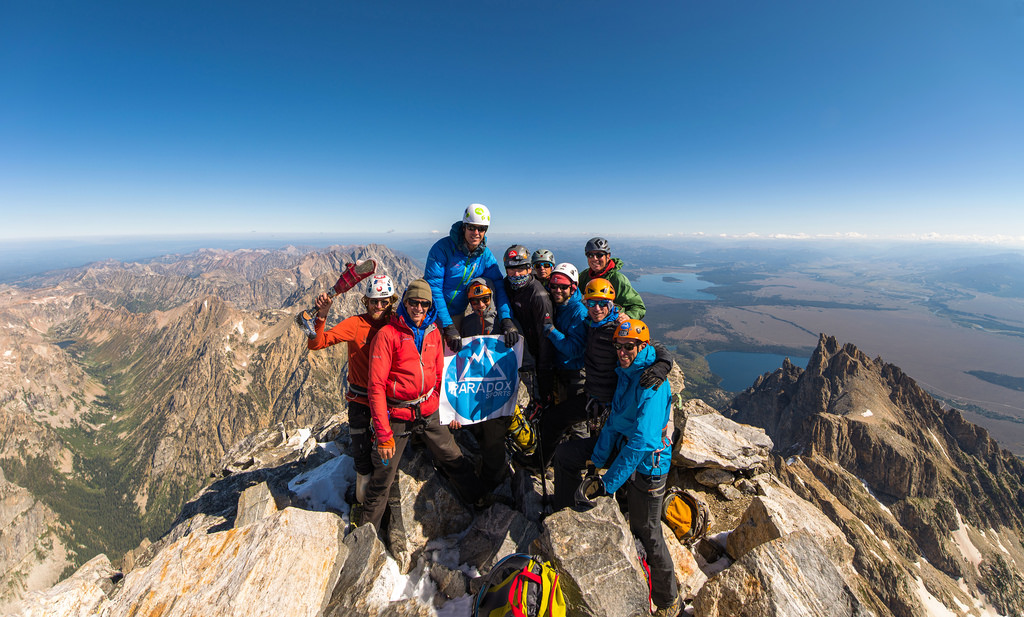 Photo Credit: Will Strathmann
What was going through your head when you were on top of the Grand?
"This is pretty sweet! We were all just pretty psyched to summit, it was beautiful up there. It was nice to sit and relax a little bit before the down climb. It was a priceless view; you can't really pay for it. I was feeling euphoric, at the least. It was nice to get up there with all the people you've made connections with as well, for the week we've been training and getting to know each other. So that was really cool do it all as one team."
How was the vibe of the team?
"I mean yeah people were nervous, definitely because for some of them, that might have been the hardest thing they've done in their life. I mean for me, I think that was also definitely on top of the list, but I've done some gnarly stupid stuff as well. I knew what I was in for, but most of us didn't have mountaineering experience. Nerves were definitely part of, but we were also excited to summit. We all trusted our guides because they knew so much about the Grand, and just mountaineering in general, so we had full trust in those guys. Without them it would not have been possible."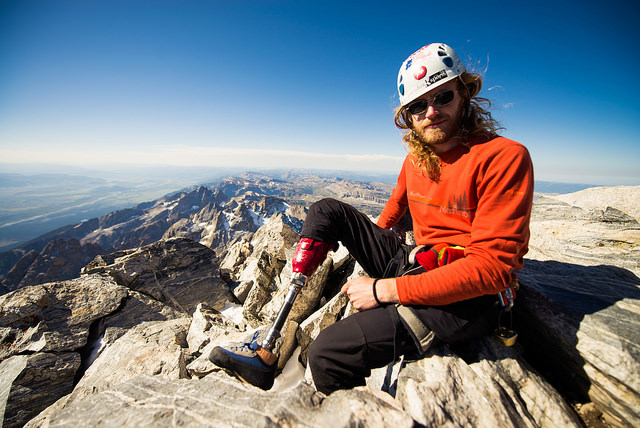 Photo Credit: Will Strathmann
What was the biggest challenge for you personally?
"Personally, I'm always a slow hiker no matter what, but that's not really too big of a challenge because I just go at my own pace. The biggest challenge usually is just repelling and going down because I rotate. But I'm able to figure it out. When I get tired I break or stop, eat something, drink something—nothing too out of the ordinary."
Switching to skiing, how does it feel to be a part of BANFF? That was a goal of yours for a while.
"When we started filming a year came out I never expected to make it into BANFF. I was just skiing on my own doing nothing. When I first heard about it I was like 'no way,' I think I am still in shock. I can't wait to actually go to the festival itself, it's going to be a pretty cool experience to be a part of it."
What motivates you to push your limits?
"I don't really know. I am trying to show people what a disability actually is. So it's nice to push the limits like that. I think it might be simply just doing something I love. I go for it no matter what and I figure it out whether it takes more time or different equipment. I get super stoked when I make it to the summit. Doing all this on one leg is no different for me. I don't have anything to compare it to so when someone does call me an inspiration I never try to let it get to my head."
Photo Credit: Will Strathmann
What's next? Do you have any adventures in the works?
"I do want to be the first ski ascent and descent of the Grand so learning more about ski mountaineering. Alaska is always a goal, such a mecca for snow sports. When people see this at BANFF hopefully I will get some help to achieve some goals. I started preparing for the Grand less than two weeks before so it's kind of all up in the air [laughs]."
READ THE STORY
Some adventures are a long time coming. Big mountain riders Jeremy Jones and Griffin Post have been adventuring deep into the mountains of Alaska for most of their careers, but in recent years have turned to embracing a foot-powered approach to exploring these peaks. While it might be much easier to reach these legendary ski and snowboard objectives with a helicopter, both riders have learned to appreciate slowing down the process and doing it the hard way. A few years ago, after an
READ THE STORY
spreading the SLAG. | Shannon Corsi photo. Ski Like a Girl founder Kimmie Geer arrived in Bozeman, MT with only a raincoat to survive the winter, not knowing the first thing about skiing. As a graphic design major at Montana State University, she secured a job at a store in downtown Bozeman called Heyday in 2011. After a few seasons of learning to ski, and discovering her passion for social media marketing she began printing private label items for the store. 'Ski Like a Girl' ended up
READ THE STORY
If you need the perfect thing to start your winter off right, look no further than the TGR Magic Hour tour! We're stopping all around North America and beyond this Fall to show our latest ski film, so we thought we'd make a little "Where to Go and What to Do" guide for you in our top 5 favorite spots we'll be showing Magic Hour! When? Saturday, September 17th, World Premiere Where? Jackson Hole, WY Where to find some ski + snowboard gear? If you're in town before the premiere at the