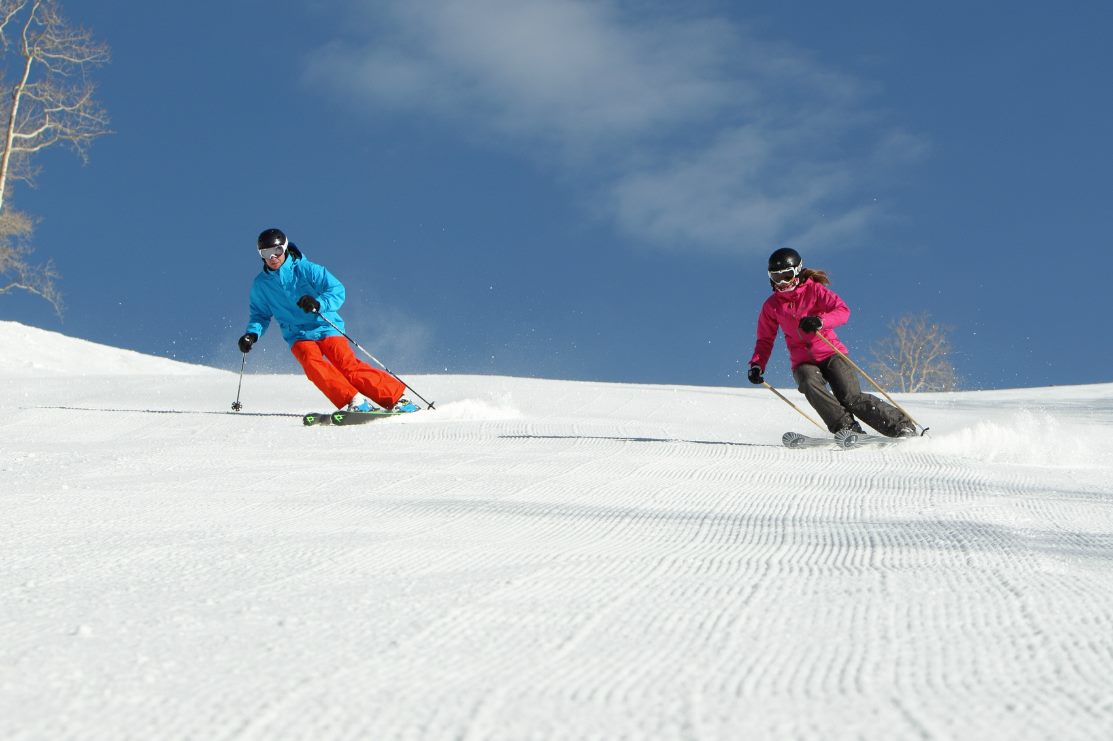 Synchronized groomer turns, among other activities, will again be possible at Park City Mountain Resort this winter now that the Powdr vs. Vail Resorts skirmish has come to a close. PCMR photo.
"The hard part about playing chicken," said Bart Mancuso, the American submarine captain in Hunt for the Red October, "Is knowin' when to flinch."
It appears that, after a brutally long game of chicken that pitted Powdr Corp against Vail Resorts in a stalemate of a battle over Park City Mountain Resorts' ski terrain, Powdr's CEO, John Cumming, finally flinched. Rob Katz and his feared legion of Vail Resorts lawyers then proceeded to swallow Park City Mountain Resort whole, gutting out $182.5 million for the entirely of the mountain's ski terrain, base area, and related holdings–including the lifts that Cumming had threatened to dismantle earlier this summer. Cumming and Powdr Corp. will be ambling quietly out of town, cash in hand, with the Gorgoza Tubing Park as their only remaining foothold in the Park City area.
The saga that began when PCMR failed to renew their sweetheart lease deal on time–which had for years granted the resort access to the majority of its 114 ski runs for a measly $155,000–and tried to forge a backdated application. Talisker Land Holdings, which held neighboring Canyons and PCMR's ski terrain, and had no doubt been eyeing PCMR's central location and possibilities for interconnected megaresortness with a lustful eye, immediately took the chance to pounce. With Powdr on the run, Talisker brought in the muscle–Vail Resorts, the country's biggest ski area operator–to put the hurt on. Vail took over The Canyons with a sizable cash payout and revenue-sharing agreement, along with a promise to Talisker to see the legal mêlée all the way through to the bloody end.
The warring that followed was so far above any one skier's head, it felt akin to dueling Soviet and American missile bases sending ICBMs past one another in the night sky, or, to use a more current example, combatting megabeasts of comic proportions straight from the plot of Pacific Rim. Armored with the deep liquidity of private equity financing and Ivy League law degrees, Vail sent their monsters into battle, where they lobbed threats of eviction and base area purchase offers at the beleaguered Powdr Corporation. The rare mega ski corporation run by a local family, Powdr countered by threatening to scuttle any potential Vail victory, grasping Park City's lifts and snowmaking equipment and sounding threats to tear them from the Earth. They then retreated to the base village they still had ownership over, dug their claws in the dirt, and threatened to blockade their adversary's access to the annexed ski terrain.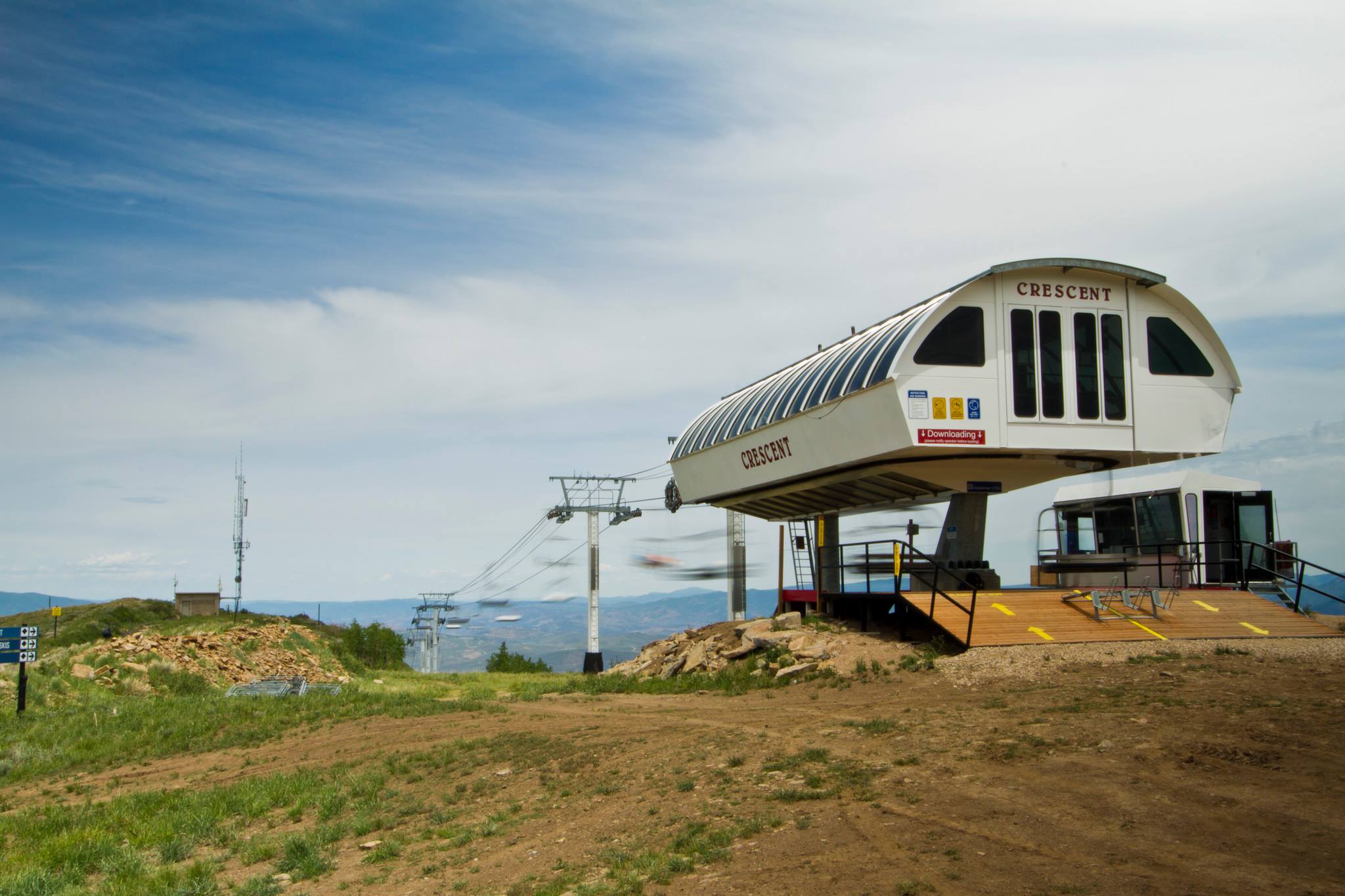 At one point, Powdr CEO John Cumming threatened to undertake the insanely expensive and labor-intensive project of removing all of PCMR's lifts and snowmaking equipment should they get evicted from their sweetheart lease deal. PCMR photo.
Month after month, these behemoth exercises of legal posturing made Vladimir Putin look like a reasonable negotiator. The mountain's human faithful, on the sidelines of a battle with such overwhelming forces, could only duck to hide from the crossfire­–clutching their season passes close to their chests, fearful that their fiat lift access currency would turn to worthless tender when the dust settled from the $17.5 million bonds falling from the sky.
The mountain's human faithful, on the sidelines of a battle with such overwhelming forces, could only duck to hide from the crossfire­–clutching their season passes close to their chests, fearful that their fiat lift access currency would turn to worthless tender when the dust settled from the $17.5 million bonds falling from the sky.
As the battle wore on towards the fall months, the leaves changing in anticipation of the first snow, Park City's beleaguered civilian faithful began to wonder aloud if their lifts would run again, and began to pray that the aggressors might draw up some kind of truce to give the besieged some kindling of hope for the winter months.
This morning, that bright light came when CEO John Cumming and his family's Powdr Corporation put down their swords and agreed to fly the flag of a loathed enemy over their territory in exchange for a king's ransom and the promise that previously-purchased season passes be honored and all employees retained in their current positions. "Selling was the last thing we wanted to do," Cumming said as he graciously laid down his arms. "And while we believe the law around this issue should be changed, a protracted legal battle is not in line with our core value to be good stewards of the resort communities in which we operate."
As Cumming and his legal team no doubt retired to the warmth of Park City's High West distillery to lick their wounds from behind a tall glass of Rendezvous Rye, Vail's stock jumped over 10% as the company's core of engineers began drawing up plans to connect their two fiefdoms into the largest skiing empire in the American republic.
But the window for local skiers and riders to enjoy the spoils of war may be short-lived; the sabers are already starting to rattle over One Wasatch , a proposal that will pit backcountry militias against rent-seeking corporations and a diverse set of concerned citizens–setting the stage for another saga of shifting alliances and legal villainy, all parties coveting The Greatest Snow on Earth ®.
---
What do you think of PCMR ending up in Vail's control? Are you stoked for your EPIC pass? Bummed over more Vail in Park City? Join the conversation about Park City going on right now in the TGR Forums.
READ THE STORY
When Daniel Tisi won TGR's grom contest back in 2011, he didn't even have a cell phone. Tisi was 12 and had to put down his mom's phone number instead. She was the one who passed along the dream-come-true news: he would be filming with TGR the following winter. Growing up in Jackson Hole, it comes as no surprise that Tisi naturally adopted a love for the mountains and an admiration for his skiing heroes on the silver screen. But getting to ski with the likes of Max Hammer, Colter
READ THE STORY
What happens when a guidebook gains such notoriety that it becomes a life's mission to complete every descent within its covers? Ski mountaineer Caroline Gleich recently checked off descent #90 of Andrew McLean's the Chuting Gallery, marking her completion of a list of some of the gnarliest skiing in North America. For most, a list of potential climbs or descents opens up a world of possibilities, giving much-needed beta on faraway, unfamiliar areas. For others, guidebooks represent
READ THE STORY
During Sego Ski Co.'s relatively short history, Ron Murray has become sort of a local legend. His 20-plus years of ski repair experience, combined with his time working in manufacturing and his wholesome philosophy on skiing (and snowboarding) has made Ron an integral part of the Sego team and brand. Ron is pretty much everything you look for in a ski tech. His gentle demeanor breathes wisdom and humility, and it shows in his craft. After all, aren't our skis just an extension of our feet?