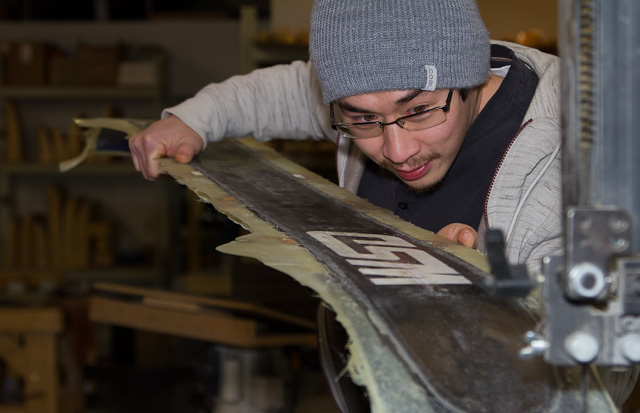 Howard Wu, who once was an engineer for a corporation that designed balloons for NASA, at his Salt Lake City workshop–home of WSD Custom skis.
I first met Howard in 2009 in Snowbird's rental shop. At the time, I was on winter break from graduate school back east visiting a close friend who had recently moved to Little Cottonwood Canyon in search of bigger mountains and deeper snow. Back then, Howard was supervising Snowbird's rental shop and overseeing a group of surly misfits and transients–a ragtag group of guys whose only commonality was their passion for big airs and bigger lines.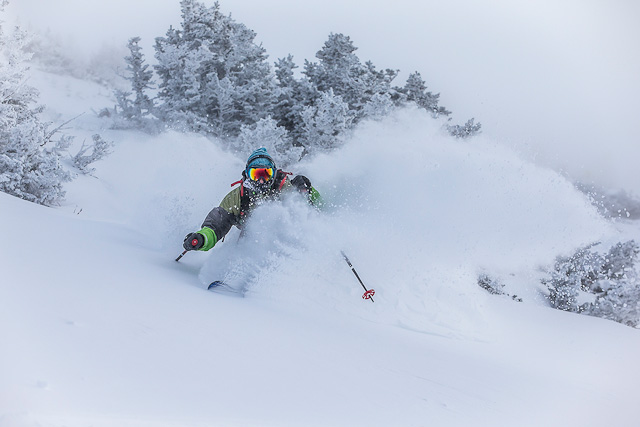 WSD team skier Eric Fabbri hammering Utah blower. Jay Dash photo.
Ryan and I were there to grab Howard and head up the tram. It had snowed 16 inches overnight, and continued to puke all morning long. Needless to say, the tram scene was in full effect. Howard finished buckling his boots and grabbed a set of skis from the back whose top sheet was a picture of Tupac Shakur, Howard's favorite rapper. "Sweet graphic" I remarked. "Who makes those?" "I do," Howard casually replied. With that, we headed out into the storm.
A Slow Start in Jersey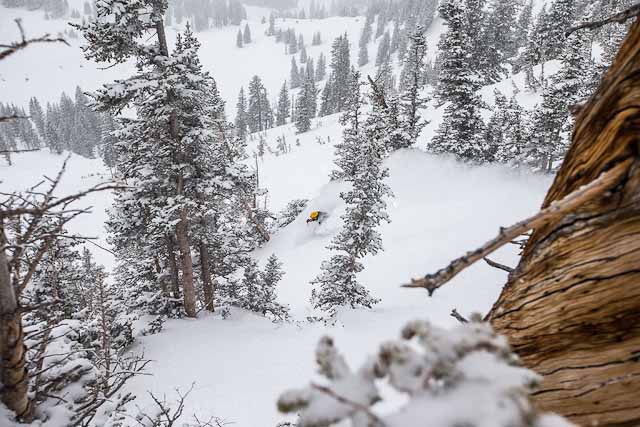 It would be years before the draw of bottomless Little Cottonwood powder would change the course of Howard's career and life. Jay Dash photo.
Howard's path was by no means typical. The son of immigrant parents from Taiwan, Howard was raised in a rural community outside Princeton, New Jersey. During elementary school, Howard learned to ski at Camelback Mountain, though he only ever skied a handful of days a year. "Skiing is the only thing I wanted to do ever since I was young, but as a kid, I didn't get to ski much. I had no way of getting to the closest resort, which was two hours away. I ended up taking the sport of wrestling pretty seriously since there was really no way for me to ski in the winter. I think the last time I skied back east was when I was 14 years old. After that, I don't think I skied again until I was 22. During my senior year, we took a trip up to Heavenly and I was just blown away. It was that trip that kind of set me on my path.
So after graduation, I decided to spend the winter skiing. I think I just picked up a map of the US and selected a few cities within close distance to ski areas. Ostensibly, I moved to Seattle to find a career, but I had no real ambition to work that winter. Several days after moving in, I drove up to Crystal Mountain. I think that was the first time I experienced a face shot. It was kind of wild–I had never skied in snow up to my nipples before."
Ostensibly, I moved to Seattle to find a career, but I had no real ambition to work that winter. Several days after moving in, I drove up to Crystal Mountain. I think that was the first time I experienced a face shot. It was kind of wild–I had never skied in snow up to my nipples before.
By the end of that winter, jobless and facing pressure from his parents back east, Howard moved back to Los Angeles after landing a lucrative job with a large multinational engineering firm. He spent the next five years working for Parsons Corporation, an internationally recognized firm with revenues in excess of $3 billion that designs mechanical systems to neutralize chemical weapons and engineers state of the art blimps for NASA.
The Rat Race Loses Its Appeal
Before changing careers entirely, Howard spent much of his fun money from his cushy engineering job flying to Salt Lake to ski on the weekends.
"I was living cushy," Howard said looking back. "But those days at Crystal stayed with me. After my first year in LA, I found myself flying to Salt Lake every other weekend. I mean, I had the money and I enjoyed skiing, so why not, you know? I would much rather spend my hard-earned money on pow days than fancy clothes and fine dining." Looking back on those early days, Howard laments his accommodations. "I stayed in this dumpy motel in Midvale and spent an hour on the UTA riding up to Snowbird and Alta with a bunch of migrant workers." After five years, the rat race lost its appeal and began to wear on him. With that, he made the drastic decision to quit his promising career and move to Utah. Several months later, he rolled into Little Cottonwood Canyon. "I landed a gig as the supervisor at the Snowbird rental shop making $9.00 an hour. It was quite the career change," Howard says, laughing.
The concept for WSD Custom Skis developed over the ensuing two winters. Having grown frustrated with the status quo in industrial ski design, and bearing witness to frequent edge separations and sidewall collapses, Howard decided to put his engineering moxie to good use and formed WuBanger Skis, subsequently renaming it WSD Custom Skis. The first two years was largely a process of trial and error using a hodgepodge of homemade equipment. The initial shop was set up in his current business partner, Nick Wheeler's garage.
His first workbench was constructed from a picnic table purchased from Walmart, which was then propped up on cinder blocks. Howard's original ski press was made out of steel tubing from a local scrap yard (the current press is much more sophisticated, constructed from four steel I-beams). Despite the challenges presented, Howard threw himself at the work. After countless hours of research, experimenting with various types of wood, resins, and design techniques, a ski emerged. "When I first started designing skis, rocker was just starting to emerge. I remember that first pair of skis I designed. I mistakenly put the ski into the press backwards, and the tip rocker was in the tail and vice versa for the tail rocker."
Over time Howard honed his skills and eventually put out a quality product. "During those early years, I made a handful of skis a season, probably less than 10. I passed them around to some friends, and surprisingly got a lot of positive feedback and decided upon making this my career."
But The Passion, And The Product, Live on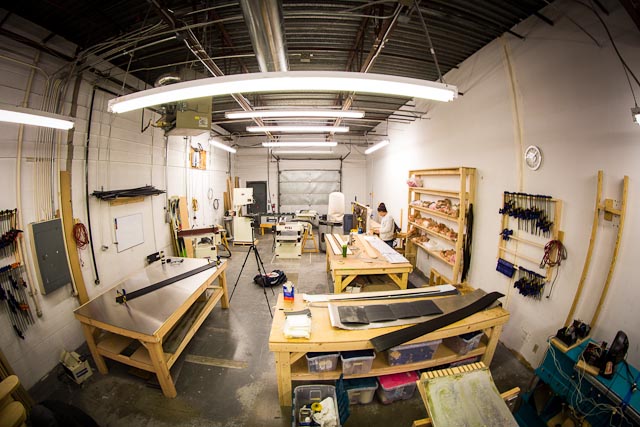 Having started with a Walmart picnic table as his first workbench, Howard's since graduated to a proper industrial workspace. Jay Dash photo.
Seven years later the company endures, averaging 40% growth annually. "Our business model is quite simple: to build the highest quality ski specifically tailored to the individual. We aren't looking to be the next K2 or Rossignol. Ski integrity tends to suffer when building skis on that kind of scale." The commitment to quality is the cornerstone of WSD. Every ski is built using symmetrical design aspects, a process known as bookmatching, to create a better skiing experience.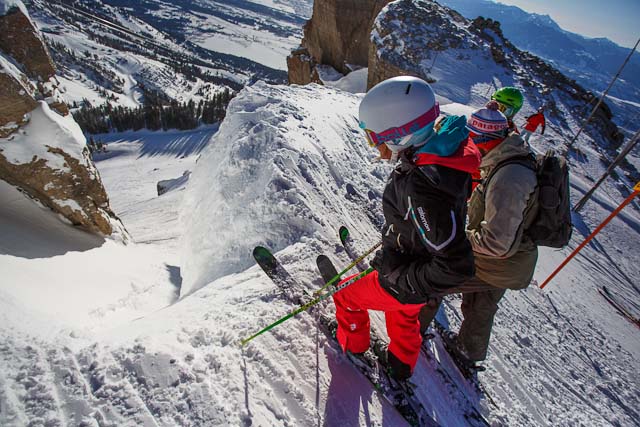 Howard utilizes a process known as bookmatching–where strips cut from the same piece of wood are used in identical areas of the left and right ski–to ensure as close to a symmetrical skiing experience as possible.
"I personally hand select every piece of wood used in my skis to ensure quality control. Our cores are constructed using only poplar and ash, which are selected for their strength and flexibility. To ensure each ski is identical to the other, the cores are built from strips of wood cut from a single piece of timber and used in both skis in the same respective location. So the wood used on the outside strip of the core on your right ski is from the same piece of timber as the outside strip of the core on your left ski. This form of symmetry is essential to create identical skiing experiences for both legs."
Attention to detail is evident in every aspect of the design. Howard, and WSD technician Alex Laursen, personally prepare and inspect every piece of material that goes into a pair of skis. Once complete, the skis are finished by professional tuners at a nearby repair shop, Twin Peaks, for base structuring. In addition to detail, these skis were built to withstand all you can throw at them. WSD utilizes a proprietary method to bond the sidewall to the ski for added durability. Every ski is constructed using biaxially-braided carbon fiber or strategically arranged carbon tow for strength, and all bases are constructed from highly durable 4001 molecular weight p-tex.
In addition to quality control, WSD is entirely an American brand. Every aspect from design to production is done right in their shop in Salt Lake. Their commitment to working with other American businesses is a hallmark of the company's business model – all materials are sourced in the USA (other than the edges, which are not sold by any American companies).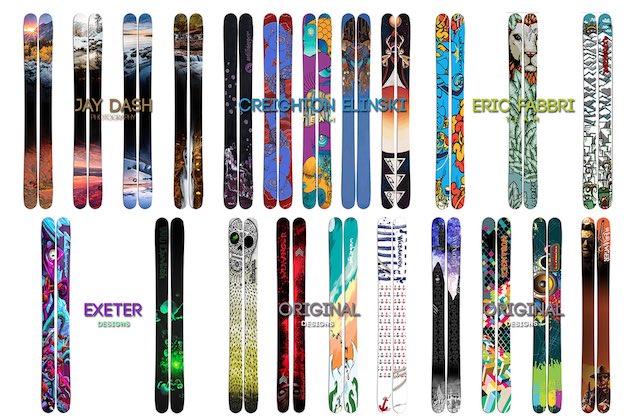 Some of the 40-odd graphics WSD customers can choose from, or offer up their own.
However, what truly sets WSD apart from other ski design companies is its collaborative approach to design and construction. WSD partners with local companies, photographers, and artists to design its top sheets. "Nick (co-owner of WSD) has a background in fine arts and has designed a large percentage of the unique top sheets we offer." However, WSD recognized the need to showcase other's artwork using their skis as a canvass. "Several years ago we started collaborating with local artists and others around the country to come up with some cool graphics, like the Spurrier and Swen lines."
There is no shortage of unique top sheets to choose from – customers can select a top sheet from their graphic catalog containing over 40 unique designs. In the unlikely event one is unable to find a top sheet they like, WSD will build a ski using a top sheet submitted by the customer. The collaborative process between engineer and skier does not end with the top sheets. Skiers are involved in every step of the design process. "We build semi-custom, and custom, skis tailored to our customer's skier style. There are thousands of completely different people with completely different styles of skiing, riding the same exact ski, and that doesn't make any sense," says Howard. WSD even allows skiers to tweak the relative flex of the tip, mid section, and tail of each ski. In addition, skiers can determine the amount of rocker, camber, shape and dimension of the skis, with technical input and advice from the company. "I started WSD because there is no such thing as 'one ski fits all.' Being able to craft custom skis designed around a particular individual's skiing style is the most exciting aspect of my job. As an engineer, what I enjoy most is the design aspect, the creativity of coming up with new ideas and working with an individual to put out new skis with every new order. It's exciting,"
There are thousands of completely different people with completely different styles of skiing, riding the same exact ski, and that doesn't make any sense.
WSD has built a solid following, mostly through word of mouth, in Utah's Little and Big Cottonwood Canyons. However, as the company continues to grow, so does their reach. WSD now has customers in places as far away as Japan, and sponsors nine athletes in three countries. In fact, their sales, and reputation for building high quality, distinctive skis has grown with each athlete they sponsor, including the team's most visible athlete, Eric Fabbri.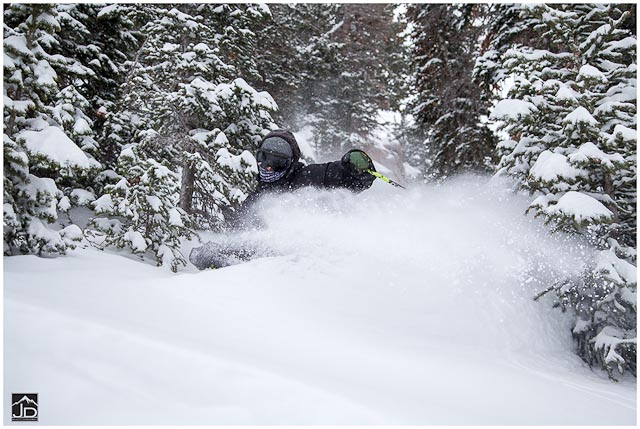 One of WSD's team skiers enjoys the custom experience in Little Cottonwood Canyon. Jay Dash photo.
As WSD continues to expand, its commitment to quality design, durability, and creativity remains steadfast. "Because of our business model–building custom skis–we will always remain a small company. I'm not interested in outsourcing the manufacturing process to increase production. We will continue to build skis to order; it's what I enjoy doing and it's the foundation upon which this company was built. Currently we build primarily semi-custom skis, however as we continue to grow, I'd like to start designing more full custom skis. It's more labor intensive, and expensive, but at the end of the day, I am an engineer, and coming up with new designs is what motivates me to get up in the morning."
To learn more about WSD Custom Skis, check out their website here.
From The Column: Upstarts and Underdogs