Ronnie Berlack (left) and Bryce Astle (right) died early this morning in an avalanche near Tyrol, Austria. U.S. Ski Team photo.
UPDATED 3:58 PM MST, TUESDAY 1/6: We will work to continue to add relevant details and news about this terrible tragedy–which took the lives of U.S. Ski Team Development racers Bryce Astle & Ronald Berlack. If you have new information to share, please email Content Coordinator Jonathan Desabris at jonathan.desabris@tetongravity.com
It is with heavy hearts that the ski world learned of the deaths of junior U.S. Ski team members Ronald Berlack, 20, of Franconia, New Hampshire and Bryce Astle, 19, of Salt Lake City. The pair was with the U.S. Ski Team training in the Solden region of Austria. This morning Berlack and Astle, along with four other U.S. Ski Team members, left the patrolled area in Gaislachkogel and skied off piste towards Rettenbach Valley. According to avalanche analysis by Lawinenwarndienst Tirol the group triggered an avalanche 30 cm deep that broke 20 meters across. The avalanche ran 360 meters down a northwest slope. The slide buried the pair but the four were not buried and managed to ski out of the slide.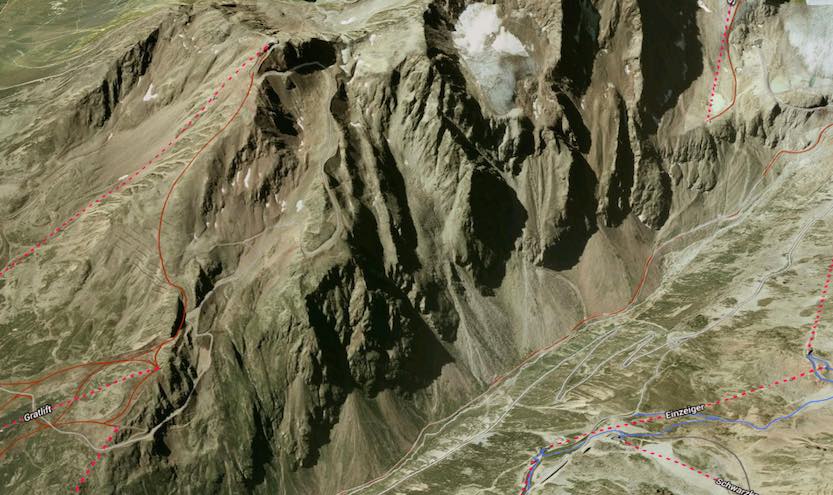 This Google Earth image shows the general area in Sölden, Austria, where the avalanche is believed to have taken place. The Gaislachkogel lift is the highest dotted line to the left of the image. The partly-shaded terrain descending towards the viewer is the north-facing terrain we presume the group skied in order to head towards the Rettenbach Valley in the foreground of the image. The dirt road weaving its way down the looker's righthand side of the Gaislachkogel terrain is the edge of the on-piste terrain.
A snow pit near the scene of the avalanche shows new snow on an obvious weak layer. LWD Tirol Photo
A group of 60 search & rescuer officials participated in the search for the young skiers. The first victim was found after more than 40 minutes of probing and the second was found 10 minutes later. No one in the group of six Americans was wearing avalanche beacons or had any avalanche rescue equipment. This meant the searchers used probes to find the skiers. The first victim was found after more than 40 minutes of probing and the second was found 10 minutes later in 3-4 meters of snow.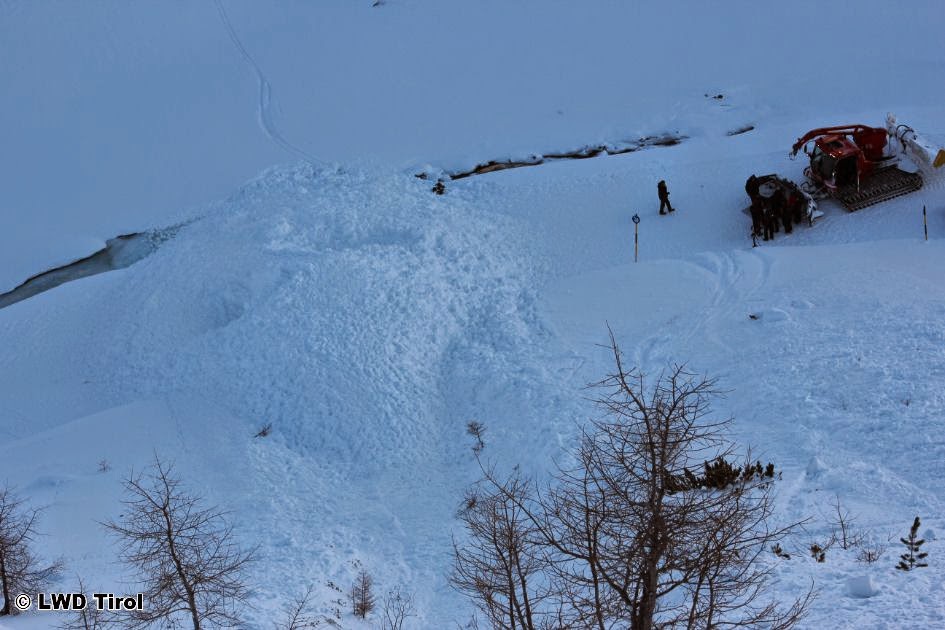 Debris pile with holes where the two victms were found. LWD Tirol Photo
Resuscitation efforts were ineffective. The avalanche danger for the area was listed as Level 3 or "considerable," owing to the heavy snowfall, combined with warm temperatures, that were precipitating in natural and human-triggered avalanches around the area as a whole. It should be mentioned as well than in Europe, terrain that is off of the groomed pistes is often unmarked and uncontrolled with regards to avalanche danger, whereas in North America in-bounds terrain is either controlled and opened, or left closed and marked.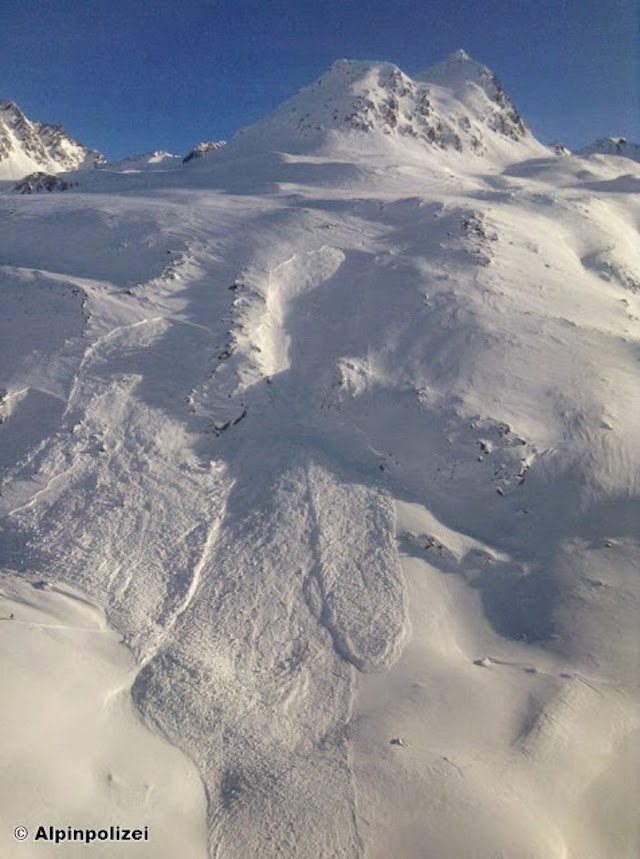 The aftermath of a January 2nd avalanche at neighboring Obergurgl that partially buried one skier. Photo via Avalanche Warning Service Tirol.
The surrounding area of Tyrol as a whole has seen a lot of avalanche activity over the previous few days. Our regional TGR forum members from the area have informed us that another individual died in a separate avalanche at neighboring Obergurgl yesterday, while a second was caught in another avalanche and partially buried today. The Tyrolean avalanche forecasting center published a large gallery of photos from recent avalanches Saturday, which can be viewed here. The forecasters warned about slopes in nearly all aspects being sensitive to human triggers above 2100 meters.
Below are their profiles from the U.S. Ski Team website.
ATHLETE INFORMATION
Ronnie Berlack
Franconia, NH/Burke Mountain, VT
Franconia Ski Club/Burke Mountain Academy
Birthdate: Apr. 21, 1994 (20)
New Hampshire native Ronnie Berlack, 20, earned a spot on the U.S. Ski Team's Development Team following a spring 2013 tryout camp at Mammoth Mountain. He had been a student at Vermont's Burke Mountain Academy. He had finished 11th in downhill and 17th in super G at the 2013 U.S. Alpine Championships in Squaw Valley. He was off to a strong season last year before suffering a knee injury last January. He had come back, competing in South American Cup races in Chile this summer and in NorAm and FIS races last month in Canada.
Bryce Astle
Sandy, UT
Snowbird Sports Education Foundation
Birthdate: Jan. 16, 1995 (19)
Utah's Bryce Astle, 19, grew up racing with the Snowbird Ski Team. He was 13th in giant slalom at the U.S. Alpine Championships in Squaw Valley last March, finishing as the top junior. He had been invited to train with the development team this season. He posted strong results in South American Cup races in Chile this summer, and was coming off a pair of top-10 slalom and giant slalom NorAm Cup finishes in Canada last month, where he was on the junior podium in all but two events.
Share your condolences with members of TGR's Forums here.
READ THE STORY
Griffin Post at the discovery site of Bradford Washburn's abandoned 1937 camera cache. | Leslie Hittmeier photo. Now here's a real-life treasure hunt story. After a multi-month search spread across three separate expeditions, professional skier and mountain explorer Griffin Post discovered a historic cache of camera and climbing gear abandoned in 1937 by legendary mountaineers Bradford Washburn and Robert Bates. Washburn and Bates, members of the Harvard Mountaineering Club embarked on an
READ THE STORY
In his very first podcast we welcome Eric Pehota, the freeskiing pioneer and undeniable ski legend, to the LPP. We sat down in his shop in Pemberton, BC alongside one of his sons... and friend of the show, Logan, who just happens to be one of the best skiers on the planet right now. Listen Eric talks about pioneering countless first descents in the Coast Mountains of BC with his ski partner and friend, Trevor Petersen. In the late 1980's and early 90's Eric and his ski partner,
READ THE STORY
The Ridge Infinity kit is a durable freeride kit for ripping no matter the conditions. | Helly Hansen photo. Freeride skiing takes a toll on your gear – your skis, boots, and outerwear need to hold up to abuse season over season. As much as I love lightweight gear, reality is, an ultralight touring outerwear kit just isn't going to cut it for mobbing around in and out of bounds. Helly Hansen's solution comes in the form of the smartly designed Ridge Infinity Shell jacket and pants, and