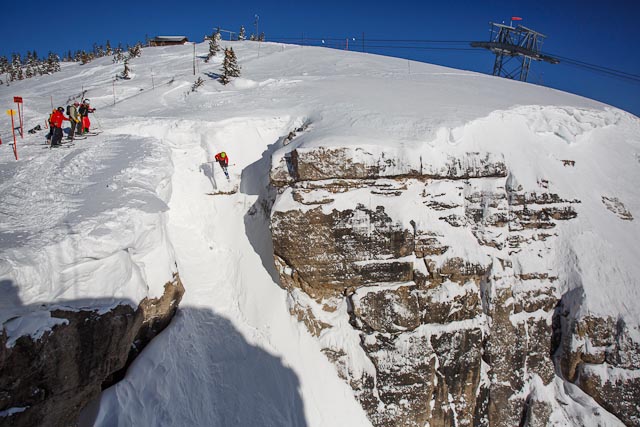 Dropping into one of the world's most infamous runs: Jackson Hole's Corbet's Couloir. Eric Seymour/JHMR photo.
There is an iconic Jackson Hole poster of a skier airing down a steep slope, with the caption,
"College degree. Good job. Big house. We all make mistakes."
And so it may be only be fitting that Corbet's Couloir– Jackson Hole's most famed, coveted, and sought-after run–is named after a 1950's college dropout, who headed west to Wyoming to pursue ambitious dreams in the mountains.
In 1960, Paul Mcollister, then-president of the Jackson Hole Ski Club (and one of the founders of Jackson Hole Mountain Resort), was researching Rendezvous Peak as a possible ski resort site when he climbed and skied the mountain with fellow local resident Barry Corbet, a Canadian-born, Dartmouth College student who had dropped out of school and moved to Jackson to be a skier and mountaineer, and to work for Exum Mountain Guides. As they ascended to where the top tram dock is today, Corbet is said to have pointed out a rock and cornice-crowned, 40-degree slice of snow in the north-facing cliffs of the peak and predicted, "Some day, that will be a ski run."
The two didn't ski it that day, but the line bore his name from then on, quickly becoming known as Corbet's Couloir. Ski patrolman Lonnie Ball is credited with the first drop in on skis in 1967, and Corbet is said to have eventually skied his namesake run, adding to his impressive list of climbing and mountaineering accomplishments. Corbet made first ascents around the world, including Denali's Southwest Rib, and was a member of the first American team to summit Everest in1963 - although Corbet himself did not summit.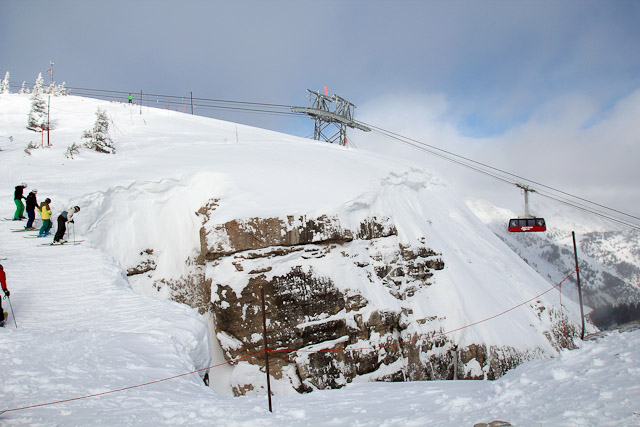 Sitting in plain view of the Jackson Hole Tram, Corbet's offers big-mountain showboating like no other line on the mountain. Patrick Nelson/JHMR photo.
Nonetheless, for decades, the couloir was seldom skied. "In the 1960's and '70s, that was a different world," says Bob Comey, a Jackson Hole ski patroller and avalanche forecaster. "The run was never prohibited, but no one really considered going there. And the sport has evolved a lot, but it is still one of the most challenging runs on the mountain."
Today, Corbet's has been skied by countless women, men, small (local) children, adaptive skiers (Chris Devlin-Young nailed the first sit-ski descent in 2011) and even dogs have been known to make the leap – and stick the landing. When Corbet's is open, people line up in droves at the entrance to peek in. But none of the hype means any skier should take the run lightly: it's a seriously consequential, high-speed drop onto a 45 degree slope that requires good conditions and multiple powerful, technical moves on skis or a snowboard to successfully execute.
Why Corbet's Is So Famous, and So Gnarly
Future TGR film athlete Max Hammer pulled off a wild feat in the spring of 2013–skiing non-stop from the top of the Tram, including a full-speed launch into Corbet's, for TGR inaugural Co-Lab contest.
The word couloir translates from the French roughly as a hallway or passage. Steep rock walls form three sides of Corbet's, and a well-known, fear-striking cornice forms along the entry. For that, skiers can thank the fact that the cliffs face northeast, and the prevailing winds in Jackson often come from the southwest. The snow blows across Rendezvous Bowl and swirls down into Corbet's, creating the cornice - but also depositing snow in the couloir itself, making the run soft for at least, well, the first ten skiers to hit it.
Ski patrol will open the couloir each season when there's enough snow to cover the refrigerator-sized boulders in the chute and rocks in the entrance. That's generally when there's about a 50 to 70 inch base.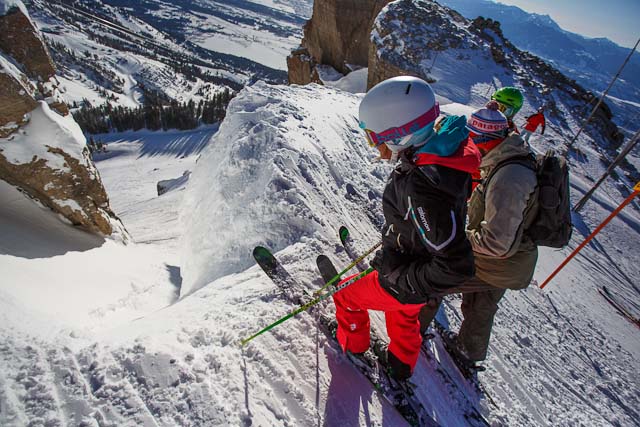 While the main cornice bulges out over the middle out of the couloir, the skier's left side, known as "the goat path," is where most first-timers drop in. Eric Seymour/JHMR photo.
The cornice formation every season makes the skier's left hand side the easiest way to get in. If you want to avoid the technical moves that requires, you can send it straight off the center of the cornice and put yourself nicely in the center chute – at a seriously high rate of speed provided you stick the 25 to 30-foot drop. The right side offers numerous creative options, but unless it is deep snow year, your airtime, necessary technical skills, and commitment will only need to expand to survive.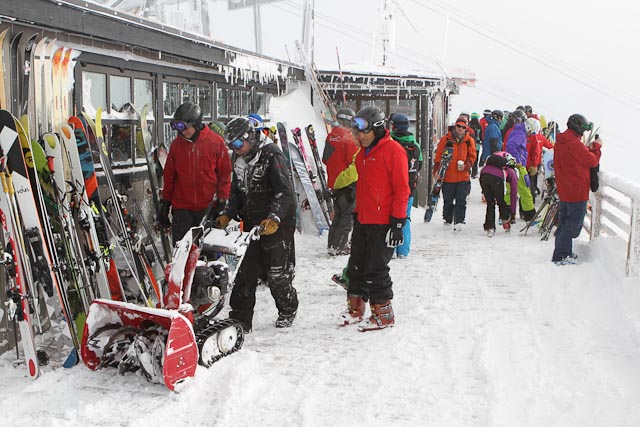 Corbet's Cabin is where you'll want to eat a waffle, and likely take a nervous pee, before riding the short distance down to Corbet's Couloir. Ryan Dunfee photo.
Ski patrol will close the run if looks as if people are going to start going to the hospital (i.e., it gets too icy or the rocks in the landing appear from all the scraping skis) but before that spectacular level of sub-optimal conditions – it is up to the skier or rider's discretion. "People show up to ski here and it's on their list, but if conditions aren't good, be prepared to say no and ski away," advises Comey.
For those who show up at the right time on the right day, however, there are multiple levels of rewards, and an awesome ski run that you'll remember for a lifetime. As a protected, north-facing run, if it isn't powder, the snow is generally at least chalky, and lies on a fun, 40 degree pitch once you're in there. The aesthetic satisfaction of descending a chute between steep rock walls is unforgettable, with a wonderful feeling of freedom as you arc turns onto the apron of Tensleep Bowl below.
How To Ski Corbet's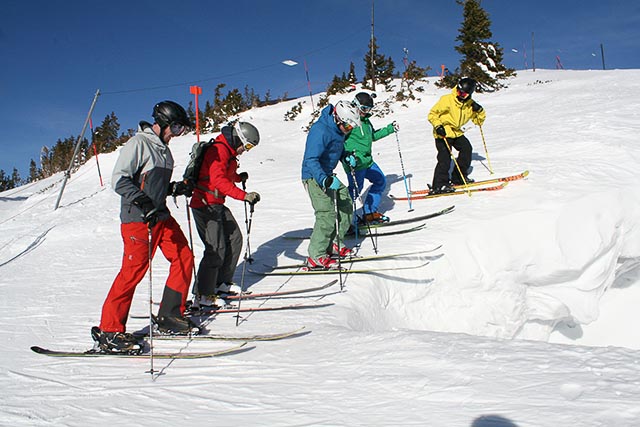 A group sizes up the main entrance to Corbet's. You'll find a friendly atmosphere of people conquering their fears, or admitting they're not up for the task and cheering on those who are. Ryan Dunfee photo.
Experienced skiers and riders who have gone in many times still view Corbet's as an ongoing mental game. Myriad factors set the butterflies in your stomach on a rampage: the tram cruising by, spectators lined up staring, wafflers who shuffle their skis at the top, peering over the edge for long, anxious minutes, and changing conditions and consequences below. But despite – or maybe because - of all that, the edge of Corbet's is a place of camaraderie, supportive cheers, good vibes and personal achievements.
In March of 2012, TGR brought a grip of top skiers to shred Corbet's for the film The Dream Factory. It marked one of the all-time sessions to go down in the infamous couloir.
The sense of joining all the legends who have skied the line is palpable – from recent groms in TGR ski movies to icons like Doug Coombs, to local legends, like former ski patroller Joe Larrow, who made history in 1979 with a jaw-dropping, massive air. Larrow tucked from the top of the tram and sent it straight into the chute, landing about a third of the way down and probably eighty feet out.
Yet if you find yourself stuck on the edge, a paralytic sense of dread spreading throughout your body, you may not be ready to commit just yet. "There's always a butterfly factor," says Jess McMillan, a professional freeskier who grew up skiing Jackson and Corbet's. "But you are not feeling it 100%, you shouldn't ski it," she says.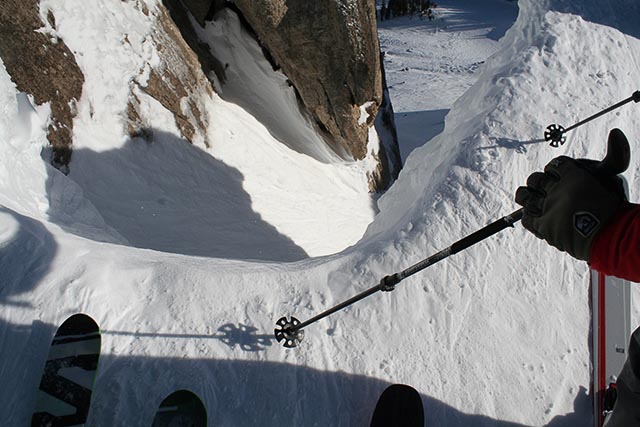 Is the entrance looking bony, refrozen, and rock solid like in this picture? Back away, young Jedi... Ryan Dunfee photo.
McMillan reminds people to resist the urge to ski it on their vacation if it is in poor conditions. "It's rowdy. I only ski it when it's in good conditions," she said. "It's supposed to be fun, after all. And you want to look pro – you never want to sidestep in, or slide down, or tomahawk – unless it's really spectacular and you tomahawk all the way down."
"The ideal day to go into it is a waist-deep day," says Bob Comey, who compares Corbet's to a frozen, but ever so slowly-moving surf break – sometimes the stars align for you, and sometimes, you must come back another time.
Bryan Iguchi, a professional snowboarder who has ridden Corbets innumerable times, concurs with how good – or bad – the line can be. "The most amazing session in there for me was a bluebird powder day shooting with [fellow pro] Johan Olofsson. We were spinning off the top, it was incredible. I'll never forget it," he says. But even Iguchi still admits that it's a tough entry, and he still doesn't make it every time.
How To Practice for Corbet's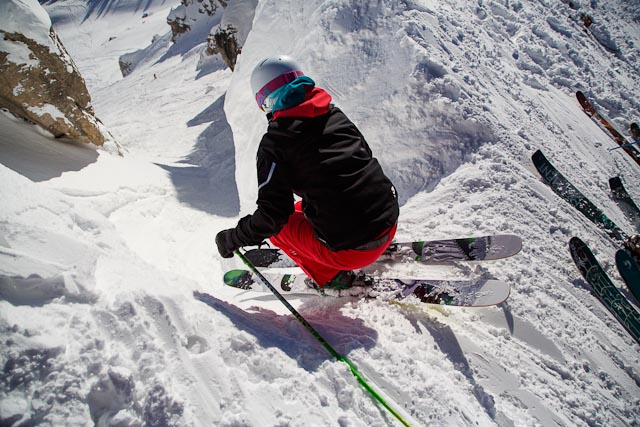 Hannah Hardaway commits and drops into Corbet's via the "goat path." Eric Seymour/JHMR photo.
If you want to ski Corbet's confidently, there is something you can do: practice. Nearly all first-timers drop in on the skiers left – often referred to as the goat path – where you face a drop or high-speed straight-line directly at a granite wall. A fast right-hand, blind turn is required to avoid the wall, followed by another, nearly instant left hand turn to avoid the right-side wall. A little pre-game preparation can help take you from petrified anxiety to pure stoke and nailing the sequence like pro.
Find places on the mountain where you can plan a high-speed straight-line into a sharp right turn, making sure to practice avoiding getting bucked back on your skis or snowboard. That is a super important factor – if you are not aggressively forward, you are likely to crash when you try to make the next, immediate left turn into the rest of the chute. Steep cliffy areas of the mountain like Expert Chutes (below Tensleep Bowl) or Bird in the Hand (off of the Sublette quad), for example, are good practice spots without the consequences, and will give you a physical, and certainly mental, advantage. Check out JHMR's full trail map here.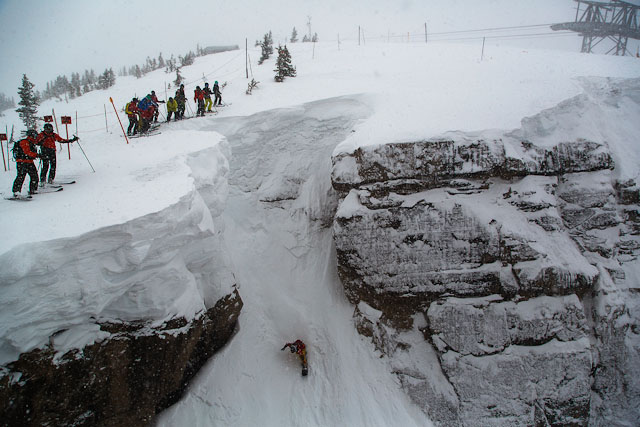 If the person in front of you isn't making a racket as he or she rides the couloir, you'll know the snow is decent and soft after the drop. Eric Seymour/JHMR photo.
Next up, inspect the conditions in the actual couloir. Iguchi suggests watching how it goes for others – after all, there's no need to put yourself in danger if others are willing to guinea pig it for you first. "Take a good look – see how the locals are hitting it, as it changes throughout the season," says Iguchi. He also advises listening: If the snow sounds scratchy and hard, come back another day. "If it's not loud, you can start breaking down the moves," he says. "Get a good look and a feel for the snow, but when you go, you've got to commit wholeheartedly, solid and confident over your board. And then, there's probably still a good chance you're not going to make it. Once in a while I'll go in and end up getting a beating," laughs Iguchi.
Once you finally get in the chute, keep your eyes peeled to left for the legendary Coombs Cave, named for Doug Coombs. Swing in, read the plaque, and let the special feel and respect for the mountains that permeates the chute sink in.
Once you finally get in the chute, keep your eyes peeled to left for the legendary Coombs Cave, named for Doug Coombs. Swing in, read the plaque, and let the special feel and respect for the mountains that permeates the chute sink in. When you pop out of the cave, you're home free, arcing big turns in your new incarnation as a Corbet's skier, down an open apron into Tensleep Bowl.
Just to the skier's right sits Corbet's even gnarlier cousin–S&S Couloir.
But don't go getting too big for your britches just because you finally nailed Corbet's. For a dose of humble pie, take a moment to look back up at the local's favorite: the seldom skied, vastly gnarlier and narrower couloir to the looker's left of Corbet's. Named S&S Couloir, its initials stand for the first two skiers to drop into it: legendary former patrollers John Simms (founder of Life-Link and Simms Fishing) and Charlie Sands (of Jackson's Sand's Whitewater), who to this day refuse to say who went in first.
If you want to put that on your bucket list, this article won't help you. You'll have to quit your job and become a ski bum in Jackson if you want to get good enough, and bold enough, to tackle S&S.
From The Column: The Bucket List
READ THE STORY
This week in 'Women in the Mountains' we sat down with Wild Barn Coffee's Jenny Verrochi who masterminded an underground women's naked ski event. Sounds cheeky and chilly! Will Beihoffer photo. On March 20th, you could see a full moon on top of Bluebird Backcountry's West Bowl. Well, 22 full moons to be exact. It was all part of a women's event focused on one beautiful, singular goal: skiing butt naked in the backcountry. The cheeky idea came from Jenny Verrochi, who's based in Boulder,
READ THE STORY
John Collinson's upbringing was a little different than most pro skiers. He grew up in a closet in Snowbird employee housing with his older sister Angel, and didn't do many things that most kids do. However, what he did experience was unfathomable, like summiting Rainier at 4 years old, summiting Everest at 17, and so much more. On the podcast, Mike Powell and Collinson talk about how he went from the closet to his sister's shadow, to pro skier, to social media influencer known for his
READ THE STORY
Lonnie, taking that next stoked-out step. | Ikon Pass photo. Ikon Pass holder, professional snowboarder and rock climber, Lonnie Kauk grew up seeking magic lines throughout his native Yosemite Valley and surrounding mountains. From early turns as a 2-year-old with his grandfather to scoring a pass at Mammoth Mountain – and now an Ikon Pass for the 21/22 season – Lonnie continuously embraces one step of stoke after the next. The Ikon Pass crew sat down with Lonnie to discuss his journey