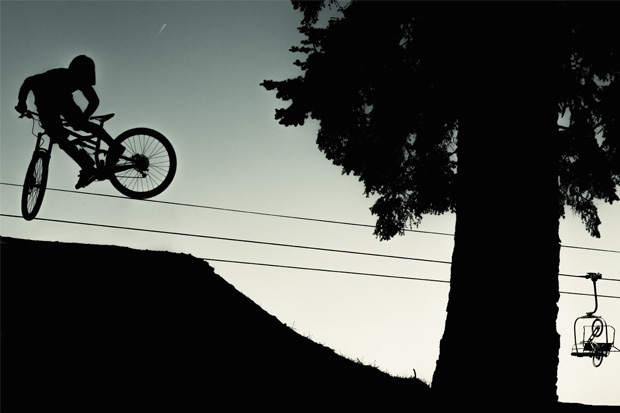 Throwing whips at Socal's only lift-served bike park. Photo Credit: Big Bear Mountain Resort.
The drive up to Big Bear always makes me think of that iconic '80s film, Harry and the Hendersons. It must be the pine trees; I fully expect Big Foot to jump out of the woods at any time. Or at least John Lithgow. But Big Bear is a long way from the Washington set of Harry.
Located only a few hours from both L.A. and San Diego in the San Bernardino Mountains, Big Bear Lake, California has long been the playground of movie stars, frat boys, Boy Scouts, and of course the dirtbags of both snow sports and mountain biking. In fact, a good weekend in Big Bear can see thousands of visitors descend on this small mountain town. With the region sitting in an area that's 6,700'-9,000' above sea level, it's a remarkable uphill trip with the cacti outside your window disappearing to make room for coulter pines and their enormous pinecones. The views are stunning — and so is the headache.
Elevation can be a bit of a trip on its own. When planning a getaway to Big Bear, be sure to come prepared. It's best to make your first night a bit on the mellow side while you allow your bodily functions to catch up to the altitude. Help things along by drinking lots (of water), and don't forget to pack some Advil. Be ready for frequent bathroom breaks, and forgive your buddies for increased flatulence. It's science, they can't help it.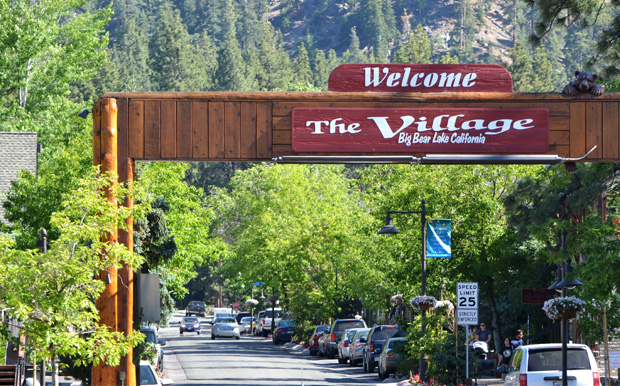 Downtown Big Bear Lake. Photo Credit: Big Bear Visitors Bureau.
The best way we've found to enjoy Big Bear is to rent a cabin. That way, you're free to hit up the local grocery stores (there is a Vons and a Stater Brothers — we prefer the Stater Bros because the produce seems to be a bit better, but Vons has an in-store Starbucks, so take your pick) rather than one of the many mediocre restaurants in the area. But skip calling top bunk — you'll be up three or four times in the night so best not to complicate it with ladders.
Cabin rentals are a dime a dozen in Big Bear. Many of the houses in town are vacation rentals or vacation homes that stand empty most of the time. You'd be hard pressed to find one that doesn't come decorated with a quorum of cute plush bears, bear prints, bear statuettes, bear knick knacks, plaid comforters, and of course, exposed log beams. It's all part of the charm. While shopping for your rental, you should think about one with a hot tub. But you already knew that.
Be ready for frequent bathroom breaks, and forgive your buddies for increased flatulence. It's science, they can't help it.
Now that you've got your buddies accommodated in a cabin stocked with groceries, it's time to get your bikes unpacked and ready to hit the trails. No matter what bike(s) you have in your stable, you'll have an awesome time with it at Big Bear (except a road bike … the mountain roads are few and the shoulders are narrow).
Snow Summit was the first bike park in the country to open this year, with California's historic drought surely helping open dry trails on April 20th, 2014.
Snow Summit was one of the first ski areas in the world to let mountain bikers put their bikes on the chairlift and throughout the 1990's was an epicenter of competitive mountain biking, hosting the country's most respected downhill races and pro racers, including World Cup and NORBA races. The mountain itself pioneered the concept of a lift-serviced bike park until 2005, when a man who paralyzed himself in a downhill race there sued the organizers of the race and prompted Snow Summit's private owners to close up shop. But the mountain is in a serious revitalization, and is now in year two of a five-year partnership with the mad scientists at Gravity Logic. Gravity Logic is the very same group of designers responsible for the world-famous Whistler Bike Park. It goes without saying that they know how to build a trail.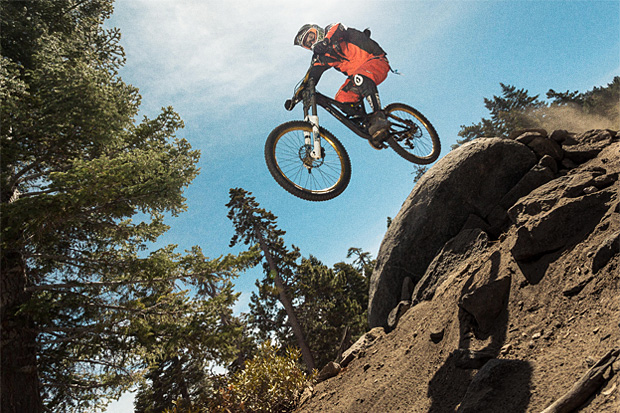 With the help of Gravity Logic, Snow Summit is working to return to its glory days of downhill biking with trails from flow to gnar. Photo Credit: Big Bear Mountain Resort.
So far, trails open for business include The Miracle Mile, The Westridge Trail and Party Wave. The 'low-intermediate' rated Going Green Trail should be open by now as well. These are all lift-accessible but for those on the more ambitious side (or who are looking to save a buck), you can ride up on the 2N10 fire road. Each year, Snow Summit works with Gravity Logic to design expanded terrain, and they work with the Forest Service to make it happen. Throughout the season, Snow Summit keeps the berms, jumps and drops in check with a fun-loving trail crew so conditions are always fresh.
With a full-service shop, rentals and patios, Snow Summit is a great place to hang out for the day. You'll see all kinds of riders from the weekend warriors, to kitted-out DH-ers replete with camera crews. And if the technical trails feel a bit over your head, you might want to try a skills clinic. We recommend Ninja Mountain Bike Skills, whose coaches are in the area on a regular basis offering one-on-one sessions, half-day clinics or weekend camps. For your bike shop needs, check out Bear Valley Bikes.
After sweating it out in the bike park all day, the cooling waters of Big Bear Lake are well within reach. Photo Credit: Big Bear Mountain Resort.
Break up your ride with a scenic lunch break at the top of the mountain at View Haus BBQ (lunch packages are available with your lift ticket) or head back down Moonridge Drive to visit the famous Grizzly's Bear Belly Deli. Pro tip: Send them a picture of your "bare" belly for their gallery and earn a free chips and pop to go with your burger, sandwich or salad.
If elevation acclimation has been going well and you're feeling some fitness, there are miles of cross country options available for no charge as well. You'll spend your afternoon with your lungs and legs on fire, but it will all be worth it for the breath-taking views (pun intended), and fun flow on Skyline. The singletrack traverses the top of the mountain over more than 10 miles of intermediate miles — the last two miles were just completed. Dubbed "Pumbers," this hand-cut section is still a bit on the loose and rough side, but it's a nice alternative to riding out on the fire road.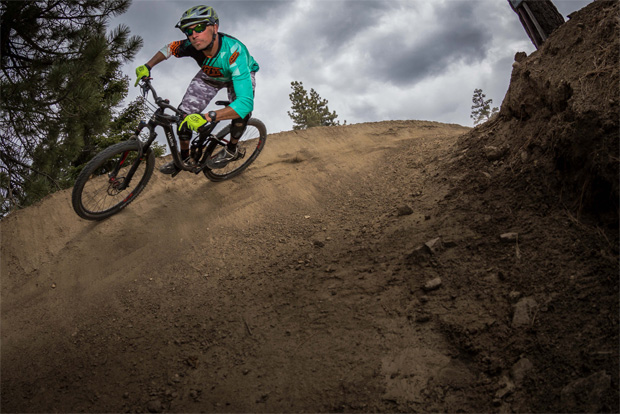 Big Bear packs plenty of trails for those trail bikers stepping onto the chairlift for the first time. Photo Credit: Big Bear Mountain Resort.
When you're all done with the mountain, head into town. If you thought your cabin's décor featured a lot of bears, wait until you see the village. Every shop has something with a bear on it, but there is also bear-free shopping (some stuff has moose on it!) in the area and a few decent options for eating. We liked the Royal Thai and the Cowboy Express Steakhouse and Saloon. And for dessert, make sure you head over to Pine Knot Avenue to the North Pole Fudge Co. Walking around the village in the evening is a bit magical, with fairy lights, horse-drawn carriage rides, fire pits and some truly all-time people watching.
Once you've had your fill of carbs and tourists, head to the Bowling Barn. It's a mom-and-pop sort of place with everything you'd hope for from a small town bowling alley. Everyone sucks at bowling, so embrace it-admire the league trophies, joke with the bartenders, enjoy a cheap drink and be amazed by the computerized scoring system.
You'll spend your afternoon with your lungs and legs on fire, but it will all be worth it for the breath-taking views (pun intended), and fun flow on Skyline.
For nightlife, there are a few famous bars to choose from. Chad's Place — where "work is the curse of the drinking man" — is just outside the village on Big Bear Boulevard in what used to be an IHop. In what used to be Chad's Place in the village, there's now Whiskey Dave's, which is like a cleaned-up version of the old Chad's Place. It's got sports on the TVs, live music, billiards, beers, and spirits — both kinds. Legend goes the place is haunted by at least three ghosts, including Whiskey Dave himself, who was once a logger in the area. Last but not least there's Murray's Saloon. It's a local's favorite with karaoke seven nights a week and a comfort-food menu that serves breakfast, lunch and dinner.
And speaking of breakfast, we'd be remiss not to mention the Grizzly Manor Café. It's a touristy joint on the way to the mountain on Big Bear Boulevard. There is always a line up, and we know from experience it's not the greatest place to bring an altitude-assisted hangover — it can get very crowded in there and the fryers and griddles fill the air with the aroma of everyone's breakfast. That said, you can get a pancake there as big as your face, and the memorabilia hanging around the room from past famous guests make it as much museum as diner. Be sure to bring stickers. If you're short on time, and don't like paying the tourist premium, there are plenty of other breakfast places around, including good old reliable Denny's.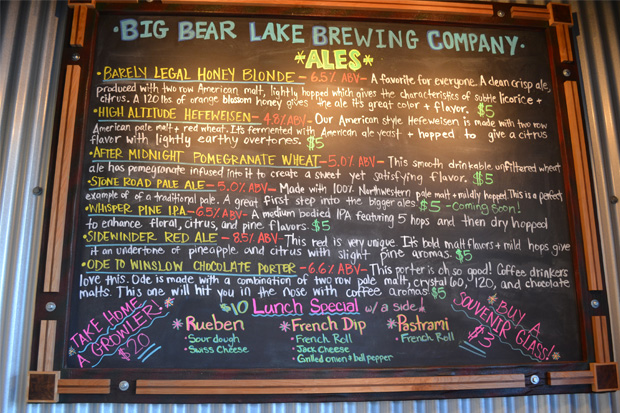 Pick your poison at the Big Bear Lake Brewing Company. Photo Credit: Big Bear Visitors Bureau.
Big Bear is a great destination for a weekend (or longer) of woodsy good times. With roots in logging and gold mining, the town has held on to its mountain charm and it's easy to feel at home. From the bike park, to cross country trails and activities off the bike (golfing, hiking, camping, boating, shopping) for anyone, it's a great place to include in your summer vacation plans, and with Snow Summit's resurgence in the downhill bike scene, will hopefully return the area to the place it enjoyed in the mountain bike world twenty years ago.
From The Column: Local's Guide
READ THE STORY
Five Ten Founder Charles David Cole III has passed away. The prolific climber and adventuring pioneer ushered in a new era to the world of mountain sport with his whimsical sense of humor and innovative eye for design. Cole was 63. As a climber, Cole was known for daring first ascents in Yosemite and Joshua Tree. According to Rock and Ice, his list of first ascents included Joshua Tree's (5.10b) and (VI 5.10 A5), the solo ascent of Yosemite's (VI 5.9 A4+), and (VI 5.10 A4+), a
READ THE STORY
READ THE STORY
With the day unexpectedly off from work, Samantha Saskia Dugon decided to do something completely out of the norm for herself: watch a downhill mountain bike race. Knowing next to nothing about the sport, she brought her camera along for fun and was intrigued watching the racers. It didn't take long for her to recognize her creative potential behind the lens, and was hooked. She never fathomed how much that initial race would pull her into the sport. A passion, that over the next six years,